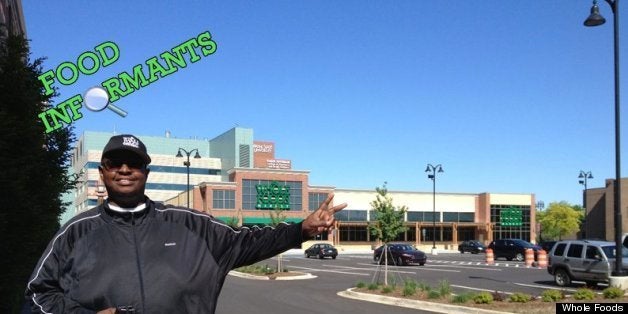 Food Informants is a week-in-the-life series profiling fascinating people in the food world. We hope it will give you a first-hand look at the many different corners of the food industry. Know someone who would make a great Food Informant? Tell us why.
Larry Austin got his start in the grocery world as a bagger, cashier and stocker at the Detroit chain Farmer Jack's in 1988. He headed to Ann Arbor soon after and stocked the grocery, dairy and frozen sections at Arbor Farms for a few years before joining Whole Foods Market's Ann Arbor store as a receiver in 1999. Larry worked his way up from receiver to grocery buyer and eventually Grocery Team Leader, then went on to manage multiple departments in various stores across the Midwest. Now he's running the show as Store Team Leader -- that's what the people at Whole Foods Market call the store manager -- at the company's highly anticipated Detroit store, which opened June 5. Larry's at the helm.
Read more about how Larry prepared for the store opening.
9am: Go with Dr. Akua Woolbright, our community healthy eating specialist, to the Detroit branch of the NAACP for the Action, Allies & Issues meeting. Talk with them about providing more access to healthy, nutritious food to downtown Detroit, which hasn't had a new grocery store since 2007. We also filled them in on our commitment to hiring a team made up of at least 70 percent Detroiters.
11:30am: Go to the store site to conduct a quick interview with our local FOX affiliate -- they wanted to know what is top-of-mind for us as we prepare to open the store. What was most important to me to convey was that this is a store for Detroit -- the community will be supporting us, so it's our job to support this community as not just a grocery store, but an involved, committed partner.
2pm: Stop by a training where produce department team members are learning to set up the wet rack -- that's the "veggie wall" where customers find kale, carrots, celery, cilantro, all that stuff. They have to learn how to trim it, how to take it down and sanitize it each day, where to put up barriers to separate organic and conventional produce. They're killing it -- this is a smart, dedicated team.
3pm: Stop at world-famous Supino Pizzeria and sneak in a slice. Then, meet with a writer from Look Up Detroit to talk about the project, store features and community partnerships.
4pm: Meet with Red Elk Banks, our executive coordinator of operations, and Bobby Turner, our regional VP of purchasing. Part of my job is working with our buyers -- grocery, meat, seafood, Whole Body (body care), cheese, etc. -- to fill the store with products the community will love (personally, I'm hooked on Alkaline Water right now. Made right here in Detroit on Woodward Street. The owner has a great story and hey, you always feel better when you drink lots of water). Also talk to Red Elk and Bobby about how to price products competitively for the market.
7pm: I should be working out, but instead I blow off some steam at Comerica Park, where the Tigers were playing the Pittsburgh Pirates. The Tigers lost -- bummer -- but I got to chill and catch up with two of my former coworkers. Worth it.
10am: Meet with our construction leads, Dean and Noelle, to identify any last-minute details that need filling in and discuss existing elements. We're particularly excited about the booths in our café area -- they're made from reclaimed wood with tables built from old car and truck hoods.
11am: Pop in on training classes to check on our new Team Members. There's a ton of information coming their way right now -- our recent announcement that we'll have full GMO transparency in all stores by 2018, how our animal welfare program is structured, food safety, benefits and paid time off -- all that and more. So we want to make sure everyone stays motivated and feels supported.
3pm: Head out to pick up refreshments for our Support Team Appreciation Day. Basically, it's a party for all the folks who've worked day and night to help us get this store up and running.
5pm: Meet up with DJ 80, aka Allen, a lifelong friend of mine. We've hired him to spin for the party; he starts setting up.
5:30pm: It's on. The world famous Slow's Bar-B-Q drops off delicious pulled pork, smoked wings, vegetarian pulled "chicken," black beans, corn bread, potato salad and baked beans. Our Healthy Eating specialist, Akua, rounds out the spread with fruit, salsa, hummus, pita chips, tortilla chips, guacamole, wine, Champagne and lots of water. Of course, there's also cake. We have to spoil our people!
8pm: I never cease to be amazed at the power of Michael Jackson to bring everyone out onto the dance floor. In the midst of my amazement, one of our support team members stops me to tell me this party is great, no other company he's worked for has ever thrown him an appreciation party for doing good work during a busy time. This makes me proud.
7:30am: Local vendor stops by the store to drop off bagel samples for the bakery. We'll continue evaluating products -- the mix is always changing. Here, we were particularly attentive to what the community wanted. We listened and they wanted local products. So that's what we gave them -- Slow Jams, McClure's Pickles, Great Lakes Coffee, Moomtaz Shea Butter -- and many more.
10am: One of my lifelong friends, Tamika "DJ Cookie," stops by with her friend for a tour of the store. They are blown away by the detail in the store, and the murals painted on the outside. There's one of an African American woman and a white woman farming together with the city in the background, one of a little boy holding the seal of Detroit, one of a family shopping -- the detail is incredible and they were all created by local artists.
12:30pm: Pick up my awesome assistants, Ben and Tiana. Head over to Taqueria Lupita in Mexicantown for lunch. As the store team leader, it's my job to make sure my team feels supported. If they're stressed out, they need some time off. If they're overwhelmed, we'll take something off their plate. What I'm going for here is communication -- making sure they feel heard. Lunch is always a great place to do that. Plus it's just fun. At this lunch Tiana's cracking me up, showing old photos from her club days and quoting old Ice Cube songs. We are laughing. Out. Loud.
2pm: Meet with another Larry, who is overseeing the project from the developer side, to discuss our parking situation. We had to determine where to put signs to make the parking lot easy to navigate, as well as check on the parking validation system (we're validating for customers!).
8pm: Leave work and go to Fitness 19 (my gym). On the way, I'm stopped in my tracks at a car dealership where my friend Lavert is standing out front, looking dapper in a baby blue leisure suit.
9am: Check in with my girl Tee Tee about preparedness for today's community BBQ to benefit the Good News Gang, a nonprofit that works with inner city youth. It's a five dollar donation to enter and I couldn't be more excited to support them today. I'm also pumped for Detroiters to come by and get some food, get to know us (the store team), and get familiarized with the area if they're not already.
10:30am: Stop to chat with all the Team Members who are reviewing signage and learning how to speak the language of Whole Foods Market. There's little things -- for example, we say our meat comes from animals raised without added hormones, but we don't call it "hormone free" because every animal has naturally occurring hormones. It's a lot to learn. I assure everyone we don't expect them to remember every single thing right now. Whole Foods Market has some of the strictest standards in the industry, and it'll take a while for them to learn everything. Still, the energy in the store is amazing and Team Members are getting their first checks.
11am: The team gets an inspirational address from the Midwest Regional President, Michael Bashaw. He tells us how he started as a store team member and worked his way up to regional president. He says important it is to him that the team members starting in the stores today have the same experience and opportunities he had when the company was smaller. He expects the same level of quality, the same cool culture, the same commitment to team members growing and being successful.
Noon: Outside, the grilling event kicks off! We've got more than 300 people listening to blues and enjoying some grilled chicken (or grilled Beyond Meat -- a meat alternative -- for the vegetarians!) It's an awesome event with more than 300 people... until there was a huge downpour.
3pm: Conduct an interview with the Michigan Chronicle, a legendary African American publication, about how we're excited to be part of the renaissance happening in Detroit and how you shouldn't limit your dreams. Work hard, and you'll succeed.
4:30pm: Take a few customers through the store that want to check it out, including a few from Canada. The overwhelming response from customers is they're impressed with the detail in the store -- the Motown records, the chalkboard signage, the pictures of local farms. I feel particularly proud of our design team when one person tells me she with this store we've captured the spirit of Detroit.
5pm: Drop off food leftover from our grilling event at COTS -- the Coalition on Temporary Shelter -- to help feed homeless residents. I'm super excited to bring this to COTS as they're one of the three charities that shoppers can vote to support on our opening day. Plus, we have lots leftover since we got rained out. It feels good to give it to people who need it.
9am: Visit Whole Foods Market Troy to see how training is going for my new Team Members. I get some great feedback from our assistant team leader in the grocery department -- these team members are hungry for knowledge, they're doing a great job and it seems like they're experienced already. Detroit in the HOUSE!
2pm: Take my boss and mentor of 14 years, Red Elk Banks, to the marina so we can jump in the boat and take a cruise. Meet up with the fellas Eric, Yomi and my li'l bro Corey to hang out with us. I'm a first year boater so the wind has me blowing around everywhere -- then Red Elk drove and let's just say I held on tight. We're jumping waves and his hair's all blowing around everywhere...it's a trip!
6pm: The local Coast Guard and some Detroiters join us back at the marina for some grilling: sirloin steaks, hot Italian sausages, hot dogs for the kids, baked beans, potato salad, macaroni and cheese.
8pm: Before I drop off Red Elk in Detroit, we take a walk around the back of the store to look at the murals and reflect on what a journey this has been. A couple of Team Members walk by and we chat about how cool this is. What I'm feeling at this point -- the pride and the joy -- is truly indescribable.
See more Food Informants below: