Food Informants is a week-in-the-life series profiling fascinating people in the food world. We hope it will give you a first-hand look at the many different corners of the food industry. Know someone who would make a great Food Informant? Tell us why.
Andrew Zimmern is a James Beard Award-winning TV personality, chef, food writer, teacher and is widely regarded as one of the most versatile and knowledgeable personalities in the food world. As the creator, host and co-executive producer of Travel Channel's hit series, "Bizarre Foods with Andrew Zimmern," "Andrew Zimmern's Bizarre World," and his new series, "Bizarre Foods America," he travels the globe, exploring food in its own terroir. Zimmern is a contributing editor at Food & Wine, an award-winning monthly columnist at Mpls-St. Paul Magazine and a senior editor at Delta's Sky Magazine. He resides in Minneapolis, Minnesota with his wife Rishia, son Noah and several un-eaten pets.
Read about the amazing amount of activities Andrew does in one week, from eating to traveling to offering chicken feet to show hosts.
Monday, June 25
8am: I was in Washington DC shooting food trucks and hanging out with my pal Jose Andres. The truck scene in DC is awesome, and will keep growing thanks to all the government buildings with gazillions of workers who have no place to eat but a crappy cafeteria. Food trucks are their "lobby restaurants.'" Hula Girl (see below) and Pepe were the 2 best ones I tried.
1pm: Jose has re-made Jaleo (see grilled squid below), is killing it at America Eats Tavern, and has big plans for minibar expansion. He remains one of the most singular forces on the American culinary scene and I adore him as one of the best people I know.
In the middle of a hectic day he took me away from my crew, sat me down at the bar at Oyamel and peppered me with questions about my family and non-work related issues. He cares about his friends and wanted to make sure I was doing enough with my wife and son these days. I can't tell you how forward thinking this man is, from international affairs to charitable endeavors, he is a rock outside the kitchen.
7pm: After a long day of eating and shooting I went back to the hotel and had some snacks at Jean Georges Vongerichten's steak house at my hotel, The W. Broiled oysters, salmon tartare and lobster on butter cabbage with hot chiles. Extraordinary. I went back up to room and finished the last 2 episodes of season 2 of "Game of Thrones." Love that show.
Tuesday, June 26
8am: Spent the day shooting in Little Ethiopia and then on to an Ethiopian family meal. I stuffed myself silly on a wot (stew) made with chicken that might have been the best version of that dish I ever had. And yes, grandma did the cooking.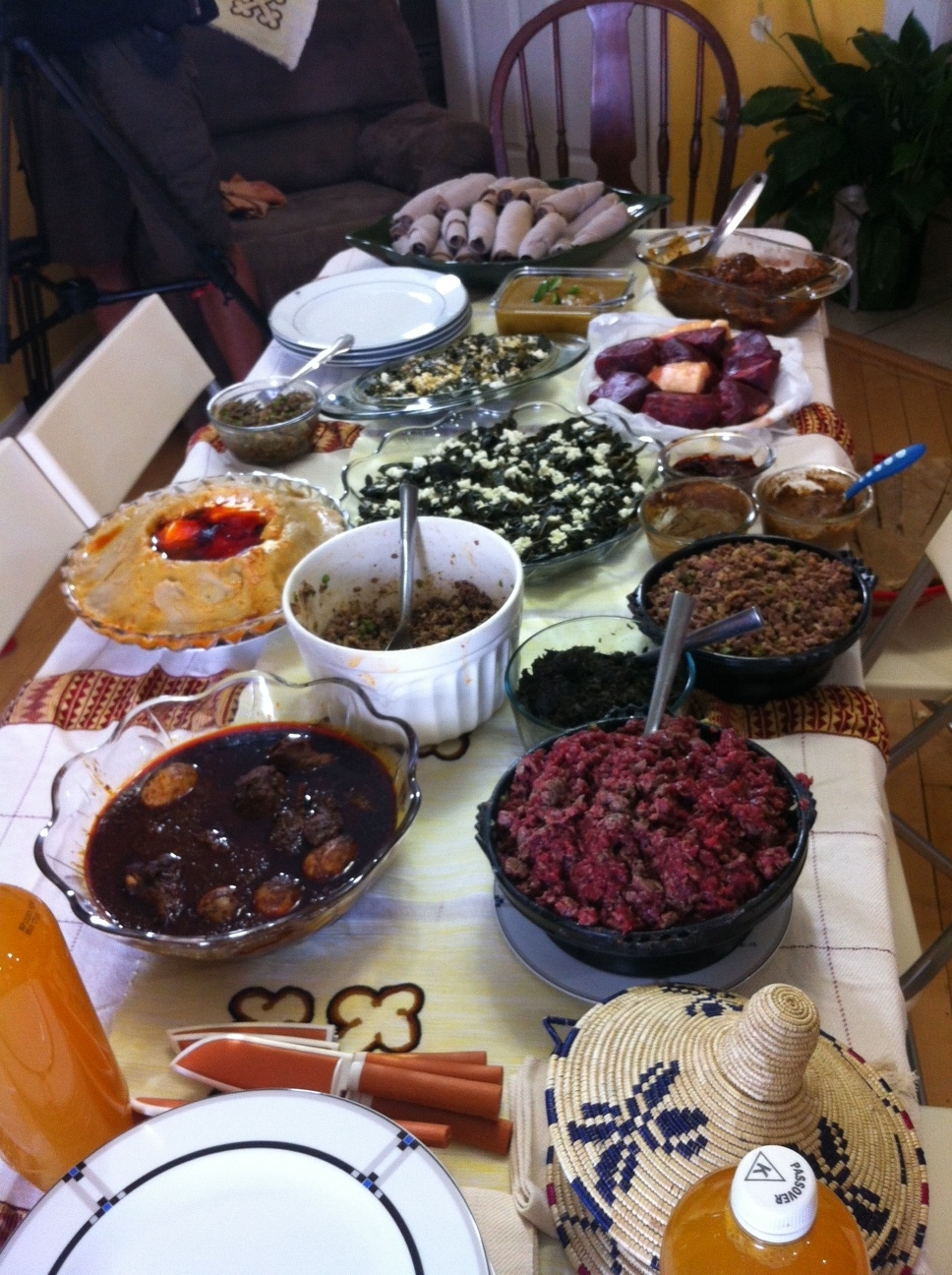 6pm: Off to airport from there.
9pm: Landed at LGA and got a car straight to "Watch What Happens Live." I religiously watch that show and Andy Cohen is a superb host and one of the funniest men in TV. The other guest was Joe Manganiello, Alcide from "True Blood" and Big Dick Richie from the new movie, "Magic Mike." Joe is awesome, women faint around him, everyone thinks he is the sexiest man on the planet and quite frankly I can't disagree. He has it going on, that's for sure.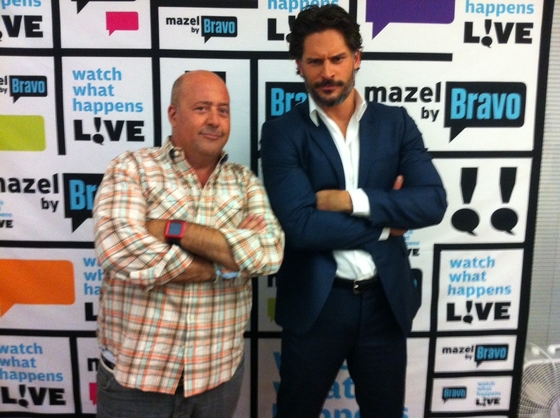 11pm: We shot the show. I represented myself well.
12:30am: I was safely in bed at The Surrey on Madison and 76th. I love that hotel. Luxurious and quiet, perfect location and with Café Boulud in the lobby, the food is out of this world. That being said I had stopped at Osteria Morini on my way up town for some pasta to go....I was in the mood.
Wednesday, June 27
6am: Woke up early for a whirlwind of radio and TV interviews including WPIX morning show, Blue Ribbon Hunter on Yahoo!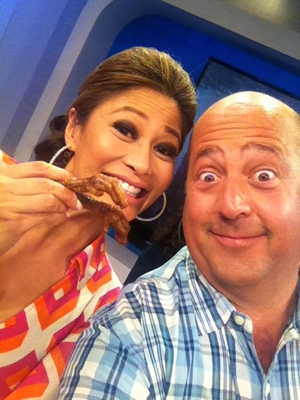 Went back to the hotel to prep for my James Beard Foundation Celebrity Chefs Tour dinner taking place later that night at Riverpark.
1pm: I went down to the kitchen at Café Boulud to start work and my friend Gavin Kaysen, who is also the chef there, informed me that his sous chef Aaron had already taken care of all it for me. The team at Café Boulud is as top notch and buttoned up as they come. So as a way to say thanks, I ate my way around each station, devoured a few mis en place set ups for the evening service, and headed back upstairs to nap. I am a bastard.
3pm: Drove in the Team Boulud truck down to Riverpark and set up for our dinner. It was a Celebrity Chef Tour event benefitting the James Beard Foundation and featuring Minnesota Beard winning chefs. Gavin, Tim McKee and his chef de cuisine from La Belle Vie (and Eater Young Gun semi-finalist) Mike DeCamp, Alex Roberts, Isaac Becker and myself represented our home state and host chefs Sisha Ortuzar and Angie Lee represented Riverpark. They cooked most of their food out of their amazing acre of urban garden that rims the restaurant. A great space.
7pm: We all tag teamed hors d'oeuvres. Isaac did a prosciutto fry bread. Tim and Mike did a trout roulade, I did goat tartare. For the meal, Sisha did a charred squash salad, I did a giant clam crudo with pea puree and pea tip salad, Tim and Mike did a salt cod-whitefish and bagna cauda with vegetables that was a stunner. The baby pickles with their flowers attached was amazing, they dipped them in a gelee of pickle juice. Isaac did pappardelle with foie gras meatballs. Alex did BBQ quail with sweet potato and Angie made a peach cobbler. Thanks to Tyku for pairing a stunning sake with my course. CeeLo Green sent me a rare aged bottle of sake with my name etched in the case. I was floored.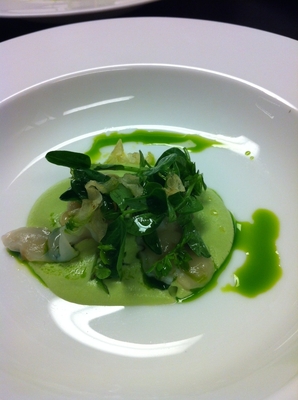 Clam Crudo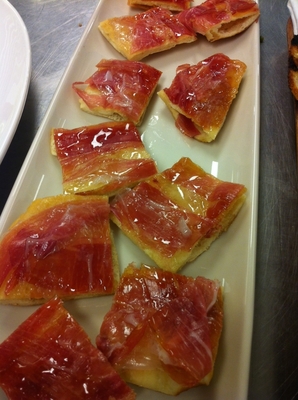 Prosciutto Fry Bread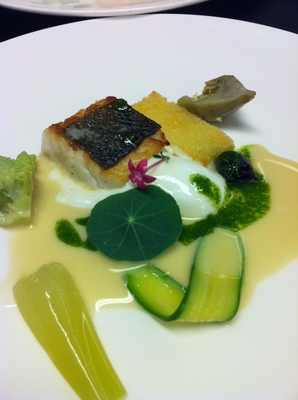 Fish Plate
Clams
Pickles
1am: The night went well. I got home and found my wife and son had arrived and were waiting up for me at our hotel. Late night room service from Café Boulud and to bed.

Thursday, June 28
9am: Started the day as always by raiding the Café Boulud fridge. Lots of coffee and pastries. Off to the Intrepid Museum on the Hudson River. Taking a battleship obsessed 7 year old to an aircraft carrier is a sure way to win any kid over. It's super cool.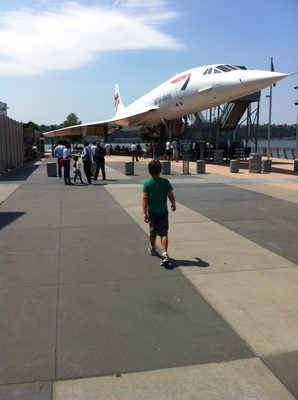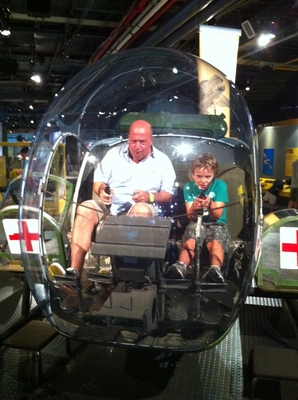 12pm: We had some pizza (Motorino) and hot dogs (Gray's Papaya) for lunch.
3pm: Headed uptown for some rest before I took the family to Spiderman at the Foxwoods Theater. Great show, especially for Noah, and we even got to meet the cast backstage.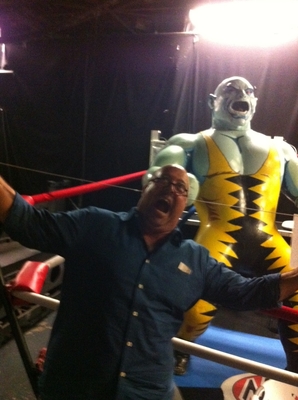 10pm: We did the mandatory touristy photos in Times Square and grabbed a cab downtown to Balthazar for a late dinner. We love that place. Noah thinks their raw bar is second to none. They always make a huge tower just to hold his shrimp cocktail. And he loves the profiteroles more than life itself.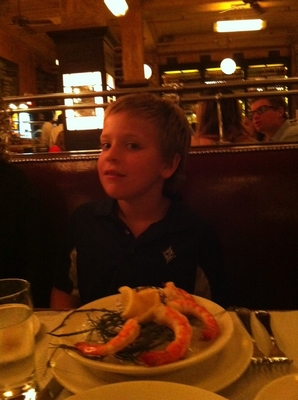 12am: We took the subway home because it's fun, and crashed very hard.
Friday, June 29
10am: A hot day, so we played in Central Park all morning and even rented boats on the boat-pond and rowed around to keep cool.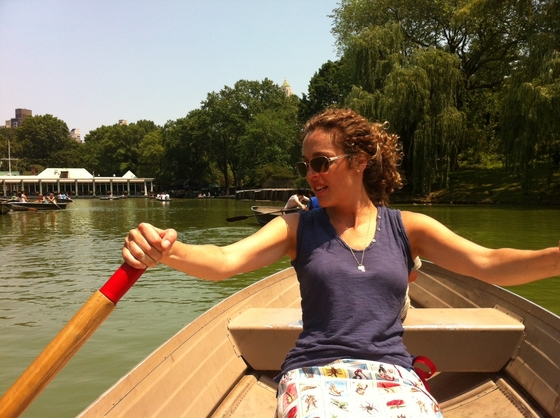 1pm: Ice cream from the Good Humor man, lunch at E.A.T. and then off to the Apple Store and FAO Schwartz. We got lots of battleships, copters and planes, and an iPod for Noah's cousin, Evan, for a high school grad gift.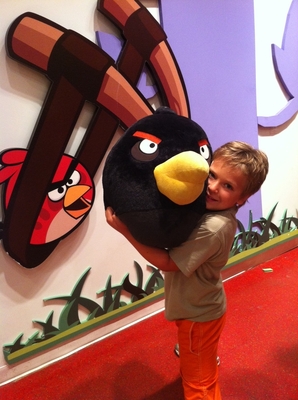 7pm: We went to Noah's friend Lucas' house for dinner and walked up to Grom for gelato. Amazing stuff. Killer Sicilian lemon granite, as well.
Saturday, June 30
9am: Breakfast in bed.
11am: Hopped in a car and went off to Bayside, Queens to spend the day with my cousins and their kids to celebrate Evan's high school graduation. So proud of him.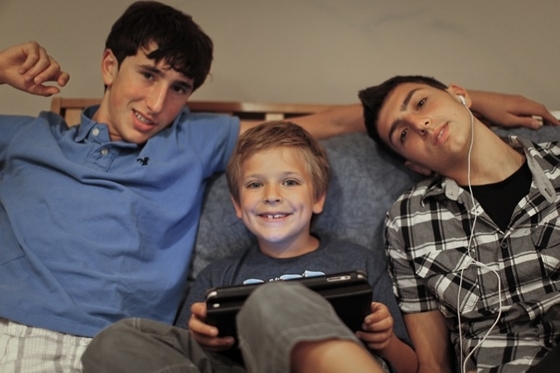 12pm: We ate some great Thai food at BKNY and met tons of relatives we never knew about.
3pm: Headed back to my cousin David's house for swimming in the pool and 3 hours of giving each other as much shit as possible.
8:30pm: We headed back into Manhattan, stopped at Citarella for some picnic goodies and ate dinner on the floor of our hotel room watching Noah's favorite show, the "Suite Life of Zach and Cody." Pretty awesome.
Sunday, July 1
9:30am: Flew home (thx Delta!).
1pm: Landed.
4pm: We were on the road to the cabin for the holiday week. Fun, the lake, fireworks, the whole shebang.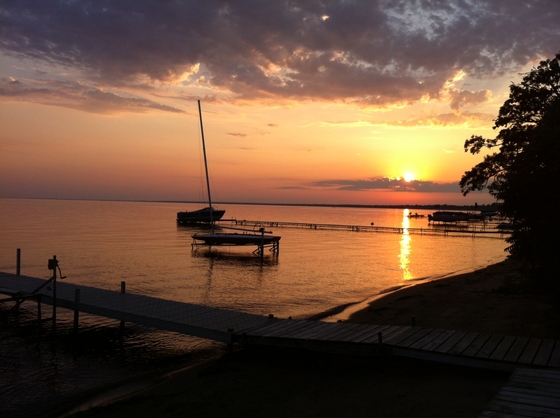 See previous Food Informants below:
PHOTO GALLERY
Food Informants
Calling all HuffPost superfans!
Sign up for membership to become a founding member and help shape HuffPost's next chapter