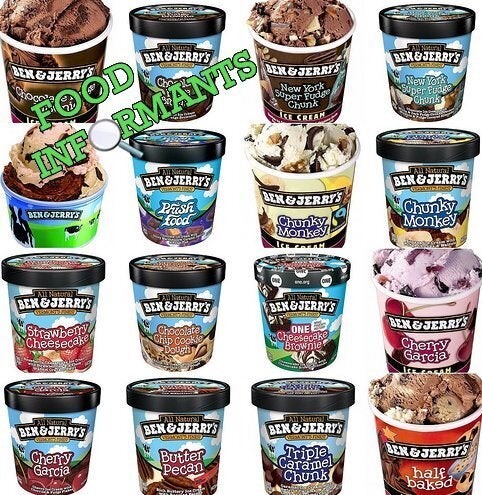 Food Informants is a week-in-the-life series profiling fascinating people in the food world. We hope it will give you a first-hand look at the many different corners of the food industry. Know someone who would make a great Food Informant? Tell us why.
Chris Rivard graduated from the University of Vermont with a bachelor's degree in Nutrition & Food Sciences and Dietetics. He spent the first four years of his career working for a local nutrition company focused on providing high quality, functional food products to companies in the weight management industry. Chris then joined Ben & Jerry's R&D team, which is made up of five "Flavor Gurus" that are responsible for the product development and the quality problem solving across the business. Chris's primary focus is on global markets (Australia, Singapore and Japan, among others) as well as new market implementation. But R&D is very much a team effort: they all work together on new flavor innovations across all regions.
Don't ask Chris what his favorite Ben & Jerry's flavor is -- since he creates crazy new flavors all the time, he does not have one. In his free time, he visits local Vermont restaurants, brew pubs, wineries and tap rooms, and eats lots of cheese, ice cream, and maple syrup. Chris is an avid biker both on and off the road and loves spending time outside on the trails or hanging out in the backyard with friends and neighbors.
Read more to learn about what mystery flavors Chris is working on.
8:00am: After a seven day training in Ice Cream technology at Penn State, I settle into work and begin sifting through all the email I've received over the past week. Under 200 -- not bad!
10:00am: I set up our bench top batch freezer and prepare the kitchen for ice cream innovation. Our freezer can make about five pints at a time with all of our chunks and swirls added in by hand. I am still trying to master the double swirl technique.
10:30am: I receive samples of inclusions (the chunks and swirls we put into our ice cream flavors) from suppliers for 2014 new product concepts. We're always interested in exploring new, exciting twists on "traditional" inclusions of ours. The samples we receive aren't quite the perfect fit we were looking for, so I decide to improvise in the lab. Before I can, I need to run to the local store to pick up a few ingredients. Once back at work, I make a new caramel swirl that will be used in a fresh batch of ice cream later this week.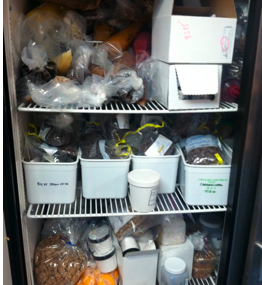 A peek into our top secret stash of ingredients.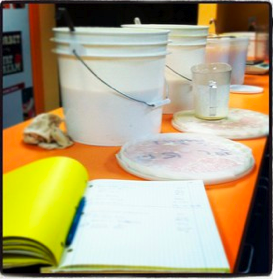 A little science behind our ice cream.
1:30pm: Time to taste test the samples I made last week. When we make fresh ice cream, it comes out of our batch freezer as soft serve; we have to put it in our freezer to harden before we can taste it. They taste delicious -- chocolate and raspberry always make a tasty combination!
2:00pm: I have a staff meeting with the entire R&D department. We fine tune the key objectives for the week.
5:30pm: I dial in for a late night meeting with Japan and Australia. Since I work on a lot of international innovation, I'm used to nighttime conference calls.
7:00am: I'm in early for another early morning call.
9:00am: I fire up the ice cream machine again. This time, I need to take a look at a new ingredient we plan to use in one of our shops in Asia. I would tell you more, but it's top secret! I make two different ice creams and I stick them in the freezer for a comparison later this week. Let's hope everything comes out as planned so the project can move forward.
1:00pm: I find myself with a few extra minutes so I decide to create a couple pint concepts to present to the Marketing and R&D teams for potential 2014 flavors. I stick to the caramel theme that I've been playing with this week, but this time I add a bit of a salty twist.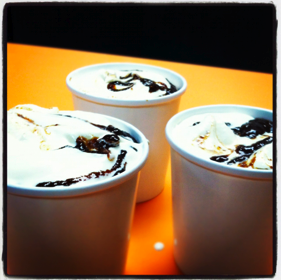 Mystery Flavor!
3:00pm: Since Asia is still a relatively new market for us, we meet often to look at how we can successfully bring more peace, love and ice cream overseas. This week, I meet with coworkers to review the plant trials we completed last month. The product looks great and is off to our team in Asia for evaluation.
9:00am: I have a great meeting with our Quality Assurance manager to discuss a few research projects we hope to work together on over the coming year. Since we can't physically travel with a pint through the freezer we plan to set up a few experiments to see what really is going on behind the freezer doors. If I told you it was -40 degrees in our factory freezers, would you believe me?
10:00am: I meet with one of our key suppliers to discuss the best plan to continue to convert the remainder of our flavors to be fully Fairtrade and non-GMO by the end of 2013.
2:30pm: Product tasting time! I take a look at the samples I made the day before. Looks like we have a winner! Let's see what marketing thinks about it next week.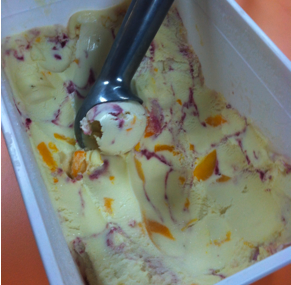 8:00pm: I have a few friends over for dinner. On the menu for the night: cheddar and veggie quiche with a quinoa, swiss chard, feta and pine nut side salad and a fresh baked loaf of garlic rosemary bread from our local bakery. For dessert.... Ben & Jerry's! We do the usual: We take out a platter with eight or ten pints and a handful of spoons with a side of extra chunks. I always have a stash of some of the best chunks ready to go for anyone who wants more cookie dough or heath bars.
8:00am: I spend some time at my desk planning for the new production line being installed at our St Albans manufacturing plant. The new line will allow us to change a few things with our single serve products so all of our formulas need to be adjusted to accommodate the changes.
10:00am: I meet with a fellow Flavor Guru to chat some more about converting all of our flavors to Fairtrade Certified, non-GMO by year-end 2013. This means we have to taste and re-approve every chunk and swirl in all of our ice cream flavors. It's a big undertaking, but an equally important one.
2:00pm: Pig Bucket Run! This is something all of the Gurus enjoy doing -- we melt down all of our ice cream waste and send it back to two of the farms that supply us with fresh dairy ingredients. Once there, the waste is fed into methane digesters which generate energy to help power the farm. The waste used to go to the pigs, which is why we still refer to it as the Pig Bucket.
3:00pm: I leave work early to drive down to Middlebury College for an event with the band FUN. Employees like me have the opportunity to scoop at a lot of local music shows in exchange for tickets to the show afterwards. Nothing like spreading the love with free ice cream on one of the coldest days in January.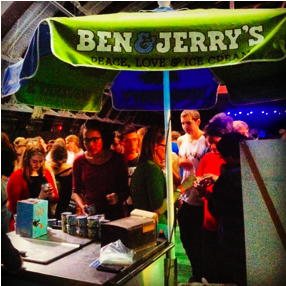 10:00pm: Phew! It's late, but the show was incredible, and definitely worth it. Once it ends, we clean up all of our materials before heading home for the night.
9:00am: I head to our "comfy couches" -- a group of eclectic, colorful couches in the middle of the building -- for our regular Friday breakfast. Every week, a small group of us at Ben & Jerry's take turns bringing in breakfast to share with everyone else.
12:00pm: More than half of the employees are out of the office this week at our annual Global Franchise Gathering. For the folks left in the office, the Joy Gang decides to bring in lunch for us all. The Joy Gang is a group of employees who meet regularly to plan fun events around the office. They've done everything from hosting cookouts and field days in the summer to giving away fun chotchkies just for a laugh. We all eat an assortment of fresh burritos and salad together.
3:00pm: Time for an ice cream social! It's Friday and we have a few extra pints in our freezer. Why not share it with the rest of the building?!
5:00pm: Just in time for a quick drink at Citizen Cider, a local cider house. I have the special small batch of Ginger Cider, which is only available at the tap room. It's a great way to close out the week!
6:00pm: Head out to dinner with friends at our favorite local spot. My choice for the night is a local beef burger with house pickles, bacon and a sunny side up farm egg. I don't feel too guilty indulging since I was able to work out at our Ben & Jerry's in-house gym this morning before work.

See more Food Informants below: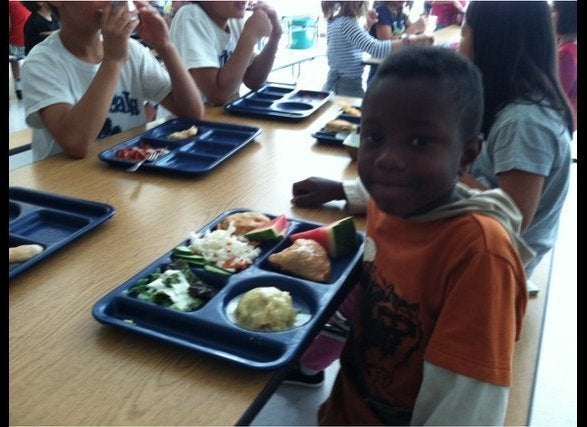 Food Informants
Support HuffPost
A No-B.S. Guide To Life
Related
Popular in the Community