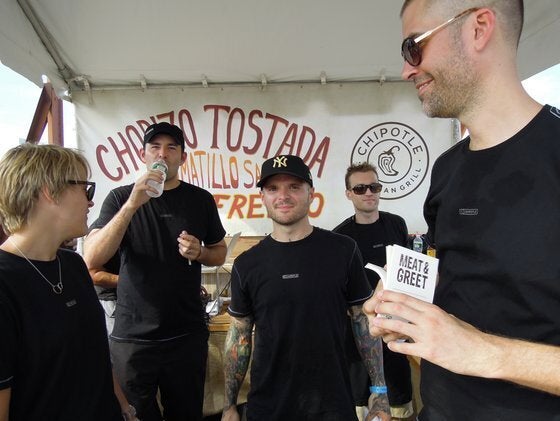 Food Informants is a week-in-the-life series profiling fascinating people in the food world. We hope it will give you a first-hand look at the many different corners of the food industry. Know someone who would make a great Food Informant? Tell us why.
Chef Nate Appleman is the Culinary Manager at Chipotle. This involves a range of tasks including developing new menu items, opening ShopHouse (Chipotle's upcoming Asian fast-casual chain) and furthering Chipotle's commitment to sustainable sourcing. A graduate of the Culinary Institute of America, Appleman was previously executive chef and co-owner of San Francisco's super popular Italian restaurants A16 and SPQR. Appleman moved to New York in 2010 to open Pulino's. After leaving, Appleman took his current position at Chipotle. He has received a James Beard award for Rising Star Chef, been anointed Best New Chef by Food & Wine and is the champion of Food Network's Chopped All-Stars.
Read Nate Appleman's diary to learn about how many Chipotles he visits in one day (a lot!), how he manages to balance work and caring for his son Oliver, how many miles he runs per day (a lot!) and some of his favorite restaurants across the country.
6:41am: Up and went for 5 mile run. Stretching, smoothie, shower.
8:00am: Breakfast with Oliver: cereal, mixed banana and yogurt. Read the paper.
8:30am: Started prepping for a photo shoot for a Runner's World profile about chefs who run with Oliver.
9:00am: Photographer and assistant show up. We start shooting four different bruschette.
11:15am: Wardrobe change and jump in taxi to the East River running path for more photos. These are mostly running and stretching shots. Oli comes with and we are both sweating a lot.
12:30pm: Finished and taxi back to apartment. Make lunch. Took leftover food from photo shoot and made a tomato, chickpea, avocado, carrot, radish, celery, red onion, basil and oil poached tuna salad.
2pm: Taxi to Oliver's cardiologist (he has a heart disease). He has an EKG which is pretty routine.
5pm: Had a meeting with the co-author of a cookbook I am working on. We meet at Peels. Had iced coffee and a sampling of pastries. The pastry chef Shuna is amazing. I knew her for 10 years ago in San Francisco and now she works 3 blocks from my apartment.
6:45pm: Cook simple pasta—cavatappi with fresh tomatoes, roasted green peppers, olive, basil and goat cheese.
7:13pm: Give Oliver a bath and read him a bedtime story.
7:55pm: I go visit my friend Ryan. He got hit by a car two days ago and he is really banged up. We order delivery from Rai Rai Ken. Cold noodles and menma.
9:45pm: Headed home to pack for trip to San Francisco in the morning.
Tuesday, July 19
6:44am: Wake up, run 5 miles, shower.
8:00am: Breakfast. Cereal again. Read GQ article on Mila Kunis and finish packing.
9:04am: Finally get a taxi after 15 minutes. Should of called car service. It shouldn't be this difficult to get a taxi in the East Village. A/C is blasting and driver isn't talking to me. That is a bonus.
11am: Flight on time.
1:30pm: Land in San Francisco.
2:10pm: Get picked up by Hugh, a great friend. We worked together for many years at A16 and SPQR.
2:30pm: Go to Mission Chinese Food. This place is the talk of the food world and I needed to try it myself. We are spotted by the chef and he proceeds to send out an endless amount of food. Way more than two people should ever eat for lunch. I love it when I go to a place with a lot of hype and it is beyond amazing and lives up to it. I have a great conversation with the chef about Szechuan places in New York. But in my opinion Mission Street Food is better than all of them.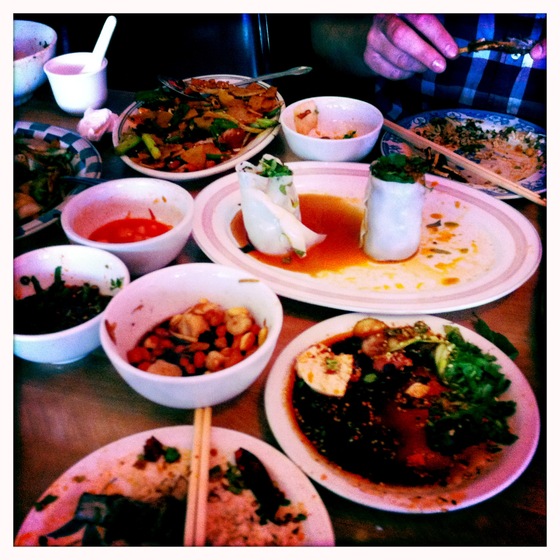 3:45pm: Go to Bi-Rite Creamery and have a kids' scoop of brown butter pecan ice cream.
4:15pm: Stroll through Dolores Park and take a few photos just to say I was there. I have a habit of taking 10 photos of the same thing with every lens from Hipstamatic. It is taking over my life. Run into two cooks who used to work for me. We decide to have coffee.
4:45pm: Hugh and I go to Four Barrel Coffee and each have an espresso. The coffee is very different than what most people are doing in the east. This is a very light toast with a lot of extraction. Very fruity and acidic. I prefer East Coast, but well done.
5:00pm: Check into the Huntington Hotel. Very old and opulent. The guy at the front desk informs me that I have been upgraded four times. Not sure what to expect. My room is approximately five times bigger than my apartment.
8:30pm: Cancelled dinner at Benu, too full from lunch.
10:30pm: Bed.
Wednesday, July 20
6:00am: Read the paper and order oatmeal from room service. Not great. Worst banana ever. I am quite a banana connoisseur.
7:30am: Meet with eight-person Chipotle group which includes owner and co-founder Steve Ells.
8:00am: Head out to start the kitchen design tour. I received our schedule for the next three days and it is brutal.
8:45am: San Mateo Chipotle. At each site visit we look at everything from design to food quality and especially focus on the people who work at the store.
10:17am: Arrived at Mountain View Chipotle and did tour and tasting.
11:23am: Tour Union City Chipotle.
12:05pm: Depart for the airport and take off from Hayward to Concord.
12:52pm: Land in Concord and head to Chipotle. Tour and eat lunch.
2pm: Back to plane. Liftoff to Phoenix.
4:12pm: Phoenix is 110 degrees. Visit two restaurants.
6:23pm: Check into Intercontinental Hotel in Scottsdale and go on a run. Every person has advised against this which makes me want to do it more. I finished a 5 mile run and felt very smug about the whole thing.
9:00pm: Sit down at Pizzeria Bianco and order everything. I was starving. Amazing arugula, goat cheese, peaches and pistachios. Also, red onion pistachio pizza. Espresso and biscotti for dessert.
11:34pm: Bed.
Thursday, July 21
6:03am: Wake up and take in some CNN. Have oatmeal, yogurt and berries. Coffee.
8am: Depart for the jet and takeoff to Miami.
2pm: Brainstorm meeting about Shophouse. We discussed menu items and procedures for storage. We created an order for smallwares (small kitchen and bar appliances, glassware, tableware, and flatware).
4:27pm: Arrive at Chipotle in Coral Springs. Eat tacos and tour.
6:00pm: Tour Bal Harbor Chipotle.
7:15pm: Check into Ritz Carlton in Fort Lauderdale. Read the new issue of Bon Appetit and quick workout at the gym.
9:45pm: Sit down at Makoto for dinner and proceed to order everything.
12am: Return to hotel and sleep.
Friday, July 22
7:45am: Takeoff to Washington, DC.
10:10am: Land at Dulles and head to Shophouse. Kitchen equipment got delivered last night and we are going to inspect. The kitchen looks amazing.
12:50pm: Headed back to the jet.
2:31pm: Landed at Teterboro, got on helicopter and landed in Manhattan.
3:13pm: Made it back to apartment and finish 5 mile run. It is so hot I had a friend ride a bike next to me, just to make sure I didn't die.
5:00pm: Brave the outdoors again for an ice coffee at Everyman. Best coffee in NYC.
7:00pm: Decompress and cool off. Played trains with Oliver. Read books. Put Oliver to bed and fell asleep myself.
9:45pm: Woke up and went to Pinkberry. Had a craving. The line moves way too slow there.
11:00pm: Went home and read a article on Larry David. Love him. He is my idol. He says and does whatever he wants.
Saturday, July 23
7:45am: Run 7 miles. It is brutal hot.
9:45am: Get Oliver ready for a bday party in New Jersey. He is super excited. Walk to Le Pain Quotidien to get Oliver a sandwich for the train ride. He of course picks the most expensive one, mozzarella and prosciutto. Hand Oli off to his nanny and they head to Penn station. I head to Liqueteria and have the Reggae Rhumba. Meet Ryan and we bike to the Chipotle in Chelsea to finish all the prep for Meatopia.
1pm: We ride to Brooklyn Pier 5 and meet 12 other Chipotle employees to set our booth up for Meatopia.
2pm: Walk around and talk to all the other chefs. Great to see everyone. I gawk at the whole steer that Pat La Freida cooked.
4:30pm: Event start and we serve a tostado with chorizo, pickled onion and cabbage, tomatillo salsa and queso fresco.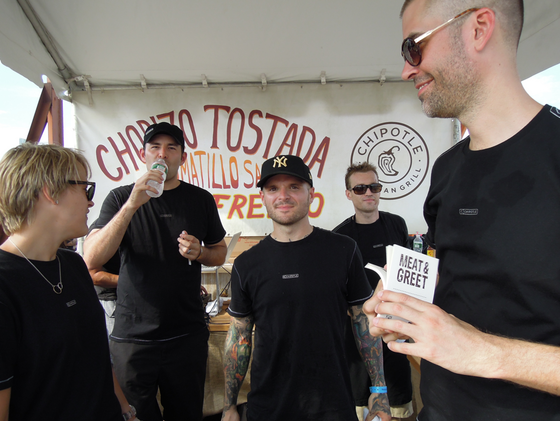 9:27pm: Brian Boitano stops by the booth and chats with me. I proceed to tell everyone around me who he is and how he is an American hero and they should be embarrassed that they don't know him.
9:31pm: Start riding home.
10:35pm: Get a $1 slice of pizza.
10:46pm: Back to Pinkberry for the second straight night. The guy behind the counter recognizes me. This is cause for alarm for me. Two nights in a row is very out of character. Must be the heat.
Sunday, July 24
8:07am: Woke up. First time sleeping in all week. Do some work on the charity event I am co-chairing in October, Celebrity Chefs Cook For KD. We are raising money for the Kawaski Disease foundation to fund research. It is something very personal for me and I have invested a lot because Oliver had KD and now has heart disease because of it.
10am: Breakfast with Oli. We make a fritatta of broccoli, mushroom, cherry tomatoes, garlic and goat cheese. Dark rye toast.
10:13am: Oli makes me an espresso. I started training him when he was one-and-a-half and he has been making them ever since.
1:19pm: Take the Long Island Railroad with Oli and Ryan to Queens (Ryan's parents' house).
1:49pm: Arrive and hit the farmers' market. Buy corn, peppers, two varieties of plums and a few other items.
2:15pm: Fired up the grill. Grilled corn, peppers and spinach and pancetta all on the grill for a pasta salad finished with Parmigiano-Reggiano. Braised green beans with onion, tomato, parsley and basil. Multi-grain bread and sparkling water.
3:57pm: Consumed 4 plums. They were great.
4:20pm: Discover the "Boob Job" app on the iPhone. Hilarity ensues.
4:49pm: Train back to the city.
6:01pm: Bike ride with Oli.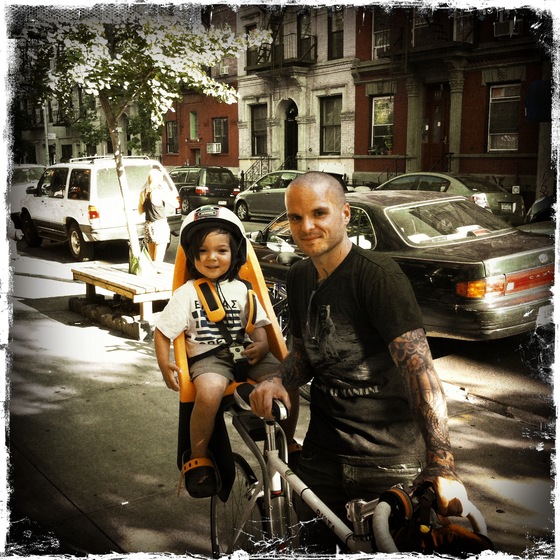 7:25pm: Back home. Dinner is bruschetta, with goat cheese avocado and tomato. Carrot sticks. Blueberries for dessert. We put them in the freezer for 15 minutes to make them extra cold.
8:00pm: Bath, bedtime story and bed.

See all previous Food Informants: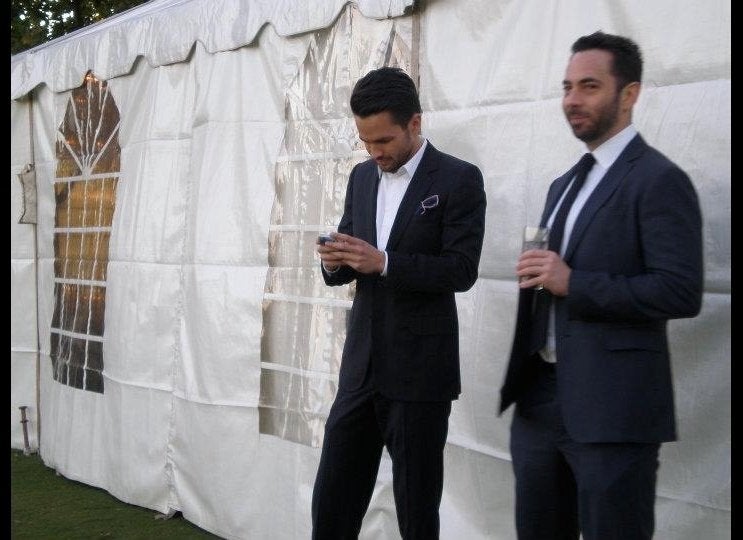 Food Informants
Popular in the Community