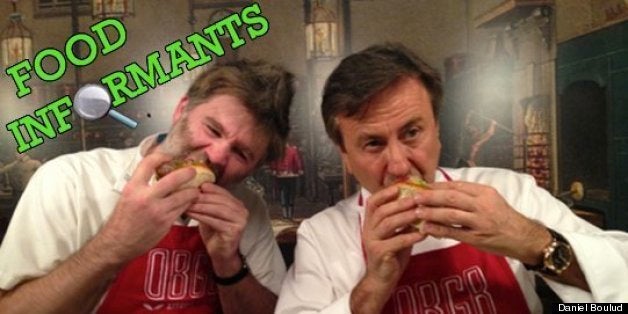 Food Informants is a week-in-the-life series profiling fascinating people in the food world. We hope it will give you a first-hand look at the many different corners of the food industry. Know someone who would make a great Food Informant? Tell us why.
Daniel Boulud, a native of Lyon, France, is today considered one of America's leading culinary authorities and one of the most revered French chefs in New York, the city he has called home since 1982. Daniel is chef-owner of db Bistro Moderne, DBGB Kitchen and Bar, Bar Boulud, Café Boulud, Boulud Sud and Épicerie Boulud. In all his restaurants you'll find the warm welcome the chef is renowned for, combined with traces of the soulfully satisfying traditional cooking he grew up with on his family's Rhône Valley farm. Yet Daniel Boulud is best known for New York's exquisitely refined DANIEL, the three Michelin-star Relais & Châteaux restaurant. You'll also discover the chef's French-American cooking in Miami and Palm Beach, Florida and internationally in London, Singapore, Beijing, Montréal and Toronto. Boulud is the author of seven cookbooks, the recipient of three James Beard Foundation awards, including Outstanding Chef and Outstanding Restaurateur and was named a Chevalier de la Légion d'Honneur by the French government, as well as Chef of the Year 2011 by The Culinary Institute of America. He is a generous and energetic supporter of Citymeals-on-Wheels, serving on their board of directors since 2000 and is also co-founder and Chairman of the Bocuse d'Or USA Foundation.
Read more about Daniel Boulud's amazing week of eating, his penchant for pilates and more.
9:00am: Today is the day of a big party I'm hosting to celebrate the 20th anniversary of my first restaurant DANIEL. Breakfast of granola and fruit before heading downstairs (my apartment is above the restaurant) to prep for the party. Expecting 500+ guests at DANIEL around noon.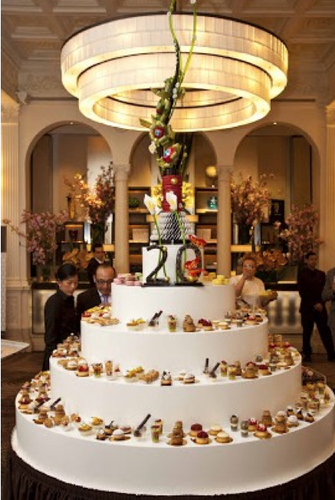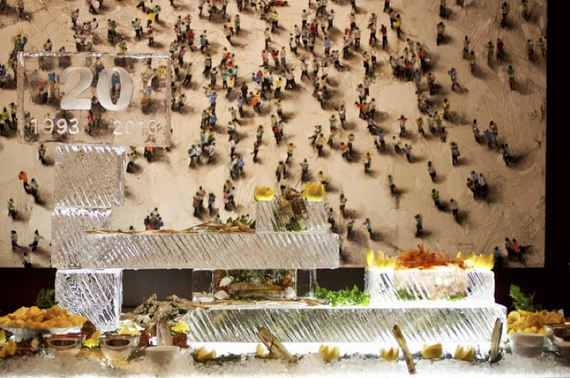 The raw bar station at the party has oysters, Poached Scottish Langoustines, shrimp cocktail whelks...
11:00am: Staff meeting and group photo.
12:30pm - 6:00pm: It's party time! The party is a brunch, cocktail-style reception with stations representing each of my restaurants in NYC. I wanted to bring our entire restaurant family together, with friends and supporters from over the years, to say thank you for 20 years of success and good times. There's French Charcuterie and Viennoiserie from Épicerie Boulud, Mini Burgers from DBGB, Pissaladière from Boulud Sud, Mini Croque Madames from Bar Boulud, dessert of Île Flottante from db Bistro Moderne, Spring Pea Soup from Café Boulud, Louisiana Crayfish from Daniel. We also have Beef with Smoked Hay, Spicy Tripe, Suckling Pig, Vermont Sausage, a big cheese spread, a huge fish and caviar station from my supplier Rod Mitchell, and more. I nibble on this spread and drink a bit of champagne, while celebrating and talking to all my friends, customers and colleagues in attendance.
To end the party, my friend Dean Santon brought out a '93 Gevrey-Chambertin premier cru Comb aux Moines domaine René Leclerc which he bought at the auction of the cellar of El Bulli. We shared it with Gunter Seeger and a couple of close friends as the party wound down.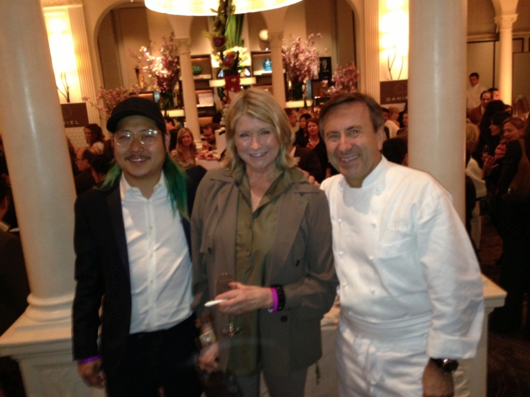 Danny Bowien, Martha Stewart and me
8:00pm: Today also happened to be Cinco de Mayo, so I couldn't finish the day without going to one of the best Mexican restaurants on the Upper East Side, Toloache on 82nd Street. Chef Julian Medina cooked for me and my sister, who was visiting from France, and our partners. We had a delicious selection of tacos and plenty of margaritas.
Julian wanted to finish us off with this special Mezcal Joven -- it was the strangest mezcal that is distilled through a turkey -- a perfect cap to Cinco de Mayo!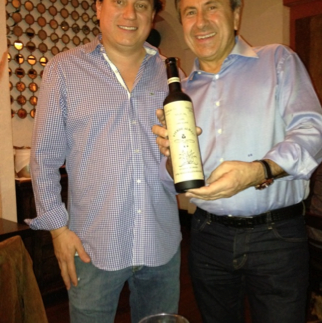 8:00am: Wake up, send a bunch of thank you emails for yesterday's party. Look at a stack of auction catalogues I've been hoping to flip through them, but no time today -- already late!
9:30am: Running to a Board meeting for the Bocuse d'Or USA Foundation at Per Se restaurant with Thomas Keller, Jerome Bocuse and other board members in order to strategize for a victory in 2015, and the fundraising we need to do to get there! At the meeting I nibbled on croissants from Thomas' Bouchon Bakery in the Time Warner Center and had some coffee.
11:30am: Meeting with the Bocuse d'Or USA Foundation's Culinary Council, also at Per Se. This is a time to get together with many the chefs on the Council who are in NYC from out of town because of tonight's James Beard Foundations Awards.
The team at Per Se cooks us an amazing Asian feast. It's a family-style meal done by Corey Chow, one of their sous chefs, for 20 or so people. It was part Korean in honor of Young Yun, whom we welcomed to the position of Executive Director of Bocuse d'Or USA. The meal included glazed pork cheeks with sesame, pickled cucumber, bok choy kimchi, some delicious fish in soja sauce, also with spinach, noodles, and more. It was the first time at Per Se that I used chopsticks for my lunch. I always have a lot of fun when we all get together.
Spicy Cucumber Salad
Beef Tendon Steamed Buns, Pickled Vegetables
Koshihikari Congee, Traditional Accoutrements
Barbecued Pork Jowl Skewers, Black Pepper Sauce
Fried Long Island Squid, Five Spice Salt
Tamari Brined Thomas Farm's Pigeon
Steamed Red Snapper
Arrowleaf Spinach and Ramptop "Ohitashi"
"Hot Pot" Style Rice, Salmon Creek Farms' Pork Belly, Koshihikari Rice, Bonito and Jalapeno
Sauces: Hoisin, Sriracha, Sambal, Tamari Soy, Spicy Mustard
Desserts: Green Tea Roll Cake, Fortune Cookies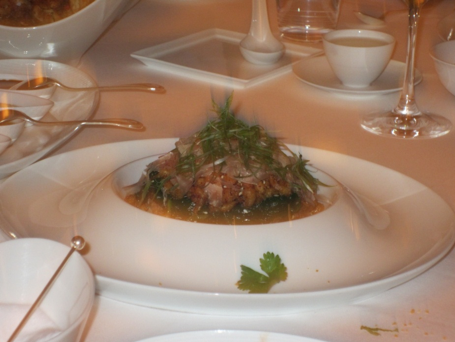 1:30pm: Meeting with my Executive Chef at DANIEL, Jean-Francois Bruel, and our Director of Human Resources about staffing for the summer season.
4:00pm: Managers meeting at Café Boulud. Pastry Chef Noah Carroll has made a Lemon Tart but I don't like to eat too much sugar, so I just have a tiny taste.
5:00pm: Rush home to get ready for the James Beard Foundation Awards Ceremony.
5:30pm: Leave the apartment with Katherine and Maisie, my assistant, and head to Lincoln Center for the big night! When we arrive I do some Red Carpet interviews. It's a very exciting and nerve-wracking experience when you are nominated -- this year I am happy to attend as a spectator and supporter of my colleagues. Around 6pm we head into Avery Fischer Hall, and the Awards begin.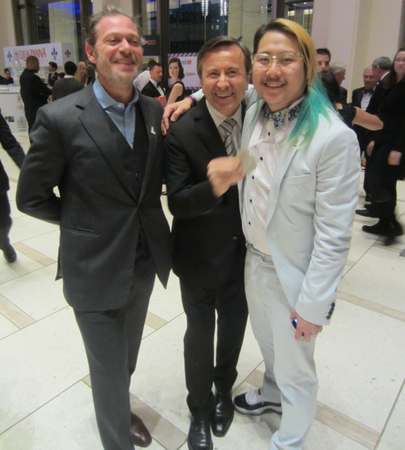 Frank Falcinelli of Frankie's, me and Danny Bowien right after Danny won his James Beard for Rising Star chef. I think Danny was still in shock!
9:30pm: When the awards finish, there is a reception outside the hall with tasting stations by some of the best chefs in the city -- two of my Executive Chefs are there, Jean-Francois Bruel from DANIEL and Gavin Kaysen from Café Boulud, so I check in to make sure they are doing okay, and of course sample their dishes. Jean-Francois presents a Liberty Farm Roasted Duck Breast with Turnips, Spinach, & Sauce au Sang while Gavin serves Braised Octopus, Sea Urchin, Coconut, Avocado, and Cilantro.
Directly across from Lincoln Center are my restaurants Boulud Sud and Bar Boulud so we headed there after the awards to congratulate the many Beard winners celebrating there such as Maguy Le Coze (of Le Bernardin) and Christopher Kostow (of the Restaurant at Meadowood).
11:00pm til late: Time to party! The James Beard Awards after-parties are almost as anticipated as the awards themselves. Restaurant people like to have a good time. We head to Per Se, Thomas is kind enough to host a get-together.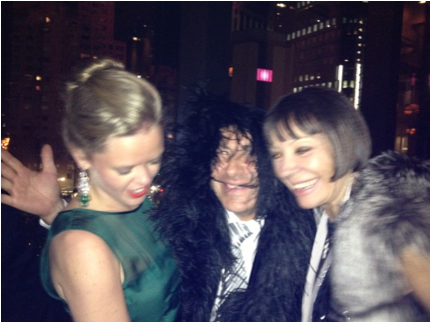 Always the jokester with something on my head -- this time it's Maguy's ostrich feather wrap -- as Thomas Keller (I call him TK) samples snacks behind me.
8:30am: Rise & shine after 5 1/2 hours sleep! Landscapers show up to plant the new "green roof" on our terrace. It's like grass but more like little plants ("sedums") that grow slower and require less maintenance. Spend a few minutes checking out the situation before heading downstairs to the gym.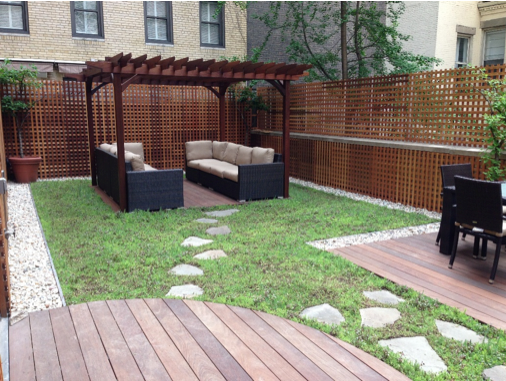 9:15am: Workout. Have been really into mat Pilates as of late, but don't have time for a full session this morning so I hit the machines for some cardio to sweat out the JBFA after-parties last night!
9:45am: Read the NYT, breakfast (yogurt and fruit), check out the Twitter action from last night's Awards, and of course work on some backed-up emails.
10:15am: Shower and run downstairs for a touch-base with my assistant before bolting to lunch.
11:30am: Meeting and lunch at db Bistro Moderne with my favorite Gascon MasterChef, Yves Camdeborde, who runs the popular restaurant Le Comptoir in Paris. Our friends and clients are always asking us to make reservations for them at Yves' restaurant.
12:30pm: Lunch with Yves and his friend Jean Cormier at db Bistro Moderne. We have a tasting menu with wines -- 2011 Hirsch Chardonnay, Sonoma Coast, 2009, and Comte Liger-Belair Vosne Romanee. To eat:
SHRIMP A LA PLANCHA
Boston Bibb Lettuce, Roasted Tomatoes, Pine Nuts, Granny Smith Apples, Lemon-Thyme Vinaigrette

ROASTED ATLANTIC COD
White Bean Purée, Piperade, Herb Salad, Black Trumpet Mushrooms, Harissa Oil

HANGER STEAK
Oxtail Ragoût, Petit Pois à la Française, Bacon, Baby Romaine

Dessert :
VACHERIN
Orange Blossom Poached Rhubarb, Strawberry Meringue, Nougat Ice Cream, Strawberry Rhubarb Sorbet

LEMON TART
Meringue, Thyme Sablé Breton, White Chocolate Kumquat Foam, Olive Oil Ice Cream

Petit Fours
5:15pm: Stop home to check in on things -- the terrace is coming along great! We wanted to do this project last fall but we were still in the middle of redecorating the inside of the apartment, looking forward to reading the latest draft of my cookbook in the gazebo. By the time we figured out what to do and who should do the terrace, the season was gone, so we held out for Spring. Can't wait to BBQ this summer. Head back down to the office to handle emails
7:00pm: Leave the office to head to the Annual Chefs' Dinner at Per Se:
Passed Canapés

Cornet of Marinated Atlantic Salmon
with Sweet Red Onion Crème Fraîche

Gruyère Cheese Gougères

Octopus Ceviche

"Croustillant d'Avocat"

The French Laundry Garden Escargot

Medjool Date with Pumpernickel and "Sauce Romesco"

"SCOTCH EGG" (pictured below)
Black Winter Truffle, Bellota Ham
and Truffle "Consommé"

"DÉLICE DE HUÎTRE"
Poached Belon Oyster, Fried Island Creek Oyster, Oyster Purée "Glaçage," Oyster Lettuce, Pickled Ramps and Jingle Bell Peppers

"CANARD À L'HYDROMEL"
Smoked Hudson Valley Moulard Duck Foie Gras,
Onions, Turnips and Prunes

"CAESAR SALAD"
Aged Parmesan and Anchovy Purée

DATE TART

"MIGNARDISES"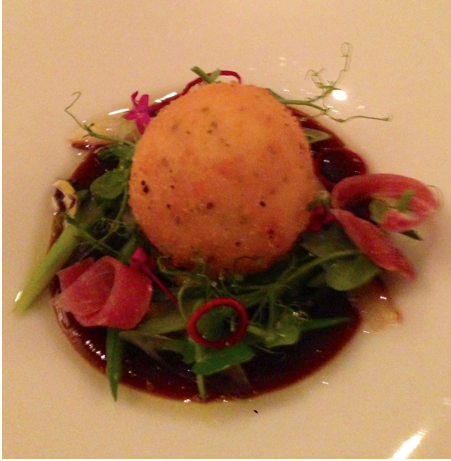 Late night: Met up with my friend Vik Muniz, the Brazilian artist, for a drink at Boulud Sud. Vik did all the artwork at Boulud Sud and Bar Boulud, next door.
11:00am: Bushwick-bound this morning. I was invited to be a guest on two Heritage Radio Network shows -- Mitchell Davis' Taste Matters and Dorothy Hamilton's Chef's Story. Heritage broadcasts out of Roberta's, so of course pizza follows.
11:45am: We wrap Mitchell's show so I have a quick shot of espresso while the pizza is baking. I love the stone oven at Roberta's. I built one for my father in Lyon so he can make his bread in it, and after I took him to Roberta's for lunch last year when he was visiting, he started making pizzas in his oven, too.

Mitchell and I share a "White and Greens" pizza for lunch. I had only one piece since I had to do another radio interview, but it was simple and delicious -- mozzarella, lemon oil, pea shoots from Roberta's garden, arugula, red choy, ruby streak mustard greens and a bit of Parmesan shavings on top.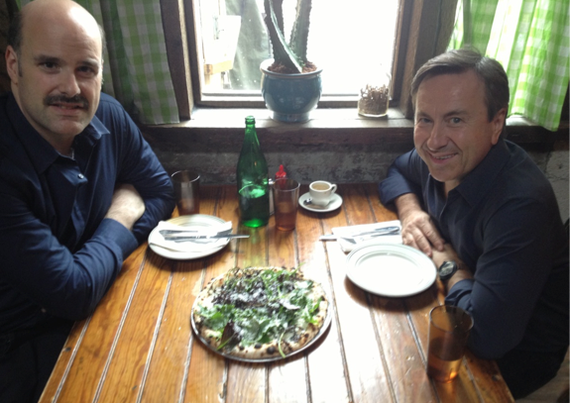 1:30pm/2:00pm: Back in Manhattan. Stop by our Commissary (prep kitchen) around the corner from DBGB -- this is where we make our sausages, breads, pastries, etc. -- to check in with our head charcutier and head baker about the 12,000 buns he will make for the GoogaMooga event we have coming up, and the chef charcutier Aurelien Dufour who will make as many sausages. Head to DBGB for a managers meeting. Have some chicken soup with chicken, carrots and beautiful spring peas, since my throat is a little hoarse from talking and catching up with friends at Per Se last night.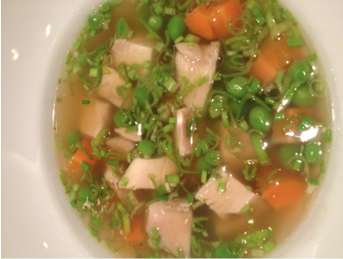 4:00pm: Weekly managers' meeting at Daniel. There are Strawberry Macarons for everywhere, but I don't eat one.
7:00pm: Tonight I'm cooking at a charity dinner at Gotham Hall with the greatest Brazilian chefs Alex Atala, Roberta Sudbrack, and my good friend Claude Troisgros to support the Little Prince Hospital in Curitiba, Brazil. Chef Daniel Humm is a NY Superstar chef also cooking. Pele is in attendance and we all go wild.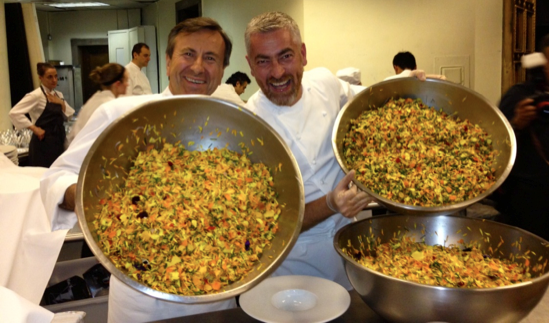 Helping Chef Alex Atala prepping his flowers ceviche dish at the Little Prince fundraiser, with top chefs from Brazil. Pelé was in attendance!
8:30am: Breakfast -- granola, fruits before exercising. Call France for a weekly chat with my parents. I've been making these calls for three decades now.
1:00pm: The Consul General of France in the US, Mr. Bertrand Lortholary, invites me for lunch at the consul general on Fifth Avenue. In all my years in NYC, this is my first one-on-one lunch with the Consul General and it was like being invited to the Elysée Palace. Great food and great conversation.
3:00pm: Meeting at my restaurant DBGB with James Murphy (formerly of LCD Soundsystem), in preparation for GoogaMooga. We are doing a cooking demo on stage together, so we do a run-through to get our routine down. We check and taste the samples of sausages we will be serving to 12,000 people [Editor's Note: GoogaMooga was canceled on Sunday due to rain].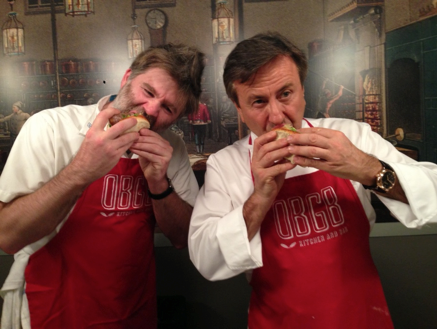 6:30pm: Leave my apartment for a retirement party for Ron Levy at Lincoln Center. My restaurant, Bar Boulud, contributed a charcuterie buffet. Snack on this. Sometimes chefs don't eat much because we have little tastes throughout the day.
8pm: Head back to DANIEL to do service in the restaurant.
11:00am: Meet with my good friend, the writer Bill Buford. Bill wrote some very funny and interesting essays for my upcoming cookbook DANIEL: My French Cuisine, which will launch in October.
12:00pm: Run to Café Boulud to spend lunch and meet with my Chef, Gavin Kaysen, and see the team during service. Didn't eat anything. Sometimes I am too busy and forget to eat.
5:00pm: Come back to the office to check on a few things with my assistant Maisie, and with the kitchen team go over menu and planning for that evening.
5:30pm: Run home to refresh before my fiance's Katherine's big birthday party at home, rearrange all the furniture, then run back down to the restaurant for a check-in with Maisie and the kitchen, then pop out to the Bernardaud showroom to see the launch of their new line of beautiful china celebrating their 150th anniversary.
7:00pm: Back to restaurant DANIEL to do part of the service, greet a lot of the regulars and some celebrities who are here and putting pressure on the service.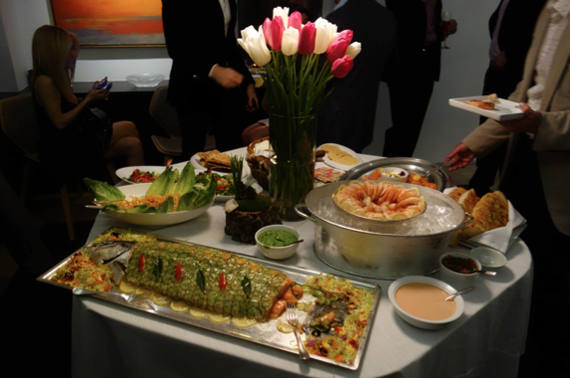 9:45pm: Rejoin the party with my sister Nicole, visiting from France this week, my brother-in-law, mingle and snack on cold poached salmon with Asian carrot slaw, charcuterie, and cheese. Beverage of the night is champagne rosé.
11:00pm: Present the cake, a vanilla cake with raspberry gelée, lemon mousse, and plenty of fresh berries all over. I prefer to take control of cake distribution by cutting and plating it all up myself -- no matter how good the waiter, this is the chef's job!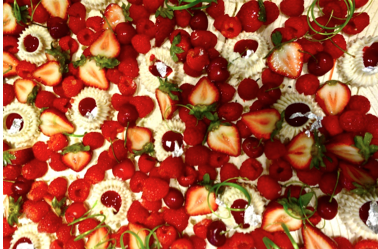 1130pm: Open a bottle of champagne and my new custom-blend whisky by The Dalmore, The Dalmore Selected by Daniel Boulud, and get the dance party started!
9:00am: Wake up and read mail, make a call to Beijing and Singapore to touch base with my kitchens there.
10:30am: Pilates session: push, pull and squeeze every muscle in my body to wring out all the toxins from last night's party.
11:30am: Breakfast -- espresso and fruit. Having lunch at Café Boulud at 2:30pm, so it's just enough to tide me over until then. Read all my newspapers (NYT, WSJ) -- it's always funny to see what the Post thinks the world has in store for me today. Call my daughter who's in San Francisco for the week.
2:30pm: Lunch with Katherine and her mother at Café Boulud. Having a massive pasta craving so first things first, dig into a big bowl of farfalle with Puttanesca sauce, then a pan-seared cod with romesco puree, broccoli rabe, brandade croquettes, and lemon aioli....for dessert I share a scoop of vanilla ice cream with my chef Gavin's son, Emile, who stopped by for a surprise visit.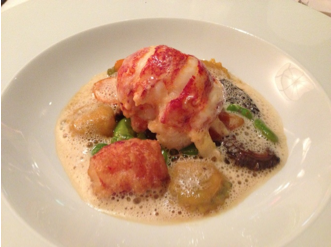 4:00pm: It's storming, so I go see a few art galleries in Chelsea with my good friend Dean Santon, before going to work.
5:30pm: Service at DANIEL.
11:00pm: Leave DANIEL with Katherine and Dean and swing by Boulud Sud to pick up my sister Nicole who is visiting from France. We stay for a Campari and soda, then go to the Carlyle Bemmelman's bar to see some jazz. The saxophonist from Blues Brothers was playing...awesome way to end the week.
See more Food Informants below: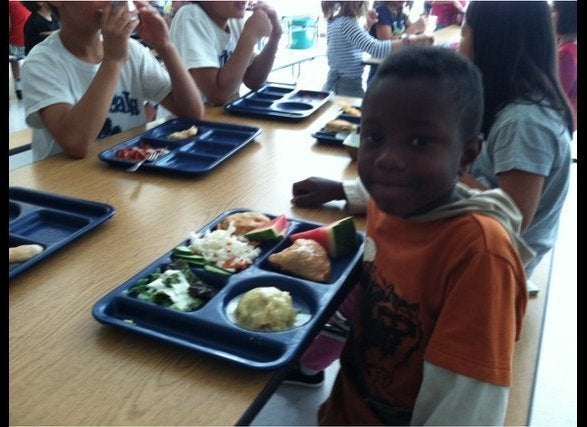 Food Informants
Related