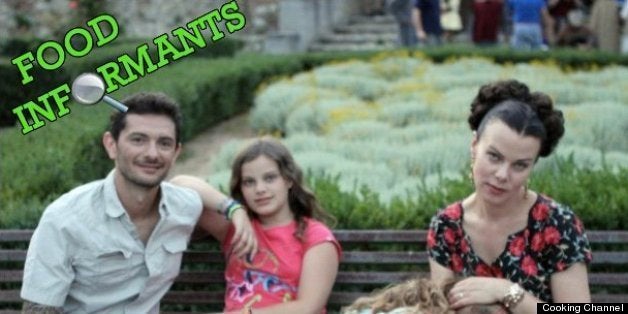 Food Informants is a week-in-the-life series profiling fascinating people in the food world. We hope it will give you a first-hand look at the many different corners of the food industry. Know someone who would make a great Food Informant? Tell us why.
Actress Debi Mazar and her Tuscan-born husband, Gabriele Corcos host "Extra Virgin" on the Cooking Channel. They recently participated in the Live Below The Line Challenge, a campaign that encourages people to think about poverty in new ways. They each had $1.50 per day to spend on food -- the U.S. equivalent of the extreme poverty line. As a family of four, their weekly budget was $30 for five days of meals.
Read Gabriele's diary below to see how his food-focused family fared.

Monday, April 22: A little groceries, a little thinking
So here we are, the campaign has finally started. Our dear friend Robert has decided to move in for the week, so we now have a budget of $37.50 for five people, for five days.
Breakfast: The day started off with one cup of thin coffee with no sugar. We decided to invest in milk and renounce the extra 2-3 morning cups of espresso. Just a half mug to get your day going. Kids had a slice of bread with jam (no butter) and a glass of 2/3 milk and 1/3 water.
Lunch: We forced our kids to eat their public school hot lunch or ask for help from friends. If we were in fact living Below the Line our daughters would qualify for free lunch at school, so for this week I cut a check. Debi, Robert and I had one thin slice of bread with one slice of mortadella and drank water.
4pm: Our stomachs are finally starting to growl.
Pre-dinner: I will still be baking about 1.5 pounds of unsalted bread, but instead of one big loaf I will bake two smaller ones: they will last longer and slice smaller. I will cook a lentil soup, revised for the occasion. I will use less than half of the regular amount of soffritto, I will fry it in vegetable oil (no olive oil this week). I will dilute one pound of lentils in 10 cups of water, and only use a crust of cheese to flavor the soup. No shaved parmesan or fancy drizzles once the soup is ready and served. I will shrink the size of the plates, and serve dinner into cereal bowls instead of regular soup bowls... so it will feel great to get seconds. Last but not least I hope (expect) to have leftovers for lunch tomorrow!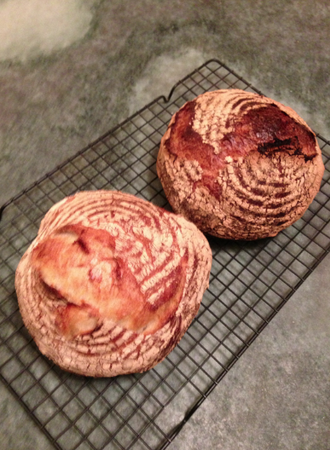 These are the groceries I have used so far today: I already have spent over $10 but many of the ingredients will last me for five days (coffee, sugar, oil, flour), some of them will end up in lunch boxes or in other meals (carrots, celery, mortadella)... the chicken bones are for a broth with noodles. Today I shopped in three different places, I had to walk a bit but I managed to find cheap items within a 20 block radius from my home. It took time but my improvised pantry for this week feels manageable for the moment.
Herbs: 1 celery, 1 red onion, 2 carrots, 1 bunch of parsley (wilted, I negotiated on this one) $3.79
Meat: 10 thin slices of mortadella, 1lb chicken bones $2.66
Various: 1 package coffee, 1 lb. Lentils, 1 jar strawberry jam, 5 lb. flour, 250 ml vegetable oil, 1/4 whole milk (probably hormone saturated) $10.01
TOTAL EXPENSES: $16.46 REMAINING BUDGET $21.04
Tuesday, April 23: It is already a waiting game!
Afternoon: We are all hungry here. Waiting patiently for our only real meal of the day. Evelina skipped lunch at school (she did not like their pizza) so she had a slice of bread and mortadella... the mortadella is already finished! Giulia, my youngest is zoning out in front of the TV, she asked for a snack. Guess what, "Here's a slice of bread! Cannot afford really vegetables or fruit." I have not spent a cent on processed food so far. I miss my calories. Yes I would eat a Twix or a Mars bar to be able to carry on with the rest of my day. Business to wrap up, kids to bathe, homework to finish. On top of that Evelina is having her school tests this week, she needs to focus and to work hard, but her diet is not really a "performing one."
Tonight I am cooking with ingredients I purchased yesterday, with the exception of the eggs, which I found today for $1.99; they are white, small, light... I hate it. But I'll use it.
Dinner: Chicken breast bone broth with homemade noodles. I stretched the dough with some water, so I was able to use three eggs instead of four. I am also baking a 1.5 pound loaf of bread. I hope that when the broth is ready I will be able to scrape some meat off those bones.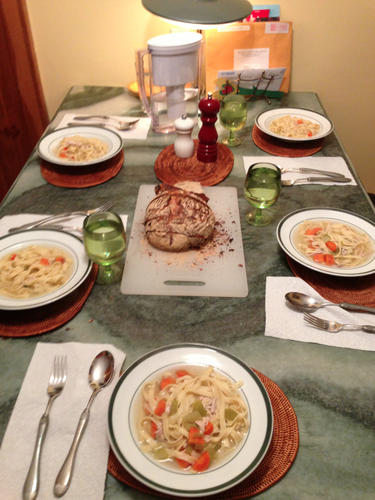 Our family budget for the rest of the week is now $19.05. Tomorrow I will have to buy new stuff for the lunch boxes, maybe a couple of apples, and possibly some dirt cheap meat. I also need rice and beans.
Wednesday, April 24: Feeling the effects
I will be short. I am tired. I am hungry. It's dull. Very different from all the other times in life I usually say "I am hungry." This is like an anesthesia that is progressively conquering me. Monday was the euphoria of the beginning. Tuesday was the "look, we are not doing so badly" day. This morning I kept active and committed.
Lunch: One slice of bread and one slice of mortadella, one glass of leftover broth from last night with an egg scrambled in it.
Dinner: I am now finally cooking one pound of dry pasta with one can of peeled tomatoes, half onion, one carrot and two celery ribs. The bread is almost out of the oven, I am listening to The Black Keys while the sauce is simmering. The dog is looking at me waiting for his dinner... it just hit me. My dog and I are on the same food budget this week. Crap.
Today's Groceries: 1 can peeled tomatoes $0.99, 1 box generic dry pasta $1.29, 1 lb. dry beans $0.99, 1 lb. ground turkey $3.69, 1 lb. of rice $2.59, 1 jar peanut butter $3.25.
WE HAVE LEFT $6.25 FOR FOOD THIS WEEK. I think I have all ingredients to make meatballs tomorrow. On Friday if everything goes well I will be able to buy some fresh basil for my Pappa al Pomodoro.
Thursday, April 25: An Apple A Day (by Debi)
Breakfast: Coffee for Gabriele and I, a slice of homemade fresh bread, with butter for all. For the kids: a glass of diluted milk (to stretch it). Packed the kids off to school with their mortadella sandwiches. We have chosen mortadella, since we like it, and it's cheap. I gave each child my extra slice, so that they would have some protein to help focus at school. My older daughter has her NY state school tests this week. She has been nervous, and I feel bad that I chose this week to do the campaign. Children need a balanced diet to perform well in school, and even if I have to eat less, I refuse to allow her grades to suffer from being hungry. I'm giving her my share of food. I sat on the subway today, and the lady next to me had a big bag of KFC, which permeated the air. The man across from me was chatting with a friend about how fabulous his breakfast was with lox, from Russ & Daughters. Normally, I'd get off the train and grab something if I wanted, but not on $1.50 for the entire day.
Many on social media have been cruel and ignorant to the cause. Acted as if we were abusive to our kids because we included them. I find that ridiculous. Poverty isn't selective. I only hoped to share awareness, and hope that those in the position can share their food, and resources with those in need. Thank you to all who have supported us. One more day to go. When I finally have my greens and fruit, or a nice cut of some meat I'll be looking at it much differently, thanking God that I am able to eat well, and pray we can always have choices.
Friday, April 26: But what if today...
Our family Below The Line experience has come to an end. We survived for five days with a $37.50 budget for food, for five people. But I almost feel it does not count; it is easy to "sacrifice" a week of your lifestyle if you can see the finish line approaching from day one. Yes indeed knowing that this experience was going to have a very short and minimal impact in our lives helped us stay on track during this very odd week. We had a little over $6 left yesterday morning for our final grocery. We managed to buy garlic, fresh basil, a small head of broccoli for the kids, and a partially wilted head of lettuce (which the Korean lady did not allow me to negotiate for). We cooked a fantastic Pappa al Pomodoro, we used all the stale bread we managed to save during the week; I still had to make my soffritto with vegetable oil and resisted stoically to the temptation of just reaching into my cabinet for just a little drizzle of olive oil.
All went well. The week is over, my 10-year-old has finished her state tests at school, and my seven-year-old only cheated once accepting an ice cream cone off a truck in front of her school... one of her friends' fathers paid for it.
We are a bit tired but extremely proud. Our stomachs shrunk a bit.
We are officially out of the "Below The Line Zone," but nobody had breakfast yet... the dull headache I had for the past three days already kicked in. It is very strange, I know that it is a symptom of hunger, but my stomach it is not recognizing it as such. My guts are making all kinds of funny noises, I know that I need to eat, but I am borderline nauseous. The only way I can describe the overall feeling is a mild hangover: you know, when you feel your body needs energy but you are afraid of testing your stomach because of what you did the night before... so you wait, you suffer a bit, and eventually you know that it will pass.
But all I can think of is: what if today was going to be like yesterday? What if tomorrow I still had to count quarters to figure out what I was going to feed my family with? What if I was a single father (or mother)? What if this was just the way, the Live Below the Line way that my life unfolded on a daily basis? It would really SUCK!
My heart and prayers are today for any single soul that struggles for food, anywhere in this world. I did a week. I think I have learned much and understood a bit. But today I am planning in grilling some pork ribs and finally share a beer with friends. And I feel guilty!!! I feel more guilt about exiting the tunnel and falling back into my "privileged" way, than happiness because I am going to see my friends and their kids.
I am proud of my family, especially my daughters that never complained and managed to stick with the program for the whole five-day run.
See more Food Informants below: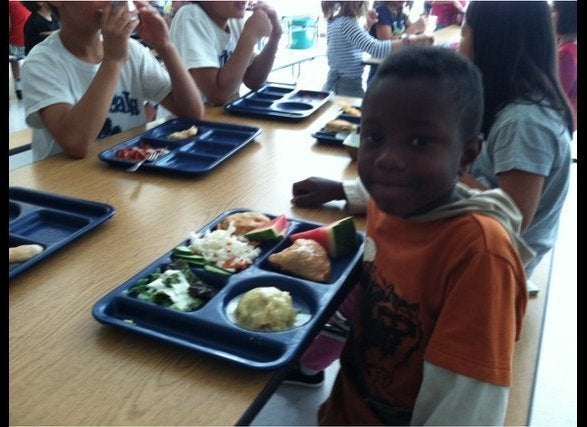 Food Informants