Food Informants is a week-in-the-life series profiling fascinating people in the food world. We hope it will give you a first-hand look at the many different corners of the food industry. Know someone who would make a great Food Informant? Tell us why.
As Vice President of Business Development for Balducci's, Emil Grosso is in charge of scouring and searching for the purveyors of quality available across the U.S. and around the world. From farms to fields to forests, he selects foods for Balducci's markets and catering services -- handpicking the best coffee beans, artisan breads and produce.
Now, Emil is also sourcing quality ingredients for Balducci's Gourmet on the Go Café, the latest Balducci's food destination in New York City. The Café opened this past March, and it marked the return of Balducci's gourmet foods to Manhattan and was conceptualized and realized by Emil over the past two years. The new Café, located in the Hearst Tower on the corner of 56th Street and Eighth Avenue, serves an array of foods, made with locally sourced produce from New York City urban farmers and features breads and pastries from the city's best bakeries. Emil is constantly on the road, meeting new people in the food world and taking a lot of trips to find the best-of-the-best throughout the country to bring back to NYC.
Read more about Emil's recent road trips on his quest to bring various food products to Balducci's.
Monday, August 27
6am: Start the day early to visit Nonna Grosso's (my mother) garden in Totowa, NJ to pick zucchini flowers. Not all zucchini flowers turn into zucchini -- in Southern Italy the zucchini flowers are picked early in the morning and turned into delicious "pitacelli" -- fried, battered zucchini fritters -- for lunch. We wash and remove the stem, and we prepare a batter with eggs, milk, Parmigiano-Reggiano cheese, flour, salt, pepper and garlic. We then dip the flower in the batter and quickly fry them in extra virgin olive oil for about two minutes on each side. They make for a great appetizer, but mom is always surprised when she sees this typical southern Italian "peasant food" on some very fine restaurants menus. I'm always amazed at how many flowers a zucchini plant will produce. We had enough flowers to make about fifty fantastic pitacelli! As many as that seems, they were all gobbled by the family before I could even take a photo.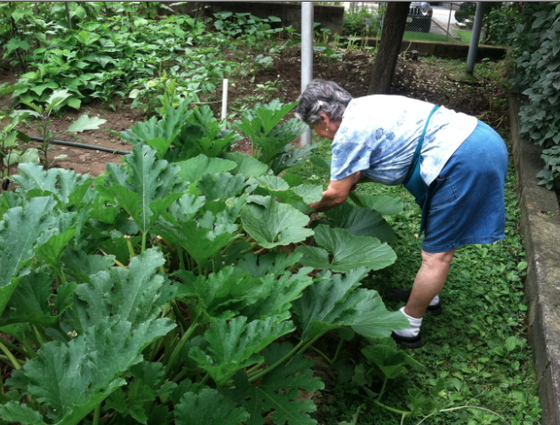 11:30am: Headed back into the city and over to City Winery on Varick Street, where urban wine enthusiasts can get a real hands-on experience and education in wine making. Their passion for wine making becomes contagious, and the discussions around this year's grape harvest are very interesting. I learned that the hot summer weather and cool evenings in California were very good conditions for this year's harvest. In fact, the white grapes ripened about two weeks early and have already been harvested. 2012 should be a good year for white wine, and I then begin to think about what type of grapes to buy for the Café.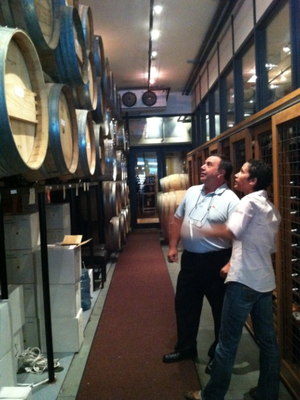 Tuesday, August 28
10am: If I'm not awake I'm going to be, because today is Coffee Day! A new harvest of coffee beans arrives at our roaster in New Jersey, and I'm there to check them out. Our beans are hand selected for Balducci's. They come from small coffee farms that have rich volcanic soil in the high altitude regions Central and South America. Our coffee expert, Charlie, hand selects the best beans in the market and roasts them in small batches using our exclusive recipe. I'm enveloped in the smell of freshly roasted coffee, and it's so rich and inviting. These fresh roasts are delivered fresh to our Gourmet on the Go Café and Balducci's stores on a weekly basis.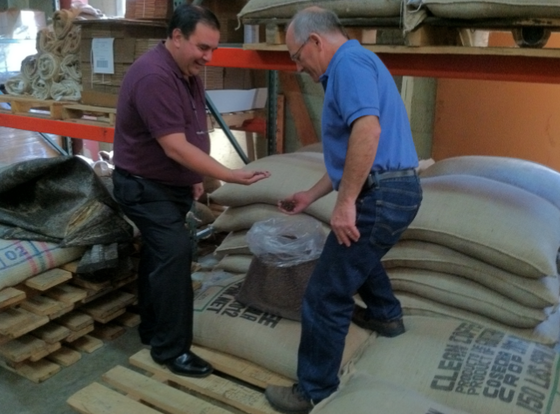 Wednesday, August 29
7:30am: Today is going to be a long day with a lot of local stops! It begins with picking up the best rice pudding in NYC and restocking our shelves for the upcoming Labor Day weekend. Rice to Riches on Spring Street in SoHo is dedicated to making great varieties of delicious rice pudding with edgy names like Coconut Coma and Sex Drugs and Rocky Road. Like their puddings, the store's atmosphere is very playful. I am very excited that we recently introduced four of their bestselling retail products called "Divas" in our Gourmet on the Go Café, which include Chocolate Chip Flirt, Coast to Coast Cheesecake, Category 5 Caramel and Cinnamon Sling with Raisin.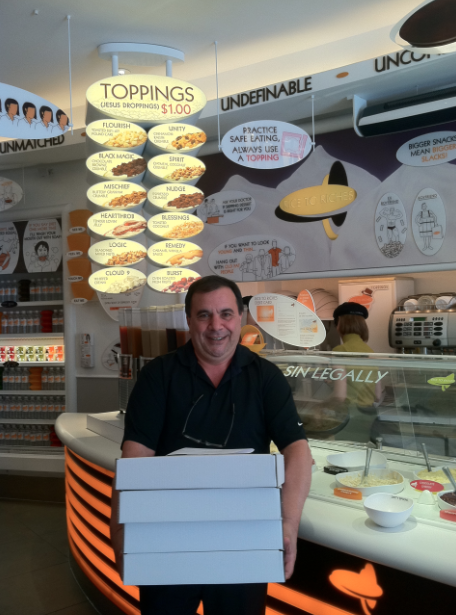 9:30am: I'm off to Chelsea Market now where Francesco Realmuto, owner of L'Arte del Gelato, is busy producing the most authentic gelato that I have tasted outside of Italy. Today I picked up the flavors we offer at the Balducci's Gourmet On the Go Café, which are Pistachio, Stracciatella, Nocciola and Pear. While visiting the production area, I was invited to try a new flavor he was working on: Anise. Wow, it was delicious! Maybe a new flavor for the On the Go Café next summer.
11:30am: My Italian heritage makes me a bit biased towards Italian sweets, but I've got to hand it to the macarons from Macaron Paris -- they really are a delight. They are made and delivered to our Café fresh every day, and today, I need to do a QC tasting, because a new flavor has arrived. It's espresso & chocolate, and it's unbelievably good. We make a lot of people very happy with these macarons -- myself included!
1:30pm: I head over to Fair Lawn, NJ to meet with Adam at Zadies Jewish bakery. Zadies has been voted the best Challah bread the past three years, and they make several kinds. My favorite is their round sweet Challah. They are preparing for Rosh Hashanah, and Adam promises me a sufficient supply for the high holidays. I bring home several round loafs and treat my family to Challah French toast dipped in honey for breakfast. Dad was definitely a hero that morning.
Thursday, August 30
8am: Today, I'm taking a day trip with the family to the Hudson Valley in Upstate New York to visit Jody at Pavaro's apple orchard. She explains that year's New York apple crop will be far less in quantity and varieties than in previous years, as a result of the warm spring and the frost we experienced in April. Jody also tells me that the apples and pears are sweeter this year, making them perfect for my jam making plans for the weekend. Afterwards, we decide to stop at Dubois Farms where we picked our own bushels of apples, loaded the van and earned a very healthy appetite.
1pm: A Grosso family trip to the Hudson Valley always includes a stop at Amici's in Poughkeepsie where Chef and Owner Joel Trocino treated us to a bountiful and tasty lunch of Lobster Mac & Cheese, Crackling Calamari Greens and the Chef-made sausage, pepperoni, onion and mushroom pizza. Needless to say, we left very happy.
3:30pm: After a magnificent and hearty lunch, we go for a stroll on the Walkway Over the Hudson in Highland, NY, which is 212 feet above the Hudson River. It was an abandoned railroad bridge that spans across the river, and like the High Line in New York City, it was transformed into a beautiful urban park. I highly recommend this stop on any trips to the Culinary Institute of America or the wine and apple tours in the Hudson Valley. (You can find more info about it at Walkway.org.)
Friday, August 31
11am: After a big family outing yesterday, I keep the day light and only schedule one lunch meeting with Chef Gateno and his friends at Parmacotto to taste some of the best charcuterie imported in to the USA from Italy. This wonderful, long lunch results in some outstanding new menu selections. I also visit and taste selections from the new Salumeria Rosi Parmacotto II on Madison Ave. Bounismo!
Saturday, September 1
9am: Early this morning, my family and I visit the Paterson, NJ local farmers' market. This open-air market was established 75 years ago for New York and New Jersey farmers to bring their harvest, and it has some of the best produce in the area. We purchase one hundred pounds of San Marzano tomatoes, which we plan to can for the winter. It's a full day event and a major family affair. Each member takes on one task to create our own little assembly line. Boil 'em, peel 'em, deseed 'em, puree 'em, fill the jars, add fresh basil leaf, boil all those jars to seal them and you have yourself a nice supply of fresh tomatoes to make plenty of sauce all winter long! We are exhausted afterward, but we have more work to do. ince we also picked countless amounts of pears from Nonna's trees earlier that morning, we then start the canning process all over again, making 45 jars of our family recipe of cinnamon pear jam. It's certainly a labor of love, but it's definitely worth it!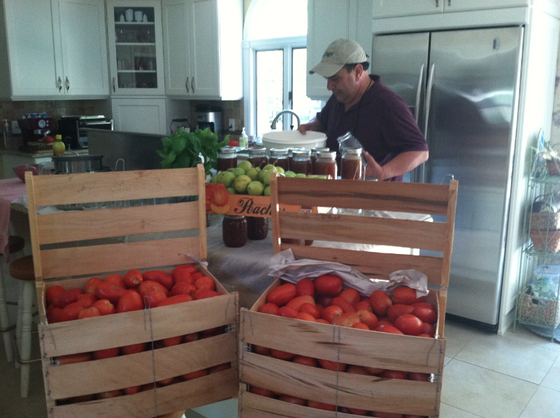 Sunday, September 2
12pm: After a fantastic week of visiting and sharing authentic products from local artisans, I was happy to gather up the family, including my five daughters Gina, Kristina, Alicia, Sandy, and Emily; my wife Kathie; and mother-in-law Helen for a brunch at another local treasure: Miriam Restaurant in Park Slope, Brooklyn. The ages at the table ranged from 18 to 87, but the food ranged from really good to really great. Miriam is a local Mediterranean restaurant, and their passion and love of food is evident in their menu. We savored each dish and each other's company. The table favorite was the Mediterranean crispy dough, but their lighter-than-air falafel platter was a close second! We'll be back again soon.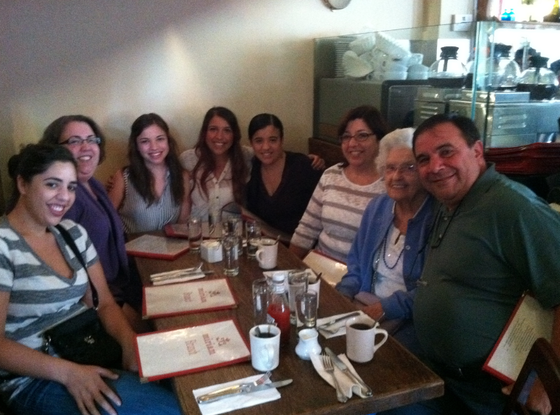 See more Food Informants below:
PHOTO GALLERY
Food Informants
Calling all HuffPost superfans!
Sign up for membership to become a founding member and help shape HuffPost's next chapter