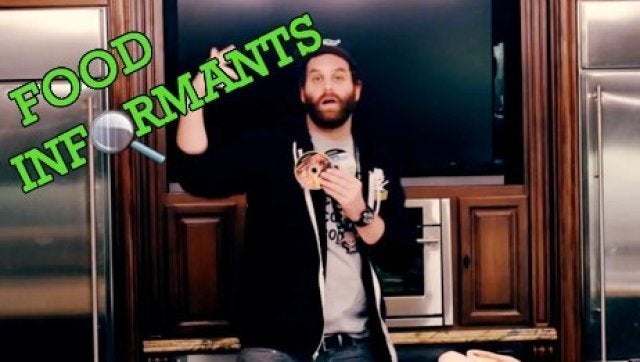 Food Informants is a week-in-the-life series profiling fascinating people in the food world. We hope it will give you a first-hand look at the many different corners of the food industry. Know someone who would make a great Food Informant? Tell us why.
Harley Morenstein, the host of the #1 online cooking show Epic Meal Time, started his career as a substitute teacher surrounding the metropolitan area of Montreal, Quebec. Harley stumbled upon Epic Meal Time after creating a Fast Food Pizza with his sidekick Muscles Glasses. The buzz from the first episode prompted Harley and his team to dedicate their lives full-time to all things Epic Meal Time. Every Tuesday Harley and the EMT team release a new episode of the show. They have also successfully launched a new cooking competition series called Epic Chef, and have grown an audience of over 3.5 million subscribers to date and counting on YouTube.
Read more to learn how Epic Meal Time episodes get made... and how much Harley eats in a week.
8:30am: I hate waking up this early, but I have some meetings today so I get it started nonetheless. You'd think being your own boss would mean wake up when you want. NOPE! We have 3.2 million fans expecting quality from us, and quality takes time.
10am: I've done all my morning emails and now I need to eat. People always ask how we stay "thin" on EpicMealTime. First of all, we're not thin. We're just not grotesque either. We're somewhere in between. The secret is four hour body slow carb diet. Most of us don't eat bread, pasta or starch day to day. I eat two leftover burgers with bacon on them. I feel like a "fake" to the fans as I eat these two underwhelming burgers as breakfast.
11am: I hold a morning meeting with my lead "chefs" PrinceAtari and EpicMook. They do most of the cooking. We toss around ideas for meals on future EpicMealTime episodes. Unfortunately Doughnut Rubix Cube and Lobster Boat are two ideas that still need a little more time in the oven. However, we decide what we're cooking for our Jamie Oliver collabo. Some sort of Fast Food Fish & Chips meal. We'll put more brain to this later.
12pm: I look over EpicMealTime.com. I want our website to be enjoyable and the best it can be so I try and scan our site as if I were a random, anonymous person that hates himself and has ADD. I stay on our site for one minute. We need work. I take notes. I take leads from sites I spend lots of time on like IGN. I take screenshots of the site.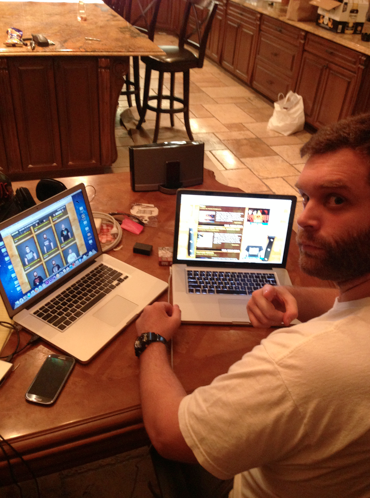 1pm: I eat a fajita bowl and drink coffee. I casually answer emails. Apparently, Adam Carolla wants me on his podcast which will now be streaming on YouTube. I'm honored to be his guest. I confirm for tomorrow night.
2pm: I film a quick segment for a Thrift Shop remix that IGN is producing and my buddy Greg Miller asked me to be a part of. I dance in the kitchen with old videogames. My production manager Dave Heuff helps me get this done.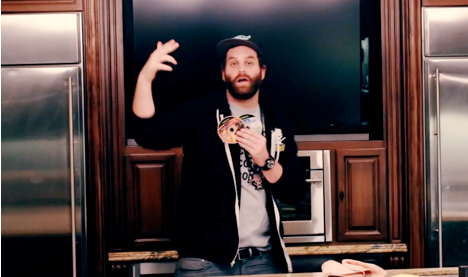 3pm: We just passed half a billion views on our YouTube channel. We all give each other high fives and talk about how far we've come and how wild this has all been. We have a drink...or three.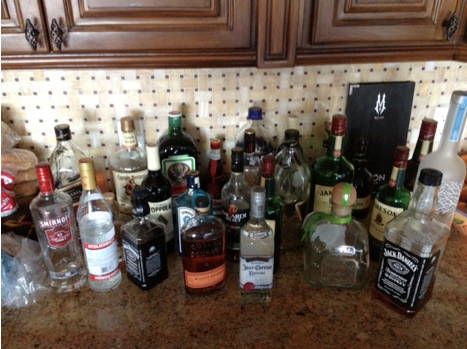 4pm: I'm going to Burbank to film an awkward interview with Unfiltered where we'll discuss EpicMealTime, Epic Chef and the EpicMealTime cooking set and cookbook. On my way out, I receive some mail. It's a meaty care package from Kevin Pereira. I open it to find plenty of steak. This is the beginning of a true bromance.
5pm: Awkward Unfiltered interview ensues. Not sure if it turned out well or not. I don't care, it was fun and I have my own show to worry about.
6pm: Dave has wrapped up the editing of this week's episode of EpicMealTime. Hot Dog Casserole. This is where I sit down with the video for a couple of hours and make some notes (if any), as well as write out a whole voiceover dialogue. I aim to balance between being comedic and informative while writing these out. I type it out on my iPhone as I replay the video over and over again. Then I record on an H4ZOOM in my closet. I give the audio files to Dave where he plugs them into the project file and then bleeps out any swearing. Tyler creates a thumbnail that we all decide is "clickable."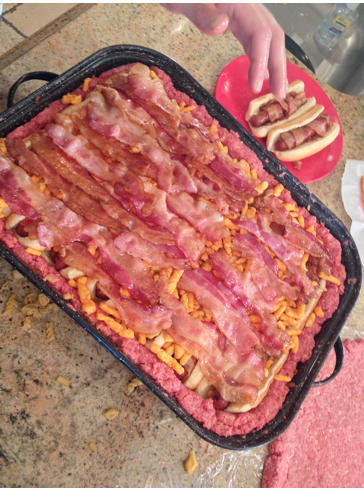 8pm: I read a few blog posts that Tyler, Josh and Ameer have submitted for our website. I show them content I like from other websites. We all high five and agree we're the coolest team ever and we should eat Korean BBQ tonight.
9pm: We eat KBBQ. I have 7 pounds of kimchi. I stink and will air out my clothes when I get home. It's worth it.
11pm: Dave is exporting the newest EpicMealTime video and I'm standing by to social media blast the "S" out of it.
12pm: The video is live and it's blasted out on our Twitter and Facebook. People like it. We like it. We have to do it again for next week.
1am: In bed reading comments. Also, squeezing in a few rounds of Halo 4 before I fall asleep watching Star Trek Next Generation.
10:30am: I sleep in on Tuesdays because we are usually up late the night before uploading. I eat a breakfast omelette with a lot of bacon.
11am: I read through all my emails and call up Darren, my brother and partner in NextTime Productions. He conducts a lot of the behind the scenes movements of EpicMealTime and whatever other potential business endeavors. I wish him a happy 36th birthday. He feels old so he changes the subject. We talk merchandise. What are the cookbook sales at? What are the cooking set pre-orders at? What's our strategy moving ahead? As these talks are not conducive to creativity I find myself spacing out and thinking of things to wrap in bacon. Apparently I agree to some tasks on this call. I don't worry about not knowing what they are as they will appear in my inbox shortly anyways. E-mails all day.
12pm: After spacing out during my last call, thinking of meal concepts, I call a quick meeting with Josh and Prince Atari. We lock down tomorrow to film a Fast Food Fish and Chips Filet episode. We're going to make our own patty out of fish filets from McDonald's. I already feel gross about ordering 50 fish filets and that's in 24 hours from now.
1pm: I meet with Guy Gal and Andrew Kim from Kingmaker, a start-up how-to video company that focuses on beauty products. Our relation to them is that they are handling our EpicMealTime cooking set. This will be a product that will teach our audience how to cook like us using this set on a new channel. We go over branding/packaging and the format of the new how-to cooking show. We're currently selling this cooking set.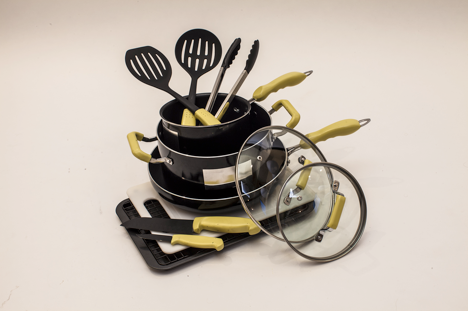 3pm: The house we're currently guests at in West Hollywood has a theater and allegedly used to be occupied by Ludacris. Long story. This is where we talk about our filming date the next day. Tyler reads us the draft of his script. We give input as a team. Josh and Ameer tell us the meal execution. Dave takes notes as he'll be directing tomorrow. We cross-reference footage, that MusclesGlasses had Jamie Oliver send us from England, and how we'll integrate it into the episode. We take a moment. Between being in this week's video and writing the foreword of our cookbook, Jamie Oliver is pretty much one of our best friends. We team high-five to new friendships. We decide to begin our episode with Jamie Oliver telling our audience about the benefits of celery. A privilege only our bestest, newest bud Jamie could get.
5pm: I check my emails again. We're invited to appear in a Big Boi music video on Thursday. We confirm. We are reminded that tomorrow we need to deliver a package that will be used as a marketing tool. This will include two rap songs (we dabble on our free time), a video recipe starring Epic Mook and a video called "How to Eat Breakfast Like A Boss." I confirm that this package is on schedule. We leave for the Adam Carolla podcast after I'm done checking my emails.
6pm: We arrive at Virtual Podcast Network headquarters where I'm greeted by my buddy Mickey. I thank him for hooking this up. He gives me Carolla's "Mangria." We drink quickly out of excitement for 30 minutes. I'm slightly tipsy now as Adam Carolla arrives and we head into his recording room. The rest of the EMT crew makes an appearance during the show as I defend Oreos to Adam Carolla and tell him that I think In-N-Out is overrated. It's over before I know it and I feel pretty drunk.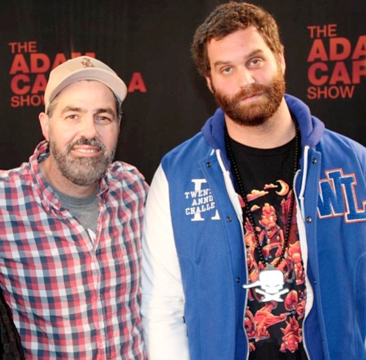 8pm: We're back at the "Alleged Ludacris house" and back in the theater with some Mangria and Jameson in our bodies. We record our vegetable "diss" song "Spit em Up," which is to the tune of "Hit em Up." This gets recorded tonight as it needs to be part of our marketing package due tomorrow and it's all that's left.
1am: How long we're we rapping for? How much did we drink? I find this funny because I'm wasted and it's Tuesday. I used to teach. Now I'm drunk in this movie theater, after rapping for a few hours with my buddies, making a vegetables "diss track." I'm in bed, too drunk to pay attention to Capt. Picard. I pass out with my mouth open.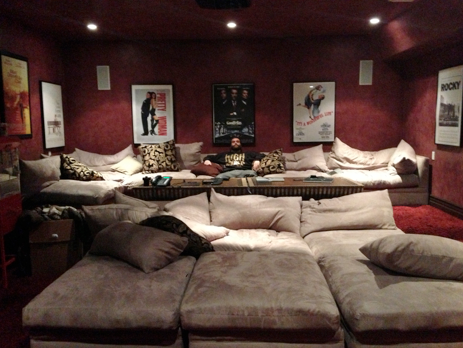 11:30am: I eat taco bowls and some ribs that Ameer made this morning. Manliest. Brunch. Ever. I answer my emails as I eat quickly. It's filming day so Dave is already setting up lights in the kitchen. I finish eating and we all jump into a mini van and head to Ralph's to grocery shop for the episode. We bring a camera with us and film me telling the drive-thru lady that we want 50 fish filets. She hates it. My friends hate it. I hate myself. Hopefully, our audience loves it.
1pm: The cooking of this latest episode is underway. This means Josh and Ameer are focused on cooking for the next six hours as Dave films it all. Tyler holds his script and checks off milestones of the episode. I converse with Dave on what could look good or be funny. We decide to add a drink called the "Don't tell me what to do," which is merely a tall glass of Jameson. We're not cooks and we're especially not mixologists.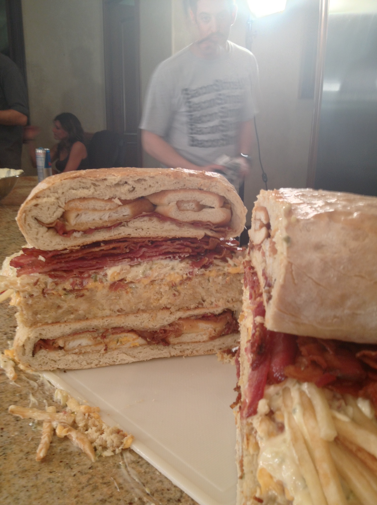 8pm: We wrap filming and clean up the set and ourselves. We stink like fish. Dave offloads some footage and we review some of our funnier bits in the episode while having a drink. One of us points out how now it's Wednesday and we're drinking again for the second day in the row. We awkwardly laugh and sip a bit more in silence.
9am: I'm tired but today is a special day. It's "cheat day." Now if you were paying attention, you'd know that we adhere to 4 hour body slow carb diet (our own version). Thursday is the day we choose to "cheat," which means guilt-free eating of whatever we want all day! The day starts off with doughnuts and bagels. I miss Montreal bagels. Dave uploads Throwback Thursday which is basically cooking game pop-up videos and is available exclusively at EpicMealTime.com. I watch the episode of Epic Chef that will be uploaded at midnight tonight and suggest some final tweaks. We send it off for high-res export and upload.
11am: I put together the final touches of our marketing package and send it off to The Collective for it to be put on the front page of Bit Torrent. This package is filled with exclusive content, such as drunken raps, video recipe and an exclusive piece of EMT content.
12pm: I touch base with Kingmaker on our cooking set samples. We want to have our cooking set be sexy. Then I read some scripts with Tyler. We want to make things funny so we smash our heads together literally and figuratively. We end up bleeding, at least we have a few good bits as well.
1pm: We work out then go to Roscoe's Chicken and Waffles. Since my diet normally consists of meat, I decide to just get waffles and some mac & cheese instead. Yummy carbs. I feel tired.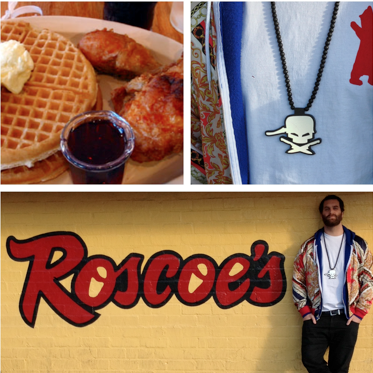 3pm: We show up at the Big Boi music video shoot. We film a random, fun scene that was entirely improv. Here's Tyler and Big Boi. Tyler enjoys taking pictures with well known people and cropping half of their face out of it.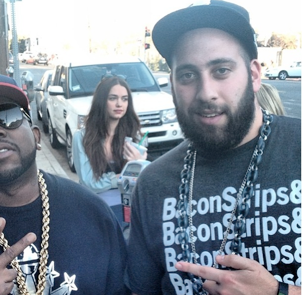 4:30pm: I'm back at the house and I need to nap. I nap so hard. I nap the hardest. You don't care, but you should because it was incredible.
6pm: I meet with some people over dinner about possibly putting together an EpicMealTime movie. It's an exciting conversation but I reserve my excitement for the thick cut bacon I ordered. It comes and then I really get excited. For a few moments, nothing else matters.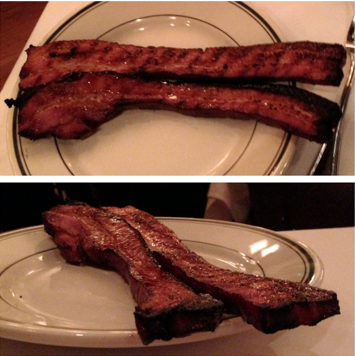 8pm: I don't want to drink. Thank god. I guess I'm not an alcoholic. I watch the final version of the new episode of Epic Chef again. Dave and I talk about what we'll do different with season 2.
9:30pm: I go grab fast food drive-thru. Fast food tastes way better in Canada. Far less options but a much higher quality in taste. I would contemplate this further but before I know it I'm already jamming a double cheeseburger in my stupid face hole.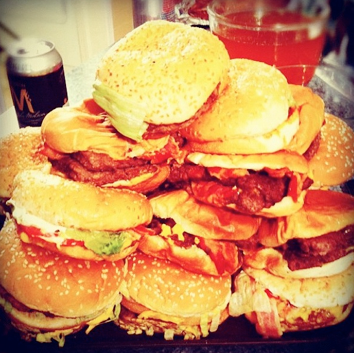 11pm: I'm playing videogames and casually talking about what we can do in future episodes of EpicMealTime with the rest of the team. We can't make doughnut Rubix cube work yet, but lobster boat has now transformed into lobster igloo and we decide we'll probably call Riff Raff or all of Three Loco to join us for this episode.
12am: The New Epic Chef is uploaded and I'm blasting it on social media and answering some questions/comments in the discussion section of the video as well as on Twitter and Facebook. I guess you can say I'm a social media guru...like every other person on this planet claims to be in 2013.
10am: I wake up and meet with Gillian -- Dave's girlfriend and our lead t-shirt designer. She's just designed a "Bacon Business" t-shirt that is a graphic of a briefcase filled with bacon and a heading "Business." It's awesome. Then she shows me two designs titled "Culinary Gangster" and "Culinary Ninja." These designs are approved immediately as she's been working on them for a while now. They look great. We put them on our website for sale.
10:30am: I eat scrambled eggs with salsa and bacon. I'm a little sad it's not on a bagel but I'd rather keep my gut under control. Plus cheat day is only a little over 144 hours away.
11am: Team meeting about new episode ideas/collabos/drink recipes. We get some good stuff going. We plan an episode with Kevin Smith. We confirm our presence at the LA BaconFest and we confirm our presence at the Streamys where EpicMealTime is nominated for Best Cast Ensemble.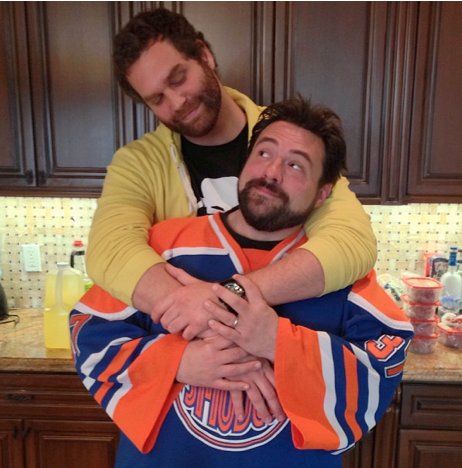 2pm: I show up at the NEW YouTube studio space in Playa Vista. It's an ex-Howard Hughes hangar and it's monstrous. I'm here for secret stuff that they made me sign a document so that I won't talk about it. I might have said too much already. All cool stuff though! I see fellow YouTuber Freddiew and Brandon Laatsch. They ask me about their Epic Chef episode and I express how it looks incredible and will be the finale episode. We all eat some YouTube candy.
4pm: On my way to the house I get Fatburger. XXXL with no bun but with chilli and an egg on it. I finish it and get a certificate for finishing it. They put my picture on the wall. I now have three pictures of me on their wall.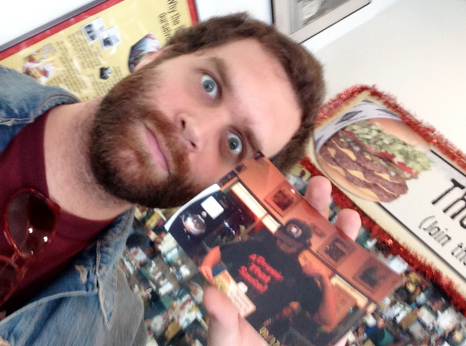 5pm: I get a text from my buddy Danny, who runs a t-shirt company that sells an EpicMealTime bacon-weaved heart design that lights up to music. He invites me to a show. Not sure what it is, but I think he said "exclusive" and "cashmere cat." So we all plan on rolling there.
5:30pm: Work out followed by a protein shake. I don't feel strong working out so soon after a XXXL burger.
7pm: Time to pre-game. I choose to drink whatever is lying around. A pizza comes to the door c/o Kingmaker. It has a huge 3M on it to signify the three million subscriber mark. I am urged to eat carbs in celebration. I give in.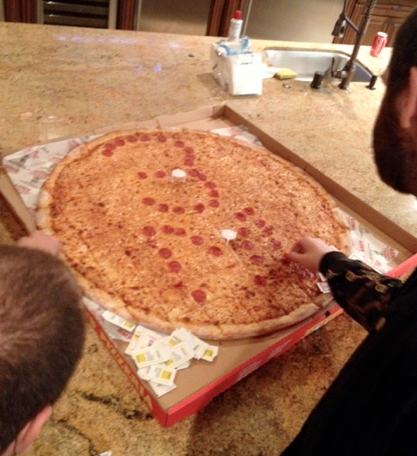 10pm: At the show, I decide to drink Allagash since I've never had it before and I already had some pizza. I love Allagash now.
11am: I wake up and work out. I decide today I'll check my disgusting mess of a Facebook inbox. I see a message from an old student (I used to be a high school teacher) that wants to be an MMA fighter. Apparently, I told him a few months back that I would sponsor him. I write back agreeing to sponsor him in exchange for brand placement. I also read fanpage emails and respond to about a dozen. I send out a t-shirt to a guy who says he watches every episode while stationed in Iraq. I also send a shirt out to a kid that started an EpicMealTime food club in his high school.
1pm: We lounge around the house taking some dumb Instagram photos and autograph some random EpicMealTime cookbooks for some random, lucky fans. We casually plan some future episodes while playing Xbox and Facebooking.
3pm: Football all day. Don't even talk to me.
6pm: I call my mom and dad back in Montreal. We catch up.
7pm: I call my brother and business partner and we plan out the rest of this week coming up as well as future endeavors down the pipeline.
9pm: I sit at my laptop and hammer out all the pressing scheduling of this upcoming week. I also add a few new meal/food ideas to the long list. I think of the shows we plan on doing this upcoming year for YouTube and possibly TV.
See more Food Informants below: