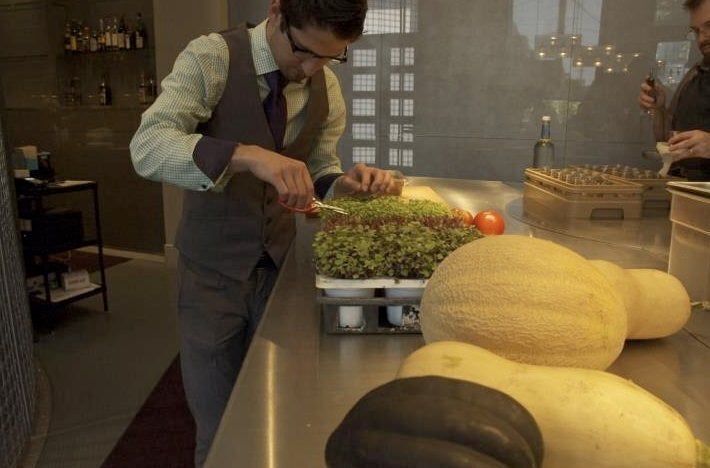 Food Informants is a week-in-the-life series profiling fascinating people in the food world. We hope it will give you a first-hand look at the many different corners of the food industry. Know someone who would make a great Food Informant? Tell us why.
Jonathan Stich, 29, is a third generation farmer from Burlington, Wisconsin. He grew weary of the corporate world, went traveling and decided to become a farmer. After reading about how heirloom tomato grower Tim Stark in Pennsylvania sells his products to New York restaurants, Stich made the decision to spend a night in restaurants in Milwaukee and Chicago asking if they'd be interesting in buying local produce.
In the summer of 2010, Anthony Martin, who had just taken over for Rick Tramonto at Chicago's TRU, was his first customer. In 2011, after bugging Dave Beran (then of Alinea, now the chef of Next restaurant) through Facebook all winter, Beran invited Stich to bring him some samples of micro greens. Stich knew Alinea was important in the Chicago restaurant scene, but didn't know who Grant Achatz was. Dave connected Stich to Matt Chasseur (sous chef at Alinea), who placed his first order for pea tendrils, and explained a centerpiece project he was working on. He asked Stich if there were any varieties of a cherry tomato plant that would fit on a table, so the diner could pluck the them as they ate. Stich decided to impress him the next week by bringing in grafted cherry tomato plants -- three different fruit-bearing tomato plants that are cut and grafted together into one stem. It would give the diner the illusion that one plant could produce three different fruits. While Stich was standing at the pass in the Alinea kitchen examining his creations, someone tapped his elbow. When he looked up, Chasseur was standing there with Grant Achatz. He explained the concept and for his ace card he showed them a bucket filled with five pounds of large blonde morels. Between Alinea, Aviary and Next, they have placed an order every week since.
Along with those Chicago restaurants, Stich also supplies TRU, Le Reve, Cafe at the Plaza and Honeypie Cafe.
Read Jonathan Stich's diary below to learn about the life of a farmer and find out how he satisfies the demands of some of the country's top restaurants.
Monday, August 29
6:42am: Wake up. Respond to email from Dave Beran of Next Restaurant confirming Thursday delivery of micro basil, micro mustard, heirloom tomatoes, corn and mint; the same order he's received every week since July. I'm going to add samples of fall products to the order.
7:42am-8:20am: Arrive at greenhouse, water micros. Starting to take pictures of products for Facebook page concept developing for my as-yet-unnamed business.
9:47am: Walk to greenhouse #1 to check on nasturtium flowers I was asked to grow samples of. They may be used on a Next menu or a beef dish the chef is working on at Alinea. The seeds have been planted in flats of 50, but not all sprouted, possibly due to overwatering. Plants will be delivered live in the flat, to be cut fresh for platting.
10:30am: Crossing into oak forest adjacent to property where I grown heirloom tomatoes and herbs. Have decided to invest a few days this week into mapping out areas of woods I think will be strong for wild maitake mushroom which starts in full swing early to mid-September. Going to check trees for mycelium growth and early matured mushroom.
11:38am: Decide to head deeper into woods than initially planned and phone has started beeping from low battery... could be the start of a horror film.
11:49am: BINGO! First fully mature wild maitake mushroom of the season. Using last of phone battery to call Le Reve restaurant in Wauwatosa, WI trying to find a buyer. Leave voicemail for chef Gil to call me back. Not far from maitake find, I spot few pounds of sulfer shelf or chicken of the wood mushrooms. Very fresh product, another great find.
12:15pm: Halting search and headed back for now. Starving, dehydrated and need to send out a slew of email this afternoon.
1:00pm: Emails to Matt Chasseur (Alinea) and Craig Schoettler (Aviary) on product availability for this week.
1:25pm: Email Anthony Martin at TRU reads: "Yo, anything you specifically don't want this week?" We work well together and at this point he places no weekly order of his selection, just some basic request and the rest I fill in with what's seasonal and fits his visual and flavor profiles. Occasionally I'll text him basic questions if I find a new product that might fit him.
2:04pm: Chef Gil at Le Reve calls to confirm an order for the maitake and adds Italian basil and wax beans to his order.
2:11pm: Call from Arthur Ircink, Producer of a local PBS program Wisconsin Foodie. Called to discuss plans for filming the final segment of a profile the show started doing on me back in early July. Agree on shooting all day Friday.
2:33pm: Phone call with Karen Bell, consulting chef for restaurant Cafe at the Plaza in Milwaukee. Discuss her participation in the wrap shoot for WI Foodie and work out details for casual dinner that will be filmed as part of my profile segment.
3pm: Work in field caring for herbs and heirloom tomatoes.
6:55pm: Deliver wild maitake and sulfur shelf mushroom I found earlier, along with 3lbs fresh cut basil to Le Reve. Sit down for dinner at bar area, order Gruyere Ravioli with herb pesto and pea tendrils.
7:02pm: Chef Gil Petrovic sends out small plate of ravioli stuffed with pheasant and smoked mozzarella, in tomato confit, topped with basil blossoms, on the house. Completely rad flavor balance with the sweet basil blossoms and acidic confit. Badass plating, very summer. Gruyere ravioli arrives... Really delicious, really green, very spring with tendrils and English peas... Only issue I see is that it's August 29th. Chef Gil sends out French horn mushroom atop piquillo pepper gelee inspired by his stage at Alinea. Cool, very cool. Dessert: citron tart pastry, my favorite.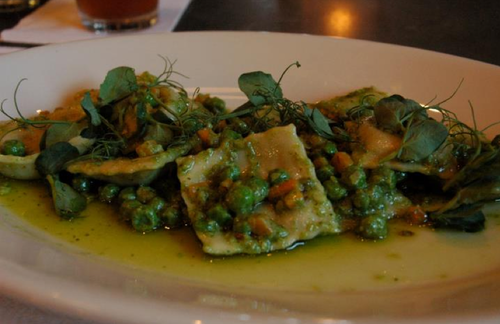 Tuesday, August 30
8:25am: Back into the woods for more search. Cloudy, cool and not many mosquitos.
12:27pm: Back at my car to go for lunch. Instead of heading all the way back to town, I decide to grab some crab apples from a tree, few heirlooms from garden and some basil for seasoning.
1pm - 4pm: More field work.
6:39pm: Decide to head to Milwaukee to grab a late dinner.
7:41pm: Arrive at Honeypie Cafe, another regular customer of mine.
7:48pm: Beermosa... smooth beer meets mellow orange citrus. Wasn't spun in a centrifuge nor does it contain encapsulations, but really stinking awesome.
7:57pm: Dinner - Chicken and biscuit pie... which is a healthy portion of gooey gooey goodness. Finish up with peach pie and ice cream... guess who supplied the peaches?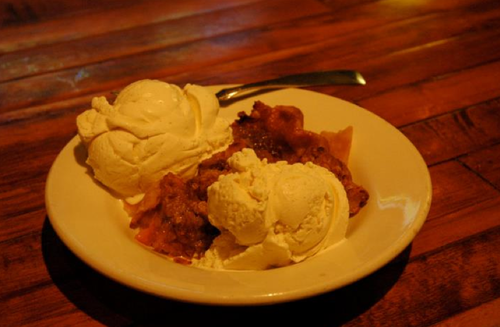 Wednesday, August 30
7:00am: Up and out the door for a quick check of my greenhouse plants, then back to woods for more.
9:50am: Returned to Greenhouse to seed micro greens and pea tendrils for next weeks deliveries.
11:00am: Call to Dad to make sure he has my order for Michigan peaches. He drives a box truck over there weekly to procure seasonal items like peaches and blueberries. He's been working with fellow farmers over there for 50 years and it's a great partnership.
11:15am: Call from Lynn at Yuppie Hill Poultry. She gives me an update on her hens' egg production this week, and progress on her new facility expansion. Place an order for Next.
1:43pm: Find dried up chanterelle mushroom. I've never hunted them before, but next year I'll know where to start looking.
3pm-5pm: Field work, mobile emails and phone calls. Early night, huge push tomorrow.
Thursday, September 1
5:45am: Harvest and sort out 20 pounds heirloom tomatoes for Next.
6:20am: Harvest herbs: spearmint, chocolate mint, columnar basil, large leaf Italian basil and rosemary for Aviary, Next and Tru.
7:00am: Water micros, and carry them outside to place into black plastic stackable lugs. Begin loading lugs into car.
9:15am: Drive to Yuppie Hill Poultry to pick up egg order for Next. Lynn gives me a tour of the new barn. I watch Next's eggs come up a small conveyer belt from the hen house, and Lynn washes, shorts and packages the eggs for delivery.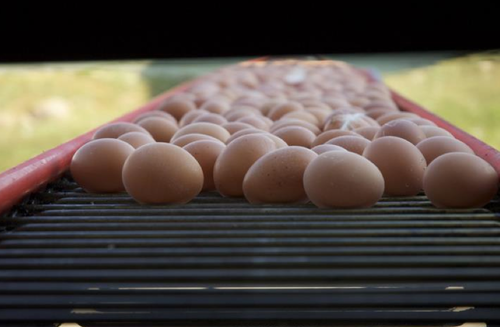 10:10am: Arrive at Geneva Lakes Produce (farm partners) to pick up the season's first harvest of winter squash for Alinea. Also buy muskmelon, corn and cherry tomatoes for Next, Aviary and TRU.
11:20am: Arrive at Haf's Orchard to pick up the season's first Zestar apple harvest for Alinea and TRU. Talk to Richard about tomorrow's filming at the orchard with WI Foodie tomorrow.
12:35pm: Leave Wisconsin en route to Lincoln Park.
2:15pm: At Alinea for first stop. It's about 97 degrees in Chicago, humid and no breeze. Feels as hot in the Alinea kitchen, everyone is sweating and it's obviously crunch time in here. I know the minute I see Chasseur's face I'll need to come back later for delivery. A quick conference confirms.
2:45pm: At Next. Bring product downstairs into lower kitchen as chef Graves checks everything in. Head up to speak with Beran, then across to Aviary to find Schoettler already cutting his micros at the pass.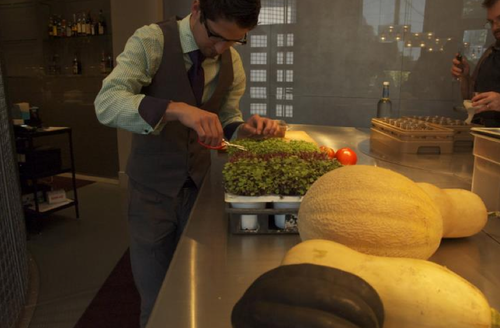 3:45pm: Back at Alinea... Chasseur grabs A.M. manager chef Jose-Louis and we begin unpacking lugs full of micro greens and winter squash from the back of my Hyundai wagon. Once everything is unloaded and checked, Chasseur explains a new concept involving apples as he gazes at the Zestar I've brought him.
4:30pm: TRU. Offload the last of the produce deliveries. Sit down to eat family dinner with staff, but decide to grab M-Burger instead of the eggs and potatoes that have been prepared.
Friday, September 2
6:30am: Arrive at greenhouse to begin prep for today's Milwaukee deliveries and Wisconsin Foodie wrap shoot.
8:15am: More heirloom harvest.
10:45am: Show's producer and cameraman, along with the show's host, Kyle Cherek, arrive.
11:00am: Filming begins. Host Kyle approaches me for a tour and asks me questions about the restaurants I supply and what deliveries he'll be accompanying me on this afternoon.
11:25am: With the initial interview now complete, I offer to take Host Kyle into the woods to find and harvest wild maitake that chef Karen Bell will prepare for dinner for the two of us.
11:45am: Arrive at maitake site and allow Kyle the chance to scan the area. He quickly finds the wild mushroom and describes it on camera as looking like coral. We harvest it and head back to our cars.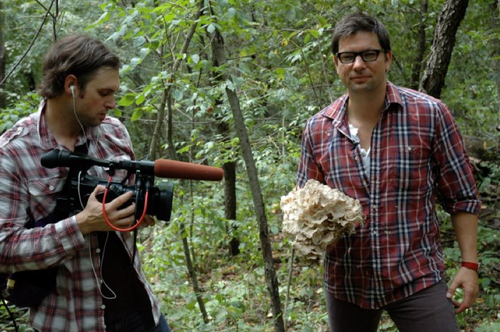 12:15pm: Arrive at Geneva Lakes Produce to pick up Michigan peaches, Swiss chard and sweet corn for Milwaukee deliveries.
12:45pm: Arrive at Haf's orchard to shoot my apple pick up and for an interview with the orchard's owner Richard Polanski on the history of the orchard and what goes into his job.
3pm: Arrive at Le Reve to film my delivery to the restaurant. Host Kyle is presented with a bottle of Champagne and a tray full of French pastry desserts that will be used at tonight's dinner with chef Karen Bell.
4:15pm: Arrive at Cafe at the Plaza in downtown Milwaukee. Delivery of produce is filmed, and Karen is presented with the wild maitake that was found earlier. She begins to demo a dish she is crafting for dinner that night.
4:30pm: After shooting the delivery scene, I head out by myself to finish my last Milwaukee delivery of the day to Honeypie Cafe. Wisconsin Foodie decided not to film the delivery, because they had already previously done an episode on the cafe.
5:15pm: Back at Cafe at the Plaza to shoot the final scene of my Wisconsin Foodie profile. I eat dinner on camera.
Saturday, September 3
11am: Water plants, check thermostat temperatures.
12pm: Upload pictures in Facebook album into sequence that tells a story, add some photo descriptions.
3:30pm: Email friends and customers about the existence of One Guerrilla Farmer Facebook page.
6pm: GrillBBQ pork ribs and watch Brewers game.
9:30pm: Ice cream and lights out.
Sunday, September 4
6:50am: Dress and out the door. Quick stop for coffee with three creams.
7:22am: Back in the woods on a morning hike/mushroom hunt.
7:38am: One of the most beautiful finds I've ever had. Looks like fire coral rising up from the forest floor, really incredible.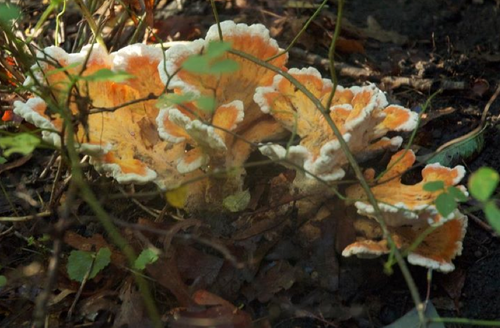 9:15am: At greenhouse to check microgreen sprouting and water plants.
9:30am: Back at home, pancake breakfast, light reading, morning news shows.
11:30am: Playstation 3 - Major League Baseball... hours will go by...
5:30pm: Order pizza and watch Sunday night TV.
See previous Food Informants below: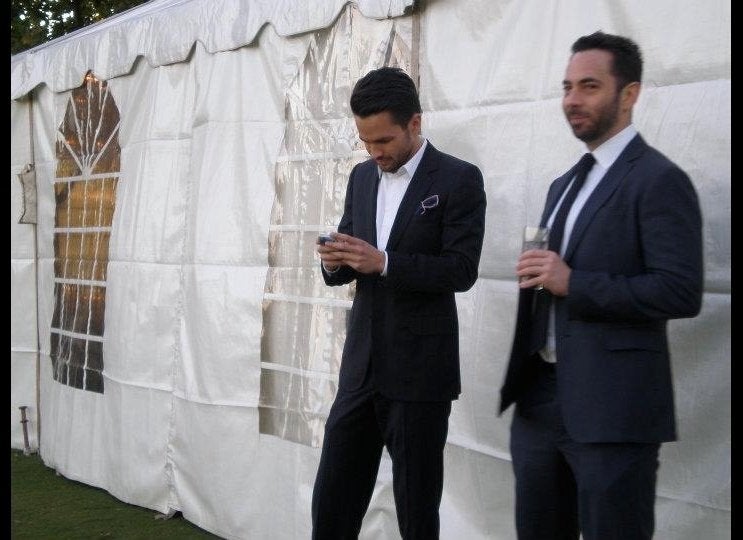 Food Informants
See previous Food Informants below: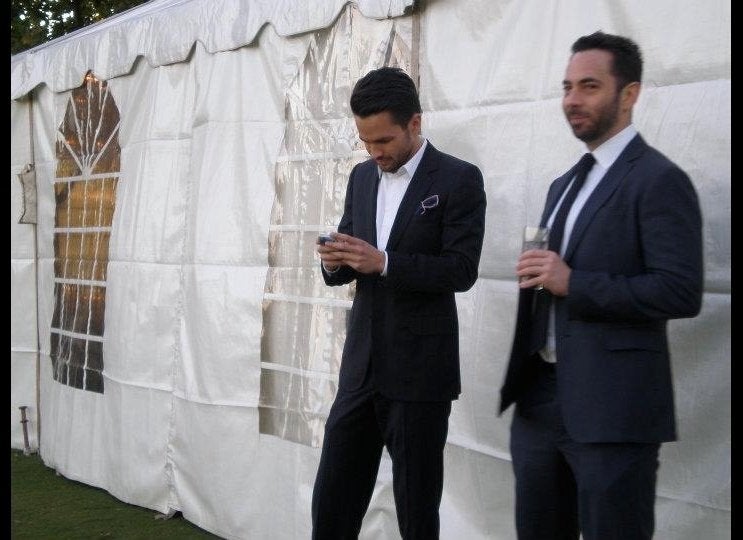 Food Informants
Related