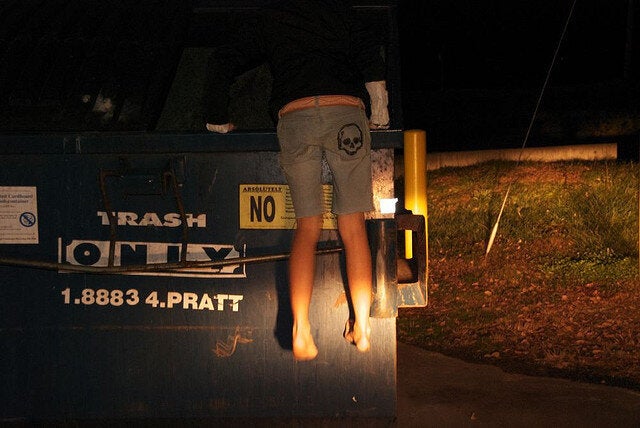 Food Informants is a week-in-the-life series profiling fascinating people in the food world. We hope it will give you a first-hand look at the many different corners of the food industry. Know someone who would make a great Food Informant? Tell us why.
Freeganism is a lifestyle in which one employs "alternative strategies for living based on limited participation in the conventional economy and minimal consumption of resources." Gio Andollo is a writer, artist, musician and freegan. Andollo became a freegan when he realized that artists don't get paid much, but he didn't like the idea of working a "crappy, part-time job" to pay the bills. So he found another way. Andollo performs on the subway for about 20 hours a week, typically in two-hour intervals. He makes $10 to $50 per shift and has a love/hate relationship with busking. Andollo will buy food, but very rarely. The majority of his food comes from trash touring, or dumpster diving. He's become increasingly concerned with the abuses inherent in current economic systems: waste of resources, exploitation of people, degradation of the environment, calloused treatment of animals, commodification of time, labor, even war (thus human life in wholesale). In addition to busking part-time, he writes songs, blogs and books about these issues. To learn more about Gio, visit his personal blog and portfolio here, his living-on-a-shoestring-in-New-York blog here and his blog about washing dishes here. See a fuller bio here.
Read Gio Andollo's diary below to learn about how he finds and makes his meals, and how he gets by without a steady job. Editor's note: Assume that all meals are not purchased unless otherwise mentioned.
Monday, July 18
9am: I roll out of bed finally. I observe Monday as Sabbath - a day of rest, thanks, and realignment. A holy day. So I don't have any work on the agenda. I do, however, have plenty planned for the day!
10am: Breakfast. Raisin bagel with peanut butter and jelly.
10:30am: I prepare a veggie stock with portobello, cucumber, broccoli stalk, parsnip, garlic. I head over to the credit union while the stock simmers to deposit my earnings from busking the past couple weeks. I love banking at my credit union in Washington Heights, as they are especially concerned about community development in my neighborhood.
1pm: Corn, tomato, potato are added to the stock for a soup that will last me at least 4 or 5 meals. I rescued all the aforementioned veggies last week on a trash tour near Columbia University.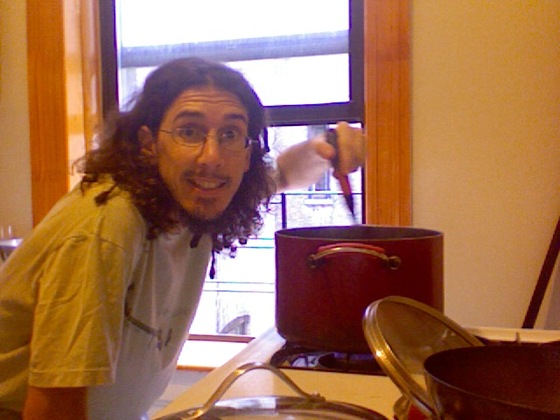 1:30pm: I catch up on last week's news with Jon Stewart's Daily Show, scarfing down my delicious freegan soup for lunch.
2pm: I'm headed to Brooklyn Boulders, a rock-climbing gym where I climb for free in exchange for weekly volunteer shifts. I make a stop on the way at the Union Square greenmarket where I'm dropping off a heavy wet bag full of last week's compost (food waste and organic garbage).
6pm: I plan to meet and pray with friends at the 181 Street overlook in Washington Heights, but I fall asleep on the train as I make my way back home and miss my transfer.
9pm: Dinner. Homemade bagel pizzas with fresh mozzarella. I wash dishes while they bake, a chore so important to me that I've started a blog about it! My roommate complains about ants in the apartment, killing them mercilessly. I vouch for their right to life, citing their workmanship and sense of community. He's not buying it.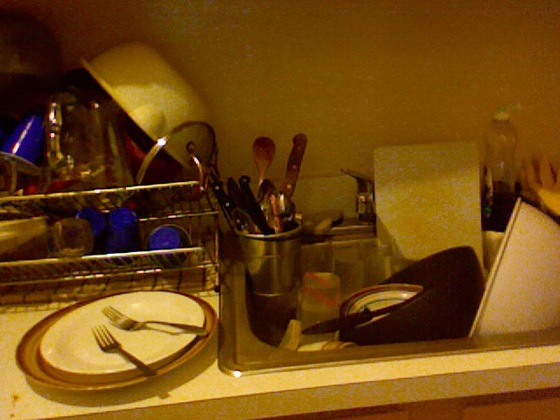 12:20am: I've stayed up later than I should and for no good reason. Turn in.
Tuesday, July 19
8:10am: Breakfast. I'm down to my last bagel. Thankfully I have a trash tour scheduled for tonight.
8:30am: Begin recording new song. My studio is a workspace in one corner of the dining room. I lower all the windows and close the doors to keep it totally quiet. With the summer heat outside, this room is an oven.
6:23pm: Feeling very behind on my work but also exhausted from recording all day in this hot and musty office space. Don't feel like going anywhere or doing anything.
7:10pm: Checking freegan.info e-mail inbox and updating @freegannyc on twitter.
9pm: Pantry dive (i.e. digging in the back of one's pantry—such food is typically long expired but often still viable and edible) for a rice pilaf and lentil meal that expired in 2003! I kid you not. But dry food doesn't ever go bad… does it? Only one way to find out!
9:55pm: I kill the stove and run out to meet a freegan cohort, Annie, for this week's trash tour in Morningside Heights. Trash tours are at a pre-determined time and location, almost always in Morningside Heights around 10. We open trash bags on the curbside and rescue as much food as we can manage for one week's consumption. Annie typically takes much more than she could handle alone, as she then shares much of the food with residents at her building. We typically put all the food on display as we dig, talking with passersby, showing them the abundance of "waste" and food, and offering them the food also. Then we help ourselves to what's left over, return whatever we don't want to the garbage pile (always leaving any given location nicer than we found it!) and move on to the next grocery store.
11:40pm: Return with the booty: plenty of bread, fruits, veggies, herbs, eggrolls, veggie lo mein meals and a large block of blue cheese. I load it all into the fridge and freezer.
12am: Scarfing down the rice and lentils.
Wednesday, July 20
8:10am: Breakfast. PB&J bagel and a smoothie with apple, peach and pear.
9am: Back to recording!
11:30am: Pop a veggie lo mein in the microwave for the road. I eat half on the subway, headed to 33rd Street and Lexington Avenue to meet with a videographer colleague. I have some music video ideas to discuss with him.
1:30pm: Walk to 33rd and 5th to finish my lunch and meet with a pastor/mentor at the Trinity Grace Church offices.
3:05pm: I brought my guitar with me for these errands but left my picks at home. I don't want to waste the ride back so I fashion guitar picks out of an old credit card and perform on the subway.
5:30pm: Head back out for a DIY show in Bed-Stuy Brooklyn. I busk all the way there, playing guitar, harmonica and singing popular covers. This is how I earn my living but I don't earn much on this particular ride. As I walk the seven blocks to the apartment building where the rooftop show is to be held, I am robbed by a man who's got at least a foot and a hundred pounds on me. He says it's his girlfriend's birthday and he wants to get her something nice.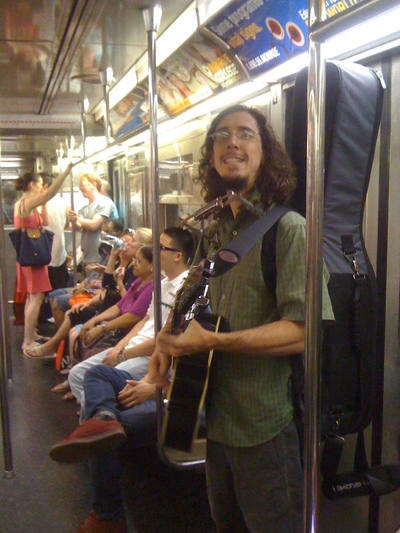 6:42pm: I arrive at the show. I'm first on the bill so I take the stage around 7:15pm. There is a crowd of 30-40 people to see me play. The rest of the musical acts are varied and fun, the food is vegan and delicious, the weather is perfect and the overall vibe fantastic. I make a ton of new friends/fans and contacts as a tipping point nears.
12:25am: The show has ended. I leave alone but find some of my new friends on the subway platform. We sit and talk together. There is a ventriloquist on the train who does an impressive job cracking jokes with his puppet Suzy.
2am: I arrive at home, exhausted. I have to get some of these events off my chest via @giosafari on Twitter.
3:09am: Throw back some eggrolls and beer, lamenting how late it's become.
Thursday, July 21
10am: I catch up on e-mail and prepare breakfast: oatmeal with dried cranberries and a smoothie with apple, pear and orange.
11:30am: Make plans for food rescue in the evening.
12:55pm: Everyone wants a revolution but nobody wants to do the dishes.
1:28pm: Lunch. Monday's soup with bread roll.
3:40pm: I head up to Word Up Books, a new radical bookstore in Washington Heights, for my 4pm volunteer shift. There's little traffic and not much to do so I pick up a book by Howard Zinn, Artists In Times of War. I'm inspired.
9:30pm: Watching a documentary about freegans in NYC. Many of my friends are featured and I make a short appearance myself. I should have went for a trash tour tonight for tomorrow's party, but I didn't have anyone to accompany me. I consider going alone but it's getting too late.
10:53pm: Dinner. More eggrolls and an apple.
12:12am: I've stayed up a bit past schedule, watching the Daily Show and chatting with my roommates. Headed to bed!
Friday, July 22
9am: Finding open mics and couches to surf for next week's Mini(apolis) Tour to Pittsburgh, Chicago, Cincinnati, Chicago and of course Minneapolis.
2:45pm: I begin tidying up the place for a DIY show I'm hosting at my apartment tonight.
3:45pm: Lunch. Homemade pizzas.
4:45pm: Help for tonight's show begins to arrive. Freegan cohort Annie delivers a load of freegan eats for the party; the headliner from Florida (Marc of To All My Dear Friends) arrives and helps me set up a bit. Another friend comes and transforms Annie's delivery into a freegan feast: pizza bites, fruit parfaits, chips and salsa, fruit punch and more!
7pm: Friends, fans, and performing artists trickle in, munch on the food, mingle. Cave Cricket, To All My Dear Friends, and Stefan Fink each play a set and I take the stage last around 11:30. This was probably the hottest day of the year and the little window AC and fans could hardly keep the space at a tolerable temperature. We made freegan popsicles from fresh fruit to keep folks cool and every one kept a real positive attitude throughout the night.
3:30am: I've stayed up real late talking with Marc about DIY music, booking, recording, touring, busking, etc. I take a cold shower and head to bed.
Saturday, July 23
7:30am: Alarm sounds. I get up and dressed, eat breakfast, grab my guitar and head out the door with Marc. I'm headed to Brooklyn Boulders again, but this time to work my volunteer shift. I busk all the way there.
9:41am: I'm 11 minutes late but nobody mentions it. I clock in and help stock the fridges with drinks. I'm on the clock for the next three hours.
11am: A children's party begins and I'm charged with manning the climbing ropes as the kids ascend the walls. I enjoy teaching and working with kids, so this is definitely a fun time. Sure beats vacuuming the carpets and/or chalk-eater filters!
12:42pm: I'm off the clock. I walk over to a pizza place and buy a slice—my first food purchase all week. I eat and walk back to the gym and climb until around 2:30pm. Then head back home.
4pm: My apartment is sweltering. I try to work at my computer but can't stay awake. I nap for about an hour. Then I get back to the computer and spend the rest of the night making plans for the tour next week and contacting local bands to book shows in NYC in August. I'm looking forward to putting on shows at the book store in Washington Heights!
11:30pm: Dinner. Some veggie lo mein and Monday night's soup. An episode of the Daily Show.
Sunday, July 24
8:50am: I'm late.
9:08am: I arrive at PS 75, the venue for Trinity Grace Church's Upper West Side morning service. I strap on my guitar, sound check and rehearse with the worship team until 10:45am.
11am: The service starts on time (this is rare but a rhythm we hope to establish. I clearly have much work to do on my own punctuality!). We hear a sermon on Psalm 37 sandwiched between two sets of worship songs. I love playing with this band of brothers and sisters!
1:28pm: I take to the subway, busking my way home. I don't make much money and a group of men (in their early 20s, I think) ridicule me aloud while I play. As if this work wasn't hard enough!
3pm: Lunch. Finishing yesterday's veggie lo mein while continuing tour plans.
5:12pm: I get a text from a friend who is at the TGC Chelsea service, which started at 5pm. I'm coming to meet them after the service; I'm still at home and need to shower before I leave. I end up sleeping most of the subway ride to 23rd street.
6:30pm: The service is over and I've somehow missed my friend. I link up with other friends and go to a nearby restaurant. This is my one budgeted meal of the week and I'm allowed $10. I end up spending that and change. We all share good food and conversation.
10:45pm: Looking over my week, I'm disappointed in my lack of discipline going to bed and getting up each day. Nevertheless I've gotten much done and had a very productive week!
11:25pm: Dinner. Homemade pizzas and Monday's soup, still going strong...
Support HuffPost
A No-B.S. Guide To Life
Related
Popular in the Community