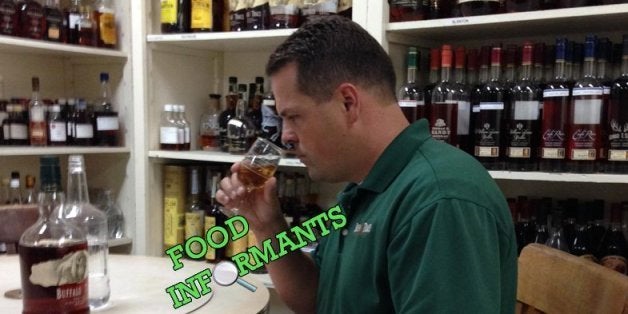 Food Informants is a week-in-the-life series profiling fascinating people in the food world. We hope it will give you a first-hand look at the many different corners of the food industry. Know someone who would make a great Food Informant? Tell us why.
Harlen Wheatley has been the Master Distiller at Buffalo Trace Distillery since 2005. Born in Mount Sterling, Kentucky, in 1969, Harlen has spent almost all of his life in the Bluegrass. After relocating and spending much of his youth in Florence, KY, Harlen attended Northern Kentucky University, attaining his degree in chemistry. He then migrated to work full-time at a chemical company in Central Kentucky while completing a chemical engineering degree at the University of Kentucky, gaining formal training in distillation and separation techniques.
Harlen joined the Distillery as a supervisor in 1995. Not long after, the Distillery was rechristened and the flagship Buffalo Trace Bourbon was introduced. It marked a new era in the Distillery's esteemed history and Harlen continued to make his mark as he was promoted to Distillery Manager in 2000. Harlen was named Master Distiller in 2005, becoming Buffalo Trace's sixth Master Distiller since the Civil War.
Having worked in every aspect of production from raw materials to barrel aging, as Master Distiller, Harlen has driven many initiatives, including solidifying standards and consistency, quality focus and efficiency gains. He is active in overseeing a number of distilling and aging operations in various locations, all while promoting and educating the public on bourbon whiskeys.
Read more about Harlen's day to day.
Monday, September 16

6:20am-7:00am: Opened up the distillery office and reviewed the trucking schedule for the week for supplies and outbound dried distillers grain. Reviewed our manpower schedule. Looked at the yield from last Friday's distillation. Booked production for the distillation, mashing and drying in the manufacturing system.

7:00am-8:30am: Walked the distillery, talked to each operator to see how things are running. Discussed personal & operational issues. Steam leak on our vodka still to be fixed. ecured operator plans for an experimental distillation next week. Scheduled a 24 shift on the vodka shift.

8:30am-9:30am: Reviewed emails. Responded to latest production issues with supplies impacting our plans to increase production in November.

9:30am-10:30am: Prepared for Tax & Trade Bureau Audit. They are requesting information from 2 years back on production records and I secured the data and printed it out for the audit next week.

10:30am-11:00am: Talked with Distillery Research Chemist on upcoming projects. Developed the plans for 2 experiments, discussed timing and cleaning procedures. Discussed payroll questions.

11:00am-11:30am: Took sample of today's distillate to the lab for testing. Tasted single barrel samples for barrel selections and tasted distillate.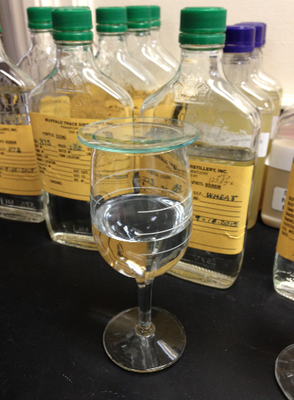 11:30am-12:00pm:Talked with Engineering about projects currently going on in the fermenter room. The timelines were reviewed and decisions were made on upgrades to valving and cleaning procedures.

12:30pm-5:30pm: Prepared for the Buffalo Trace Leadership meeting to start at 1pm. In the meeting our leadership team discusses the distillery vision and key performance indicators on all the operations.

Tuesday, September 17

6:10am: First thing this morning we removed the banners/displays from the distillery conference room for use at the Bardstown bourbon festival.
6:20am-7:30am: Booked production from the previous day and reviewed the yields. Looked at the inventory for dried distillers grain and reviewed Bill of Ladings.
7:30am-8:30am: Walked the distillery. Discussed payroll issues with cooker operator. Talked with boiler operator concerning boiler leak and computer issues on the controls.
8:30am-12:00pm: Visited with a entrepreneur from Novia Scotia who recently purchased a 400-year-old distillery and was doing some due diligence and research. He is looking at making changes with his operation and he wanted to look at our operations because he felt they were authentic and real.
12:30pm-2:00pm: Aging Warehouse Operations Meeting. I discussed with the BTD warehouse team upcoming issues and concerns. We reviewed our key performance indicators and discussed some action steps to better focus our actions. Discussed our Entry operation and how to better serve our needs especially with the upcoming increase in production.
2:00pm-3:30pm: Distillery Operations Meeting. I discussed with the distillery research chemist progress on our most recent quality control checks. Looked at upcoming experiments and reviewed action items.
6:20am: Talked to still house operator to see about the 24-hour operation on the vodka still and how it went last night.
6:20am-7:30am: Booked production and reviewed yields. Logged Title V (EPA) emissions for boiler room, dryhouse and mash house operations. Reviewed/answered emails.
7:30am-8:30am: Walked the distillery and went to each operators station. Requested a meeting with the union president to go over some labor agreements.
8:30am-9:00am: Talked with grain supplier and coordinated next weeks truckloads. Reviewed next month's P.O.s to insure no shortages. Reviewed Malt quality reports and called supplier for updated results.
9:00am-9:30am: Manpower scheduling meeting. Reviewed next weeks manpower and discussed new personnel being trained in the distillery.
9:30am-10:30am: Met with piping contractor on Fermenter expansion project. Discussed changes needed on piping and valving.
10:30am-11:00am: Went to quality lab and tasted new distillate. Tasted single barrel samples and selected Buffalo Trace barrels.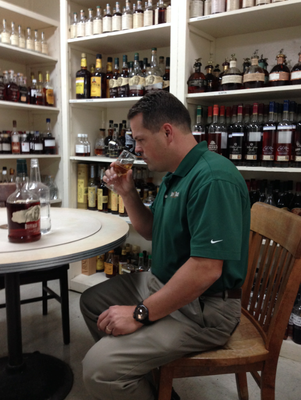 11am-1:00pm:Checked with dryhouse operations and checked on product to make sure everything matched our standards. Talked with new operators to see if they are having coming along on their training.
1:00pm-2:00pm: Lunch with group from Texas and Oklahoma call Front Burner Restaurants. One of their establishments is "Whiskey Cake" which is one of my favorites in Texas. They have bought a total of 15 barrels of whiskey from us. They did a tasting of our spirits with a box lunch.
2:00pm-7:30pm: Traveled to Bardstown, Kentucky. I was a judge for the "Mixed Drink Challenge" for the Bardstown Bourbon Festival going on this week.
6:05am: Talked with still house operator about transferring the current batch of vodka.

6:05am-7:30am: Booked production and reviewed yields. Updated Bill of Lading logs and sent to the finance department for invoicing of grains and used barrels.
7:30am-8:00am: Figured dryhouse start up time and communicated with operators. Checked with cooker operator on corn meal issue. Made some adjustments and plan to do some testing.
8:00am-9:30am: Canadian Whiskey Meeting. Conducted a strategy meeting for our Canadian whiskey supply with the Buffalo Trace Team. Looked at filtration changes and discussed options with Processing Manager.
10:00am-11:30am: Bowman Bros. Distillery Meeting. Talked with new Master Distiller for Bowman and discussed upcoming barrel movements and distillation plans for Bowman.
12:00pm-12:30pm:Met with Plant engineer and discussed our Warehouse X project. Reviewed wood, brick and block material to insure meets our standards.
12:30pm-2:00pm: Walked the distillery. Checked with dryhouse startup to see how things are running since they started at 1pm today. Checked physical inventory. Discussed with silo operator issues with grain.
2:00pm-3:00pm: Went to Aging Warehouse to discuss used barrels and processing of latest batches.
3:00pm-5:00pm: Office work. Reviewed emails, filed reports such as our water usage and EPA emission data.
6:20am: Talked with Aging Warehouse Operations manager concerning previous day's distillation. Discussed barrel movements.
6:20am-7:30am: Booked production and reviewed yields. Reviewed grain inventory and modified deliveries for next week.

7:30am-9:00am: Walked the distillery. Checked with dryhouse on how they ran last night. A couple of issues with the recycle system but all in all good night. Updated incoming grain operator on inventory.
9:00am-10:00am: Went to quality control lab. Tasted the single barrel samples and new distillate. Checked on a couple of ongoing projects with lab.
10:00am-10:30am: Wrapped up paperwork because it is a short day today at the office. Headed to Bardstown for a few Bourbon Festival events.
1:00pm-3:00pm: Conducted a bourbon tasting and bottle signing at Liquor World in Bardstown.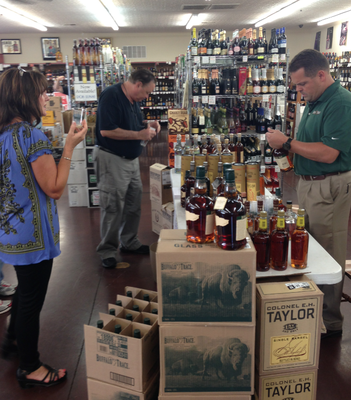 3:00pm-5:30pm: Attended the Bourbon Hall of Fame Induction Ceremony for the Bourbon Festival.
Saturday, September 21

7:00am-2:00pm: Up and at 'em for the Bourbon Festival Golf Tournament.

2:00pm-4:30pm: Back to hotel and changed for the Bourbon Festival Gala. My once a year tuxedo event.

5:00pm-8:00pm: Attended and hosted at the Bourbon Tasting at the Bourbon Festival Gala.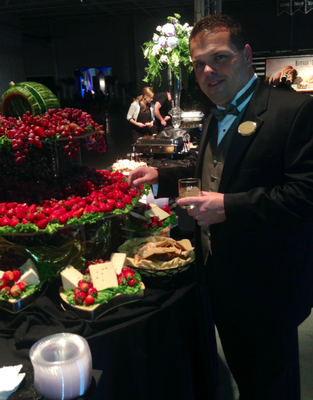 8:00pm-11:30pm: Dinner and dancing at the gala.
Sunday, September 22

9:00am-11:00am: Back to Frankfort to get ready for church.

11:00am-12:30pm:Watch our friend's daughter get baptized.
12:30pm-1:30pm: Lunch at Buffalo Wild Wings with family.
1:30pm-7:00pm: Get the boat stocked and ready and go fishing with my oldest son.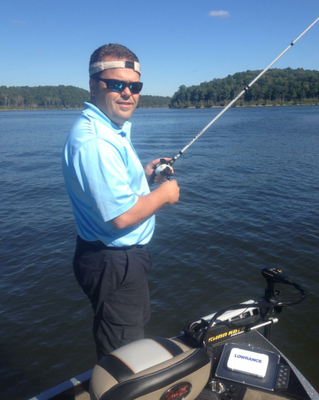 8:00pm-9:00pm: Clean the fish that we kept and hand over to my wife. She loves fresh fish.
See more Food Informants below: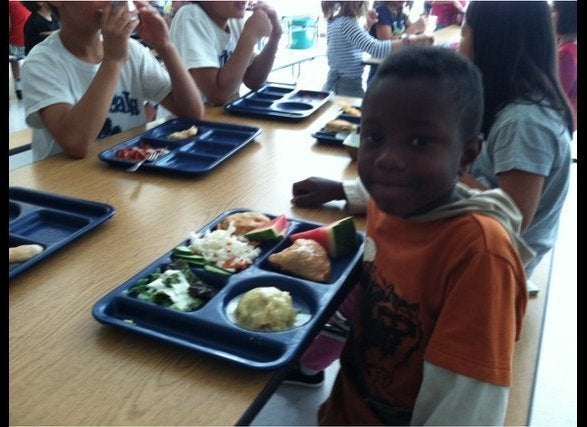 Food Informants
Related