Food Informants is a week-in-the-life series profiling fascinating people in the food world. We hope it will give you a first-hand look at the many different corners of the food industry. Know someone who would make a great Food Informant? Tell us why.
Company founder and managing member Izetta Chambers is the driving force behind Naknek Family Fisheries. She organized the LLC in October 2006 and has been managing it seasonally since that time. Izetta is a graduate of the University of Arizona College of Law, where she earned her Juris Doctorate in 2008. Izetta serves as the MAP Agent/Assistant Professor for the Marine Advisory Program, an extension partnership between the University of Alaska Fairbanks and Alaska Sea Grant program.
Izetta lives in Dillingham with her husband, Chet, their children, Noah and Lovina. Izetta (a.k.a. "the fish lady") has participated in the Bristol Bay fishery since the age of 9 years old, when she began setnet salmon fishing with her brother, Everett Thompson.
The Bristol Bay in Alaska is home to the world's largest natural sockeye salmon run. The village of Naknek sits on a cape at the mouth of the Naknek and Kvichak rivers. People have been harvesting sockeye salmon from these waters for over 9,000 years. Izetta's family is proud of our Alaska Native and Scandinavian heritage and they continue in the family tradition of harvesting and preparing salmon. She formed Naknek Family Fisheries back in 2006 and they built their own fish processing plants in 2007. In 2008, Izetta and her family started processing fish in State-approved processing plant and have been at it ever since. It's a very short season, about six weeks long.
Read more about one of the earliest salmon runs on record.
7am: I am super tired, after working until about 2am the previous night processing the day's catch. I try to be quiet as I go into the small cabin where our crew sleeps, but that is where the kitchen is. My kids are sleeping in our sleeping cabin, and I like to make my calls somewhere they won't be disturbed in their sleep. My dad came at 9:30am to help us load up the shipment to go the airport.
11am: All went well at the drop off. Carla was impressed that I was there early for a change. I think that after doing this for well over 6 years, that it should be getting easier. It doesn't necessarily get easier every year -– it's just a little bit different and perhaps more familiar. After getting back to the plant, my kids start waking up, and I get my 9-year old son, Noah, ready to go fishing for the day's fishing opening. During the fishing season he helps out at my family's beach set net fishing operation. My family has been fishing the same set net site for four generations, and it makes me very proud to see my oldest learning the family fishing tradition.
We have an interesting crew this year –- mostly women except for my husband, Chet, and Noah. He helps out occasionally answering phones and passing on messages when we are in the plant. My 5-year old is learning and taking it all in. I hope that she will one day learn the management side of the business so that I can retire.
Today was a good day. The freezer door came in and the tractor got fixed. We are up and running again. I made a delivery to Katmai Air for the lodges. They were our first ever customer and we like to try to keep them happy. It also gives me great satisfaction to know that people come from all over the world to visit this national treasure and get to eat our amazing salmon fresh. This was the first year that I sold them fresh fillets, as in the past they have been more interested in the fresh headed & gutted (H&G) salmon.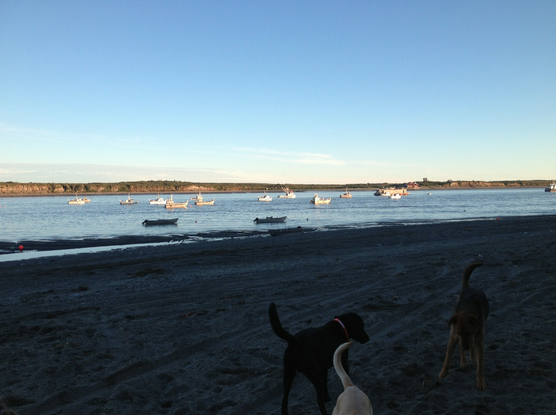 Had some issues with the tractor today, and my cousin came over to try to figure it out. It looks like it might be leaking again. I've been monitoring it, hoping that it is just residual from the previous leak and that it will stop shortly. My husband, Chet, came back from Washington, D.C. in the morning, which is a huge relief. He was there for his work with the University of Alaska Fairbanks Bristol Bay Campus. As soon as he came in he went right to work, trying to figure out the installation of our new freezer door.
Our friend, Doug Olsen (aka Hippy Doug) came over on his lunch break and gave instruction on the installation of the freezer door, which helped immensely. He helped build the fish plant back in 2007. A friend of ours from Tucson, Arlo Todd, and my husband were the main carpenters, and Hippy Doug was essentially the project foreman. Between two inexperienced carpenters and a volunteer lead carpenter, it took a whole season to construct, but I am satisfied with it.
Pete Regan from Stay Cool Refrigeration came by to work on our new plate freezers. Since we haven't been able to freeze fish, we have been processing fresh sockeye and shipping them out almost daily to our fresh markets –- primarily in Oregon and Washington. Although the margins are really slim on fresh salmon, it keeps us in fish and keeps our crew in hours. It's hard to find good crew this time of year, as our seasonal unemployment rate is extremely low with so many people involved in the fishery.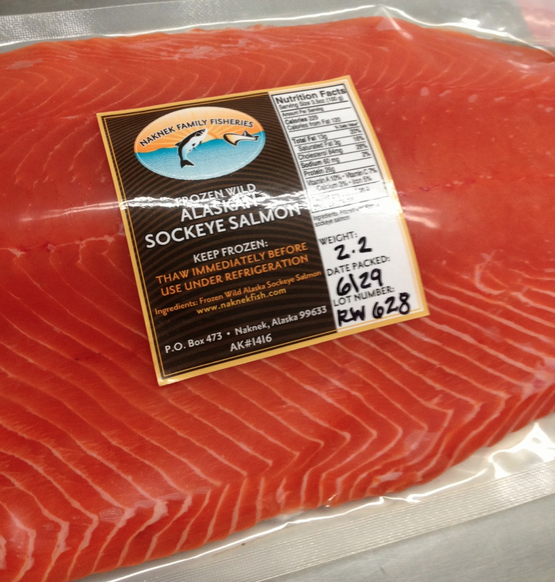 We shipped out only four boxes of fish today -– to Steelhead Diner for a special promotion they are doing for the Save Bristol Bay campaign. I caught up on work stuff and fielded phone calls.
Evening: My friend, Amanda Wlaysewski called and asked if our crew would be interested in vacuum packing for her company, Nakeen Homepack, and if I would be interested in doing an in-plant demonstration on trimming for her filleters. I jumped at the chance, as it would be my last official Marine Advisory Program duty, and I was interested in how they ran things up there. Amanda started her company last summer, amidst some opposition from the local planning and zoning board, who tried to hold her to the covenants of the Borough subdivision. Later, she found out that the covenants had been repealed, but she still lost the better part of a season trying to fight for her right to conduct her business. Her plant is set up a bit differently from mine, as she has water constraints that she is dealing with, as she is not on the city sewage system. So, she has to very conservative with water and monitor her septic system more closely. Her operation is very clean though, and her employees seem happy enough. You can tell Amanda has spent a lot of time in various processing plants, and has gleaned the best practices from each place she worked. She is a very hard worker, and intent on making a business that benefits people. Her vision is to help fishermen market their fish directly by processing their fish in a DEC-approved processing plant. She is also consolidating a barge freight order, which is a tremendous service. I shared with her crew our custom processing receiving form, and advised her that she needs to have something in writing when taking fish –- primarily to cover herself and to be in compliance with the Statute of Frauds.
Today was a slow day, as there was no fishing after 9 am. The fishermen are on standby awaiting the next announcement. I went to my small farm up the road and watered the plants. I also visited my grandmother, Violet Willson. She calls me "the fish lady" and has shared with me so much about fish quality, processing, and dealing with customers. She runs a bed and breakfast up the road, and has been a successful entrepreneur and businesswoman most of her life. My mom, my auntie Carolyn, and my Grandma Violet used to fish the site that my sister fishes now -– and were extremely successful at it. They were highliners (top boat) most years, even beating many of the drift fleet. She is going to be 80 this year, and is suffering from osteoporosis (which runs in my family), arthritis, and congenital heart disease. I am only able to swallow the reality that she isn't going to be with us much longer in very small doses.
We shipped out nearly 1,000 pounds of fish this morning –- headed for Portland. One of our customers coordinates a shipment for a buying club down there and this is one of two shipments that we will be sending this season. The fish are definitely early this year, but now that the plate freezer is going, we are able to keep up and make some serious strides toward marking our orders.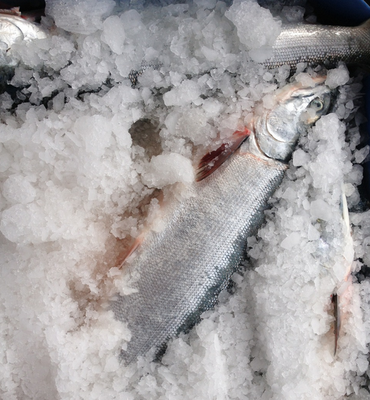 See more Food Informants below: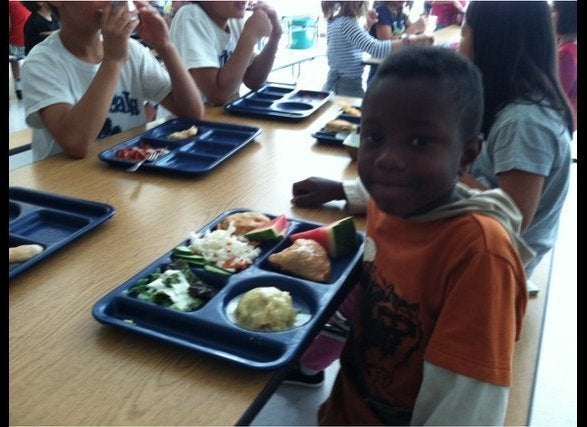 Food Informants
Related