Food Informants is a week-in-the-life series profiling fascinating people in the food world. We hope it will give you a first-hand look at the many different corners of the food industry. Know someone who would make a great Food Informant? Tell us why.
Jenny McCoy is a New York City-based professional pastry chef turned home baker. She's the co-founder of Cissé Trading Company, a cookbook author, culinary instructor and authority on all things sweet.
Read on to learn how she is juggling a new baking business while traveling around San Francisco for work (and some fun).
Tuesday, October 9
4:00pm: Spent my five hour long flight from New York City to San Francisco editing the introduction to my new cookbook, "Jenny McCoy's Sweets for Every Season." It's still not complete.
8:30pm: Arrived in San Francisco and raced to Contigo for dinner before their kitchen closed for the night. And aren't I lucky I made it -- the marinated sardine crostata was perfect; my fig, arugula, hazelnut, and queso de cabra salad was a nice in-between; the lamb albondigas had a hidden spice I still can't identify (love when that happens!); but best of all, the chocolate con churros was perhaps better than my beloved San Gines in Madrid.
Wednesday, October 10

8:30am: Hit the road to fight traffic from Oakland to San Francisco to make a meeting with buyers from Williams-Sonoma. Stopped at Arizmendi, an employee-owned cooperative bakery that specializes in bread, pizza morning pastries and excellent coffee. I can't remember the last time I was served a large coffee for $1.50 by a smiling barista wearing a "Support Your Local Farmer" t-shirt. Oh, how I love California.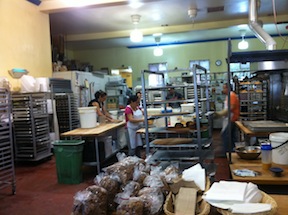 11:00am: Meeting with Williams-Somona buyers to introduce my new line of baking and hot cocoa mixes, Cissé Trading Co, and talk shop. Their offices overlook Ghiradelli Square and the bay with a clear view of Alcatraz. Unbelievable. Fingers crossed we will work together soon….

12:00pm: Made a mad dash for lunch at Out the Door in the Ferry Building. Steamed veggie bun with roasted mushrooms, shredded green papaya salad, and lychee-chrysanthemum iced tea. Once I scarfed that down, I had to take a call with an investor -– while sitting on the floor of the Ferry Building. I guess I redefining the term "mobile office."
1:45pm: Stopped by Peet's Coffee down the street to meet with one of Cissé Board of Director members. He advised me on how to handle dealing with multiple obstacles in production at once without losing my mind, and gave me some great guidance on how to find a Director of Operations. 


2:30pm: Met with my ROLE MODEL, Pastry Chef Emily Luchetti! We had met briefly once or twice in the past, but this was my chance to talk shop with her one-on-one. After another cappuccino at Blue Bottle in the Ferry Building, I talked her ear off about my new business and quest to see the James Beard Foundation award more that one pastry chef a year. Emily gave me some great insight on the projects she's working on these days -- I totally want to be her when I grow up someday.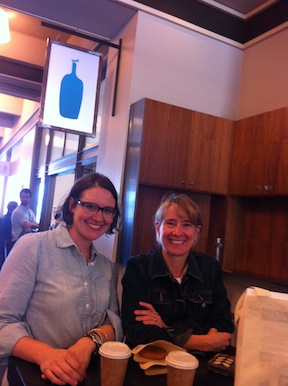 4:30pm: Met up with my new bestie, Jina Kim, Director of Marketing for 18 Rabbits. After a visit to their super cool SF-based offices, and a ride in the company car to dinner at Delfina, our meeting went quickly from shop talk to boy talk and an assessment of what we think of Blue Bottle's Saffron Snickerdoodles. We both agreed texture was prefect, but had way too much saffron. And pasta at Delfina is not to be missed.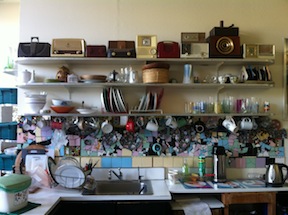 Thursday, October 11
8:00am: Crack of dawn call with brokers for QVC. We just pitched some super cute gift sets to their online buyer and needed to talk pricing and feedback. Everyone needs baking and hot cocoa mixes this holiday season, right?!
10:00am: Call with Kate McCue, Director of Recreational Classes at the Institute of Culinary Education in NYC. We scheduled three great classes that I'll be teaching this Spring -- Italian Classic Desserts in March, Baking with Whole Grains in April, and Light Desserts for Spring in May.
12:30pm: Lunch with my dear friend Katie and Joe of New Orleans at Chez Panisse. The food was so simple, so fresh, so perfect. My favorite dish was dessert, of course -- Dancing Ranch Pear and Huckleberry Crisp with Meyer Lemon Ice Cream. Oh and I realized I left my debit card in the ATM machine across the street. Oops!
2:30pm: Happened upon the set-up of the late-afternoon farmers' market in Berkeley. An ever-so-lovely worker at my favorite California grower's, Frog's Hollow Farm, booth kindly allowed me to purchase a homemade blueberry pop-tart even though the market didn't open until 4:00pm. I don't know how I managed to eat that after lunch and three desserts at Chez Panisse, but wow -- it was perfect.
3:15pm: Brainstorm session for QVC via Bluetooth while driving to Piedmonte, Oakland, with my business partner, Diana Lovett. We needed to talk cost of distribution. Fun stuff.

5:00pm: Stroll down College Avenue in Rockridge, Oakland, a street very well known for its super cute boutique shopping. Highlight was definitely finding Atomic Garden, where I dropped a wad of cash on candles, hair accessories, handmade cards and a organic silk scarf -- none of which I needed at all.
7:30pm: Dinner at Haven in Jack London Square with my friend and local Oaklander, David. In exchange for putting me up for the week, we feasted on way too much food. I believe I entered a food coma and all I remember was bone marrow with pickled mushrooms and fresh parsley, and a last-of-the-season heirloom tomato salad with smoked ricotta and celery oil.
Friday, October 12
8:30am: Crisis! Called UrbanSpace in NYC to find out they decided to cancel the Meatpacking District Holiday Market. Yikes! Had to put an immediate stop order on the 900 pounds of hot cocoa mix we ordered for our hot cocoa booth. What a way to start my day.
10:00am: The absolute highlight of my day was meeting with Sarah Minarek of Fair Trade USA. Their offices, located in downtown Oakland, are filled with young, super enthusiastic employees are working their tails off to help small producers receive fair wages and working conditions, and create jobs and sustainability, all over the world. After being dressed in a banana costume, I realized it was time to end my celebration of Fair Trade Month (October! Woo-hoo!) and hit the road.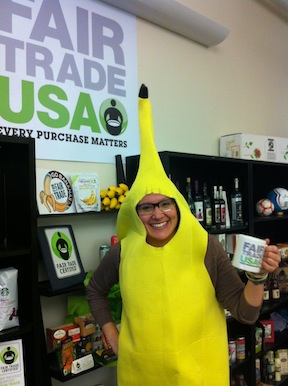 12:00pm: Back to the bank in Berkeley to pick up my lost debit card…while trying to trouble shoot with Diana regarding a delay in our production run. Apparently, E Guittard didn't have enough dark chocolate chips in stock to fulfill our order! As ridiculous as it sounds, not having chocolate chips is my worst nightmare these days.
12:30pm: In line at the Cheese Board Collective in Berkeley for a slice of mushroom, onion, arugula, gruyere and lemon pizza. After the nicest counterperson asked how my day was, and I replied, "I'm soooooooooo stressed and I'm starving!" I was given free pizza. I LOVE CALIFORNIA! Thanks again, Marcus -- you seriously saved my life.
1:30pm: Dynamo Donut tasting. If you haven't been, go now. No matter where you are, get on a plane and just go. Their cake donuts are mind-bogglingly delicious. I bought one of each of the six flavors. Then proceeded to greedily eat most of those six donuts. The lemon-blueberry-cornmeal was my favorite. You're welcome.
2:30pm: This is when I needed an intervention, not a stop at another restaurant. But how could I resist Burmese food?! The peanut salad with fermented tea leaves, washed down with a ginger-lemonade spiked with beer, definitely did not settle my stomach.
3:30pm: Resolved chocolate chip issue and had to reschedule our production run for a week later. Instead of going directly to Kansas from SF, I will return home to NYC.
4:00pm: On the road to visit friends in Napa.
5:30pm: Leisurely sipped a can of Budweiser while waiting for our dinner reservation and admiring the giant pumpkins in my friend Sarah and Christopher's neighbor's backyard. It wasn't until this moment that it felt like fall had arrived to me.

7:30pm: Pre-dinner cocktails at Faghina's (actually, it's The Thomas. But the huge old neon sign out front says otherwise). Fresh strawberry Pimm's cup did just the trick.
8:30pm: A parade of sushi, sashimi, and a miscellany of other Japanese specialties -- like fried shrimp heads and tofu made tableside -- at Morimoto felt like the lightest meal I had in the last three days. It must have been the sake, described as "melting snow" on the bottle that made all the difference.
Saturday, October 13th
9:00am: Waking up in Napa, to the sound of breakfast being made for me -- a veggie frittata made from eggs gathered in Sarah's backyard and produce grown in her side yard -- was really, really nice. Thank god Chris made the coffee. Sarah can't make a cup to save her life.


11:00am: A visit to help Chris at his family-owned business, White Rock Vineyards, was the highlight of my day. Goofing off with the cute boys who work for him, while measuring the brix levels of tons of barrels of wine, then crushing grapes by foot, and sitting down to a bottle of classic California chardonnay with winemaker Lee Hudson (check out his amazing spread in Food & Wine magazine this month!) wasn't too bad.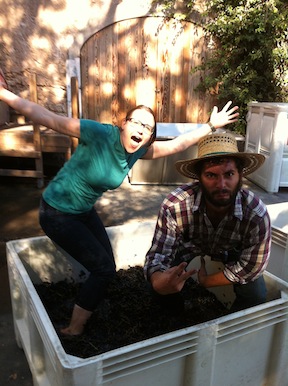 4:00pm: Spent literally 2 hours on the phone with United trying to rebook my flight from San Francisco to New York instead of Kansas. Why must they make my life so difficult? And then charge me hundreds of dollars after doing so?
6:00pm: Had a quick snack of oysters and bread and butter at Hog Island Oyster Company in Oxbow Food Market before heading back to San Fran. The bottle of Abe Schoener's Scholium Project wine (sorry, I don't recall which variety) we shared was uncommonly tame. I much prefer his more interesting blends, like his Farina Vineyard: The Prince in His Caves. Cappuccino from Ritual Coffee was damn good, and was perfect with the cream puff rings and panna cotta from Ca' Momi we all fought over while admiring our friend Lisa's killer culinary antiquities and artifacts shop.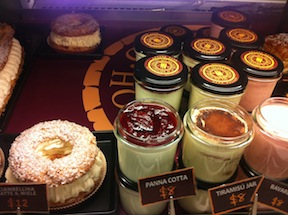 9:45pm: Dinner with chef friends at Chris Cosentino's Incanto was out of control. I have never in my life had so many bizarre meat products in one sitting. The tripe was super soft and not chewy, rubbery, yuckiness that I usually know it as. His blood sausage converted me. But the Iberico lardo, sliced paper thin, and laid over raw Shinko Asian pears, and served with toasted hazelnuts, fresh rose-thyme, and olive oil was gorgeous. I will fly back to California just to eat that again.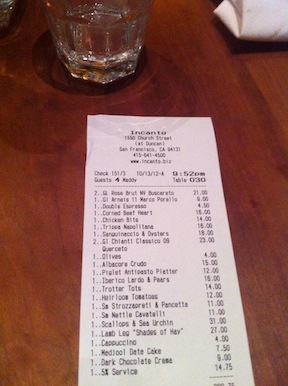 Sunday, October 14
9:00am: Arrived at the Chronicle Building downtown to judge the confection category for the 3rd annual Good Food Awards. Wow. Upon arrival, I was surrounded by hundreds of peers all preparing for a day of gluttony as we readied ourselves to taste food all day long. (Thankfully, I was not assigned to spirits…) And after the morning session of 25 candies, I thought I was going to be ill. I was so hopped up on coffee and sugar that I couldn't stop talking a mile-a-minute to my cohorts.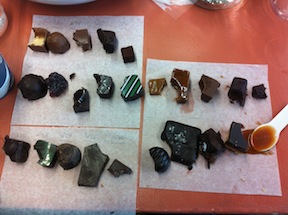 1:00pm: How I managed to go to lunch with friend, and Chicago's finest pastry chef Mindy Segal, at Bar Tartine, I'll never know. But the Langos sandwich made of Indian-style potato fry bread topped with chicken katsu was delicious, as was my beautiful brew of whole peach leaves and roasted buckwheat tea, served prettily in a French press.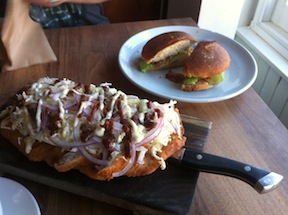 2:00pm: Back to the Good Food Awards for round two -- another 15+ confections later, I met Gary Guittard, maker of my late-delivery chocolate chips. I didn't file a complaint. Next year, I want to judge pickles. And no, I cannot tell you the winners. You'll just have to live in suspense…
5:00pm: A very long walk to the Mission to work off my candy withdrawal and scope out a couple of San Francisco institutions -- Tartine Bakery for the world's largest cheese puffs, and Bi-Rite Market for California-made olive oil and the city's finest ice cream.
6:30pm: I honestly have no recollection of where I was, other than it being the Good Food Awards after party. It involved lots of cheese and pickles (finally!), and peach dacquiris.
8:30pm: My final drive over the bridge to Oakland. Scrawled a few notes about my day so I could blog later about my experience as a judge. A dinner of plain yogurt. And a commitment to eat nothing but kale for a week to recover from the most extreme week of gluttony I've had in a long time.
See more Food Informants below:
PHOTO GALLERY
Food Informants
REAL LIFE. REAL NEWS. REAL VOICES.
Help us tell more of the stories that matter from voices that too often remain unheard.