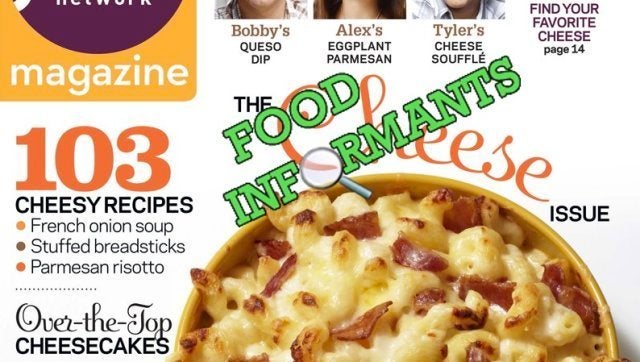 Food Informants is a week-in-the-life series profiling fascinating people in the food world. We hope it will give you a first-hand look at the many different corners of the food industry. Know someone who would make a great Food Informant? Tell us why.
Maile Carpenter is the founding editor-in-chief of Food Network Magazine, a joint venture between Hearst Magazines and Food Network. The magazine launched in 2008 and quickly became the best-selling food title on newsstands. Prior to joining Hearst, Carpenter was the executive editor of Every Day with Rachael Ray. She started her career in newspapers, at the Wilmington Morning Star and Raleigh News & Observer in North Carolina, followed by Time Inc's FYI magazine, San Francisco Magazine and Time Out New York.
Carpenter has a journalism degree from the University of North Carolina, Chapel Hill, and a culinary degree from the French Culinary Institute in New York. She is a two-time James Beard Award nominee and won a Beard Award for magazine feature writing in 2002. She lives in Manhattan with her chef-husband, Wylie Dufresne, and their two daughters.
Read more about how Maile balances her work-home life.
6:45am: Feed my five-month-old, then make French toast with Fresh Direct's frozen raisin Pullman loaf for my three-year-old and myself. Who am I kidding—we're having dessert for breakfast.
7:30am: First giant glass of seltzer of the day. Every time I carbonate, I wish I'd purchased Soda Stream stock.
9am: Daily trip to the Hearst café for a latte and a bowl of cereal. I catch up with our creative director, Deirdre Koribanick, managing editor, Maria Baugh, and food director, Liz Sgroi, on the trip down and back.
10am: Last-minute prep for lunch with the Fabulous Beekman Boys (accidental goat farmers, cheese makers, creative geniuses, Cooking Channel stars, Amazing Race winners…etc. etc. Can't do them justice here.) Have to introduce them in two hours and I didn't watch a minute of Amazing Race.
12:30pm: Lunch with the Beekman Boys. We invited them (and their cheese) to celebrate our March Cheese Issue. Wish I could be them, or at least hang out with them more often.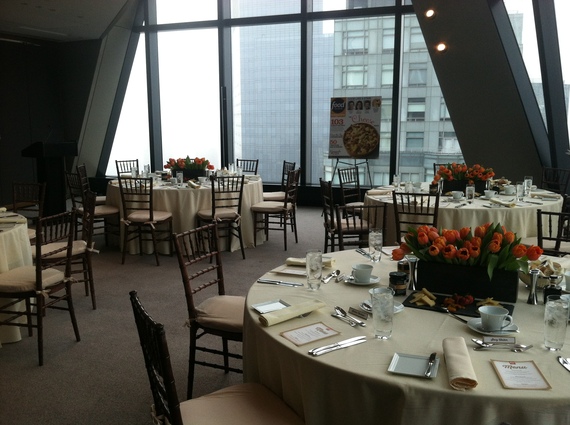 2:30pm: Up to the 42nd floor to review layouts with my boss, Hearst Editorial Director Ellen Levine.
4:30pm: Meet with senior editor Yaran Noti, who's just back from a shoot with Guy Fieri and his car collection. Guy has a lot of cars and they're all yellow and black. He also has a car handler. I want one of those someday.
8:00pm: Lamb chili with spicy coleslaw for dinner. Wish I'd made it myself. When we had our second daughter, my husband, Wylie, started bringing home leftovers from wd-50's staff meal because we were too tired to cook. On most weeknights I find a couple of pint containers full of a surprise dinner.
8:30pm: Edit proofs for our May issue while eating Häagen Dazs Banana Split ice cream in one of those cheap flakey cones that dissolve by the time you get to the bottom. I'm also watching The Bachelor. I hate myself for this, but a grown woman is crying to the camera and saying she won't let the other girls take her "sparkle." I can't tear myself away.
7:30am: Golden Grahams. I recently rediscovered this magical cereal.
10am: Weekly staff production meeting. I learn that my editor's letter is late as usual.
11am: Edit text for the May issue. Some people think I run around eating great food and hanging out with chefs but the truth is, I have a desk job.
12:45pm: Lunch with my sister Ridge. We're both closing issues—she's the art director at our sister mag, HGTV Magazine—so it's a quick one. We'd normally eat at the Hearst cafeteria but we switch things up and meet at Chipotle across the street. I get my fountain soda fix of the week.
3pm: Eat a Rolo and a mini Baby Ruth. Nothing like a food diary to bring your bad habits to light.
6:30pm: Book party for Nigella Lawson at the gorgeous Tribeca home of Crown President and Publisher Maya Mavjee. Nigella is even prettier in person than on TV. Upside: awesome food from her new Nigellissima book. Downside: I feel like I need an extreme makeover for myself and my apartment.
7:45pm: Head to wd-50 for quick bite at the bar with exec editor Joanna Saltz. We try a few dishes from Wylie's soon-to-open restaurant, Alder—my first taste of the menu other than the root beer pudding he brought home last weekend (see chicken liver below). Have to get home to sitter; leave wanting more.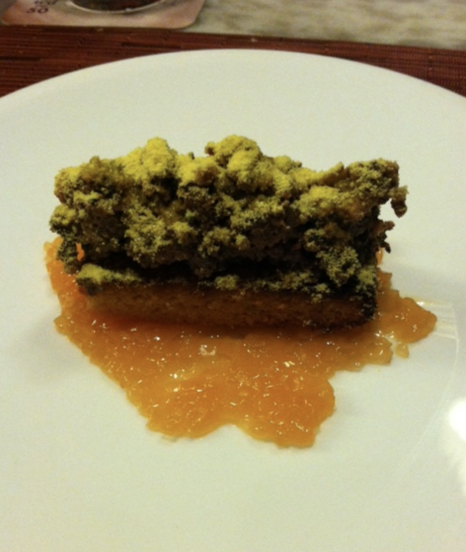 10am: Status update with our consumer marketing director. Newsstand numbers are good. Knock on wood.
11am: Plow through more text for our May and June issues. I take a break to grab something from our snack table. There's always something random to eat there but it's slim pickins today…only saltwater taffy, and lame flavors at that. Molasses and spearmint. Does anyone eat those?
12:45pm: Lunch with San Francisco friend/creative director George McCalman at Eataly's beer garden. I wanted a 12:30 reservation but was told they only had 12:45. I arrive at 12:45 to find the place almost totally empty. Glad I have a chance to point out this oddity in my HuffPost diary.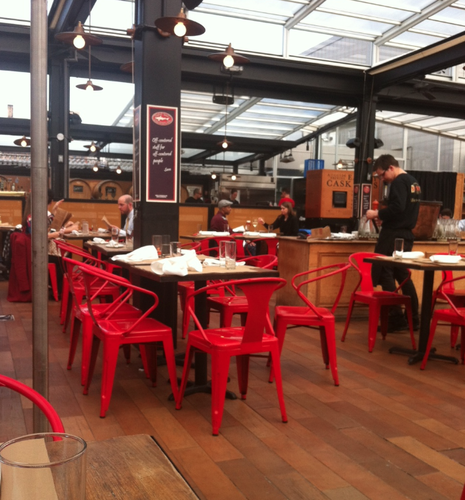 1pm: George arrives. Perfect day to see him: We have two jobs open and he knows everyone in the biz. We eat pulled pork and fried mushrooms. In less than 24 hours, I have an email from someone he recommended for the job.
3pm: Prep for South Beach Wine & Food Festival next week. I'm meeting with some of our advertisers while I'm in Miami.
6:30pm: Rush to grocery store for raisin bread and strawberry cream cheese. I'm parent of the day in my daughter's class tomorrow morning; have to make heart-shaped sandwiches for snack time and finish decorating the cookies we made last weekend. So many Valentine's Day projects, so little time.
9pm: Finish writing Valentine cards for Sawyer's class by myself. Should Theo get a bee sticker or a heart sticker? Impossible decisions.
10pm: Late sad dinner: bowl of chowder from the freezer, glass of whatever red is open in the fridge. Rough week for a food diary; wish I had more fabulous meals to report.
6:31am: Fresh Direct arrives. Don't know if I could survive without grocery delivery. Unpack the strawberries to take to Sawyer's class. Wylie gives me grief for buying strawberries out of season. What's in season right now—parsnips? I'm serving a bunch of three-year-olds here.
8:30am: Off to school with cookies, heart sandwiches, out-of-season strawberries and my secret stash of Purell. I'm spending all morning with germy kids—must prepare for biological warfare.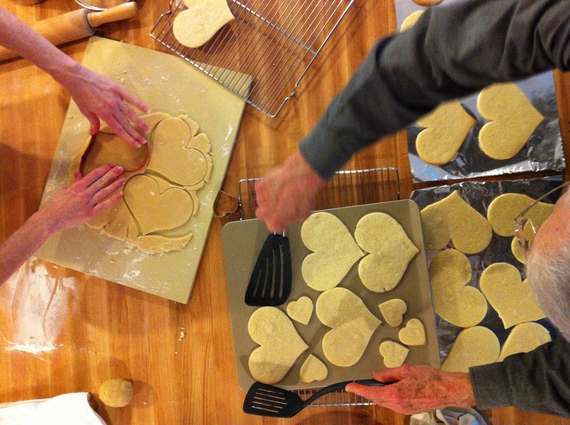 12pm: Rush younger daughter to doctor with a fever (see, the germs are everywhere). End up eating a heart-shaped sandwich and a Valentine chocolate for lunch. Food diary not going according to plan!
7pm: Feel guilty that I've done nothing for Wylie for Valentine's Day. Make him a giant heart cookie, because I haven't made enough things out of hearts this holiday.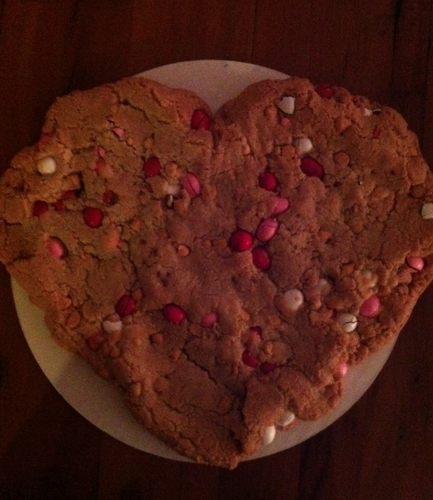 7:30pm: Make chocolate cake layers for my mom's 70th birthday dinner on Saturday night. I use Food Network Kitchens' recipe from the birthday cake story in our January/February issue; it's insanely good.
8:30pm: Cakes are in the oven. I search the fridge for dinner and find a quart container labeled "Soup for Mommy." Happy Valentine's Day to me: ginger chicken soup from wd-50.
12:15pm: Lunch at NoMad with Food Network's top two culinary execs, Susan Stockton and Katherine Alford. We've been trying to make a date since mid-December, so it's a Christmas miracle that this happened. Had incredible tasting menu at NoMad with Wylie when they opened. Lunch is interesting—beets with smoked crème fraiche, carrots covered in crushed crunchy duck skin—oh and a dessert cart at the end. We weren't sold on dessert until it arrived on wheels. Smart marketing: How can you stare a bunch of chocolate-sea salt tarts in the face and not get one?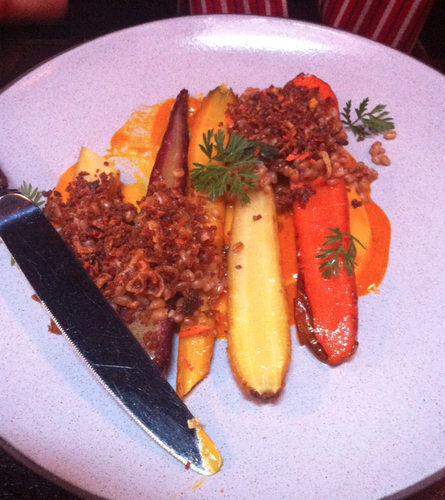 6:11pm: Metro North to New Haven, Shoreline East to Old Saybrook, quick drive to our house in Lyme. Wylie went ahead of me earlier in the day with the kids, leaving me with 2.5 hours of blissful quiet time on the train. I write my overdue ed letter.
9:30pm: Easy dinner with Wylie, sister Ridge, brother-in-law Travis: spaghetti and meatballs, salad greens with olive oil and salt, lots of red wine and a fire.
10pm: We polish off the last of the Talenti milk-chocolate gelato. If you let it soften for a few minutes it tastes just like a Wendy's Frosty.
9am: Big birthday dinner for Mom at our house tonight—10 adults, 5 kids. Racing the clock to get everything done. Slice and toast two baguettes for crostini while Wylie shovels snow into a ramp for sledding.
11:30am: Drive to grocery store (15-minute drive; we're in the boonies). Pick up skirt steaks and all the fixins for dinner from Big Y. Love a suburban grocery store. I spend $200 on I don't know what. I'm not used to such giant carts—I feel the need to fill them.
12:30pm: Pick up my sister Jen, brother-in-law Dave and their two sons at the train station. Meet sister Ridge and our kids at Pizza Works in Old Saybrook for lunch. They have a year-round train set upstairs that the kids love.
2pm: Start a fire. Make the base for a vegetable potpie and the marinade for the steaks (thank you, Alton Brown), then prep biscuit tops while the kids go crazy sledding down the porch stairs.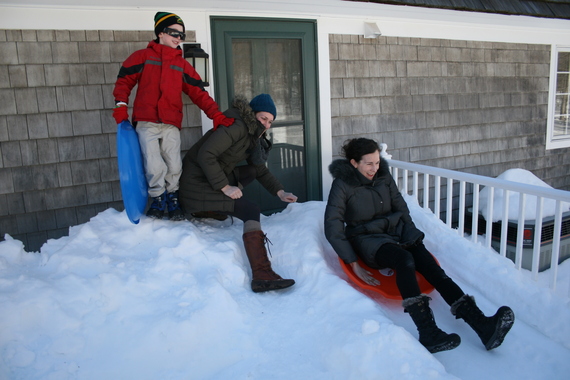 4pm: Make frosting and ice the cake layers while I catch up with my Uncle Ken. Everyone else is outside building an igloo. The snow is crazy. We got 36 inches in the blizzard more than week ago and now it has melted into a foot of heavy, wet stuff that's perfect for building. My sister Jen is an architect, so I'm assuming whatever they are building is structurally sound.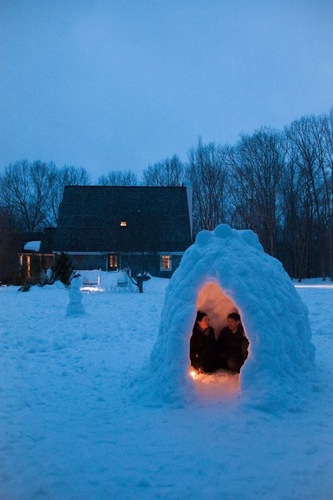 5pm: Set out cheese, toasts, nuts for the family. Put brother-in-law Travis on cocktail duty. He makes a great Manhattan. He delivers some to the igloo builders.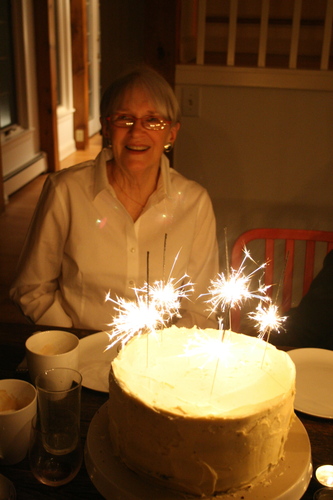 11am: Drop off Wylie, Jen and Dave at the train station so they can get back to work, take all the kids to meet my cousins and their kids for an ice carnival in nearby Chester. Too cold for an ice carnival. We play inside instead.
12:30pm: Head to Mystic to see my parents. Mom always has a stash of homemade soup in the freezer; today she heats up pumpkin soup and makes grilled cheese. Nothing better.
2pm: Mystic Aquarium. Brrrr.
5pm: Back home to Lyme for a quiet night. Have Lambrusco and pistachios by the fire while Ridge and I fold 8,000 loads of laundry. Still no laundry in our Peter Cooper apartment building since Hurricane Sandy.
8pm: Power goes out. The moment of truth: We just bought a generator. Ten seconds later, it starts humming. I do another load of laundry and run the dishwasher at the same time to celebrate.
8:30pm: Leftover vegetable pot pie and steak for dinner. Leftover cake for dessert. Total prep time: 45 seconds. Best meal I've had all week.
See more Food Informants below: