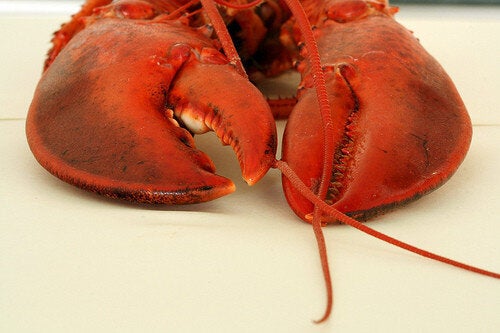 Food Informants is a week-in-the-life series profiling fascinating people in the food world. We hope it will give you a first-hand look at the many different corners of the food industry. Know someone who would make a great Food Informant? Tell us why.
Captain Jason Joyce is an eighth-generation resident of Swan's Island, Maine. He is a Coast Guard Licensed Captain and a registered Maine Tidewater Guide. He has done lobster and fish research with the University of Maine, the University of Massachusetts, the Gulf of Maine Research Institute and the Lobster Institute. Joyce is currently doing a lot of work with the Penobscot East Resource Center, which works to secure a viable future for the fishing communities of eastern Maine. Each week, he records HD video of lobstering that he gives to restaurants to educate customers about sustainable lobster fisheries in Maine. Captain Joyce is married to his high school sweetheart and they have four children. Learn more about Captain Jason Joyce here.
Read his diary below to learn about the trials and tribulations of sustainable lobstering, why spiny dogfish are annoying and the importance of a good cup of coffee (Note: Dunkin' Donuts did not pay us or Captain Joyce for product placement!).
Monday, July 11
4am: Start the coffee—Dunkin' Donuts brand is the best.
5am: Sternman Leif Jacobson meets my daughter Amelia and I at the dock. We fire up the F/V ANDANAMRA for a day of lobstering.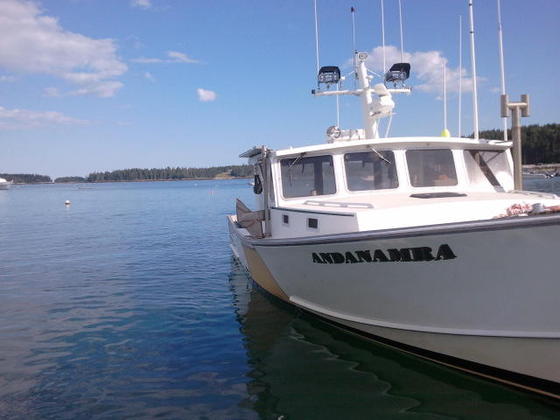 5:15am: Buy bait—110 gallons of herring for $300. Eight years ago it was half the price.
5:30am: Buy fuel—50 gallons at $3.90 a gallon. It wasn't long ago that diesel was half the price as well.
6am: Pull first two traps, catch 20 lobsters, but return 18 undersized lobsters back to the ocean. We average keeping only one out of every 10 lobsters that visit the trap. The strict sustainable lobster conservation laws of Maine are working well.
10am: Finally have a crate (100 lb) of lobsters. Time for a cup of Dunkin' Donuts coffee, and a granola bar.
12pm: Still working on second crate. Listen to Eric Bibbs (blues man, I love his music) on Pandora through the boat's radio while devouring a ham sandwich.
3pm: Have three crates of lobsters and we are working on number four.
5pm: Amelia is filling baitbags and banding lobsters, Leif baits the traps and throws small and oversized lobsters back overboard. I do all the measuring to make sure the lobsters are legal. This has been done for 375 traps today, and that is enough. Time to head in and sell our catch.
5:30pm: We sell our catch with a lobster price of $3.80 per pound. Missing the $5 price we got before the recession, but thankful the price isn't $2.75 like is was a couple summers ago after the recession really kicked us.
6pm: Boats on mooring, and we are headed home. Long day, but a pretty one.
6:30pm: Say Grace, and have supper, time to socialize with the kids and hear about their day.
8pm: Time for bed.
Tuesday, July 12
5am: Dunkin' Donuts coffee, now thats the way to start the day.
6am: Begin routine maintenance day on the ANDANAMRA.
7am: I hate maintenance days, I get covered in grease and oil, and bang my head a dozen times.
8am: Leif shows up to do some wharf clean up. Lots of rope to coil, traps to stack.
12pm: Time for lunch, and a break from the engine room.
2pm: Fuel filters, oil and filters, and zincs all changed. Feels like I just ran a marathon. The engine room is 100 degrees.
2:15pm: Begin to load gear on boat for a sentinel fishery trip tomorrow.
5pm: Say Grace, and enjoy supper with my family. Thankful for the day to be winding down.
8pm: Cup of licorice spice tea, and off to bed.
Wednesday, July 13
3am: Dunkin' Donuts coffee.
4am: Meet Leif and Amanda (from Maine Department of Marine Resources) at dock. We load 4000 baited hooks on board and head out to find some groundfish (cod/haddock/hake/halibut).
6am: We set out the first trawl of 2000 hooks about 12 miles offshore on traditional fishing grounds that have been unproductive for 20+ years due to overfishing from the 1970s through the 1990s. These areas were very productive when there was a day-fishing fleet who fished only hooks, but as technology and the size of the boats in the fleet grew, the fish diminished closer to shore. This was a result of the utilization of monofilament gillnets, as well as faster and larger boats with advances in gear and electronics..
7am: The lines are all set, and now we are traveling 15 more miles to another location to set 2000 more hooks.
8:30am: Begin setting 2000 hooks.
9:30am: Hooks are all set, now we are steaming to Mount Desert Rock to jig (a shiny lure that catches sunlight) for some mackerel.
10:30am: Jigged up some pollack just for fun. Now headed back to one of the 2000 hook trawls.
11am: Turned on longline hauler (hydraulic driven set of stainless steel plates that grip the longline and retrieve the longline back into the boat. See here for more info.) and hydraulic fluid begins to come out of hauler motor. The seal is gone, and now I need to go to Billings Diesel and Marine Service in Stonington to install a new motor.
1pm: Arrive at Billings, they are the best. Repairs foreman Greg Sanborn sends machinist Dave Reese to help me replace the hydraulic motor. Dave grew up in Africa, the child of missionaries, and it is always good to visit with him. He has some great stories about living in Africa, and it helps take my mind off of all the time I am missing fishing today. Great guy.
3pm: Hauler is repaired! Headed back offshore to haul the first trawl of the day.
4pm: Arrive and haul first endline to the first trawl, and begin to haul in the hooks. Not much to see for the first 300 hooks, but we end up with seven undersized halibut that we weigh, measure and tag before releasing them in great shape. Hopefully these fish are caught later in life and the data collected will be beneficial to the species and fishery.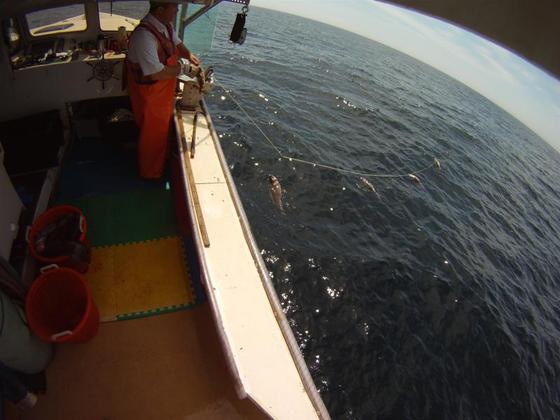 6pm: First trawl hauled. Headed to second 2000 hook trawl.
7pm: Arrive and haul second trawl, not much here. Dozens of Wrymouth eels, one small cod, one small haddock, four cusk, couple of spiny skates, and that about sums it up. All data is recorded. Most of my stipend that I receive from Penobscot East in this sentinel fishery will be put toward fuel costs today.
9pm: Hauled last hook aboard. Headed home. Leif and Amanda begin to remove otiliths (earbones of fish) from species of fish we kept, so the ages of the fish can be determined and kept with their other details (weight, length, location captured, depth of water, etc.) When otiliths are removed and dried, a special saw is used to cut them in half, and the age of the fish is determined by how many "rings" are visible. Similar to determining the age of a tree by its growth rings.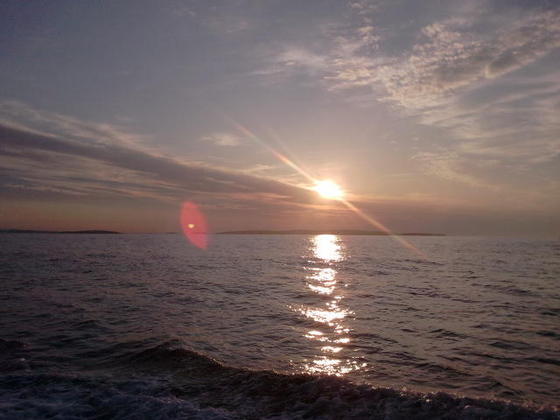 11pm: One mile outside Hockamock Head Light (Swan's Island lighthouse).
11:45pm: Home. Say Grace, eat chicken pot pie, then bed.
Thursday, July 14
6am: Dunkin' coffee.
7am: Meet Leif at dock, we are both tired, but are going lobstering today. Head to get bait and fuel. Pretty wiped out from yesterday.
8am: Not doing as well as Monday, lots of small hardshell lobsters that are too small to keep. Looks good for the future.
9am: Time for snack and a cup of coffee.
10am: First crate of lobsters, seems like it took forever.
12pm: Still on second crate, and break for lunch. That can of A&W root beer tastes great.
1pm: Start third crate of lobsters, feeling like we are not going to do very well today.
4pm: We are done and have three-and-a-half crates. Price is the same as Monday, as well as the same amount of expenses.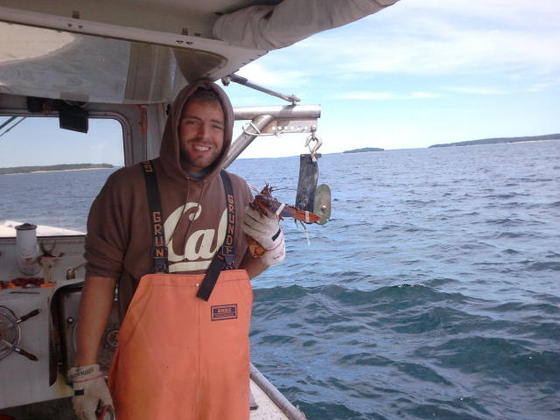 5pm: Boat is on the mooring and we are headed home. Going to bed early tonight.
6pm: Say Grace, enjoy visiting with my family.
8pm: Bed after a cup of tea.
Friday, July 15
5am: Dunkin' coffee.
6am: Meet Leif at dock, and head to get bait and fuel.
7am: Third pair of traps we hauled had seven keepers in it. This is looking to be a better day than yesterday.
12pm: We are flying through the gear and have almost five crates now, best day so far!
1pm: We sell, and the price is the same ($3.80), but expected to drop next week. Oh well, at least we have a job. Lots of folks on the mainland don't.
2pm: Leif and I load the boat with fishing gear for another sentinel fishing trip tomorrow as we look for a return of groundfish to the traditional fishing grounds in the inshore area (inside 50 miles from land).
3pm: Boat is loaded and put on the mooring. Headed home early to get to some extra shut-eye tonight.
5pm: Say Grace and enjoy supper and fellowship with my family. There is no better place than Swan's Island to live and raise a family.
6pm: Study charts to determine where we will set 4000 hooks tomorrow.
8pm: Licorice spice tea, then bed.
Saturday, July 16
3:15am: Dunkin' coffee.
4am: Meet Leif at dock to load baited trawls on boat.
6am: Set first trawl and let it set for one-and-a-half hours. Have a cup of coffee.
7:30am: Haul first trawl, and tag and release one halibut, and keep a legal sized halibut (43 inches, 32 lbs).
10:30am: Haul last hook aboard and head offshore another 14 miles.
11:30am: Set second 2000 hook trawl and let set for one-and-a-half hours.
12pm: Saw a fin on the surface and investigated. It is a mola-mola (ocean sunfish) about six feet long. Cool looking fish.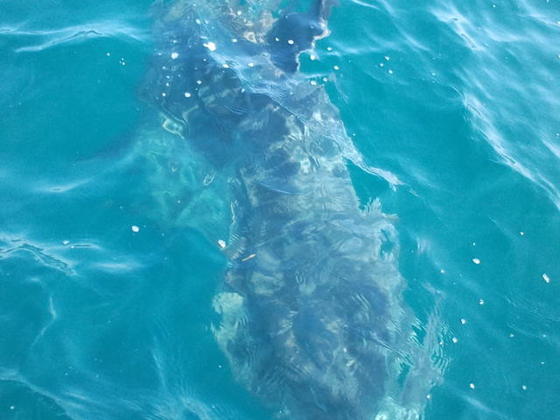 12:30pm: Bluefin tuna begin to jump out of water nearby during a slack-tide feeding frenzy on herring.
1pm: Begin to haul second trawl. This doesn't look fun, have caught 50 spiny dogfish so far and it doesn't look like there is an end to it.
6pm: Haul last hook aboard. Caught 501 spiny dogfish (all were released cause there is no market for them here), a few haddock and a few small hake.
9pm: Arrived in harbor, unloaded gear at dock so we will be ready to lobsterfish on monday.
10pm: Say Grace and visit with my family that's still awake.
11pm: Bed. Sleep in tomorrow.
Sunday, July 17
9am: Dunkin' coffee and loving it.
11am: Go to church, listened to a visiting missionary from Word of Life speak about the thousands of kids they are feeding in Guatemala. Good guy and a good cause.
12:30pm: Get home and have leftovers for lunch. Decide to go kayaking with my family.
3pm: The day could not be any prettier, we are paddling our way across mackerel cove on Swan's Island.
5pm: Back home.
5:30pm: Sit down for the evening meal, and thank God for the safety provided on the water this last week as well as all our blessings of which we are not worthy. Nothing is by chance, and I thank Him for that as well as asking him for guidance and protection in the week to come.
8pm: Head to bed, going to be another busy week.

Popular in the Community