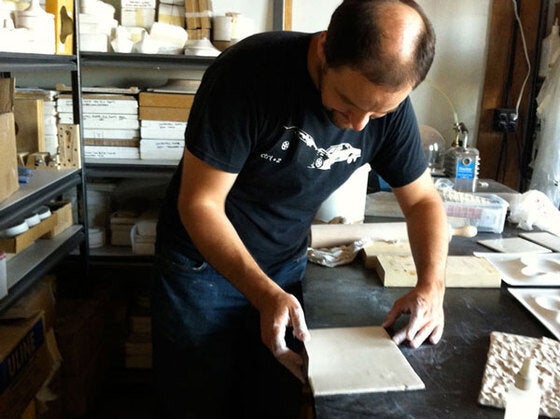 HuffPost Food is excited to introduce Food Informants, a brand-new, week-in-the-life series profiling fascinating people in the food world. We hope it will give you a first-hand look at the many different corners of the food industry. Know someone who would make a great Food Informant? Tell us why.
We could not be more thrilled to present our inaugural Informant: Martin Kastner, serviceware designer extraordinaire/jack-of-all-design-trades of Grant Achatz's Alinea, Next and The Aviary. Kastner creates custom pieces that work with Achatz's elaborate and intricate food. Born in the Czech Republic, Kastner trained as a blacksmith and received an MFA in sculpture. (His thesis was about air). He met his American wife in Prague and moved to the US in 1998. In 2003, Kastner received an unexpected email from Grant Achatz, who had emailed a host of designers. Kastner was the only one to respond. They've partnered not only on serviceware, but also on web design, video and the Alinea cookbook. Kastner's other clients include L20 (an upscale, seafood-focused Chicago restaurant), Le Bernardin (Eric Ripert's homage to seafood) and Empellon (Alex Stupak's new Mexican restaurant in New York). See the slideshow at the end of this post for examples of Martin Kastner's work.
In his diary, Kastner takes us through his preparations for the launch of Next restaurant's much-hyped new Thai menu, which involves a lot of hours of work with not so much sleep.
Monday July 4th
5:30am (ET): Up.
5:54am: On the road from eastern Michigan (wife's parents' house) to Chicago.
6:13am: Deer #1 - a deer leaps in front of my car, brakes, swerve, near miss.
6:38am: Deer #2 - a couple of deer leap in front of my car, brakes, swerve, near miss.
7:11am: Deer #3 - another close call, Michigan deer seem to be conspiring to kill me. They must have me confused with someone else.
9:12am (CT): Arrived in Chicago - no more deer for the day, I'm back to bicycle as my primary mode of transport.
9:45am: Press check: first part of Next restaurant's Thailand menu iteration is going on the press. I can't say enough about the importance of working with people who take pride in their work. Gary at AccuColor Plus is one of those people. He even puts up with me during press checks, willing to tweak and push every aspect of a job so things come out as I envision them. In this case, we're starving the press of ink a little so the background texture comes out just right.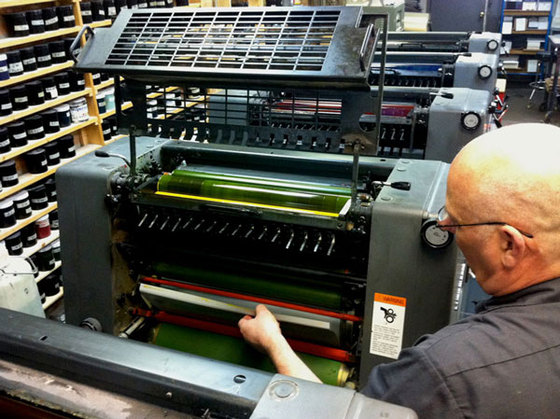 4:16pm: Printing was going well so I'm back at the studio. I was going to start work on new plate patterns but my Gmail is full - won't accept any additional mail - forcing a change of plans. Starting to filter emails and delete away.
7:03pm: 17% of my account storage is back! That'll do for a few weeks, I hope.
8:10pm: Unloading body-stained porcelain swatches from my kiln at the studio. I've wanted to expand our porcelain body color palette, so we have been systematically testing multiple base bodies with a variety of ceramic stains. It looks like we're getting some decent color on the first go-around... promising.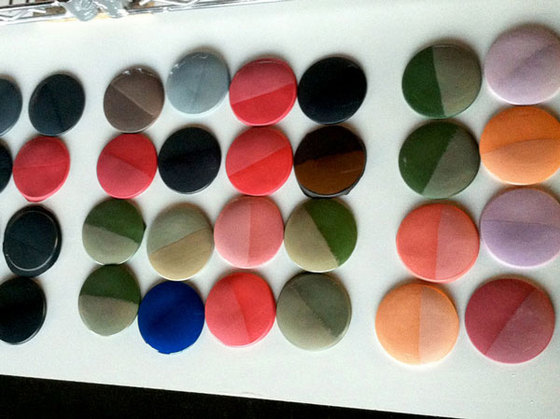 8:30pm: Working on new forms for landscape plates, establishing scale on paper mockups.
8:50pm: Tell Eva (toddler daughter) a goodnight story over the phone.
12:49am: Biking home, it's 49 minutes into 5th of July and the whole ride back streets smell like gunpowder and smoke still lingers in many areas.
1:21am: NYT.com and Pilsner Urquell.
Tuesday July 5th
7:30am: Coffee.
8:33am: Biking to the studio.
8:48am: First round of emails.
9:20am: Preparing Next restaurant site files for the switch form Paris 1906 to its Thailand iteration.
10:24am: Network fun - internet connection just disappeared. Modem is talking to the AT&T server but they don't seem to be able to agree.
2pm: Studio meeting, delegating project work, still no Internet, Alinea requested additional snow flower dishes, Erin (one of two Crucial Detail employees) is starting the casting process.
4:10pm: Prepping bases for landscape plates, scaled up to account for material shrinkage during firing.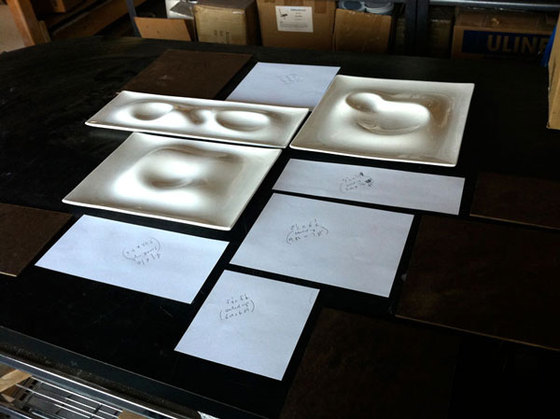 6:09pm: Still no Internet, headed home to work on web site, proof Next's Thai playbill, and catch up on email for the day.
7:38pm: Tell Eva her goodnight story over the phone.
9:34pm: Medical bills. Blue Cross Blue Shield telling us again that our coverage lapsed though the only reason I can come up with is because we had overpaid our premium ... I miss the universal health care system i grew up with, I really do.
10:20pm: It's been months since I read one of my New Yorkers that have been piling up without ever being open. Sat down with a copy that arrived in today's mail and started indiscriminately reading every word.
12:30am: Last glance at the clock.
Wednesday July 6th
6:32am: Coffee.
6:49am: Trying to log on to the studio computers to see if the internet has started working, not looking good so I start the day from home, writing longer emails that I have been putting off.
8:19am: On the phone with Nick (co-founder of Alinea and Next) to go over the switch of Next's website from Paris 1906 to Thailand.
9:32am: Erin letting me know that AT&T technician just left the studio, internet is back.
10:08am: Biking to the studio, dealing with some residual networking issues - this stuff should not have to be such pain in the ass.
12:38pm: Dealing with the week's studio bills and paperwork.
1:10pm: Finally getting to prep for new landscape plate forms. These should be ready for their première in autumn. Below I'm laying a foundation layer of clay.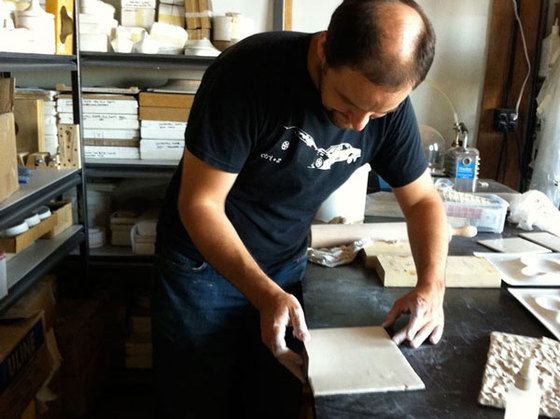 3:30pm: Gathering samples and heading to IDEO, this time my presentation is a part of a workshop they're organizing for their client, a large food corporation.
5:55pm: It was a stimulating conversation touching on getting stuck on a project, role of intuition, and some of my longer-term, secret, not quite formed ideas. Interesting how speaking to a group showing real interest can give one a jolt of energy, fueling a round of new ideas. Creativity can work kinda like the economy, feeding on itself or depressing itself.
6:10pm: Platform of the Clinton station on the blue line. the murky light really works for these colors.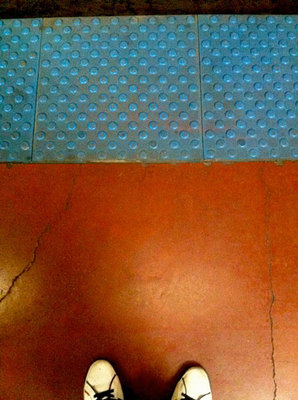 6:30pm: Back at the studio to deal with a pile of emails and to work on the new plate forms in clay.
9:01pm: Eva went to sleep without the need for my goodnight story. Bummer.
10:51pm: Received Adam's (close friend, painter) last-minute bachelor party invitation to Paris room so I'm biking there.
12:33am: Biking home.
1:17am: Last glance at the clock.
Thursday July 7th
6:37am: Coffee.
7:10am: Mixing up test ice cream base using Nobu's matcha, coordinating a green tea ice-cream-off with a couple of friends.
7:38am: Press check of the Next playbill exterior going well, minor tweaks to registration, setting the extremities of red ink density for reference before heading back to the studio.
10:20am: Driving to Niles.
11:00am: At Polyscience for a meeting with Philip Preston to discuss a couple potential collaborative projects. Getting a tour of the factory, I love seeing how people go about making stuff. There are almost always interesting new tricks one can learn at visits like these and add them into the back-of-one's-mind-portfolio for future use.
1:56pm: Sitting in traffic.
2:29pm: Back at Accucolor to continue with the Next playbill press check, this time the interior of the playbill does require a little bit more work - color tweaks, registration and varnish adjustments take some time.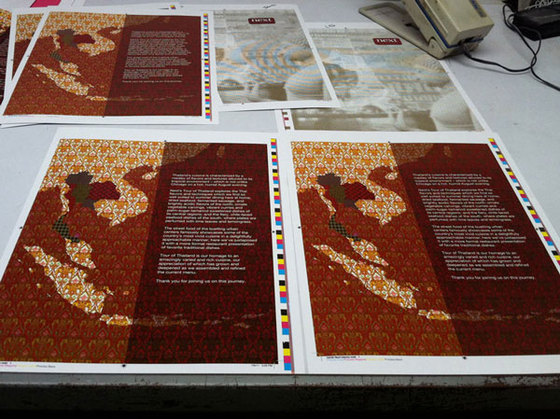 5:16pm: Done with press check. It's looking like we'll actually make the deadline and they'll be at the restaurant for tomorrow's launch, back to the studio.
7:06pm: Leaving the studio early to do some grocery shopping before tomorrow's return of all the ladies.
9:30pm: Back home, quick dinner, household stuff.
12am: Crash.
Friday July 8th
6:06am: Coffee.
6:50am: Wrapping Lara's birthday presents.
8:13am: After taking care of email, headed to the studio to prepare for some equipment movement - bought few larger tools and storage racks to deal with the chronic storage space shortage - I hate moving and this is going to come awful close to that.
9:50am: Picking up a rental truck to move the stuff.
10:30am: Back at the studio, no internet again. Screw DSL, ordering Comcast.
11:50am: At Union Station to pick up Lara with the girls. Union Station is a strange place. A grand, well-lit hall on street level that very few use and a crowded dark underground space where the travel happens. To arrive by train here is a little deflating after getting a view of the shimmering city.
3:40pm: Moving in and setting up the new storage acquisitions at the studio.
7:00pm: Bahram, our good friend from Toronto, is visiting Chicago, so we popped a tent up for him. Bahram is a material scientist involved in a variety of amazing projects. Our work is worlds apart in a way, but at the same time the principles are so similar. One day, I hope, we'll get to work on something together.