Food Informants is a week-in-the-life series profiling fascinating people in the food world. We hope it will give you a first-hand look at the many different corners of the food industry. Know someone who would make a great Food Informant? Tell us why.
Originally from Denver, Matt Cohen moved to Japan and became obsessed with ramen and classic Asian night markets. When he returned to the States, he settled in the Bay Area and founded Tabe, a late-night ramen cart. In 2010, Matt founded Off the Grid, a network of street food vendors, effectively bringing much of the feeling of an Asian night market state-side.
He does everything from recruiting and approving new vendors, to dealing with the intricate process of acquiring permits and clearance for the growing number of weekly markets. At the heart of Off the Grid is a genuine love for the concept of bringing people together in a social urban environment and providing fledgling operations a jumping-off place for their endeavors. In a week, Off the Grid works with upwards of 100 small businesses, and with 18 weekly markets and growing, that constructive interaction is only bound to grow.
Matt's most recent endeavor is The SF Food Lab, a business launched with two other industry veterans. The Food Lab offers a test kitchen space and dining are for entrepreneurs and small businesses to develop their products and cuisine, with all the tools necessary. That said, quickly approaching Off the Grid's second anniversary, Matt hasn't lost his love for street food -- you can usually find him at one of his markets every night of the week.
Read on to see how Matt works with food trucks and manages relations with local businesses.
Monday, July 16
9:00am: The Off the Grid offices are out at Fort Mason Center, so it's a pretty smooth commute from my place in Pacific Heights. I usually stop at the Blue Bottle in Hayes Valley on my way in for a soy macchiato and some granola. On Monday morning I got to the office and I had a morning consulting meeting with Smokin' Warehouse, a new BBQ vendor that we've worked with in the past. During the day the Fort Mason Center parking lot can be a little empty (so vendor trucks really stick out), and every once and a while when we're meeting with a prospective vendor we'll get a few tourists that wander into the lot and want to buy something from the truck. I keep thinking that I should learn how to say, "I'm sorry, we're not permitted to sell you food," in every imaginable language.
1:00pm: We have a weekly sales meeting every Monday. This one was thankfully short and afterwards I had a tasting with Manna Japanese. Manna Japanese is a great new truck that serves Japanese hand rolls. I tried a bunch of different rolls and talked about the various locations where we may be able to work with them. Right after that I went into our weekly operations meeting. The operations meeting is a great time for us to talk over what is and is not working at the markets -- how we can improve, what is already running smoothly, and what are some cool touches that we can add to give each market a sense of place.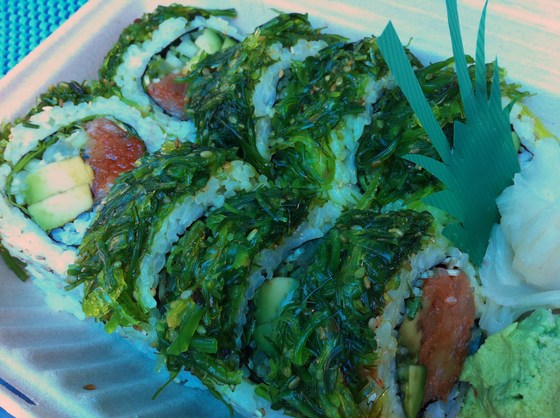 2:00pm: I stopped at Pacific Catch for a poke bowl -- I have said it before and I'll say it again -- this poke bowl is awesome! Post-poke bowl I cruised downtown to attend the 5M Community monthly meeting at the Chronicle Building. During the meeting different representatives from around the 5th and Mission (5M) area meet to discuss how to better activate underutilized spaces and more effectively serve the community in that neighborhood.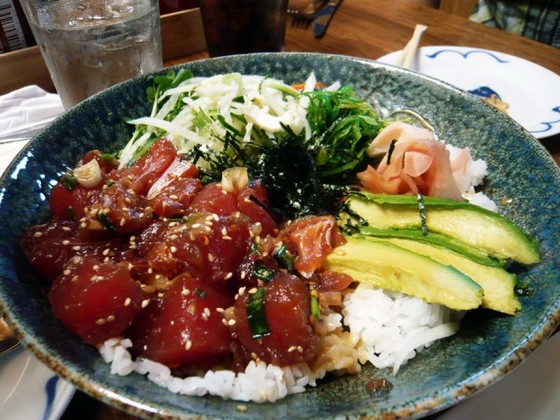 6:00pm: One of the perks of working at Fort Mason Center every day is that if I'm so inclined I can hit the Sunday Farmers' for some really amazing produce. I'm a huge tomato fan (heirloom and otherwise) and I had stocked up the day before since they are so beautiful this time of year. I decided to stay home and make a salad (buffalo mozzarella, tomatoes, balsamic).
Tuesday, July 17
8:00am: Kicked it off early with an 8am meeting at The Food Lab (a project that I'm partnering on) in mid-market. Food Lab is a lot of things: it's a commissary kitchen, a pop-up venue and a lunch counter. The meeting lasted roughly two hours and covered everything from progress to strategy to next steps. Right after that, we kept it rolling into a meeting with our PR team to talk press and media outreach.
1pm: Off the Grid's "Mover and Shaker" Katie Acherman met me back at the office. She handles all of the event planning and much of the staff management for the company. We had a meeting with Lux Delux to chat possible partnerships. Lux Delux is a company that sells fancy experiences for rich folk -- Or one-of-a-kind bespoke tours depending on who you talk to.
3pm: On Tuesdays we always hold our weekly team meetings -- in these meetings we extensively review all of the markets, and make sure all the market managers are up to speed, then we have a meeting with the full team to talk about any breaking news or tips on how to be more efficient.
6pm: I met my publicist Marla McLaughlin over in the Duboce Triangle for drinks at a little bar called The Residence. The space has been through a few different incarnations, and I hadn't been in since it became The Residence -- but we had a fine time sipping some gin and tonics.
Wednesday, July 18
9:30am: I met with Katie Acherman and our PR team for Off the Grid at Greens Restaurant across the lot from our offices. I had a green tea and we chatted about pending markets, possible promotions for our two year anniversary, and other upcoming events.
1pm: I started the trek down to Hayward. We are working on a new market down (set to launch on August 6th) and we had plans to meet with all of the businesses adjacent to our new location and talk cross promotion. It was a great meeting with a lot of really interesting businesses and personalities.
3:30pm: I had a call with my insurance agent. Insurance is a tricky beast, and that is a large part of what we handle at Off the Grid (in addition to permitting, marketing and curating logistics of all the deliciousness) I talked with my insurance agent about coming up with better ways to insure individual vendors and Off the Grid as a whole.
Thursday, July 19
9:00am: Off the Grid is in the middle of a legal dispute with a group of local businesses around our Vallejo & Front Market for posing an unfair competitive advantage despite our best efforts to create an amiable environment. We were set to appear in front of the City Appeals Board, so I started the day working with an attorney on our brief. We pulled together letters of support and compiled a presentation to demonstrate on a larger scale what Off the Grid does to support small businesses and activate urban areas. 


11:00am: We held a staff meeting to talk about bringing our music booking and managing to the next level. Right now we book 15 different acts a week, and we want to do it better. Music is such a great component to the weekly markets, and one of the many things we're proud of is supporting local live musicians.
1:00pm: I met a representative of Andrew Freedman and Company about a possible partnership with a local hotel on Nob Hill.
3:00pm: A lot is going on with Food Lab growth wise. We met with a real estate company about a possible commissary project. Very hush hush.
5:00pm: I met a group at City Hall to review a possible revision to the mobile food legislation that was approved a year and half ago. I've never been involved with City government before I started Off the Grid, and it has been a really amazing experience learning the process of how laws get passed locally in San Francisco and the Bay Area.
6:00pm: We are in the first few weeks of our new Off the Grid: Southside Berkeley at Telegraph Market, so I swung by to make sure that everything was going smoothly. While I was there I got a burger at fiveten burger which never disappoints, and a Mexican coke that was so cold it gave me a brain freeze. It was perfect.
Friday, July 20
8:30am: Made a quick stop at Blue Bottle in Hayes Valley for a soy macchiato and then it was off to the office where I pitched in on the set up for the Fort Mason Center market. It's our flagship market and it's pretty huge, so we start with set-up around 9am .

10:30am: I had a phone interview with a journalist from Newsweek to talk about Off the Grid.
12:00pm: I grabbed lunch at Onigilly who is doing a popup lunch counter at our SF Food Lab space. They're an awesome vendor who does a menu of traditional Japanese rice balls made of brown rice and fish/veggie fillings, and wrapped with seaweed. I had a couple of the wakame onigillys, which is one of my favorite.
3:00pm: Around this time most of the trucks start arriving at Fort Mason. I was definitely onsite but I'm also trying to do a better job of letting my team do their thing, so I observed from a distance so I tried to enjoy the beautiful day.

Saturday, July 21
9:00am: I'm one of those people who never has a tidy desk, but the situation had gotten out of control. I went into the office and did some housekeeping. I cleaned my desk and opened the mail. Once I was done, I picked up some beer and headed to Golden Gate Park to play Bocce Ball with some friends. After a full day in the park I headed over to Tony's for a cheese enchilada, a corona and watched the Giants game. They won.
Sunday, July 22
9:00am: I headed across the bridge to Marin for our market in Larkspur in the Marin Country Mart. The usual market supervisor was out of town so I was there to help, but also because it's great to escape to the sunshine across the bridge. I was at the market for most of the day but when we had wrapped up, I stopped at the Marin Brewing Company for an Orange & Black Congrats Ale which they make onsite.
5:00pm: Once I was back in the city it was over to Nopalito. I tend to end up there every Sunday night and whenever I'm there I always get a margarita and the carnitas -- mostly because you don't mess with a good thing.
See more Food Informants below:
PHOTO GALLERY
Food Informants