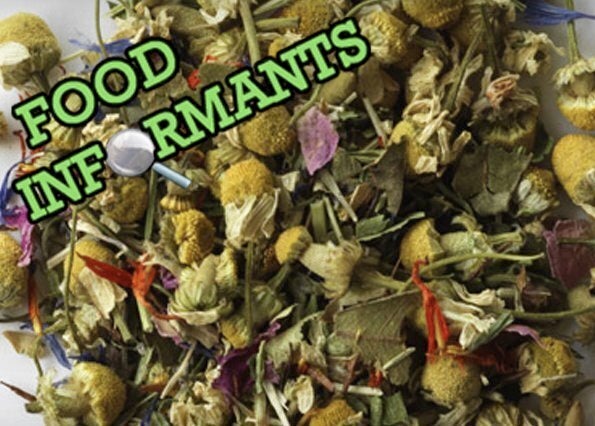 Food Informants is a week-in-the-life series profiling fascinating people in the food world. We hope it will give you a first-hand look at the many different corners of the food industry. Know someone who would make a great Food Informant? Tell us why.
Steve Smith is one of the world's leading tea makers and entrepreneurs. In 1972, Smith was a young partner in the first natural foods store in Portland. Expanding on these roots -- and the joys of tea learned from his grandmother and time spent in Southeast Asia -- he and two partners founded the Stash Tea Company. The trio introduced herbal and specialty black teas to retail and food service accounts throughout North America, eventually growing to become one of the largest-selling food service specialty tea brands in the country. When Stash was acquired in 1993 by Yamamotoyama, the oldest tea company in Japan, Smith left to pursue a new vision, which came to be known as Tazo.
Smith is credited in developing over 60 proprietary blends in multiple beverage formats -– many of which remain Tazo's top selling teas today. In January of 1999 Tazo was acquired by Starbucks, and Smith and his team continued to lead the company until January of 2006.
Parting ways with Starbucks and Tazo in 2006, Smith moved to Avignon with his wife, Kim and their 10-year-old son. But after a year, the path of tea called them all back to Portland. He's now perfecting his new signature line: Steven Smith Teamaker.
Read more about how Steven Smith juggles the many facets of a small business.
Another busy week begins -- our team has been working two shifts to complete a large order of a new product for Williams-Sonoma. A delayed shipment of black tea from Calcutta is creating challenges filling orders -- typically it takes about 6 weeks and this shipment has been on rickshaw, water, rail and on the road for nearly twice that long.
5:30am: Drag myself out of bed and off to the Trainer's Club for a quick workout. Trying to get back in shape before my wife returns from a 19 day Colorado River rafting trip. Wait -- she comes home this afternoon! Jack (my 13 year old son) and I walk the dog, pack the lunch and head to school which is a block and a half away from the company.
7:15am: My typical breakfast of yogurt, bagel, swamp juice (Odwalla Superfood) and half a cup of Starbucks coffee. Yes, I drink a little bit of coffee. Because my former company Tazo was purchased by Starbucks and I retired from the company in 2006 I get a pound of coffee a week free for the rest of my life. Often I give it away because I only drink a half a cup a day. For the rest of the day it's tea, tea and more tea.
9:00am: Go over the weekly blend schedule with Mary Louise -- we've had to airship in some black teas to cover ourselves until the shipment from India arrives so we've had to do some reformulating. We've completed all but two flavors for the Williams-Sonoma shipment. I taste and approve formulation of Blend #1956, Exceptional black Tea, a Williams-Sonoma exclusive.
10:30am: A meeting with Dave regarding new equipment requirements to expand capacity and button up our annex building where we blend and store raw materials.
11:15am: Meet with Tony to untangle some financial reporting issues that are not reflecting correctly on the balance sheet. I have to remember Tony's not a CFO, but rather Director of Operations. But has taken on added responsibility and is doing a great job.
12:15pm: Meet with Lauren, a candidate for a Sales and Customer Service position. She seems a good fit but want input from Kim and the team before making a commitment. We are such a small team that we want to make sure every individual we add fits into our culture.
1:00pm: Holiday product development. Finally got my head wrapped around the components for our new Matcha kit for the holidays and the mock-up looks good. I am way behind on getting new packaging and products ready for holiday and am going to have to cut some of the concepts we discussed in our creative meeting a month ago -- not enough time. Or, is it that I've just not been able to get the creative juices flowing?
8:30am: I walk in the door at Smith and the manufacturing team is cranking. I am really used to knowing each and every person on our manufacturing team and now we've got a bunch of new faces -- I put a hair net on and go meet our new, temporary teamakers.
9:15pm: Our Taiwan importer, Ballet International, is asking for some relief on pricing and an exclusive distribution arrangement for Taiwan. I'm working through our costs to see if we can accommodate and create an agreement that gives them confidence that we're not going to have another compete with them in the market, yet not give a long term exclusive at this early stage.
10:00am: Phone conference with our national representative for Whole Foods. I'm going to Austin next week to present our ready-to-drink teas for national distribution to the Global Buyer and we want to make sure we have our presentation nailed down.
11:10am: A woman from San Francisco who has been stalking me has flown to Portland to have me taste and comment on her concept. They are interesting products but need a lot of work. I'll help her but don't want to be on her board of advisors. I call Verinder at the Tao of Tea and arrange for them to meet -- he's got a bottling line, and I think he can give her some assistance also.
1:00pm: Sushi at my desk from the Mio Sushi next door while working on forecasts for 2013.
2:00pm: Color drawdowns from a packaging supplier arrive and I am disappointed that they are so far off target. Back to the drawing board -- we should see new drawdowns by Friday. We had hoped to be on press on October 29 but it is now moved to November 5.
2:45pm: New files for the carton print run come over from Sandstrom for review. We're increasing the font size on our cartons slightly with some minor copy changes. Mary Louise to scrub the copy and get back with me with her comments and approval.

3:00pm: Suzanne Baird, a former marketing manager at Tazo, and I meet to develop strategies to increase units sales in specialty grocery accounts. We have not had a retail marketing person at Smith and I am thinking that we need someone with a full time focus on marketing. I'm too stretched.
4:00pm: Review training videos and upload to YouTube. Man I wish I could have cut back some of the content -- an 8 minute video is a bit long. Also could have used a makeup artist -under the bright lights the glare off my forehead makes me want to watch with my sunglasses on.
9:00am: Meet with Amy Bourne to go over shipped and on-order sales. Looks like we are on track to have our best month ever.
10:00am: Our Northwest retail brokers arrive for a tea tasting and training. There are 10 regional reps and they say they only have 30 minutes -- they all say that. Once the tasting starts it stretches to an hour and a half with lots of questions and discoveries. They really seem engaged.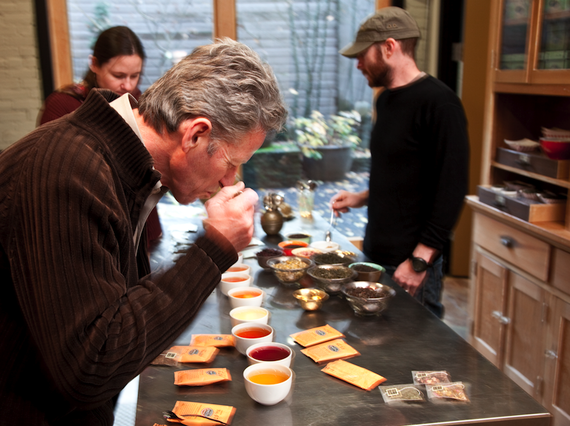 11:30am: The shipping company for the Williams-Sonoma shipment emails us a couple hours before they are supposed to pick up to tell us that the shipment will be going by rail. This change creates a lot of complications for our team given the complex requirements, short notice and potential fines if the load is not secured properly. Multiple calls to the shipper and the customer and in the end we just need to bite the bullet. Lillia, manager of the Rose Garden Shop at Washington Park visits for a tasting. Portland is the City of Roses and we have a beautiful rose garden in the park that attracts a ton of visitors. We did a special package and blend for the summer and now they want to expand the selection.
1:00pm: Working on a special holiday pack for our friends at Umpqua Private Bank. Pounded out some boilerplate copy and sent to our copywriter Palmer Pettersen for his special touch.
2:00pm: Spearmint leaf samples arrive from supplier in Central Oregon. I'm pretty particular about the mint we use as one who pioneered the mint leaf business in the Pacific Northwest with my partners at Stash in 1975. This sample tastes good -- the leaf is nicely sorted and will work well in the one blend we use it in -- Fez.
2:30pm: Meet with Jenny Marshall to review designs for new displays for our tasting room. Those holiday items will need a place to be merchandised in our tasting room. We're still fussing with details and I want them in place by Nov 15 to display our new loose tea tins.
3:00pm: Ad layout from Sandstrom Partners for Willamette Week's Give Guide comes over by email. We've been involved with this project for the past two years where we give away Smith items to those who donate to non-profits during the holiday season. The challenge is that I only heard two days ago that a full page color ad was due today. I've got great creative partners in Palmer and Sandstrom Partners. They turn this around and we have a great looking ad to submit right on time.
4:00pm: Our accountant Chela has been away all week due to a family emergency so I am scheduling payables and manually writing checks. I forgot what a pain it is to code and hand write checks. It will be nice to have her back.
10:00am: Phone training for our rocky Mountain brokers for presentation of our ready to drink teas to Whole Foods. These are incredibly unique in both size and flavor. We use whole regional fruits and steep them in filtered water before adding the tea. More like alcohol- free wines than ready to drink teas.
11:00am: Conference with a NYC distributor to restaurants and cafes. I'm very apologetic for having to cancel my trip to work with them last week at the last minute and at the same time disappointed in their efforts. They have made a commitment they will put more energy towards sales and I have made a commitment that I'll keep my appointments.
12:30pm: Working lunch with Kim at Meriwether's -- catching up on HR issues, marketing programs, web and general housekeeping. It's not all business though as we catch up on personal stuff. I have the gnocchi and Kim has the fish tacos. Scheduled meeting with Lauren for Kim for the following week.
2:00pm: Container arrives at our annex warehouse for shipment. Dave and team nail braces for the pallets in place. Nova takes photographs of the finished load -- seems like overkill. The whole team does a great job and the shipment is on the way to the stores.
2:45pm: Tony, ML and I taste the Method Noir -- a blend of black teas scented in a pinot noir wine barrel provided by Adelsheim vineyards to see how it's progressing and are happily very pleased. We also taste a tea that a customer has returned saying it takes like "old sneakers" -- we are not pleased to hear this. After tasting we concur that it tastes like new sneakers -- not old. Actually the tea is fine -- jut not to the customers liking. We send him a big box of assorted samples for his troubles.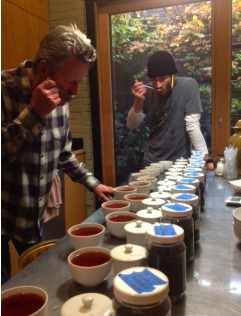 3:45pm: Reviewing cost of goods for our new loose tea tin line and establishing pricing for web, our retail location and for wholesalers. I think this is going to look great on the shelf and sell very well.
8:00am: Yesterday Jack took a fall playing hockey and hurt his tailbone so we're at the chiropractor. I've got a bunch of other stuff to do but this takes priority. After a 45 minutes session and a visit to the radiologist we find he's fractured his coccyx. We arrive late at school -- and late to work.
10:00am: We've been working on a concept to apply French translations of our product to the front of our retail carton. A clear sticker with black type that applies to the face of the carton for our Montreal distributor. Translations and layouts arrive are reviewed and sent to the printer.
1:00pm: Meet with Mark at Umpqua Bank regarding their special holiday pack and the upcoming holiday event that they are planning to have at Smith. They are also planning on shooting a video here to feature Smith on their website. We like this Umpqua relationship -- they are very entrepreneurial and serve our teas in many of their retail locations and have even sold cartons of our teas. This is turning out to be the relationship I had hoped we would have.
2:30pm: Heading out to a late lunch and I find Miriam at the tasting counter sniffing our teas. She's a perfumer so we have plenty to talk about given the aromatic synergies that fragrance and flavors have. Amy Yukas shows up and takes a seat next to Miriam. She used to work for me at Tazo but now works for House Spirits, a local distiller. This is an interesting place -- never sure who's going to come through the door. Kim and Alex (our web and IT manager) have been talking about doing a project where we team up with other creatives in the food, beverage and fragrance world so this is like kismet.
3:30pm: Our Assam shipment finally arrives and samples are pulled for tasting. These are second flush teas from a dozen of the best gardens in Upper Assam which is an area that borders Nagaland and Bhutan in NE India. The teas are full flavored, gutty, dense and chewy and it looks like we have chosen well and the teas have survived their long shipment. We catalogue the teas into groups depending on density, flavor, aroma and cup color. These teas will be used in our Brahmin, Lord Bergamot and Exceptional black tea blends.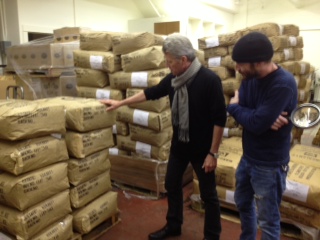 See more Food Informants below: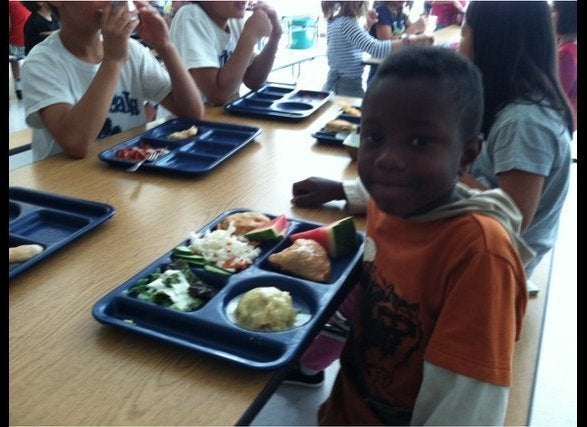 Food Informants
Popular in the Community