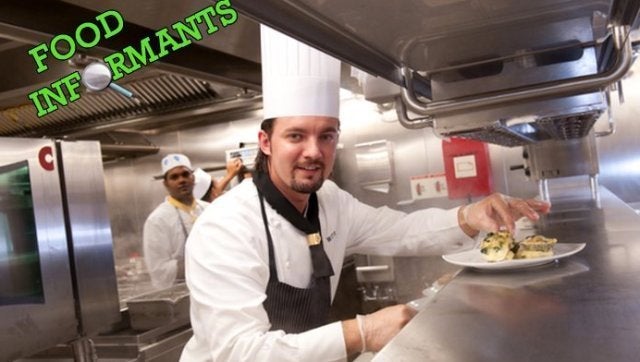 Food Informants is a week-in-the-life series profiling fascinating people in the food world. We hope it will give you a first-hand look at the many different corners of the food industry. Know someone who would make a great Food Informant? Tell us why.
Thomas Szymanski is the Senior Traveling Corporate Executive Chef for Celebrity Cruises. Here's how he describes his job:
Working as a chef on a ship is unlike anything I've experienced on land. I spend time in kitchens all over the world's oceans, and from the moment you step onboard, it's rock-and-roll, and I don't mean the ship moving. I mean it's crazy fast, so intense sometimes that you can't even believe the day has passed. And it's like music, fast and rich and full of life. Music is my thing. I cook with it, I hear it even when it's not playing, it's in my head. Food cooked with music stirring the soul is food cooked with extra passion. There's not much difference between a chef and an orchestra conductor. We're both artists in what we do, and we both are at the center of many critical pieces, parts and players. When it all works together, it's pure harmony, from the bottom of the heart.

So how did I get here? I was born in the small town of Konskie, Poland. As a little boy, I spent much time in my mother's kitchen. I'll never forget the cheese crepes she made in the mornings, the smell would make sure that I would get out of bed and get right to work. At the age of 15, I discovered my passion for food, when helping on my grandparents' farm, with butchery. I then moved to Germany to help my sisters with their restaurants. Since then, I've worked with many great chefs, and have been trained in French and European techniques. In 20 years as a chef, I've learned many styles, including modern approaches such as molecular gastronomy and sous-vide - and here I am. And it's been a long, road to where I am today, in Hawaii, on Celebrity Century. I can't even begin to count all the countries I've visited in the last 20 years.

A few days ago, I was in South America, in Montevideo, Uruguay, where I left Celebrity Infinity, flew to San Diego, and on to Hawaii, where I boarded Celebrity Century to provide leadership to our hardworking team of cooks.
Read more about the massive amount of food Thomas is responsible for.
8am-10am: I check in at the terminal counter, get my room key, go onto the ship and immediately feel adrenalin despite the long trip to get here. I take out my chef jackets, ask the stateroom attendant to help with express pressing, and by the time I shave and shower, they're ready, so I dress and proceed immediately to the provision area. As each new cruise begins, the ship is loaded with up to 300 pallets of food.
10am-4pm: Organic, fresh, chilled, dry and frozen ingredients are delivered to the appropriate store rooms. We have many large store rooms onboard, and they're highly organized, temperature-controlled (by computer) spaces. Together with the ship's provisions master, I check the quality of all ingredients received, including testing the fruits and vegetables to ensure the highest quality. The entire loading and inspection process can take up to 8 hours.
4pm-5pm: Time for a quick rest and refresh before dinner service. I go back to my room, change my chef jacket, then walk around the ship, feeling the vibe, and visiting all the restaurants. In each restaurant, I say hello to all the chefs and cooks. In the entire Celebrity Cruises fleet, we have over 2,000 chefs and cooks representing over 75 nationalities. I know almost all of them, but from time to time I meet new, young cooks who are onboard for their first contract, so I take the opportunity to talk to them and share some of my experience as a chef as well as a senior member of Celebrity's culinary team. Each ship can have up to 175 cooks, so it takes some time.
5:30pm-10pm: Every night, the executive chef has a pre-dinner tasting. I'm filling in for the executive chef on this ship, so I'm in charge. I review with all the cooks and front-of-the-house staff each dish of the night, including ingredients, presentation, techniques, any allergy-related points and taste. Each of our large ships will produce up to 12,000 quality meals a day in our many different galleys onboard. The testing and tasting never ends...I never need to eat an actual dinner when onboard! And some of our restaurants turn twice, meaning two tastings -- definitely no dinner for me.
Tuesday, February 26 -- At Sea
5am-9am: Early start. I'm accompanying the onboard food & beverage and hotel accommodation management teams through the weekly inspection. Everything is checked, from the ceiling to the smallest place between the tiles, each fridge, each oven, lights, everything. We all ensure that everything is working at 100% of capacity in each of our galleys.
9am-10am: All the chefs onboard -- executive sous-chefs, sous chefs and chefs de partie -- meet, to talk about a variety of topics, from management development to challenges, special events and menus onboard and recipes.
10am-11am: We have hundreds of menus across our fleet, with foods created by chefs and cooks coming from a melting pot of cultures producing global cuisine. A massive yet quality-driven food-producing machine as ours needs great minds behind it, to ensure that everything is running smoothly to the highest imaginable quality. The culinary team constantly reviews our operational procedures to determine whether -- and how -- something can be done better.
11am-2:30pm: It's tasting time. Today we will taste all food at the casual dining restaurant onboard. There are so many stations that when you taste so much food at once, you need to set aside two hours to go to the gym to lose all that poundage. But don't worry, it's just tasting. So we start at the cold kitchen. The chef takes us around and lets us taste all the salads, hors d'oeuvres, appetizers, canapés, pâtés and terrines, dressings and more. We talk about the presentation, the taste, and what can be done to make each thing better. We then move to hot dishes, and the variety is mind-blowing: modern to Asian to Latin, heavy, light, flash-cooked, baked -- it goes on and on. Then we taste the desserts prepared by our pastry chef and his team -- oo la la! I won't think about the calories, and sometimes, our guests don't either -- they are on vacation, after all. However, I tell you, there is something for every taste -- fruity, juicy, crispy, soft, easy, hard, light, intensely chocolate -- impossible to resist. And all the dessert selections change daily. When we finish tasting, we open the restaurant and serve our guests. It's busy, man, it's so busy, until we close lunch and set up the afternoon tea time (with more food), and then we close again and set up dinner, and it goes on and on. A 24/7 operation onboard. And the show always must go on, despite any challenges that we may have.
2:30pm-4pm: Time for my siesta. I need to rest, there's nothing better than four hours of sleep in the middle of a 14-hour workday.
4pm-11pm: Every day at four, it's rock and roll time. We're preparing dinner, every single dish must be checked, all meats, cooking points, sauces, sides, garnishes, salads, appetizers, soups, breads -- there are hundreds of different dishes to check so it all must be very organized and highly synchronized. Each station has a chef de partie in charge, and everyone knows what to do. Everyone is part of the symphonic machine that is a cruise-ship kitchen, everyone is rolling and the music crescendos as the evening moves on. At about 5:30pm, our guests will have a pre-dinner cocktail and make their way to the restaurant.
Today, the dishes include braised lamb shanks in red wine, chateaubriand, and my favorite, oysters. (Oh, how I love oysters -- I could eat them every day.) Dinner is a success.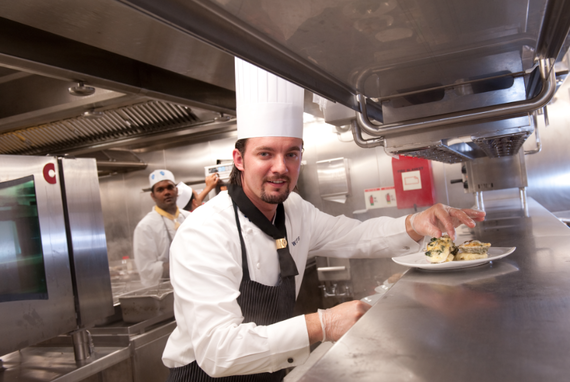 Wednesday, February 27 -- Lahaina, Maui, Hawaii
7am-9am: Imagine when you were young and you saw, for the first time, a perfectly poached egg. There's nothing like it, that cloud of perfection on a plate. This morning, we focused on poached eggs. We have about eight stations with all kinds of eggs being prepared, so it was good to review all cooking techniques. When you have to make about 800 poached eggs quickly, and each has to be perfect, you need to be a master of making them light, soft and runny.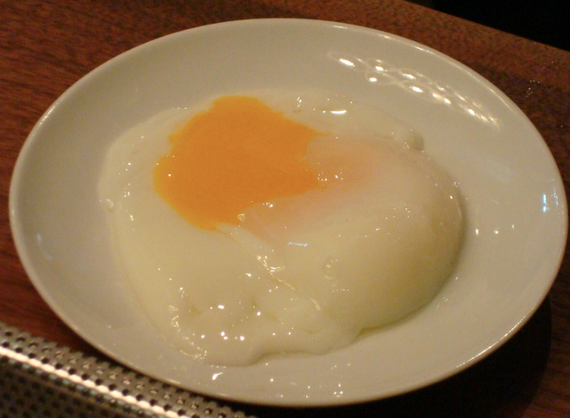 9am-10am: Morning chef briefing. We're planning to update menus in some of our fleet's specialty restaurants, and training will take place all day, the preparation of all the new recipes and then the tasting by every cook, chef and front-of-the-house staff so they'll be fully versed in every aspect of each dish's flavor profile and presentation. It's so important that the front-of-the-house teams know exactly how each dish is prepared in a fine-dining restaurant. During the tasting, I'll plate each dish very carefully, step by step, so they can see and learn about every aspect. And then we'll dig in.
10am-1pm: Some think it's hard to be a chef on land. And it is. It's a grueling job but so rewarding. But take that to a ship and it's jacked up to a whole new level of intensity. We hear it every time a land-based ship comes onboard as a special guest or even on vacation, and they see the intricacy of our operation. A chef on land may get one or two days off a week; a chef on a ship gets two months off after working four months straight, 7 days a week, 18 hours a day. A chef on land needs to order food and provisions a day or two prior to an event, but a ship-based chef needs to start ordering months in advance, given the fact that the restaurants are constantly moving around the globe. A land-based chef typically serves the same menu for a few months; a ship-based chef works from a different menu every day, and that's just at one meal time in one of many restaurants.
1pm-2:30pm: We focus with the team on our chefs' contract rotation -- chefs leave every cruise for their two months' vacation. The culinary brigade in all kitchens changes every cruise, owing to their well-deserved vacation time, resulting in a partially new chef team all the time on a continuous basis. This is, needless to say, another challenge faced by a ship-based executive chef, but in the end, it's a very rewarding career. It keeps things interesting. Variety is, after all, the spice of life. Especially in a professional kitchen.
2:30pm-4pm: Fast shower! Change my jacket and ready for action.
4:45pm-9pm: Tonight, instead of our large main restaurant, I'll stay in the kitchen of our specialty restaurant, and help the chef to fire the tickets, reviewing each dish that comes out from the pass. Of course, from time to time, I'll visit guests at their tables, to get their feedback. As a chef, we get immediate gratification, seeing the results of our work on the plate but more importantly, seeing and hearing the satisfaction and excitement of the people who savor our food.
9pm-11pm: Tonight's dinner service includes a special surprise: we've made Grand Marnier soufflé for everyone, although it's not on the menus. During dinner, all waiters will tell all guests there's something unexpected in store for them. We made 1,500 soufflés. Can you imagine? So I'll help the pastry chef, though he's a master of perfecting the soufflé.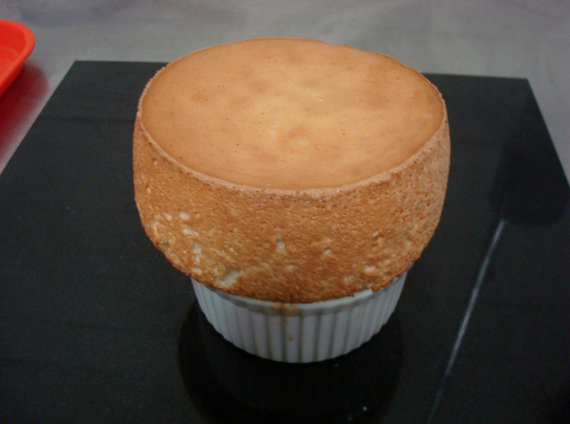 11pm: Sipping a glass with the team to celebrate the day's successes and review our challenges.
Thursday, February 28 -- At Sea
7am-9am: A good day of cooking good food starts with focus. Good food starts with good ingredients. Not always the most expensive ones, but ones that are in season. And of course, good food starts with good cooks. And the ability to produce cuisine in safe, state-of-the-art facilities. The majority of our culinarians are from Michelin-star restaurants, five-diamond hotels, five-star resorts, boutique hotels and even their own restaurants. The recruitment process is so intense at Celebrity. Every candidate is screened at three levels, starting from a reputed job agency, to our HR team, and finally via our culinary directors. For senior positions, candidate chefs are flown to our Miami, Florida headquarters to spend a day in our test kitchen with our corporate chefs. They not only prepare what they've planned to prepare, but are, of course, presented with a surprising cooking test, to check their hands-on skills, expertise, standards, attention to detail and ability to think under pressure. I still remember when I was hired. The culinary director was eating in my former restaurant in Germany in 1997. He asked me on the spot if I wanted to go to work for him.
But as strict as our screening is for cooks and chefs, our screening of ingredients is even more rigorous. We evaluate the source, quality, production methods, environmental friendliness, ethical procedures, preparation standards, storage, packaging, transportation, distribution, and more. We make our food fresh, from scratch, and we start processing food orders at least three months in advance.
9am-10:15am: Busy morning. We have four teams of 25 waiters and an assistant waiter. Each training will take about 1.5 hours with breaks.
2:30pm-4pm: Volleyball in the pool, the hotel accommodations team vs. the marine operations team. Whoever wins will play our guests in a final round. Did I mention that I love my job?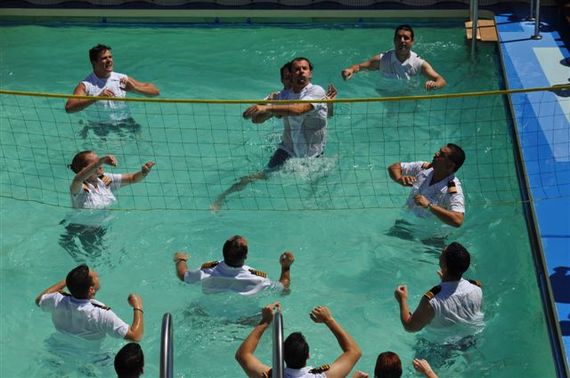 4pm-11pm: Tonight is formal night onboard. Our guests dress up if they want to, and some are clearly having the time of their lives. Always makes me smile.
From a food perspective, on this night we offer extended menus. Our guests will be offered additional intermezzo to cleanse their palate. After dinner, there are shows in the ship's theater, and to finish dinner in time, it's a multi-departmentally coordinated effort.
Each of the 36 items on this evening's menu in our main restaurant has been sampled by each one of us. Even the ship's hotel director comes to our tastings in order to be fully versed in the guest experience. Our big focus during tonight's dinner preparation was the finishing of each sauce, side and preparation. Every piece of ahi tuna was marinated with Moroccan spices and grilled a la minute. The leg of lamb was marinated for two days then slow-roasted and served with delicate rosemary sauce and Provençal tomatoes. The lobster bisque was prepared carefully, with all the lobster being flambéed to increase the cognac flavor, then cooked in wine slowly so all the flavors have time to combine. Steak tartare is my favorite -- I've eaten it since I was a child, so just imagine how important it is to me personally to prepare it freshly and to maximum perfection.
6am-1:30pm: Sometimes it feels like I have to be in two places at the same time. We serve breakfast early in the morning, and lunch, in multiple restaurants at the same time. And today, at 10, we have a global flavors presentation, where our guests can learn cooking techniques through an interactive demonstration. At 11:30, we have a VIP celebration party for our loyalty program (Captain's Club) members. Different stations give them a chance to indulge in crepes á la minute, sushi and more. Then at 2pm, we offer all guests onboard the chance to participate in "Champagne High Tea." Ohhhh, this one is good, it's like a time machine going back to the way the royal families of Europe used to have it, but with Celebrity's modern style. Guests get Champagne with a strawberry to open their palate, then a selection of pastries, truffles, petit fours and English-style tower of sandwiches with teas varying from loose English black tea to more exotic flavors.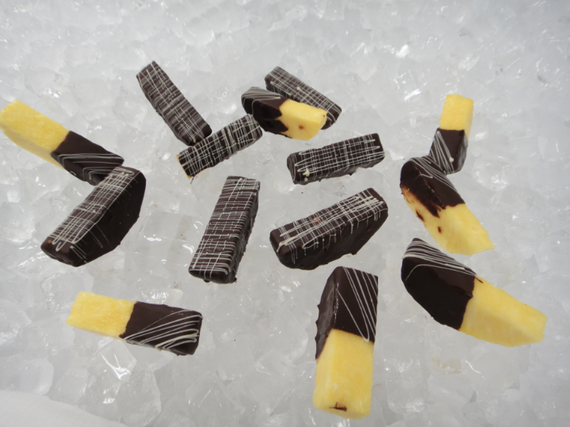 1:30pm-2:15pm: "How to cook a perfect steak in 45 minutes" -- I'm demonstrating to guests how to create the best marinade for each cut of meat, and the best way to cook each, from flat, pan-seared to grilled, as well as which spices and salts. Every different variety of salt can make a difference and improve a great tender, juicy steak. With over 300 guests looking on, someone today is tomorrow's chef.
4:30pm-6:30pm: I am working on developing a variety of new poolside treats. When relaxing in the sun next to a pool, what can be better than a small refreshment? So I'm developing recipes, taking pictures and keeping all of our warm destinations in mind, not just Hawaii.
6:30pm-7:30pm: My focus this evening was to work with the front-of-the-house staff in our specialty restaurant, Murano, which seats 60 people, on "Lobster Murano," my private name for lobster prepared to a guest's liking. The preparation is simple, as long as basic steps and timing are followed. It's easy to overcook lobster. The ingredients are butter, shallots, applewood bacon, mushrooms, tomato croncasse, chives and a Dijon mustard sauce. The lobster is deglazed with cognac and finished with freshly squeezed lemon. In one calendar year, fleetwide, we used around 120,000 pounds of lobster. Yes, that's right.
7:30pm-10pm: Late-evening tonight is all about our main restaurant's galley. We produce up to 1,200 dishes for each seating on our different ships. My job when traveling to each ship is to assist the chefs in the meal counts, share best practices on how to minimize food wastage and making sure everything we order is used. Our computer system used for inputting orders tracks usage, stations, timing and more, and makes it easy to deliver impeccable service. Soups are done because the stocks are made overnight and all the sauces are naturally reduced, but proteins and sides are made each time. Each ticket will be scanned and closed by waiters, until all guests have been served.
3am-5am: What an early morning, but our bakery never stops (nor does our free room service). All our breads and pastries are made fresh from scratch onboard. And we need to be ready for guests to start their day early, whether they wish to eat breakfast in one of our restaurants, or on their private stateroom veranda. We have cooks who work 10-hour schedules and rotate all the time, so we need to make sure the consistency, freshness and cooking procedures are followed. It's good operation. I have to watch the chefs prepare breakfast, lunch and dinner. Before I went to sleep last night, I checked the night preparation. All was well. I love the room service treat of milk and a chocolate-chip cookie just before bedtime.
10:30am: Our "Star Chefs" cooking competition in the ship's theater is a show inspired by the hit TV show "Iron Chef," but with our own unique Celebrity flair. This is one of the most avidly attended Celebrity Cruises culinary events. Two of our chefs each pair up with a guest and the two teams compete against one another. I'm hosting today, along with the cruise director.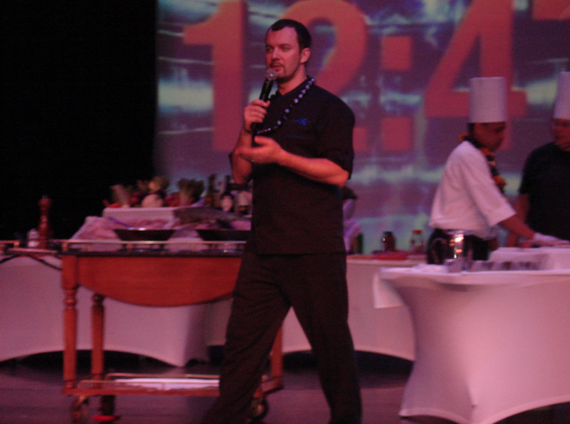 4pm: I make my stuffing for tomorrow's suckling pig. This takes some time. Well worth it.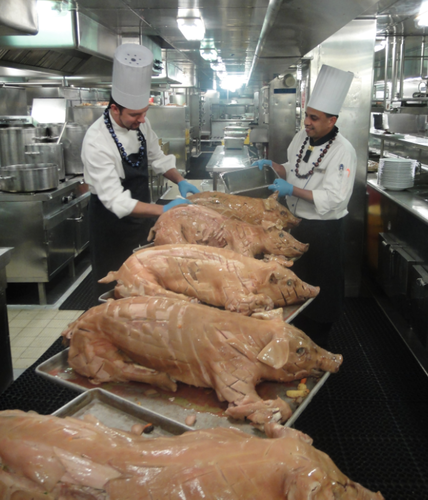 7pm-9:30pm: I cook for 12 guests who will have a private dinner in the kitchen. This is unique not only for the guests, but also for me, as I can see their reaction to every bite. I like that. They take pictures and so do I. At the same time they can see the full operation of the kitchen, hundreds of waiters carrying trays, the dishwasher operating under immense urgency and pressure, chefs plating the dishes and more.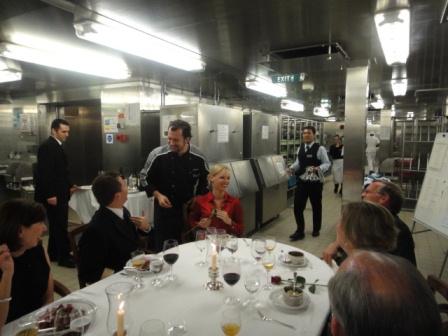 The menu at this special dinner is smoked salmon and peekytoe crab parfait, cioppino, granita to refresh the palate, a choice of ribeye or blackened tuna prepared tableside, a selection of artisan cheeses that have been air freighted from France, and either a chocolate soufflé or ballon rouge at the end. With petit fours and coffee. At the end of the dinner, I autograph our "Excite the Senses" lifestyle/cookbook and give one to each guest.
5:30am: I put my suckling pig in the oven. It's done. Wow, does this taste good!
6am-2:30pm: Highlight of the cruise: a culinary showcase in the form of a brunch that involves so many cooks in the preparation of all the samples that guests will savor, from composed salads, a shrimp tower displayed on ice sculptures, to filet mignon, to amazing pastries from financier to light swans from ice cream dipped in chocolates to crepes suzette, from Belgian waffles to prime rib, from hand-rolled sushi to hand-carved salmon gravlax and so much more. And that's why I had decided to make suckling pig. Four hours' preparation time, first team-heat, then stuff with unions, garlic, raisins, prunes, apples, carrots, celery, French baguette, herb butter, cinnamon, nutmeg, cloves and then slow-roasted with beer glaze. Oh, yes, five pieces, and this was crispy on the outside, tender on the inside. All five pieces are devoured. Success.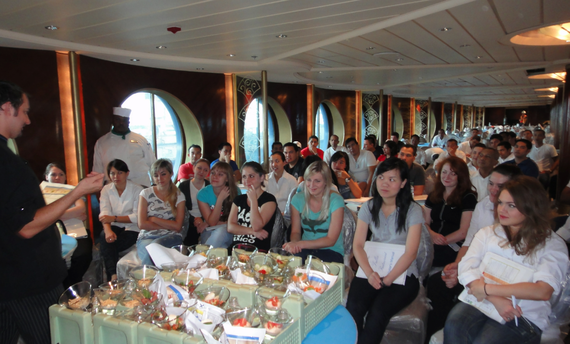 5pm: It's my last day onboard so I sign more "Excite the Senses" books for guests.
5:30pm: We have pre-dinner food tasting in our main galley, with over 40 cooks in one area, tasting each dish on the menu and we exchange our critiques about the food we've prepared. Always a great learning experience for all.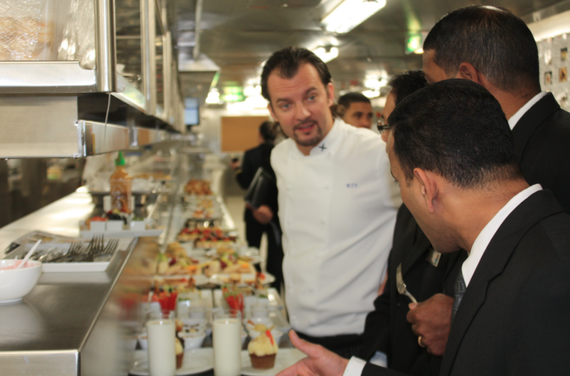 6:00pm: This is it! Had an exit meeting with the hotel director, f&b manager, executive chef and restaurant manager. I thank them for their hospitality, friendliness and helpfulness during the visit. We discussed the important aspects of operation, any detail that can and should continue improving: guest satisfaction, menus, recipes, follow-up, schedules, promotions, etc. etc. The list goes on. The ship is running so professionally and all staff display a great sense of ownership. It's inspiring, actually, to see a visible mutual respect between different departments. F&B is a driving force within our company. It's a huge part of why our guests come back again and again.
7:45pm: The hotel director and F&B manager invite me to dinner. I know my visit made a difference. My goal is to pass on what I know, and every time I see a cook that's been promoted to the next level -- a sous chef who becomes a chef, a chef who becomes an executive chef -- I feel great, because I know he's reaching into himself (or herself) to excel, and I know I had a small part to play in boosting his/her confidence level to get there.
See more Food Informants below: