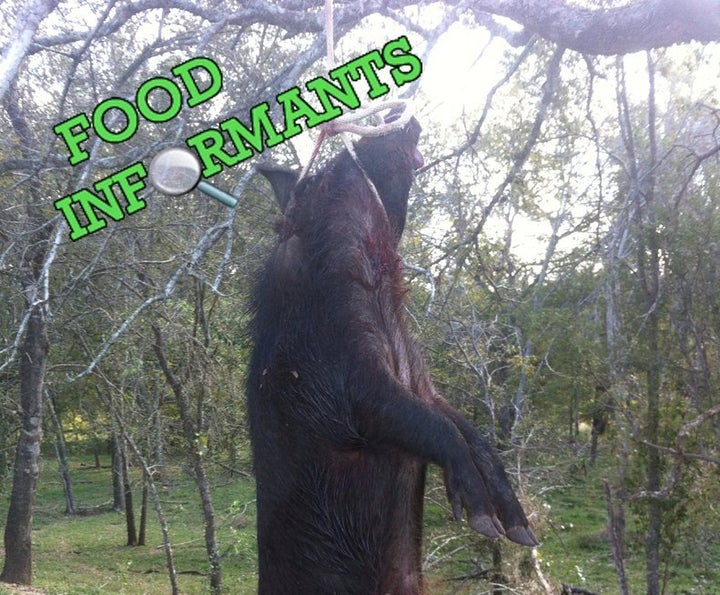 Food Informants is a week-in-the-life series profiling fascinating people in the food world. We hope it will give you a first-hand look at the many different corners of the food industry. Know someone who would make a great Food Informant? Tell us why.
Tink Pinkard is a professional hunting and fly-fishing guide located in the Texas Hill Country. His focus is to provide hunters the opportunity to hunt and harvest white tail deer, exotic species and feral hogs in a fair chase situation. He strives to not only educate a hunter on the basics of the hunt and harvest, but to promote and educate on the utilization of the complete animal "from nose to tail." He aims to do the same for his clients on the waters throughout Texas when he guides them fly-fishing.
Read Tink's diary below to learn about how to catch a feral pig, and how to cook squirrel.
6:00 p.m.: I departed my house with my Cuban style grill in route to San Antonio, Texas, where I was invited to roast a whole hog for my friends at The Cove Restaurant and their staff for a Christmas Party celebration. Arriving around 8 a.m., I set up my grill and got the fire good and hot.
9:45 a.m.: Once the fire had died out enough and the charcoal from the wood was just right, I took the hog out of its brine bath it had been soaking in for over three days. Brine is the key to a tasty/successful hog roast, and also letting the carcass air dry for approximately 20 minutes.
10:30 a.m.: I had the hog on my Cuban Style roaster and we were underway roasting the beast.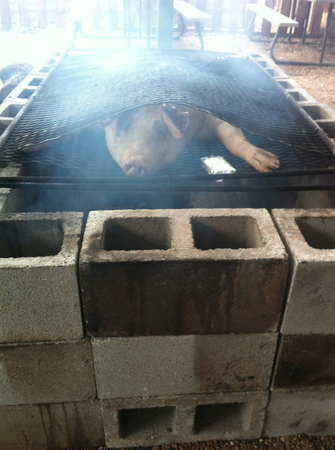 This was not your everyday, run-of-the-mill hog. This hog had come from my buddy Loncito Cartwright of Twin Oaks Ranch. Loncito raises lambs and pigs on pasture (lots of it) unlike any other farmer/rancher I have ever seen. He gives his animals sufficient amounts of pasture and provides them with many cover crops and grass to forage on. However, one problem Loncito has on his ranch is the presence of wild feral pigs (This is a HUGE problem in the State of Texas). Loncito was hoping to raise a true Heritage Pig, but encountered problems with the feral pigs breaking into his pastures and breeding with his Heritage breed hogs. Loncito has solved the problem by using electric fencing and trapping the feral pigs. He was left, however, with a cross between the feral pigs and the true heritage breed pigs. He calls these crosses "Free Lovers," and a Free Love pig is exactly what I cooked that day/night. The Free Love pig I roasted that day weighed in at just a little over 100lbs, and was delicious!
10:30 a.m. until 7:30 p.m.: I tended my fire adding mesquite wood and pecan wood keeping the grill at a warm 200 degrees for approximately nine hours.
7:30 p.m.: I start to scoop the remaining wood and charcoal pieces from out of the grill so I could let the whole carcass rest for about 30 minutes before serving the fine swine to the fine folks at The Cove.
8:00 p.m.: The way I like to serve the Whole Hog is to simply set a pair of tongs and a butcher knife up on the grill next to pig and watch as people come and start cutting away. It's amazing to hear how many people do not have a clue what to do. Many stand there with a perplexed look on their face and wonder what to do, while others know exactly what to do and just jump right in. It is always very gratifying to see the hog start off whole, and once everyone has eaten, go back to the grill only to find a carcass with no meat just bones. I know it was a job well done!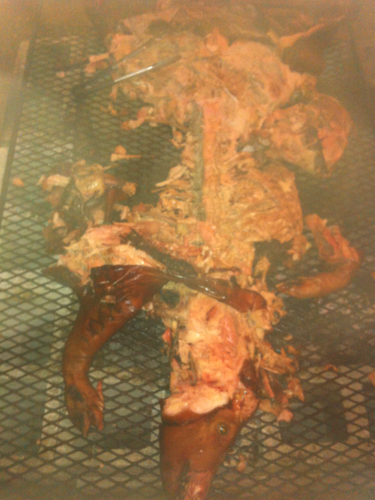 7:00 a.m.: I depart San Antonio headed for the Guadalupe River near Sattler, Texas.
8:00 a.m.: I arrived at my Guadalupe River Trout Unlimited Lease Permit access spot and had my waders on and was in the water fishing within 10 minutes. At this time of year my waders/wading boots/fly rods/and fly box never leave my pick up truck. This particular spot on the river is known as the "trophy zone;" you can only keep one fish over 18inches daily and you must use flies or artificial baits. No live bait or worms allowed in this section.

9:30 a.m.: I have already walked over a mile down river and have only caught one small rainbow trout, approximately 11 inches. Yes, I said that correctly, a Rainbow Trout! The Guadalupe River is the southern most trout fishery in the United States and can harbor some large trout! The tailrace starts at Canyon Lake Dam and is said to hold trout over every year due to the consistently cold water that is being released from the dam. The Guadalupe is a really fun river to fish because you can catch trout and bass on the same day!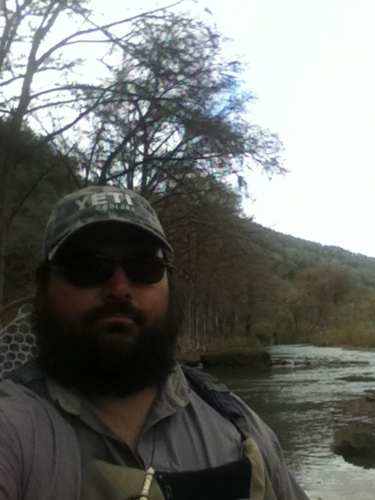 12:00 p.m.: After my lunch, I geared back up and walked a little further down stream to a known "honey hole" of mine that I just knew had my trophy fish in it. My first cast into the honey hole was more outside the deepest spot in what is called the riffle. I got a good drift and right as I was about to re-cast into the deepest spot of the hole I had a hit, and a hook up! The fight was on! The rainbow trout was jumping and ripping line making its way across the deep hole and was heading back into the main water of the river. I fought the fish 3-5 minutes and finally had it tired enough I could get it in my net. Once I had the fish in my net I knew I had my trophy fish for the day. I seldom keep any fish but I was hungry for trout and this 21 inch rainbow trout was going to be just perfect for dinner!
6:00 p.m.: The grill is going and the trout is cleaned and ready for the grill. I grilled the fish briefly and got it to the texture I like and went inside and served it along side some delicious Sweet Potatoes, and Cauiflower/Fennel Grautin. It was a delicious meal and one that will not be forgotten for a while.
6:00 a.m.: I departed my house headed to the Colorado River. I have access to a couple of properties along the river located 26 miles from my front door. This one particular access I was going to is covered up in feral pigs and I am hoping to get a pig today, I need a little more swine in my freezer!
6:30 a.m.: I found myself alone in the woods just as the sun was rising listening to the songbirds start to sing and the ducks flying over head making their way to the river. It was a marvelous morning already. I set out in the woods for what I call "Pig Island," a large island in the middle of the river that the pigs love to feed on.
7:45 a.m.: At this time I am approximately 300 yards from Pig Island. I could already hear pigs rooting and grunting ahead of me. This is the exciting adrenaline pumping time. You just know the pigs are close, but with the heavy brush and the river bottom in between the pigs and me, I could not see them. I started crawling on my knees at a very slow pace, making sure to move every little twig and branch as I made extra sure to not spook the beasts. I crawled for about 50 yards and get to a point over looking the river bottom and there they were. LOTS AND LOTS of pigs! I guess that I was looking at 20-25 pigs between me and the river. At this point the pigs were 75-100 yards away, feeding and rooting up acorns and pecans. I set my gun up on my backpack and I laid on my belly using my backpack as a resting platform. I found the pig I wanted and pulled off the shot. Pigs went scattering in every direction, but the pig I shot at was down!
8:00 a.m.: Now the hard work begins for me, skinning and eviscerating the pig. I start off by throwing a rope up and over a tree limb and then I hoist the pig up into the air so it is easier for me to process alone. I start off skinning the pig and once the skinning is done I do the evisceration.
8:30 a.m.: I am done processing the pig so I leave it hanging in the cold air and start my walk back to the truck. I could get my truck closer than I realized so I drove as close to the animal as I could get. I had one nice "hill" in between me and the carcass. So, I decided I could carry the carcass from the spot up to my truck. I tied the front feet of the pig with a piece of string and lowered it down onto my back and I grabbed the string holding the pig on my back much like wearing a backpack. I started the long, hard walk out, and after a lot of huffing and puffing, I had finally made it up to the truck! I set the pig in the ice chest and sat on the tailgate catching my breath and giving my legs a break. This was after all a 100-125 lb pig that I just carried up a steep hill. Phew!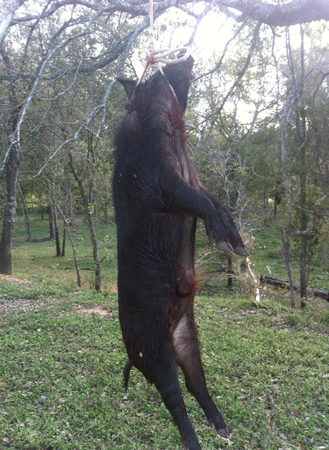 9:00 a.m.: After taking a break and getting all my gear cleaned up and organized, I decided that I would go for a "Texas daily double" and go after a few squirrels. I grabbed my .22 and headed into the hardwood bottom of the river. I immediately started seeing squirrels at the pecan trees and it wasn't long before I had my first squirrel in the bag and by 10:30 am, I had 8 squirrels in my bag. Oh yeah, and I even managed to grab a cap full of wild chili piquin peppers which I will use in my brines/seasonings/and even gumbo tonight!!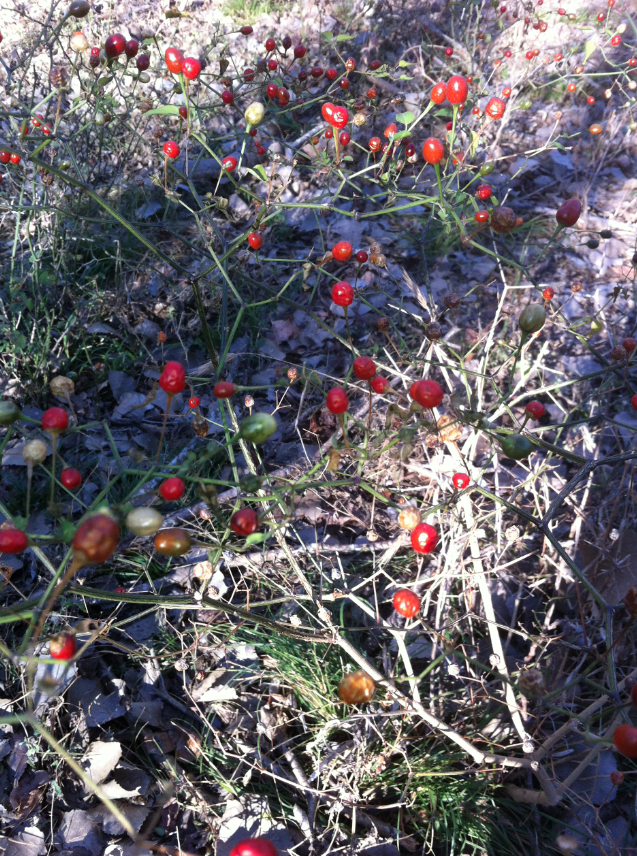 12:30 p.m.: After arriving home and getting my gear put away, I started making me a roux for my soon to be squirrel gumbo (my favorite gumbo!) Once the roux was made and the squirrels had been processed, I browned the squirrel meat in a sauté pan and season, then I add the roux to my water and then the squirrels, and let it slow cook for approximately two hours. After two hours, I turn the heat off and let it sit until my wife gets home from work, then we eat a delicious dinner!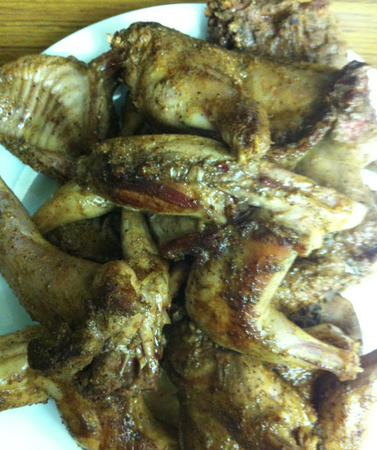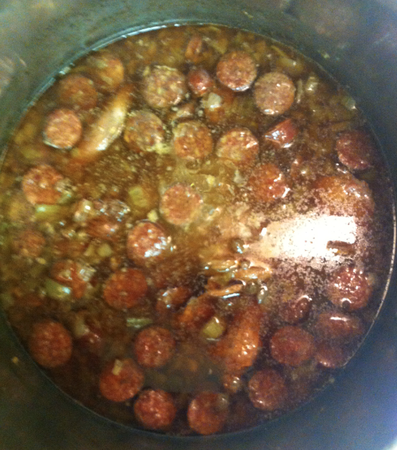 6:00 a.m.: My Buddy Todd Duplechan, the owner and executive chef at LENOIR Restaurant showed up ay my house and we loaded up the truck with duck decoys and hunting gear and were headed back to the Colorado River. The exact same spot I was at the day before, but this time we would be approaching Pig Island for a different reason. We would be using Pig Island as a duck blind!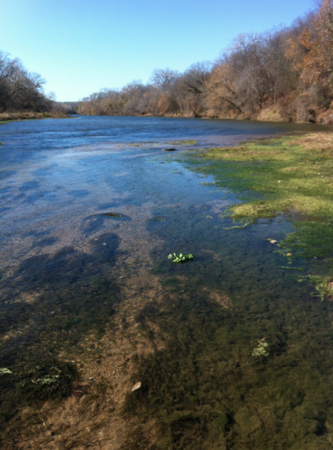 6:45 a.m.: As Todd and I descended down the river bank, we immediately started seeing ducks. Many ducks! We just knew it was going to be a good hunt. It was all we could do to not shoot at the ducks flying over head until we got our decoys set up. We got the decoys set out and into our blind and were ready to shoot in record breaking time. We had a few early birds fly over and we took shots but missed. We sat and exchanged stories on Pig Island and shot a several passing ducks, but unfortunately, we just did not seem to be on our game. Today was not the day for us to be taking ducks home.
9:45 a.m.: We still had nothing in the bag and had a great morning anyhow, watching squirrels run around trees and many different birds flying around. We saw: Osprey, Great Blue Heron, Egrets, and a lot of song birds I could not even identify. The river is a spectacular place in the morning even if the hunting/shooting isn't so great. I was able to bag one Mallard hen before the end of the hunt, which was better than getting skunked!
1:00 p.m.: I just couldn't resist getting back out on the river and trying to bag a few more squirrels. I have been researching recipes for squirrel and have a few recipes in particular that I would really like to try. The two recipes I am really eager to try are a squirrel sauce picant, and a stuffed squirrel recipe that sounds delicious!
1:45 p.m.: I had my .22 in hand was walking through the hard wood bottom of the river. I walked in the woods for a couple of hours and saw very few squirrels at this location, so I decided to pack up and head down to the my other heavily wooded spot and see if it might prove to be different. Immediately upon arriving, I saw several squirrels in the trees. It helps that I am hunting an old abandoned Pecan orchard that just so happened to be covered up in squirrels. I was able to harvest 10 squirrels before 4:00pm and decided that was plenty for me. Skinning and cleaning a squirrel can be tricky. A squirrel, in my opinion, is one of the hardest animals to process and takes a skilled hand to skin a squirrel quickly. This being said, I needed a little daylight in order to get the squirrels processed, so I decided to call it a hunt and head back to my truck to process the squirrels.
5:30 a.m.: Departure from my house headed for South Texas. I was trying to make it early enough that morning so that I could squeeze in a deer hunt and hopefully get myself a Doe Whitetail!
7:45 a.m.: I arrived at InFlight Outfitters and was told where I should head to get a doe. I immediately headed to stand #4. It was approximately 33 degrees that morning and I was really looking forward to getting out and hunting in some cold weather, finally!! After crawling up in the stand and getting situated, I started glassing with binoculars for any game I could see. Hunting in the South Texas brush can be tricky and hard to hunt. But this spot I was in was wide open and had a couple of nice senderos for me to look down and hunt. I sat for two and a half hours and didn't see anything besides one mid age whitetail buck far far away and a small bobcat that was stalking birds through the brush. It was a slow morning but as I say, no bad days in the woods. Each day I am out hunting is such a better day than being in an office! The Outdoors is my office!
11:00 a.m.: It was time for me start my other "Part Time" job, which is cooking for the guests at InFlight Outfitters. I spent the rest of the day prepping and cooking for lunch and dinner.
5:30 a.m.: Alarm goes off and I am up and at 'em shortly after. After having geared up in long johns and extra wool sweaters and Winter Pac Boots, I was ready to be dropped off at my blind on the hunt for pigs and/or deer. I went back to the same blind I was in the day before expecting to find a different scenario this time. However, after sitting in the blind for nearly 3 hours I had not seen one animal and I decided to give up and head back to camp. I had another day of prepping and cooking lunches. I was able to sneak out a couple hours during the day and go after some catfish on the Nueces River.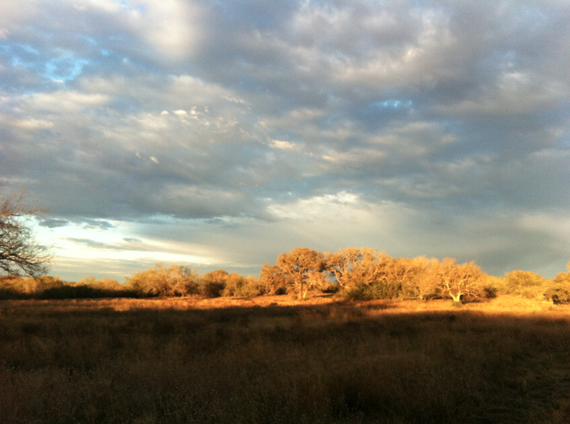 2:00 p.m.: Head to the Nuces River spot I had been referenced to by many locals. I set out a couple of rods and reels with live perch as bait and waited for the strike indicator to disappear. It wasn't long after setting the lines out I was hooked into a catfish! The reason I use live bait and in particular live perch is the big Flat Heads/Opeloussas/Yellow cats LOVE to feed on them! In my opinion, the flat head is the best tasting catfish you can catch! My first fish was a channel cat, not bad eating itself! I waited another half hour or so and had a another hook up, this time I could tell I had a little bigger fish than the last and when I got the fish to the bank it was a flat head!! A nice size 12-15lb flat head! With the two fish I had caught I was doing just fine, but I had another hour to kill so I decided to keep fishing and see if I get another couple fish. It was beautiful sitting out on the river bank of such a beautiful river and watching the osprey fly over head and hear the geese making their migration South. I was able to land one more really nice yellow cat and I had to call it a day. I had a few fish to clean and process then I had to get back to work and get ready for dinner service back at the lodge.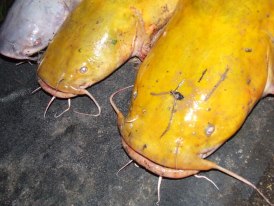 See more Food Informants below: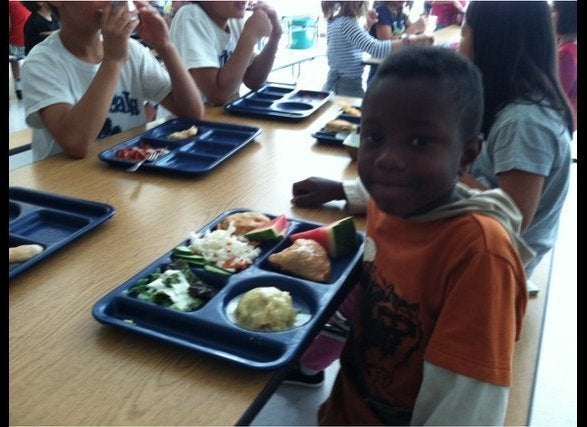 Food Informants
Related
Before You Go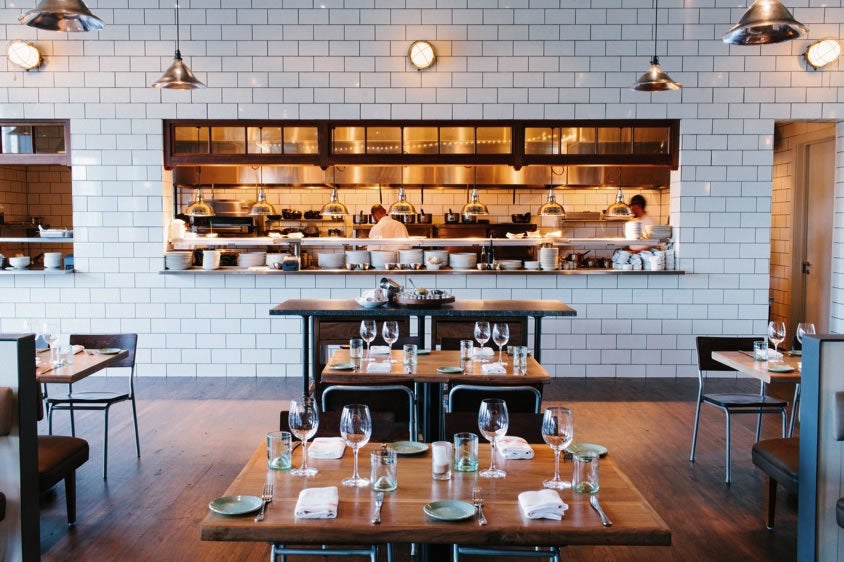 Esquire's Best Restaurants 2012