It was a busy week with once again, President Barack Obama as the guest of honor as he rolled through Manhattan on mega-fundraising multi-destination evening, one of them included Great Performances. The protocol associated with the visit, the gravitas of the office, the honor of being in such close proximity to the leader of the free world, are all part of what made it a memorable and unique privilege. Being the caterer can be very cool sometimes.

But this was a week with sharp contrasts. While there was the absolute thrill of catering to a presidential visit and there was also the fulfillment of a promise to serve a population of uncelebrated, under-served and undernourished New Yorkers. In the course of the past three weeks, we cooked and served meals at four different agencies in Manhattan, for a total of almost 5,000 meals. And as high profile as the presidential visit was -- and the innumerable details that accompany his appearances, so is the obscurity of the hungry; sometimes homeless, marginal, legions of men, women and children who have no choices but to turn to soup kitchens and pantries for their daily meals.

We planned this outreach with Yorkville Common Pantry, West Side Campaign Against Hunger, City Harvest/Holy Apostles Soup Kitchen and The Bowery Mission. The menu guidelines called for poultry over beef, welcomed fish and fresh vegetables, a starch and fruit instead of sweet dessert. Nothing fancy, just tasty, hot and healthy. Our culinary team made old-fashioned turkey meatloaf, fresh green beans, barley salad, green salad, baked fish, roasted potatoes. Breakfast meals were just what you would make for your family -- fresh eggs, pancakes, baked bread, juice.

Over the course of six days, sometimes starting at 5:15 a.m., teams of our co-workers, some with their families or friends, arrived at the pantries to unload the GP trucks, heat and serve the meals. It is critical to offer financial support to these agencies, but it is the giving of oneself that is truly memorable. And what we remember most is how NOT different from us these neighbors are. The quiet dignity, the sense of humor and warm communication between server and diner, the acknowledgment of appreciation (actually from both sides) characterized each encounter. Some guests came in after work, dressed like anyone you might see on a subway. Others were clearly not working. Some carried bags or suitcases with belongings and stories unknown.

In a work environment like ours, where we contemplate and evaluate food and menus based on creativity, innovation and unusual presentation, it is critical and refreshing to remember the basics... we eat to live, not live to eat.

A few comments from our GP family:
Mindy Birnbaum, General Counsel: Participating in the service of 310 meals yesterday at the Yorkville Common Pantry gave me an opportunity to actually see first hand who gets the food that GP donates. I especially enjoyed working together with a group of people who worked in all different divisions of our company.

Lisa DePasquale, Accounts Payable Manager: It was really an experience for me to see so many people whom are not eating food but also healthy food as GP provided for them also sad to see so many women come in with children breaks my heart, but as a team we did rather well and we got the job done, although a bit crazy.
Sara Goldwitz, Assistant Event Director: It felt rewarding to give back to those who are less fortunate. Even helping to scoop salad into a bowl or put a drink on a tray was one step towards helping someone have a hot meal that day.
John Harenda, Resources and Finance Director: I enjoyed seeing the daily volunteers explain how to operate in their facility...from rolling the napkins with disposables to pre-portioning all the food...I can still hear Arthur yelling "first timer" which meant we could serve that guest a tray of food...There were many different people attending and made me really think not only how fortunate I am, but how much support is really needed, and every little bit helps...Even if it is rolling the napkins...
Jack Kiggins, Executive Chef for CPS Events at The Plaza: To be able to be there for these less fortunate people is for me a gift. To be able to say good morning, enjoy your breakfast and provide a smile may help change their day--I know it changed ours. The men and women that came in for breakfast today were not what I had imagined they would be like. They were not what appeared to be homeless. Many were maybe just struggling and this was helping them to get by. I feel grateful that I can do my part in making someone else's day even a little better. It is my experience that when I do something for someone, I always receive more than I give.
Pablo Maes, Event Director at Sotheby's: "We make a living by what we do, but we make a life by what we give." -- Winston Churchill
Lauren Sudekum, Marketing and Public Relations Coordinator: Exhilaratingly exhausting -- at once an oxymoron and the only true way to describe the experience of serving out over 300 dinners in under three hours! It was a privilege to serve the clients of YCP as they were the most appreciative and complimentary group of clients I've had the pleasure of working with. I'm so grateful to Liz and Dean for offering this experience and intend to continue volunteering in my free time. There is so much that can be done in just a few hours.
Karen Wenger, Human Resources/Business Manager for CPS Events at The Plaza: I was at the YCP 2/22 for breakfast. A very humbling experience, but found that it was a great way to start the day. Volunteering like that puts things in perspective and truly makes you appreciative for everything you have in life. What was very sad for me that morning as I was checking in the clients was finding out how very young so many of them are as they were giving me their birthdates. So young and already struggling so much -- a terrible thing to see so much of.
What does it mean to be food insecure?
Food Insecurity refers to USDAs measure of lack of access, at times, to enough food for an active, healthy life for all household members; limited or uncertain availability of nutritionally adequate foods. Food insecure households are not necessarily food insecure all of the time. Food insecurity may reflect a household's need to make trade-offs between important basic needs, such as housing or medical bills, and purchasing nutritionally adequate food.
How many food insecure people are in NYC?
New research from Feeding America has determined how many food insecure people live in the 5 boroughs, along with the average cost of a meal. This information helps City Harvest direct its resources to those areas where it's needed most.





For more information contact Kate MacKenzie, director of policy and government relations at kmackenzie@cityharvest.org.
And though we felt good in providing these meals on those six days, there are hundreds of pantries and churches and synagogues throughout NYC that serve thousands day after day after day with little fanfare and sometimes, limited resources. Everyone is dying to know what we served the president, but it is these truly critical meals that never make the news.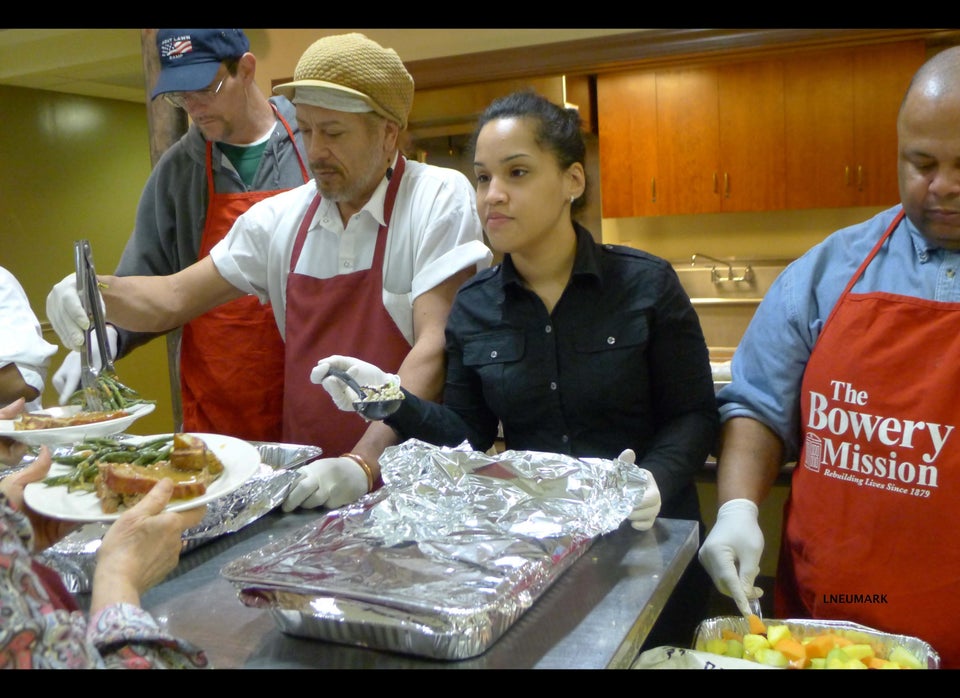 Of Presidents and Paupers and Food
Related
Popular in the Community