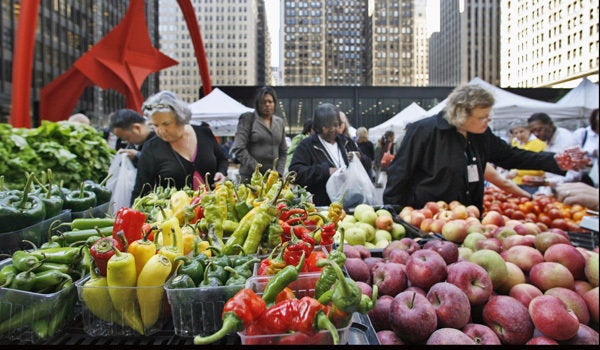 Taking out the last of the holiday trash is a potent reminder that celebration carries a potent carbon footprint. So it's a relief to take down the tinsel, stow the reusable gift bags and crack a book to help start the year off sustainably.
Food Matters: A Guide to Conscious Eating with more Than 75 Recipes by New York Times columnist Mark Bittman is a post-holiday panacea. Bittman takes us straight into the world of daily eating, and defines those terms that sometimes we've read a hundred times -- such as sustainable, organic, local -- yet still might not have a firm enough grasp on.
What Bittman does well is bring the common sense back into the debate about what to eat. He clearly believes that meat over-consumption is harmful to us and the planet. Yet he's not trying to bludgeon us with the message. Instead he's trying to give us more tools. That's important -- not just for families struggling to stay organic and healthful on a budget, or staunchly vegetarian animal-activists, or dedicated locavores. It's important for all of us as we face economic uncertainty and change, and try to steer our food futures.
Bittman's recipes are frequently 'flexitarian' -- that means they are good to make either with or without meat. That concept of being a food 'flexitarian' could be taken a bit further, though, to help keep us as inclusive as possible as we grapple toward a sustainable food future.
We need more tools speaking to 'flexitarians-in-the-making'. That's where a book like Bittman's, with both its explanatory section, its practical guide to what to stock in the kitchen, and its recipes, can be more helpful than a polemic text like Michael Pollan's great book The Omnivore's Dilemma.
Bittman quotes and gives kudos to Pollan, which is important as Pollan has established much of the argument of why food, sustainable food, matters so much in his articles and books of the last few years. And Pollan is keeping that food agenda high in everyone's minds as we prepare to welcome a new president and by extension, a new Secretary of Agriculture. Bittman's book, however, is a great way to go whether you haven't yet read Pollan or whether you have but now need the practical steps of how to get there.
Food is the most effective, and in many ways, the most enjoyable route to start toward or to get deeper into creating sustainability. It is effective because with small steps -- for example, eating grass-fed beef once a week purchased directly from the hands of the farmer, or making Bittman's Spinach and Sweet Potato Salad with local veggies -- we begin to see the big picture.
Calling all HuffPost superfans!
Sign up for membership to become a founding member and help shape HuffPost's next chapter