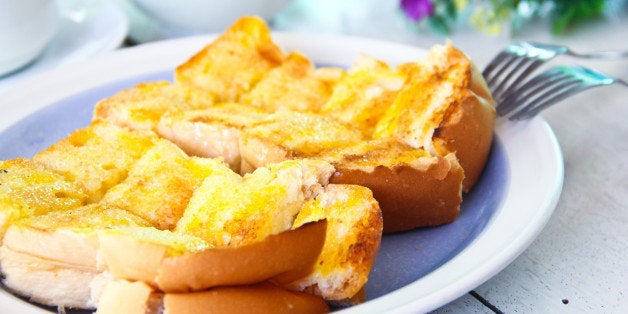 The New York Wine and Food Festival, now in its sixth year, is one of the city's biggest culinary events: four days of panels and parties where festival-goers can sample cooking from some of the country's best chefs, listen to and rub shoulders with industry insiders and get a taste of the glittery, star-saturated -- and dare I say bloated -- food scene that has ballooned to epic proportions in the last decade. With crowds chasing and reinforcing everything they're told is hot right now and everything they're primed to expect is up-and-coming (they'll congratulate themselves later on the foresight), it was a relief to step into the Food Memories panel, held on Saturday in a quiet auditorium on 13th street. The star-power was undeniable: Dana Cowin, Editor-in-Chief of Food & Wine magazine, led a panel of three of New York's best and brightest chefs: Gabrielle Hamilton of Prune, Marcus Samuelsson of Red Rooster and Andy Ricker of Pok Pok. The mood in the room, however, was low-key and intimate.
The nature of the panel -- reflection and interpretation -- and the discernible humility on a stage of such incredible talent, instilled a deeply personal quality that may have been unique in the blockbuster weekend. Cowin effortlessly led the chefs through a discussion of how we remember food -- most readily through smell and sound, and not as often through taste, as it were -- and how memories inspire and inform -- or don't. Marcus Samuelsson talked of his early memories in Sweden where salt stood out as the overwhelming force, and spoke about connecting with Ethiopia through spice. Ricker described the inspiration for his restaurant's name, Pok Pok -- the sound of a pestle hitting mortar, articulated by a Thai man on a bus journey when expressing to Ricker that he, too, liked to cook. Hamilton recalled one of her earliest food memories as a child, sitting on her mother's lap, hearing the chewing close to her ear and smelling red wine scent on her breath.
In ruminating over personal experience and confronting how private memories have -- although, in all of their modesty, they might not admit it -- inspired trends, the conversation turned to the nature of trends and their somewhat disparate relationship with memory. "One person's trend is another man's comfort food," said Ricker. Bringing levity to the whole panel with his dry humor, Ricker reminded the audience that the restaurant critic who has to eat in fancy restaurants every night of the week is relieved when he can go home and just enjoy some fried chicken, instead of one more "pickled humming bird a**hole." Wary of hype too, Samuelsson lamented the inherent commodification of food that has become a trend. You'll know something has jumped the shark when it "ends up in the W Hotel in Milwaukee, 'cuz that's where it'll end up in six years."
In Hamilton's firm stance against pursuing the latest trend -- she "still roasts chickens and scrambles eggs" -- she wondered how the next generation, if so preoccupied with what's trendy, would connect with food. It's a worthy concern. With our vision firmly planted on what's next, are we losing sight of what's right around us? Will our memories be weaker, less pronounced and less invigorating if our connection with our present experience is distracted and detached? And even more inhibitive than the obsession with what's next is the increasing separation that persists between the food on our plates and the production that went into it. Will the next generation even have the opportunity to cultivate the food memories that are so deeply ingrained in our beings?
The very real and very deep connection with food -- in childhood and beyond -- has inspired these three chefs, like countless others, to greatness. The importance of memory -- of raw emotion and connection -- cannot be underrated. If we run the risk of losing great food memories -- or memories of any kind for that matter -- and if being present and tuned in can cultivate memories, we must continue to prioritize the movement to slow down and reconnect with our food and with each other.
The panel ended with Cowin asking the chefs to construct their autobiographies with important dishes that compose their pasts -- an exercise in symbolism to convey the very real power memory has played in each chef's life.
Marcus Samuelsson: Pickled herring, canned fruit, berbere, warm tartare and chicken cooked many different ways
Andy Ricker: Mac and cheese with a wheat germ crust and the smell of mom's joint, sardines and mustard sauce (which may or may not have been shoplifted), fried egg sandwiches, pizza, steak, Italian food and Larb.
Gabrielle Hamilton: Sucking marrow out of the bone; eating frozen, raw chicken because she thought if she cooked a frozen piece of chicken it would eventually work; butter and sugar sandwiches.
At "butter and sugar sandwiches" the entire room shared an empathetic nod, and the panel came to a close with the collective memory of biting into the creamy and grainy sweetness of a butter and sugar sandwich.