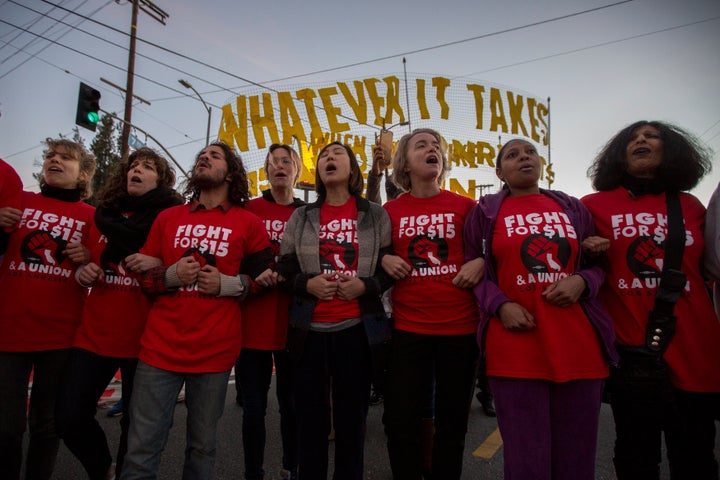 The so-called "good" food movement has good reason for trepidation in the coming year.
Still, it's not all doom and gloom. Over the past year, sustainable food advocates marked a number of significant achievements, indicating they might have enough momentum to protect the initiatives of the last eight years, like first lady Michelle Obama's nutrition push.
People of all political ideologies can get behind the case for continued advancements, like cutting food waste and reducing costs for agriculture, says Danielle Nierenberg, president and co-founder of the food system-focused nonprofit Food Tank.
"There are so many opportunities to show how a more sustainable food system is a win-win-win, saving money, protecting the environment and keeping local and regional jobs," she told The Huffington Post.
We need to start looking at ways to work together with the private sector and some of the big agencies ... to make change happen. Preaching has not gotten us where we need to go.

Danielle Nierenberg, Food Tank
To address some of the nation's biggest food-related challenges, like obesity and hunger, Nierenberg said she hopes other sustainable food advocates will work to bridge divides with people who might not appear to be allies, rather than just preaching to the choir.
"We need to start looking at ways to work together with the private sector and some of the big agencies we felt haven't always been on our side to make change happen," she said. "Preaching has not gotten us where we need to go."
Below are five of the food movement's most significant wins of 2016.
1. Big Progress On The Fight Against Food Waste
Americans throw out as much as 40 percent of the food we produce. The introduction of the Food Labeling Date Act in Congress and the Rockefeller Foundation's $130 million YieldWise initiative are just two major actions to tackle the issue of food waste this past year.
The food labeling legislation, introduced by Sen. Richard Blumenthal (D-Conn.) and Rep. Chellie Pingree (D-Maine), would standardize expiration date labels like "use by," "sell by" and "best before" to reduce consumers' confusion about what foods are safe to eat.
YieldWise will invest in helping farmers improve storage and transportation technologies to reduce preventable food loss in agriculture.
2. Soda Taxes Gain Popularity
A number of municipalities advanced new taxes on soda and sugary beverages in 2016 to reduce consumption and cut the health care costs associated with heart disease, obesity and diabetes.
On Election Day, voters in Boulder, Colorado, and three cities in California approved soda taxes. New soda taxes were also introduced this year in Philadelphia and Cook County, Illinois. Other cities, including Santa Fe, New Mexico, are preparing to follow suit.
3. Minimum Wage Increases Will Benefit Food Workers
At least 40 U.S. cities and states advanced minimum wage hikes that go into effect in the new year, largely due to the efforts of fast-food industry workers who launched the Fight for $15 movement. In Arizona, the minimum wage is increasing from $8.05 to $10 per hour, the year's largest statewide wage hike. 
In Maine, voters approved a minimum wage increase from $7.50 to $9 per hour, as well as a plan to eliminate lower wages for workers who receive tips, a move seven other states have already made. 
According to a 2014 Economic Policy Institute report, about 40 percent of restaurant workers live in poverty, so these changes will be deeply felt in the industry.
4. Animal Protections Win In Massachusetts
Voters in Massachusetts backed a landmark law that will prohibit the use of veal creates, gestation crates and battery cages that severely constrain livestock. 
While 11 states have already banned one or more of those practices, the Massachusetts law banned all three ― along with the sale of meat and eggs produced through these methods ― sending a clear signal to the agriculture industry.
5. "Right To Farm" Loses In The Heartland
A coalition of environmentalists, animal welfare advocates and others won a hard-fought victory by defeating a proposed amendment to the Oklahoma Constitution that would have protected farmers and ranchers from new local or state-level regulations.
North Dakota and Missouri have passed so-called "right to farm" measures in recent years, but opponents believe that the defeat in Oklahoma creates a model other states can follow to resist similar legislation in the future.
Joseph Erbentraut covers promising innovations and challenges in the areas of food and water. In addition, Erbentraut explores the evolving ways Americans are identifying and defining themselves. Follow Erbentraut on Twitter at @robojojo. Tips? Email joseph.erbentraut@huffingtonpost.com.
Calling all HuffPost superfans!
Sign up for membership to become a founding member and help shape HuffPost's next chapter
BEFORE YOU GO
PHOTO GALLERY
6 Tips for Eliminating Food Waste at Home