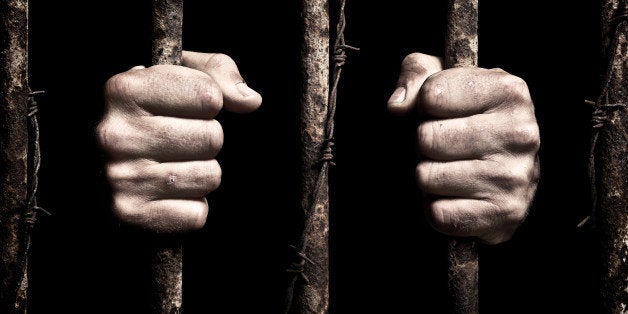 When examining America's prisons, it's easy to see how the food system plays a major role in an institution that is ripe with dysfunction and systemic problems.
Whether it's the bodies in Alabama that are forced to farm acres and acres of landscape to harvest vegetables that will eventually end up in major grocery stores or it's the private contractors who try to cut corners and "save costs" by serving meals that are deemed rancid and tainted, these are issues that are very much apart of our broken food system.
Even outside the prison system, the food system should play a larger part in ensuring that returning citizens are granted equal opportunities to succeed and move forward in life. For example, in Washington, D.C., there are 60,000 returning citizens, with an estimated 60% of them are unemployed. However, D.C. is also currently experiencing a restaurant boom, with restaurant owners in D.C. finding it hard to fill jobs and with many stating they are experiencing a storage of workers, which in turn has a negative impact on their businesses. It makes perfect sense to fill some of those vacant positions with returning citizens who are looking to work in the food sector.
So what are some of the solutions and actions currently being implemented and worked on in Cities and States across America to systemically change the prison system and improve the lives of returning citizens? Here is a short list:
Ending Prison Contracts with Companies That Have a Record of Health Violations. Over the years, companies like Corizon and Aramark have been responsible for having multiple health code violations. In 2015, The Washington, D.C. City Council voted to reject a Corizon contract with D.C. jails because of Corizon's legal troubles and poor care provided to inmates. Other cities and States should also follow suit and reject contracts for any companies that have a history of committing health violations.
End Forced Prison Labor. Refusing to participate in forced prison labor could result in punishments that include loss of family visitation rights to solitary confinement, as a result, forced prison labor has not been proven to be rehabilitative. Also, with the roots of most prison farm labor being traced to black chattel slavery of the south, it's time for U.S. to end forced prison labor. In addition to ending forced prison labor, activists should also advocate to expressingly cover inmates under the Fair Labor Standards Act (FLSA) or the National Labor Relations Act, being covered would force companies to pay at least the minimum wage and allow inmates to sue companies for labor violations.
Banning the Box. 14 jurisdictions nationwide have "banned the box" - employers are now prohibited from asking job applications to check "the box" indicating whether they have ever been arrested. Banning the box increases the chances for returning citizens to at least get a job interview.
Pass Bills That Would Lead to the Hiring of Returning Citizens. According to Marina Streznewski, one of the lead organizers of the D.C. "Ban the Box" campaign, "now that D.C. has banned the box, the focus should now be on encouraging restaurants and food service organizations to take an extra step and hire returning citizens". Eugene Puryear, an organizer for Justice First, is doing just that. When asked what their proposal would be to ensure returning citizens have greater access to jobs in the Nation's Capital, Eugene stated that:
We are proposing a phased-in mandated hiring of a certain percentage of Returning Citizens with a corresponding tax-break. We believe that by increasing the number of Returning Citizens we hire we can both a. deal with the issue and b. start to allow economically hard-hit communities to heal. Further a job is the most significant factor in recidivism rates, so for those concerned about public safety, this would be the most effective tool we could employ to build a safer, and more equitable, D.C
Advocate for Funding for Job Training Programs. There are a high number of returning citizens who lack the skills or education to compete for jobs, especially jobs in the food service sector. However, nonprofits like D.C.Central Kitchen, a D.C. and Los Angeles based nonprofit whose mission is to use food as a tool to strengthen bodies, empower minds and build communities, are working to ensure returning citizens have the skills they need to compete for food services jobs through culinary job training programs. With a job placement rate of 90 percent, other local cities and states should consider providing funding for programming that is similar to D.C Central Kitchen's.
Food justice advocates and organizations should strongly consider joining alliances or acting in solidarity with local organizations in their communities who are already doing amazing on-the-ground work to systematically change the prison system and livelihood of returning citizens. We must continue to act to improve the lives of individuals most marginalized in the food system in order to create a more equitable food system for us all.
Calling all HuffPost superfans!
Sign up for membership to become a founding member and help shape HuffPost's next chapter