 The most recent post by the Food Network, a photo with a recipe link for zucchini casserole, has over 800 comments as of 6:30 p.m. on Friday. While there are comments on both sides, a large majority of the comments skew to the angry and racist side. One thing's for sure: there are a lot of die-hard Paula Deen fans out there.
UPDATE Saturday 6/22, 11:15 a.m.: Paula Deen fans have created a Facebook page, "We Support Paula Deen." As of this writing, it has over 50,000 likes.
UPDATE Monday, 6/24, 8:10 a.m.: Paula Deen's support page now has over 283,000 likes.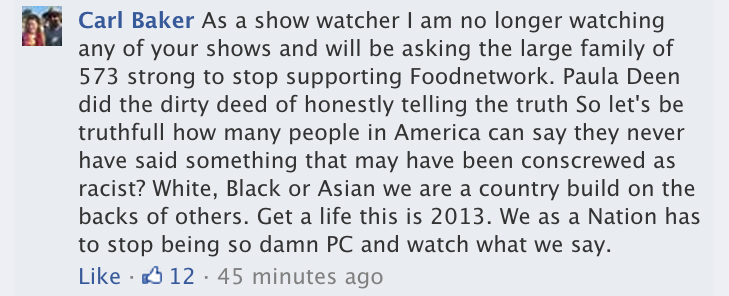 Food Network Paula Deen Facebook Comments
Popular in the Community