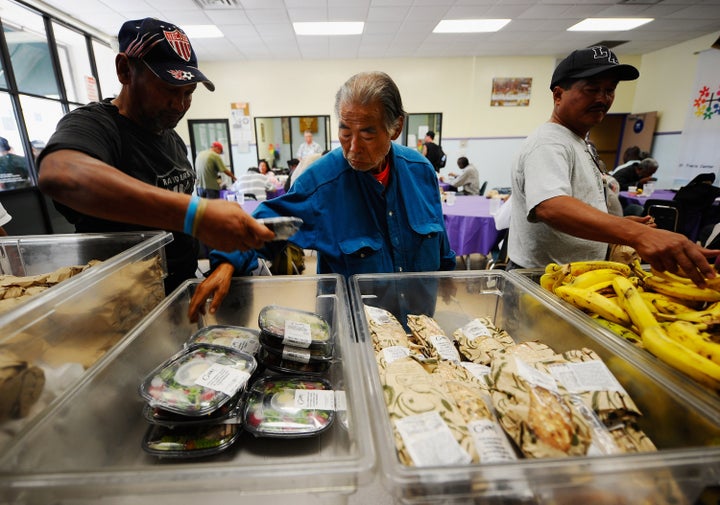 As 49 million Americans struggle to put food on their plates, pantries around the country are grappling with an unprecedented demand—and diversity in clients—that they often can't afford to accomodate.
"We are seeing many more seniors, but we're also seeing many more families with children," Doreen Wohl, executive director of the West Side Campaign Against Hunger, told the Huffington Post. "People are coming as a last resort. They've exhausted all other resources."
WSCH, the largest food pantry in New York City, has seen a 48 percent increase in clients over the past three years and served more than 88,000 meals in July alone.
Enid Borden, president and CEO of Meals on Wheels, has seen a similar swell in clients.
"In this economic downturn, we have found that those very same seniors who were once our volunteers, are now in need of our services," Borden told the Huffington Post. "This is the richest nation on the face of the earth, but the people who raised us and fed us and tilled the soil are going hungry."
The steadily rising cost of food and gasoline prices have placed an enormous strain on many of these programs. This challenge has been exacerbated by recent federal cuts that will slash funding for food banks, soup kitchens and food pantries—nationwide— by 40 percent, the Daily News reported.
Such monetary constraints have forced pantries to slash services and turn some of those in need away.
"We sometimes have to put people on a waiting list," Borden said. "That is essentially saying to someone who is 85 years old, 'I'm sorry, but we just can't feed you today.' How long can someone of that age wait? None of our programs want to put anyone on a waiting list, but there's only so much we can do."
Though WSCAH has had to scale back on its financial services programs, the nonprofit said its relatively fortunate when it comes to budget cuts. Other programs in New York City have had to reduce their operations to once a week, instead of daily.
To meet the needs of their steadily growing clientele, the pantry is learning to rely increasingly on individual donations and self-promotion, to attract new supporters. The nonprofit has also taken to referring clients to other kitchens around the city, when its resources are limited.
"We have appealed to the individuals who contribute to us for donations and that is our biggest asset," Wohl noted. Our backup plan is always to reach out increasingly to the high-income community around us. That being said, we are strong advocates of maintaining our federal and state budgets."
Despite the record-high number of Americans living in poverty, Borden also remains confident in the generosity of supporters and foresees a future without hunger.
"The heart is still there, just the pocketbook isn't," Borden said. "We may have to beg, borrow, and plead to continue doing the work we do, but we'll keep doing it. Hunger is a disease, but it's a disease we can cure in our lifetime."
Edited by Eleanor Goldberg
Related
Popular in the Community