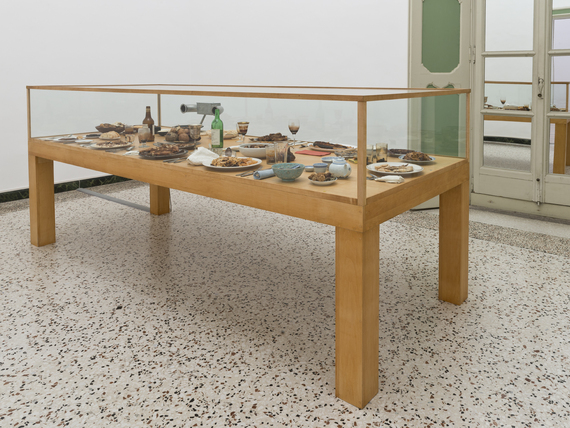 Photo: Roxy Paine, Dinner of the Dictators (1993-95), The New School Art Collection. Credit: info@tenderinifotografia.com
As the US presidential race gears up toward Super Tuesday, on March 1, 2016, potential voters are asked to consider (or not) a large array of issues, ranging from homeland security to the economy and equality. This time around, the tone has rarely been civil, especially within the Republican camp. The future of the United States seems predicated more on fear, resentment, and frustration against political elites, rather than on the hope for a better country.
Not surprisingly, media have been focusing on every aspect of the candidates' declared values, actions, and words. In news cycles where traditional outlets struggle to keep up with the speed and penetration of social media, any gesture acquires meaning and is dissected ad nauseam. In this context, as it happened for previous presidential elections, food appears to be observed as a window into politicians' real attitudes and personality. In the podcast Past Present, which she co-hosts, my colleague Natalia Mehlman Petrzela evoked Barack Obama's misstep during his 2007 campaign in Iowa, when he commented on the price of arugula at Whole Foods in a state where neither that vegetable or the store chain have much relevance. Some commentators read the candidate's observation as a symptom of his elitism and detachment from the life of the common people.
Politicians go to great efforts to be seen eating ordinary fare in down-to-earth places. Also the way they consume food can become an issue. In 2014, Bill De Blasio was mocked when during his campaign for mayor of New York City he was caught eating pizza with knife and fork. Before De Blasio, Donald Trump and Sarah Palin had to suffer ironic commentaries about their pizza eating habits. The reasoning behind these occurrences seems to be: "if you do not eat like the people, how can you represent the people?" Avoiding food-related incidents in this cycle (at least, not yet), Mr. Trump has pointed out his love for fast food, presumably embracing it as a quintessential symbol not only of what real Americans eat, but also of American ingenuity and entrepreneurship. The website eater.com dug a little deeper, exploring the food venues in Trump Tower and declaring that "Trump food is bland food." The statement, although of some consequence for New York foodies, is unlikely to sway political preferences elsewhere in the U.S.
Ben Carson dared coming out as a vegetarian, a move that may raise a few eyebrows among certain segments of his electorate. However, his professional background as a neurosurgeon may be considered an acceptable justification for his dietary choices. Marco Rubio performed an expected stop at a South Carolina diner for a pancake breakfast, choosing soft foods because apparently the day before he had cracked a molar on a frozen Twix. Ted Cruz opted for a more direct use of food in one of his speeches, telling students in Iowa that "if Heidi Cruz becomes first lady, French fries are coming back to the cafeteria." The candidate managed to express his passion for good old American food regardless of his nutritional value (possibly an elitist preoccupation). At the same time, he offered criticism of Michelle Obama's involvement with children's nutrition, one of the First Lady's personal causes together with the vegetable garden at the White House.
However, these media curiosities seem to steer clear of the actual problems of the U.S. food systems. So far, no candidate has been asked his or her position about real food issues, despite the topic is increasingly important for many Americans. What do they think about food production and distribution, as well as the environmental and social concerns related to them? Do they think the government should have a role in these matters? While we can assume some answers, it would be useful to actually hear what they have to say. For this reason, in 2013 The New School hosted the first NYC mayoral candidate forum exclusively focused on food issues. Presidential candidates should be given the same opportunity.
We cannot forget that food plays an important role in politics and in power negotiations, often in subtle ways. It is not necessary to be politicians to understand this. Some artists, for instance, have exposed these dynamics through their work. Judy Chicago's The Dinner Party, at the Brooklyn Museum, is an important statement about feminism. Roxy Paine's Dinner of the Dictators, now part of The New School art collection, is a reminder of how tyranny has often been built on the control over food production and distribution, causing, at times, famines and disasters. That may not be the case in the contemporary US, but nevertheless political decisions can have a great impact on what people can and will eat. Hopefully, more than just pizza and French fries...