Do you ever wonder why some food products have different brand identities across the country? For example, East Coasters know mayonnaise to be Hellmann's. But on the West Coast, the same brand is called Best Foods. Some people think these brands are different, but actually the variant names use the same logo and similar advertisements. Some even make similar commercials, just with the products switched ("Bring out the Best Foods and bring out the best" just doesn't seem to have that same ring to it, does it?).
At Kitchen Daily we recently conducted a sandwich bread taste test and discovered that Arnold bread has three different identities -- it's known as Oroweat on the West Coast, Brownberry in the Midwest, and Arnold on the East Coast. All three names use the same logo.
And then there's Edy's and Dreyer's ice cream. On the East Coast it's known as Edy's, and on the West Coast it's Dreyer's.
So why does this divergent branding exist? We dug into each company's history to find out.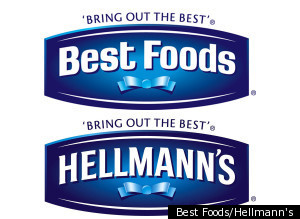 The West Coast mayonnaise company Best Foods bought its East Coast rival Hellmann's in 1932 and kept both names -- it didn't want to rename itself with its competitor's identity and both companies had very large market shares in their respective regions. (Hellmann's had been around since 1905, when German immigrant Richard Hellmann started selling mayonnaise out of his New York deli.) The newly combined company continued to use both names but united the two brands in 1968 by using the characteristic Hellmann's blue ribbon on the Best Foods packaging. In 2000 the British company Unilever purchased the company. Since 2007, both products have featured the same exact logo to make the brands look like sister products. Both have exactly the same commercials and advertisement but with the names switched. Some people say that Best Foods and Hellmann's use different recipes, which are based on the original recipes, but both products have the same ingredients. So it's up to each person's perception as to which tastes different.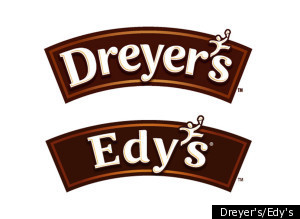 This ice cream company was founded in 1928 by business partners William Dreyer and Joseph Edy in northern California. The company was known as Edy's Grand Ice Cream until 1947, when Mr. Edy left the business. In 1953, Mr. Dreyer took over and renamed the company. In 1981 the company expanded to the East Coast, but decided to use the Edy's name because they thought the name Dreyer's might get confused with Breyer's, an East Coast ice cream brand. But if you think about it, this naming convention honors the two founders of the company rather fairly.
Each of these bread brands has a different history. Oroweat was founded in 1932 in Hollywood, CA, and it eventually spread throughout the West Coast and the Southwest. Arnold bakery was founded in 1940 by Dean and Betty Arnold in Connecticut. Their bread became so popular that the company expanded to other states on the East Coast. In 1946 Catherine Clark convinced her husband to take out a mortgage on their home so she could open a bakery. The company was named Brownberry and was located in Wisconsin. In 1972, Mrs. Clark sold Brownberry to the Peavey Company in Minneapolis and the brand spread throughout the Midwest.
What ties these three brands together is the fact that they were all purchased by Bimbo Bakeries USA, a subsidiary of Grupo Bimbo, a company based in Mexico City. Oroweat was purchased in 2002 and Brownberry and Arnold in 2009. All three companies were previously owned by the baking company George Weston Ltd. Bimbo also now owns Sara Lee, Entenmann's, Thomas', Freihofer's, and Boboli among many other American bakery brands.
What do you think about food product branding? Leave a comment below.
Correction: This post originally stated that Oroweat was purchased by Bimbo Bakeries in 2002 and 2009, when in fact it was Arnold bakery that was purchased by Bimbo Bakeries in 2009.
Related