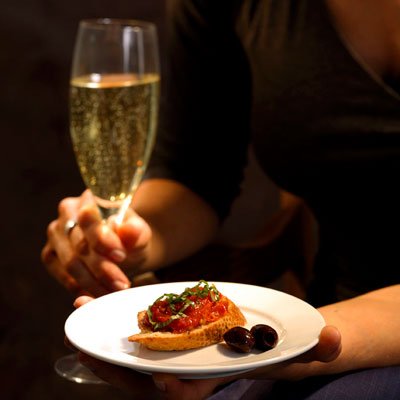 'Tis the season of good cheer, endless hors d'oeuvres and mile-long holiday buffets. But as I wander from party to party, balancing a glass in one hand and a paper plate in another (and praying no one spills eggnog on my taffeta dress!), I'm followed by a nagging little voice: Are those gooey, half-baked Christmas cookies tainted with Salmonella? Could those smoked salmon canapés send me to the hospital? Is there E. coli in that spinach salad or Listeria in those raw-milk cheeses? Talk about a buzz kill. Ever since my mom and about 300 others once got serious Salmonella poisoning from contaminated mayonnaise that was served at an event, I'm extra careful about what I eat.
Related: Take Our Poll: How Safe Is Your Kitchen? Learn what you can do to protect yourself and your guests from food poisoning.
10 Expert Food Rules You Should Follow
So I was thrilled when I heard this recent news: on Tuesday, November 30 the Senate passed (by a whopping 73-25) the much-anticipated FDA Food Safety Modernization Act. As Dr. Michael Jacobsen, head of the Center for Science in the Public Interest, writes in his blog on EatingWell.com:
"This bill would transform the FDA from an agency that chases down the sources of outbreaks after people get sick into an agency focused on preventing contamination before it occurs. Think back on the headlines: A leaky roof sending bird droppings—and Salmonella—into peanut products at the infamous Peanut Corporation of America. E. coli contaminating fields of spinach. And unspeakably filthy conditions at the DeCoster farm that produced Salmonella-tainted eggs that sickened 1,800 people."
Related: 5 Common Foodborne Bacteria to Avoid
The new act would give the FDA power to inspect problem producers much more frequently, do mandatory food recalls and raise the safety standards for both domestic and imported foods. According to the Centers for Disease Control more than 5,000 people a year die from foodborne illnesses and hundreds of thousands more become ill. And until now, recalls have been "voluntary." Puhlease! Isn't it time that we held food manufacturers more accountable and inspected the sketchy ones more often than every 5 to 10 years? Isn't it time that we stop playing Russian Roulette at the buffet table?
Related: 10 Ways to Make Our Food Supply Safer
The Act, which still needs House approval, is a first step toward a better food-safety system. The United Kingdom's Food Standards Agency is taking things even further; on November 30, it announced a new rating system that will help Britons choose where to eat out or shop for food by giving information about the hygiene standards in restaurants, pubs, cafes, fast-food outlets, hotels, supermarkets and other places. You can search for food businesses and their hygiene ratings at food.gov.uk/ratings. Green stickers show hygiene ratings (zero to five stars) for various outlets. Five stars is a top rating. One or two stars? You might want to cook at home.
Related: Is Your Supper Safe?
And if you are cooking at home, don't forget these cardinal rules of food safety: Be smart and keep food apart. Use separate cutting boards. Wash your hands frequently. Never leave raw foods unrefrigerated for an extended time.
Related: 10 Kitchen Rules You Should Always Follow—How Many Do You Break?
Now, pass those deviled eggs!
By Lisa Gosselin

Lisa Gosselin is the editorial director of EatingWell Media Group, publisher of the award-winning EatingWell Magazine, books such as EatingWell 500-Calorie Dinners and EatingWell in Season: The Farmers' Market Cookbook, EatingWell.com and EatingWell Custom Publishing. She lives in Vermont, near EatingWell's headquarters and Test Kitchen. Related Links from EatingWell:
REAL LIFE. REAL NEWS. REAL VOICES.
Help us tell more of the stories that matter from voices that too often remain unheard.