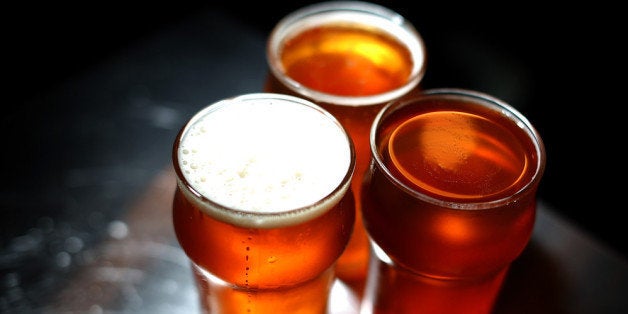 A proposed new regulation by the Food and Drug Administration aims to protect both livestock and consumers, but critics say it would hurt ranchers and beer brewers without increasing safety.
The proposed rule, which is part of the Food Safety Modernization Act, would tighten regulations on pet food and animal feed "by requiring animal food facilities to take preventive steps to ensure that food for animals is safe," according to the FDA.
The controversy surrounds the rule's effect on the longtime practice of beer brewers giving their spent grain, the malted barley left over after the beer brewing process, to neighboring ranchers and dairy farmers. The practice serves two purposes: to help the brewers get rid of millions of tons of leftover product, and to provide a free, nutritious food source for animals at local farms.
Under the new regulation, the practice would be outlawed, unless breweries go through expensive and time-consuming measures to ensure the grain is up to regulation.
"The proposal is part of the Food Safety Modernization Act's larger effort to modernize the food safety system for the 21st century and focus public and private efforts on preventing food safety problems, rather than relying primarily on responding to problems after the fact," wrote the FDA in a press release.
Since the grains are used to brew beer, they have already been deemed safe for human consumption. But the FDA fears the lack of oversight from the time of brewing to the time the grains are fed to the animals could lead to contamination.
Because of the cost and workload the regulations would require, many brewers say they would end up just throwing the grains away, adding to landfills and cutting off a free food source for farmers.
"We don't have room at our brewery to install food processing equipment, so we would have to pay to have our grains hauled away and dumped into landfills," said Natalie Cilurzo, president and co-owner of Russian River Brewing Company in Santa Rosa, Calif. "We also don't brew every day, so we would have to be at the mercy of the trash company to pick up the dumpsters full of grain on their schedule. I foresee these dumpsters sitting out for a few days attracting insects, rodents and other wild animals."
That scenario, she says, would pose a real health risk.
"Most brewers go to great lengths to keep clean facilities, since we are essentially producing a food product," said Cilurzo. "This scenario is far more hazardous to humans than feeding spent grains to animals who consume it right away."
But though the move could be a problem for brewers, some say it could deal a fatal blow to small ranchers and farmers.
"If I were to purchase feed, it would be an extra $300-400 per day," said Rick Olufs to HuffPost.
Olufs is the owner of Olufs Ranches in Windsor, Calif., and has been feeding spent grain to his cattle for over 30 years. For the past 18, he estimates, he's gotten his grain from Cilurzo and her husband at Russian River Brewing Company. "We've worked together a long time," he said.
Olufs invested about $20,000 in trailers to pick up the spent grain each week, and estimated that he gets about 80 tons of the stuff from the brewery in one month alone.
"If the new regulation goes through," he told HuffPost, "I'd probably quit doing cattle."
"I've been doing this my whole life and I enjoy what I do," Olufs went on. "I started helping my dad with the cows when I was 11. I'm 58 now. My dad was still feeding his animals twice a day when he died in his 80s, and I'd planned to do the same. But I'd probably have to quit."
Olufs isn't alone. Susan Brady of Freestone Ranch, in Sonoma County, Calif., doesn't give spent grain to her cattle, but she does feed it to her pastured pigs.
"For the past two years we've used mash from Lagunitas [Brewing Company]," she told HuffPost. "It makes a huge difference in our ability to do business and provide safe and wonderful pork."
Though Brady recently decided to discontinue pork production at the ranch, she says the new regulation might have forced her to do so anyway.
"I heard about that and thought, 'I'm getting out of the pork business at the right time,'" she said. "We wouldn't have been able to do it. It would have been too expensive."
FDA spokeswoman Juli Putnam told HuffPost that the problem is one the agency is considering.
"We anticipated some of these issues when we requested comment on the proposed rule and are already reviewing the extensive input received from brewers and others," read an FDA statement provided to HuffPost. Putnam said the FDA will be releasing revised language on the regulation this summer, but did not say whether or not it would exempt spent grain from breweries in the new version.
"We recognize this is an area that should be addressed and will reach out to those concerned," the statement continued. "We are working to develop regulations that are responsive to the concerns expressed, practical for businesses, and that also help ensure that food for animals is safe and will not cause injury to animals or humans."
Brady, Cilurzo and Olufs say the regulation in its current state aims to fix a problem that doesn't exist.
"Brewers have been feeding these high-protein and high-fiber grains to livestock -- or consuming [them] themselves -- for centuries," said Cilurzo. "To our knowledge, there has never been a case of animals or humans becoming ill or harmed from consuming spent brewing grains or eating products from the animals who consume them."
The FDA did not comment on a request from The Huffington Post for reports of any illnesses related to the consumption of spent grains.
"These proposed FDA rules appear to be a solution looking for for a problem," said Cilurzo. "And I'm sure there will be a nice fee to go along with the regulations."
Brady echoed the sentiment, expressing concern that the new regulation might reflect the disconnect between farmers and the government agencies overseeing them.
"It's important that people in the FDA are out in the fields looking for real problems," she told HuffPost. "And this is just not one of them."

Related