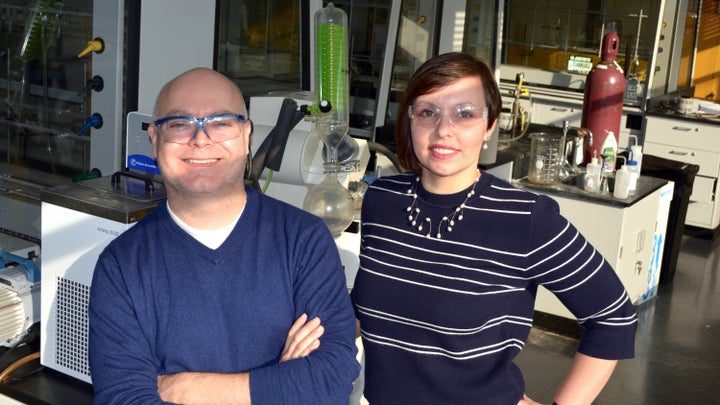 It's tough to think of something more mundane than getting your electric bill in the mail. But that's what launched two Chicago scientists down a path that just might lead to a farming revolution.
About five years ago, chemistry professor Elena Timofeeva and physics researcher John Katsoudas, who both work at the Illinois Institute of Technology, began to dabble in aquaponics, a soil-free method of farming that grows plants and aquatic life through connected systems.
The two, who are married, built an aquaponic system in their basement and began growing produce. But the eye-popping electric bill quickly showed them that the cost of powering their fledging farm was far greater than what they could grow. Power costs, it turns out, are a major drawback to the aquaponics industry.
"A couple of pounds of tomatoes were not worth the extra $200 on our bill," Timofeeva told HuffPost.
The scientists began wondering what a more cost-effective approach to powering an aquaponic farm might look like ― a challenge they have been chasing ever since then.
They believe they've found an answer: a stackable, mobile aquaponic growing system that can be operated totally off the grid.
The system they invented, housed inside a 45-foot shipping container, generates energy by feeding food waste into a biodigester that works like a mechanical stomach to convert the material into methane. The gas is used as fuel for a generator that powers the aquaponic farm's pumps and lights.
The units, developed in a collaboration with Nullam Consulting, a firm specializing in anaerobic digestion systems, will be sold for $150,000, according to Timofeeva. Aquaponic farmers can recover their investment in two or three years, she and Katsoudas said, with up to $80,000 in annual profit from what they grow with the system.
Farmers can harvest 14,500 pounds of fresh produce annually with the system — like leafy greens, tomatoes, peppers and even root vegetables. Additionally, 1,100 pounds of fresh fish could be raised inside the system, and 45 tons of organic fertilizer is a byproduct of the anaerobic digester. Plus, farmers can collect fees from providers of food scraps, like grocery stores and food processing facilities.
The aquaponic system uses dramatically less water than traditional farming, and diverts a significant amount of food waste from landfills.
"We want to bring all the technology and innovation together in a very compact, mobile, independent system that can be transported while still producing, and can be dropped wherever food is needed," Timofeeva said.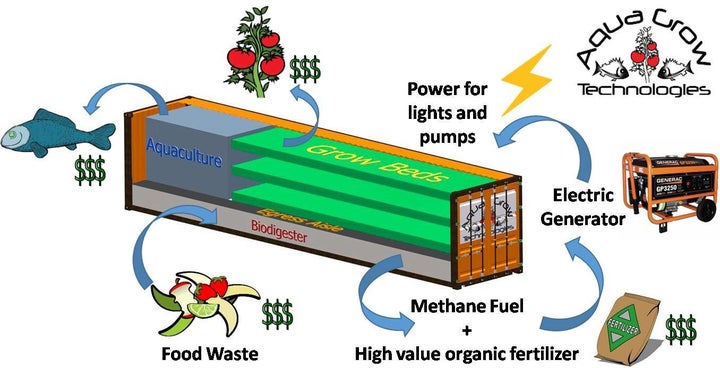 The ambitious concept is still in its early stages. The scientists are raising funds to build a full-scale prototype of their design. They've already attracted attention from the likes of Silicon Valley's Cleantech Open Accelerator, which named the couple's startup, called AquaGrow, a semi-finalist in its funding competition.
Some researchers have been skeptical of aquaponic startups' claims and question the AquaGrow projections.
Stan Cox, a lead scientist at the Land Institute, a nonprofit based in Salina, Kansas, has been a prominent critic of indoor vertical farms, which typically rely on systems like AquaGrow's.
Cox questioned whether such a system could produce enough food to justify the resources needed to power artificial light and climate-control mechanisms to protect the plants.
Aquaponics, obviously, is a lot more complex than growing a plant in a traditional way outdoors.
"When we're growing a crop out in the field, the energy situation is pretty simple," Cox told HuffPost. "When you're going through a more convoluted process converting biomass [through the digester] and using artificial light, there's a loss of energy at every step."
Stephen Ventura, a soil science professor at the University of Wisconsin-Madison who also has expressed skepticism of similar operations, said he sees promise in the AquaGrow project, but is concerned with its complexity.
"They are talking about moving and containing an immense amount of material," Ventura wrote in an email to HuffPost. "And they're talking about doing this with not one but three biological systems that are finicky to manage, let alone keep in mutual balance."
Still, Timofeeva and Katsoudas are confident. They project that their system will require some 900 pounds of food waste per day to operate. Farmers can easily obtain that much material by developing a relationship with a local grocery store or school cafeteria, both of which have a reputation for wasting many tons of food daily, Timofeeva said.
As for the tricky logistics of the AquaGrow system, Timofeeva and Katsoudas said they've already succeeded in achieving balance within their system and making it easy for an operator to maintain that balance. They still need a prototype to prove it.
The scientists said AquaGrow will help feed a growing world population in a more sustainable way, allow under-resourced neighborhoods access to fresh foods, and offer an easily movable source of sustenance for communities hit by a hurricane or other natural disaster.
"Nothing prevents these systems from being picked up and dropped off in the event of a FEMA emergency. They're ready to go," Katsoudas said.
And, with problems like world hunger and climate change, help is urgently needed.
"We're taking what we've got in the labs and we know we can do to actually turn it into something that can be utilized right now," Katsoudas added. "We know the world's going to need technology like this."
Joseph Erbentraut covers promising innovations and challenges in the areas of food and water. In addition, Erbentraut explores the evolving ways Americans are identifying and defining themselves. Follow Erbentraut on Twitter at @robojojo. Tips? Email joseph.erbentraut@huffingtonpost.com.
Related
Before You Go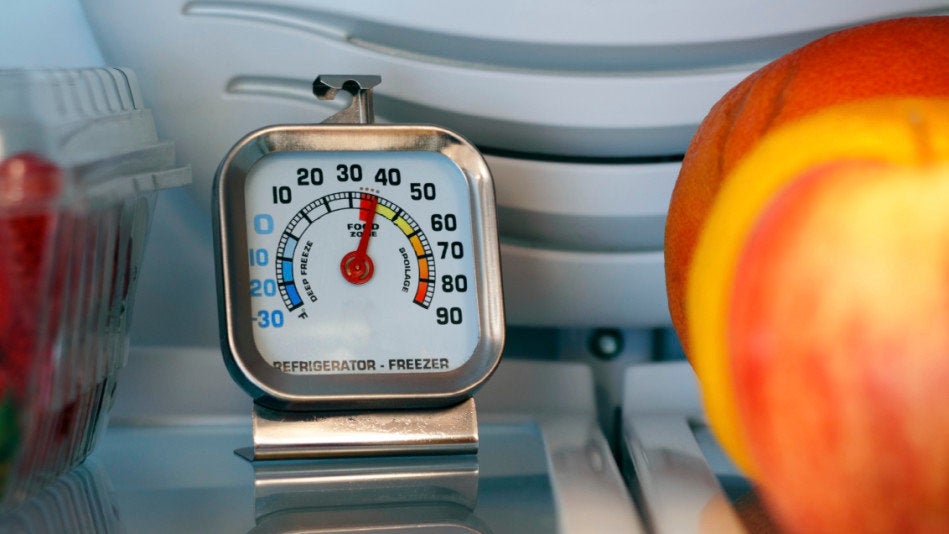 6 Tips for Eliminating Food Waste at Home