 Would you like your job with a side of wage decline?
Yet the food service and restaurant sector carries another distinction: This is one of just two sectors with wage declines over the past year, according to a new report by PayScale, an online compensation data website. Wages for food service and restaurant jobs dipped 0.6 percent, from the first three months of 2011 to the first three months of 2012. In contrast, U.S. wages in all industries rose 1.4 percent on average during that same stretch. (The legal sector also experienced wage declines.)
Restaurant and food service jobs are traditionally among some of the lowest paying positions in the U.S. economy, with the average wage in 2010 at just $18,130 per year, according to the Labor Department.
"The growth that is happening in this sector is not really encouraging for the economy," said Katie Bardaro, PayScale's lead economist. "A lot of people are going into [food services who] could have gone into higher-paying better jobs that they are more qualified for. But they can't find them."
Food service wages plunged more than 3 percent from mid-2008 to mid-2009, according to PayScale.
Americans have begun to dine out more often, a reason for the numerous openings in the food sector, but consumers are also eating less per meal, Bardaro said. That means restaurants want to hire more hands at minimum wage or part-time, she said.
The boom in low-wage restaurant jobs may provide much needed relief to some, but it's not necessarily good for the economy as a whole in the long run, she said. The skilled workers who are taking positions in restaurants to make ends meet are losing the skills that they developed through higher education or other jobs, Bardaro said. If that happens, the economy misses out on potential innovation and job creation.
"We have all of these college graduates who are trained in a particular field, and they cannot find jobs in their chosen field," Bardaro said. "Those fields are losing out on new fresh minds and new fresh ideas."
Look at the fluctuation in wages for food service jobs over the past 5 years here: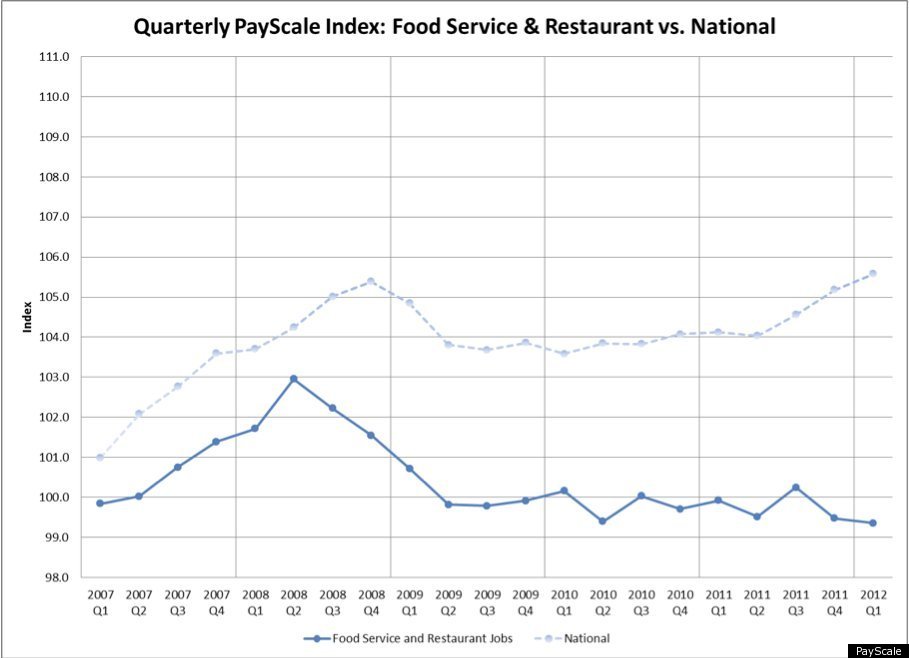 Related
Popular in the Community