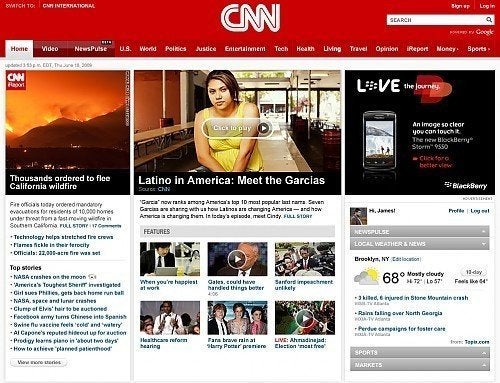 First for the good news: In the October ratings, the Food Network had more viewers under 55 than any of the news networks, and that definitely includes Fox, which finished behind Food in every single advertising demographic category.
It is not surprising that all the news networks lost audience. Last October was the most important pre-Presidential month. This October turned out to be a dead month--the economy stumbled but didn't fall; health care has become so confused that nobody cares and the news networks treat Afghanistan and Iraq as out of sight-out of mind. So, Fox lost 12% of its viewers October to October, CNN lost 52%, MSNBC lost 46% and Headline News lost 8%. I would like to think that Fox's relative success is a result of its heavily partisan core audience; that CNN and MSNBC fared far worse because their audience cares more about the news; while HLN's tabloid style continues to amuse and amaze.
The worst news for CNN is its decline in ratings among 25-54 year-olds--that's the audience news advertisers pay for, and CNN was down an astonishing 78% in prime time, and 63% in total day. MSNBC lost 51% in that category, while Fox was down 16% and Headline broke even. On the other hand, Food was up in every demographic category--over 30% in prime time and 20% in total day. I take it that phrases like "comfort food" and "wars [whether political or military] are hell" still obtain, and that people, except for Fox viewers, would rather be comforted than exist in a hell of confrontation.
It is always dangerous to correct the New York Times, but on the basis of the Nielsen October numbers I see before me, the headline of Bill Carter's ratings report is almost totally wrong. The Times' headline reads, "CNN Last In TV News On Cable". CNN finished fourth in only one of the eight major Nielsen demographic categories. CNN finished second in one category, and third in the other seven. This is not a record to be proud of, but it hardly supports The Times' headline. In fact, looking at all the numbers, the battle between CNN and MSNBC is still a horse-race, and in total day in the 25-54 audience, MSNBC finishes fourth even behind Headline News. It is clear at this moment that those three networks compete with each other, while Fox is in a class of its own.
In prime time and on a total day basis, Fox News has more viewers than CNN, MSNBC and HLN combined. I know what that says about the news viewing habits of the American public, but God help us if it truly reflects the feelings of all Americans. I refuse to believe we are a nation of negativists. If cable news viewing is at all reflective of the feelings of most Americans, I am forced to ask, where have all the people, those who still believe in the goodness of our democratic government, gone?
I'm still glad I was one of the founders of the Food Network.