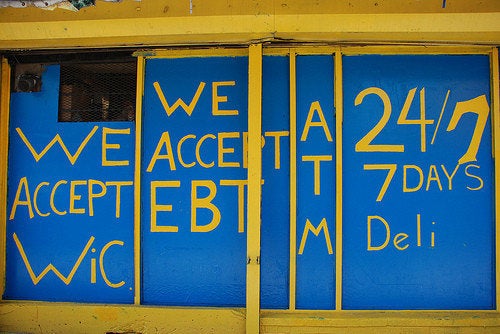 I am not ever sanguine about food. But right now, in an uncomfortable way, food occupies my mind all the time. There is little I can do to stop the takeover.
On the train coming back from an all-day meeting in D.C. yesterday I kept thinking and thinking of what I would eat when I arrived back at my home in Manhattan. I had the money to buy something in the train restaurant car but I was living under the challenge of $31.50 for a week and I had spent all but 18 cents of my daily allotment. I had one apple left somewhere in my bag and I found it. Plus I saw a friend on the train and she had this tiny tangerine which she assured me cost no more than 10 cents. I ate it. Now I have 8 cents remaining and some lentils, rice and a few other food items left. This is going to be a slow race to the finish on Thursday and I am not enjoying it. When I arrived home last night, I cooked up another batch of the never-ending, somewhat comforting Middle Eastern staple, mujadarah. Probably the last one I have enough ingredients for.
It is six a.m. and soon I will be at a study session on the Hebrew prophet, Amos. I believe he would have appreciated the challenge. He challenged the people in the northern nation of Israel to change their ways and deal with the poor. He was gutsy , coming up from Judah in the south, but he was not very successful. I fear the same result.
Looking at the Google press hits about the challenge coming from across the country, I realize with great gratitude that there are a great number of people taking the challenge. We will never know the exact number for sure, because in hamlets and cities reports are streaming of people stepping up to the plate. I know we have nearly a thousand already listed, but the reality is clearly in excess of that. Still, will it do any good?
In biblical times, the northern tribes were conquered and dispersed after Amos' time. I imagine that, in his estimation, the dispersal occurred because of their moral decay and failure to live up to their basic mandates as a caring people and humane people. Is my beloved country on the same path? I fear so and I hope not.
The next two days will be dreadful. I will be tired and bored and hungry, yearning way too much. I could break my oath and grab something, but I will not. I made a promise. I will keep it. Chocolate, particularly chocolate ice cream, will be on my mind. It is now time to go to the kitchen and eat a small amount of corn flakes with a drop or two of the remaining milk. Thursday, there will be chocolate ice cream for me but still very little for the over forty million people who live this way fifty-one weeks more than I will have -- just because they are poor. We need to find a successful Amos to stand up and say loud and clear that this is no way to be a decent country.
Rabbi Steve Gutow is the President of the Jewish Council for Public Affairs. For more information and updates, visit jewishpublicaffairs.org and follow @theJCPA on Twitter.

Calling all HuffPost superfans!
Sign up for membership to become a founding member and help shape HuffPost's next chapter