WASHINGTON -- National media and federal policymakers haven't paid much attention, but a $5 billion reduction to the food stamp program that took effect Friday has already been reverberating across the country.
Food bank directors have been telling local newspapers and TV stations they're worried the shrinking benefits from the Supplemental Nutrition Assistance Program will result in rising need at a time of decreased donations.
"I think we're going to be swamped and it really worries me," Sharon Miller, director of Our Savior Lutheran Food Bank in Lansing, Mich., told WILX. "A lot of them have trouble getting by now even with the food stamps. And if they cut it, what are they going to do for food?"
"That's going to be a significant hit for families; we already know SNAP doesn't last the whole month," Rebecca Brislain, executive director of the Florida Association of Food Banks, told The News Service of Florida.
Though the cutback has received scant attention from national media -- liberal watchdog Media Matters reported Wednesday that cable and national broadcast news have been silent about it -- local newspapers and TV stations have produced no fewer than 103 stories on the topic this week, according to HuffPost's count.
The reduction affects all 47 million Americans enrolled in the program. Benefits will drop according to household size; individuals will lose $11, while a family of four receiving the maximum benefit will get $36 less per month. The local news coverage often mentions that Republicans are seeking additional food stamp cuts in ongoing farm bill negotiations. The House of Representatives passed a bill earlier this year that wouldn't reduce benefit levels, but would save money by pushing 3.8 million Americans off the rolls in 2014.
Friday's reduction, however, is the result of Democratic legislation that hastened the expiration of a 13.6 percent benefits boost provided by the 2009 stimulus bill. In 2010, congressional Democrats used the food stamp money to pay for other spending priorities. Though this week Democrats have offered token legislation to prevent the cut, they have broken the promises they made in 2010 to replace the money before the cut could take effect. At $5 billion, it's an annual reduction 25 percent larger than what has been sought by Republicans. Experts say it's the first-ever month-to-month benefit decrease for the SNAP program.
Some local news outlets have interviewed food stamp recipients about what's happening. Lance Worth of Olympia, Wash., told the Bellingham Herald that he and his 12-year-old daughter are unsure how they'll make the adjustment. Worth is anticipating $20 less per month.
"Before the cut, it was kind of an assumption you were going to the food bank anyway," Worth said. "I guess I'm just going to go $20 hungrier -- aren't I?"
"It means a lot to me, because it's hard, it's hard what I get, it's not enough for my kids," Gonzalez said. "I'm telling you, by the end of the month there's nothing … rice and beans, whatever we can afford."
"It was already so hard to start off with," Japonica Thompson, a mother of two in West Baton Rouge, La.,told the Times-Picayune. "Believe me when I tell you, there is nothing wasted in my house. We cannot afford to waste."
Joye Raezer, executive director of the National Military Families Association, put it this way: "It's a small population but it's a vulnerable population."
This piece has been updated to clarify that benefits will drop by $36 per month for families of four receiving the maximum benefit, meaning that the family has zero income. For the average family of four, the cut could be less.
HuffPost readers: Will you or someone you know be affected by the food stamp cuts? Send us a note at openreporting@huffingtonpost.com and let us know what the cuts will mean for your day-to-day life. Please let us know whether we have permission to use your name, and please include a phone number if you're willing to speak to a reporter.
Before You Go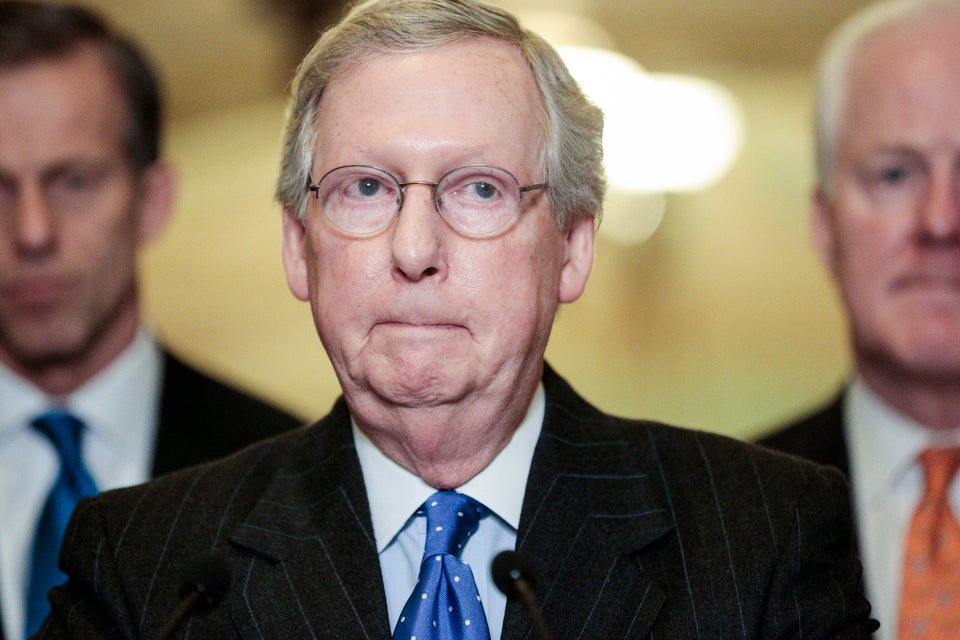 Say Cheese! Mitch McConnell Smiles
Popular in the Community