WASHINGTON -- Republican voters strongly approve of a recent cut to food stamps that reduced benefits for all 47 million Americans enrolled in the Supplemental Nutrition Assistance Program, according to a new HuffPost/YouGov poll. Meanwhile, Americans as a whole tend to disapprove of those cuts.
Republican politicians have been trying to curtail food stamp spending, but they've been silent about the cut that just took effect -- which was the product of Democratic-backed legislation that passed in 2010. Nevertheless, Republican voters in the HuffPost/YouGov poll overwhelmingly considered the reduction a good thing.
By a 67 percent to 25 percent margin, most Republicans said they approved of the cuts. By a 67 percent to 28 percent margin, most Democrats said they disapproved. Independents were more likely to disapprove than approve, with 48 percent against the cuts and 40 percent in favor.
Overall, 51 percent of Americans don't like the food stamp cutback, while only 40 percent said they approve. A HuffPost/YouGov poll conducted in June found that 40 percent of Americans wanted the food stamps budget decreased, while a combined 48 percent said spending on food stamps should either be increased (24 percent) or kept the same (24 percent).
After the recent round of cuts, support for further cuts may be even lower -- a YouGov/Economist poll conducted this week found only a combined 33 percent of people want the food stamps budget cut or eliminated completely, while 56 percent want it increased or kept the same.
November's cut happened thanks to legislation that passed Congress with Democratic votes back in 2010. There had been virtually no discussion of the cut before it took effect -- even though its $5 billion annual reduction is 25 percent bigger than what Republicans' have sought in their much-publicized effort to reform food stamps.
The 2010 votes hastened the expiration of a food stamp increase that was part of the 2009 stimulus bill -- so benefits are returning to pre-stimulus levels. However, experts say the change still represents the first-ever month-to-month reduction in food stamp benefits.
The somewhat obscure origin of the cut partially explains why it received little attention from the national media -- in the month before the reduction took effect, liberal watchdog Media Matters reported not a single national news broadcast had mentioned it.
But 80 percent of Americans polled in the HuffPost/YouGov survey had heard of the cut, probably in part because 42 percent of survey respondents said they had a close friend or family member receiving benefits. Those close to someone on food stamps disapproved of the cuts by a 58 percent to 37 percent margin. Those who did not were more closely divided, with 47 percent disapproving and 43 percent approving of the cuts.
Respondents who said that they themselves receive food stamps disapproved by an 85 percent to 15 percent margin. Nineteen percent of poll respondents said that they themselves receive food stamps.
Although more than half of respondents to the poll disapproved of the recent food stamp cuts, the poll also showed many Americans are open to dramatic restrictions to the program. A 48 percent to 43 percent plurality of respondents said that they would favor limiting the food stamps program to only "healthy, low-cost foods like rice and beans."
Currently, food stamps are distributed on government-issued debit cards. They can be used to buy almost anything at the supermarket except alcohol, prepared meals and household products. State and federal policymakers have sought to add new restrictions, but such limits are not part of agriculture legislation currently being debated by a bipartisan committee of House and Senate members. The conference committee is considering changes that could restrict eligibility for food stamps, but not what people buy with benefits.
Sixty-eight percent of Republicans and 51 percent of independents polled said they would support such a healthy-foods limitation, while 55 percent of Democrats said they were opposed. And 56 percent of respondents who said that they don't have any close friends or family members receiving food stamps said they were in favor of the "beans and rice" limitation, while 51 percent of those with a close friend or family member in the program said they were opposed.
If Congress restricted what recipients buy with SNAP benefits, they could rename it the Beans And Rice Program, or BARP.
The HuffPost/YouGov poll was conducted Nov. 11-12 among 1,000 U.S. adults using a sample selected from YouGov's opt-in online panel to match the demographics and other characteristics of the adult U.S. population. Factors considered include age, race, gender, education, employment, income, marital status, number of children, voter registration, time and location of Internet access, interest in politics, religion and church attendance.
The Huffington Post has teamed up with YouGov to conduct daily opinion polls. You can learn more about this project and take part in YouGov's nationally representative opinion polling.

Before You Go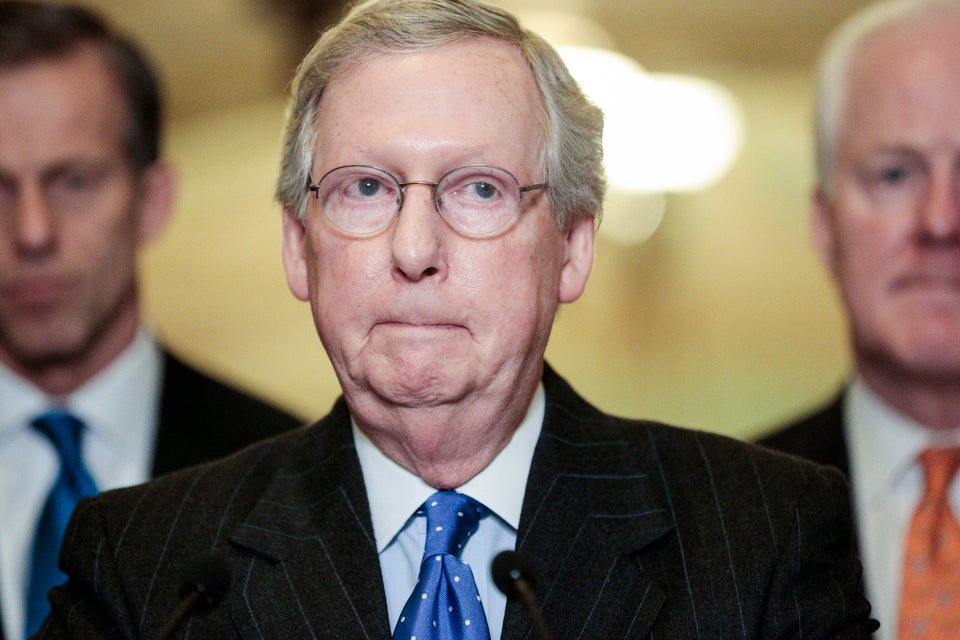 Say Cheese! Mitch McConnell Smiles
Popular in the Community