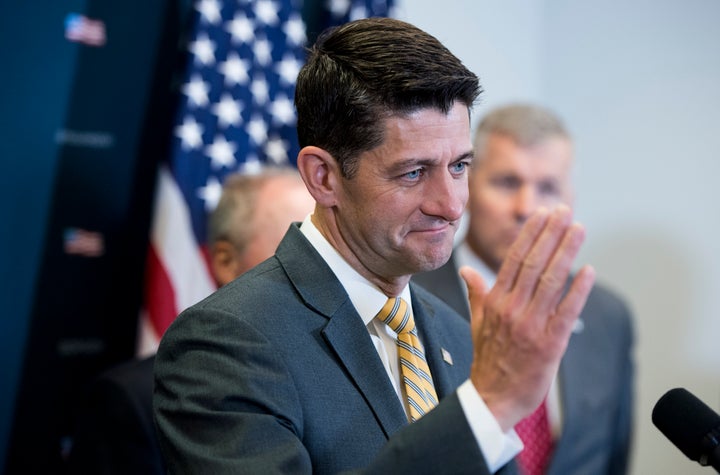 WASHINGTON ― Before the House agriculture committee approved a bill requiring more able-bodied adults without dependents to work or enroll in training in order to receive food stamps, Rep. David Scott (D-Ga.) raised a subject that is often left undiscussed.
He was not making things up. Researchers have studied the link between welfare politics and racism for decades and found that many people mistakenly believe safety net programs benefit more minorities than whites. A paper published two weeks ago, for instance, found increasing opposition to welfare programs among white Americans worried about their economic status relative to minorities'.
But Republicans on the committee point out that their proposal for the Supplemental Nutrition Assistance Program, which has yet to pass the full House, is race neutral, and they reject the idea that words like "welfare" and "food stamps" carry racial connotations. Some lawmakers told HuffPost they were taken aback by Scott's comments.
"I'm shocked when those kind of comments are made," said Rep. Glenn Thompson (R-Pa.), who has taken the lead on the committee's nutrition work. "I don't think hunger really cares about your heritage or the color of your skin or anything else. If you're a poor hungry family, you need a shot at a better opportunity."
Committee chairman Mike Conaway (R-Texas) said he hadn't heard anyone link food stamps and race before Scott did.
"I don't live in his world. I've not walked his path, but I don't have any reference to it being racial other than what David said," Conaway said.
More than 40 million Americans receive monthly SNAP benefits, making it one of the largest U.S. safety net programs ― and a target for House Speaker Paul Ryan (R-Wis.), who has made reforming social welfare programs one of his goals, arguing that poor people will be better off if they get jobs.
Scott's criticism recalled an episode from 2014, when Ryan lamented a "tailspin of culture, in our inner cities in particular, of men not working" ― rhetoric that Rep. Barbara Lee (D-Calif.) called "a thinly veiled racial attack." Ryan later met with the Congressional Black Caucus in an effort to smooth things over.
The House agriculture committee didn't focus on race during nearly two dozen hearings on SNAP since 2015, but that doesn't mean it's an obscure topic. The interplay of welfare and race has been the subject of a lot of books and articles. When former House Speaker Newt Gingrich (R-Ga.) called Barack Obama "the food stamp president" in 2012, he had to answer for it. Ronald Reagan's characterization of a food stamp recipient as a "strapping young buck" in 1976 is one of the most famous racist dog whistles in American politics.
In other words, people have been calling the Republican welfare agenda racist for a long time but, apparently, at a frequency that Republicans cannot hear.
"The argument's been out there at least in some circles for two decades," said Elizabeth Lower-Basch, a welfare policy expert with the Center for Law and Social Policy.
The latest study on race and welfare, published in May in the journal Social Forces, notes that opposition to welfare programs has grown among white Americans since 2008, when Obama first won the White House. Researchers from the University of California at Berkeley and Stanford University conducted experiments to test whether racism influenced welfare views.
In one experiment, the researchers presented two groups of participants with different sets of information. One group saw a graph showing white Americans losing majority status by 2050, while the other group's graph showed whites remaining the majority through 2020. The two groups were then asked to allocate a certain amount of spending cuts to a variety of federal programs. The group shown the long-term demographic trend proposed harsher cuts to welfare and also had more negative views on racial minorities.
Study authors Rachel Wetts and Rob Willer wrote that "white Americans who saw a demographic report emphasizing the decline of the white majority tended thereafter to voice greater opposition to welfare, and this effect was partially mediated by increased racial resentment."
A majority of respondents to a February HuffPost/YouGov survey said they think most food stamp recipients are African American, even though 43 percent of SNAP recipients in 2016 were white and 18 percent were black, according to the most recent federal data.
Conaway said he suspected HuffPost designed its poll to get a provocative result.
"You're presuming that race is a part of it just by asking the question the way you asked it, so of course you're going to get that answer," he said. "The facts belie that narrative."
Thompson suggested that if people are unaware of the demographics of food stamps, maybe Republicans can help remedy that ignorance.
"I have responsibility to make sure we're sharing the facts, we're putting the truth out there," he said.
Nobody responded to Scott during the April hearing. He allowed that Republicans might not see the stereotypical image of a black food stamp recipient that he knows many Americans hold.
"Many of you on your side of the aisle may not understand that, but I'm an African-American man who's had to survive through my people coming through," Scott said. "Nobody has the heritage of work in this country as African-American men, 400 years in bondage and slavery without any compensation, working through it all."
Popular in the Community