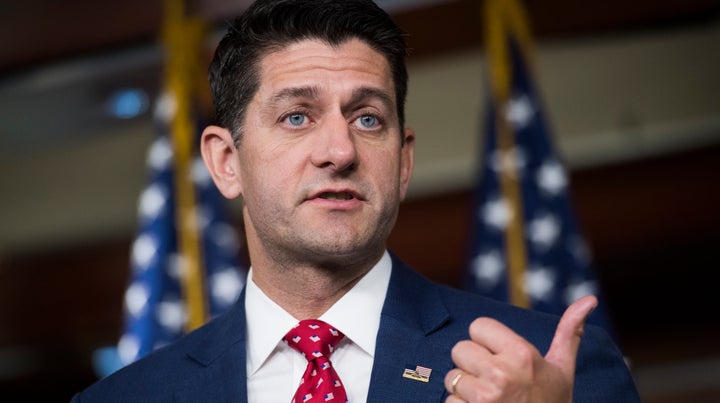 WASHINGTON ― Now is a good time to kick people off food stamps, according to the Trump administration, because poor people have it pretty good and the economy is doing really well.
Citing an alternative measure of poverty that tracks poor people's spending instead of their earnings, the president's Council of Economic Advisers says the poverty rate fell from 30 percent in 1961 to 3 percent in 2016, the latest numbers available. (The government's official rate is 12.7 percent for 2016.)
"Based on historical standards of material wellbeing and the terms of engagement, our War on Poverty is largely over and a success," the CEA says in its report, published last week.
The idea that President Lyndon Johnson's War on Poverty succeeded contradicts a heap of Republican talking points from the past several years, with House Speaker Paul Ryan (R-Wis.) having repeatedly called it a failure or a stalemate.
Capitol Hill Republicans seem befuddled by the White House's declaration of victory. House Agriculture Committee Chairman Mike Conaway (R-Texas) called HuffPost's question about the conflicting poverty claims "inflammatory" and useful only for clickbait headlines.
Rep. Mark Meadows (R-N.C.) shrugged. "Obviously, we want to make sure everybody's taken care of," the conservative House Freedom Caucus chairman said.
The White House report says Congress should increase "work requirements" in noncash welfare programs such as SNAP (also known as food stamps), Medicaid and housing assistance. Conaway is the lead author of a bill that would impose new work requirements on Supplemental Nutrition Assistance Program beneficiaries, which the Congressional Budget Office has said would reduce program enrollment by more than 1 million.
The House moved Wednesday to meet with its Senate counterparts in a conference committee that will merge Conaway's bill with a more modest Senate bill, and Conaway said he'll take any help he can get to push for his stricter version.
"Getting support out of the White House, for whatever reason, is something I'm very much appreciative of," Conaway said.
Though Ryan probably doesn't consider the War on Poverty a success ― his office declined to comment ― the House speaker does agree that it's a good time to bounce poor people out of the safety net.
"In this economy, with all of the opportunities available, there could not be a better time to help more people move from welfare to work," Ryan said in a speech last week.
It's not unreasonable for the White House to look at alternate poverty measures, since the official rate derives from arbitrary income thresholds and doesn't count noncash benefits like food stamps. The U.S. Census Bureau publishes a supplemental measure that counts those benefits and also factors in the cost of essential goods. It found a poverty rate of 14 percent for 2016.
But the much lower poverty rate of 3 percent implies that maybe it's not worth spending billions of dollars on programs that help poor people get food and health care. An advantage of the consumption-based poverty measure, the CEA says, is that it more accurately reflects the fact that people with low incomes can still draw on their savings or call on family members for help. And poor people could replace their government income with work income, though the council acknowledges that studies suggest not all poor children would necessarily be better off without their parents receiving government support.
The council said the 1996 welfare reform law is a template Congress should follow, since the work requirements attached to cash benefits for single mothers that year have resulted in less "dependency," or many fewer single mothers receiving cash benefits. That's what Congress is doing.
SNAP already has work requirements, with the strictest for the subset of its 40 million beneficiaries who are able-bodied adults younger than 49 and don't have minor children. The House bill would expand the requirements to people younger than 60 and parents whose children are older than 5. The provision seems unlikely to survive the conference committee, since the underlying bill will need Democratic support to pass the Senate, and Democrats aren't interested in stricter SNAP eligibility rules.
Recent research by the liberal Center on Budget and Policy Priorities found that most working-age SNAP recipients actually do work within a year of receiving benefits, but they're often in unstable jobs with low pay and few benefits like paid leave.
The Council of Economic Advisers paper argues that work is good because it's a "norm" and the fact that Americans work more hours than their peers in other countries helps make America great.
"Expecting significant workforce participation from non-disabled working-age recipients of [food stamps, Medicaid and housing assistance] is consistent with these norms," the paper says.
In other words: If the vast majority of people who aren't on welfare are working, why can't poor people get with the program?
Popular in the Community