WASHINGTON -- Republican and Democratic leaders waged a blame game Thursday after GOP-backed cuts to food stamps unexpectedly derailed a trillion-dollar piece of legislation known as the farm bill.
The bill's stunning failure sets back for a second year progress on the country's agricultural policies and gives House Speaker John Boehner (R-Ohio) a fresh black eye after his chamber failed to move a farm bill last year. The Senate has passed its version twice, with large majorities.
The contentious measure would have cut the Supplemental Nutrition Assistance Program by $20.5 billion, or roughly $2 billion per year -- depriving 2 million Americans of food assistance -- and a sufficient number of Democrats were apparently ready to approve it.
But this week Republicans added amendments to let states drug-test SNAP program beneficiaries and set up additional work requirements that anti-hunger advocates and Democrats warned would give states incentives to boot even more people from the food-stamp rolls.
The latter amendment, from Rep. Steve Southerland (R-Fla.), became a sticking point. While Democrats said the measure would essentially pay states to reduce enrollment, Republicans touted the supposed success of a similar policy in the 1996 "welfare reform" law, which instituted work requirements in the Temporary Assistance for Needy Families program.
"We cannot continue to deny able-bodied people the dignity of work," said Rep. Jack Kingston (R-Ga.). "There seems to be a belief in the nanny state that there's something wrong with requiring abled-bodied people to work. That's what this amendment does."
The idea was to make more SNAP beneficiaries sign up for training programs on pain of losing benefits. But Democrats noted there was no funding for training, and that it included parents of young children and even many disabled people. Nor did it place any restrictions on how states could use the money they saved, allowing them to shift it away from employment programs.
Republicans were quick to blame Democrats for the farm bill's failure, with multiple senior aides saying that Democrats had promised to deliver at least 40 votes to get the measure over the line. Democrats didn't dispute that there was an initial deal, but the top Democrat on the Agriculture Committee warned before the vote that many saw the Southerland amendment as a deal-breaker.
Minority Leader Nancy Pelosi (D-Calif.) echoed the sentiment later, rather pointedly casting aspersions on Boehner's ability to manage his fractious, tea party-divided caucus.
"It's always interesting to me when people blame other people for their own failures," Pelosi said. "It's silly, it's sad, it's juvenile, it's unprofessional, it's amateur hour."
The measure failed 195 to 234, with 62 Republicans voting against it. Pelosi noted that nearly all of the GOP opponents -- 58 of them -- voted for Southerland's amendment.

"I just can't get over the fact that 58 republicans voted for an amendment that would sink the bill," Pelosi said. "It's a stunning thing. Why would you give people an amendment that's going to kill your bill, and then go blame it on somebody else?"
Rep. Collin Peterson (D-Minn.), who co-sponsored the underlying bill with Agriculture Committee Chairman Frank Lucas (R-Okla.), said he warned GOP leadership not to bring up the Southerland and Goodlatte amendments if they wanted to maintain Democratic support for the bill.
"I had people that came up to me and said, 'I was going to stick with you, but this is too much,'" Peterson, the committee's ranking member, told reporters after the vote. "Because what they're upset about on the food stamps is the block granting that they did back in '96, and what the Southerland amendment does is exactly the thing that they're upset about."
During the aftermath of the vote, House Minority Whip Steny Hoyer (D-Md.) angrily rejected Republican claims that Democrats broke a promise to deliver 40 votes.
"They have 236 members; 62 voted against the bill," Hoyer said. "We will take no blame for the failure of the farm bill. None. Zero."
House GOP leadership aides dismissed the idea that having 62 members of their own conference vote against the bill was significant, telling reporters Republican votes were exactly as expected.
"The Democrats told us clearly right before the vote that they knew that the Southerland amendment was going to pass, and they had decided at the last minute that they were going to pull their support," a spokesman for House Majority Leader Eric Cantor (R-Va.), told reporters. "This was a complete collapse of professionalism and maturity on the Democratic Party's part."
Rep. Steve King (R-Iowa), a senior member of the House Agriculture Committee, said he had remained "optimistic" going into the vote about the bill's prospects.
"I thought we had a positive shot at it. I would have said ... 60-40 that it would pass," King told reporters. "I didn't hear any signal come from the other side that the straw had broken the camel's back."
He added that several Republicans who opposed the bill had indicated to him beforehand that if it came close to passing, they would switch their votes in favor of the bill to help it advance.
Neither side was certain of what lies ahead. King recommended letting the issue settle until after the July 4 recess.
Peterson said House GOP leadership should take a look at the Republicans who voted for the Southerland and Goodlatte amendments but voted against final passage of the bill.
"I would guess it didn't get them a damn thing on their side, plus it's wrong policy," he said.
UPDATE: 7:00 p.m. -- Senate Majority Leader Harry Reid (D-Nev.) issued a statement Thursday evening calling on Boehner to bring the Senate-passed farm bill to a vote, noting that "Republican incompetence" should not be a cause for delay in assistance to rural areas.
On nearly every major issue, the House has rightly accepted the bipartisan work of the Senate. Speaker Boehner should take the same commendable approach now, and do the right thing for farmers and Americans who rely on nutrition assistance by passing the Senate's bipartisan farm bill.

We would be happy to go to conference if the House were able to pass its own farm bill, but today's failure proves that is unlikely to happen. Rural communities and families relying on nutrition assistance should not be held hostage to Republican incompetence. It's time for Speaker Boehner to take the same approach that has proven successful in the past, and allow the House to pass the bipartisan work of the Senate.
Support HuffPost
The Stakes Have Never Been Higher
Before You Go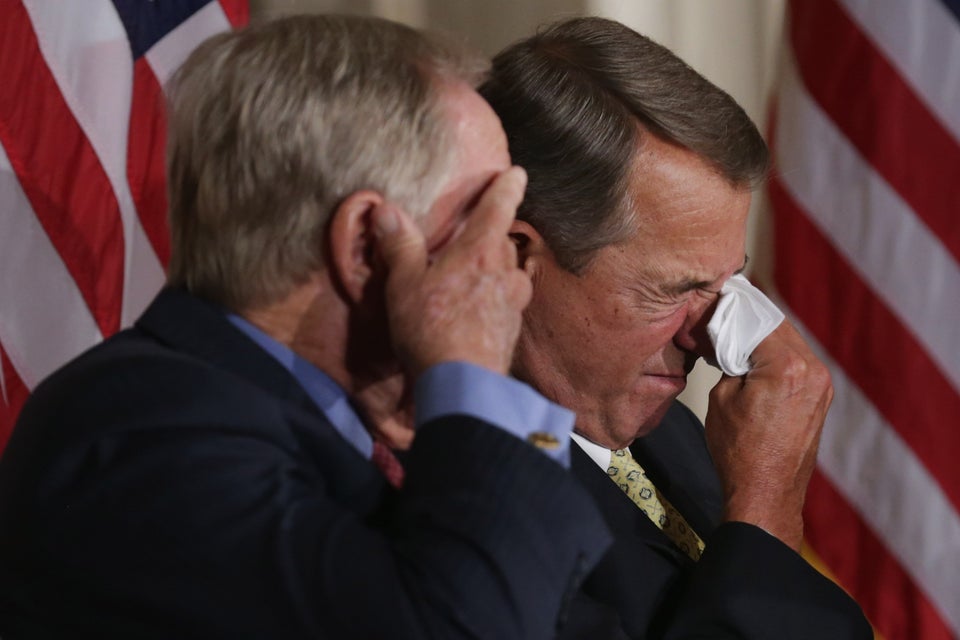 John Boehner Cries
Popular in the Community