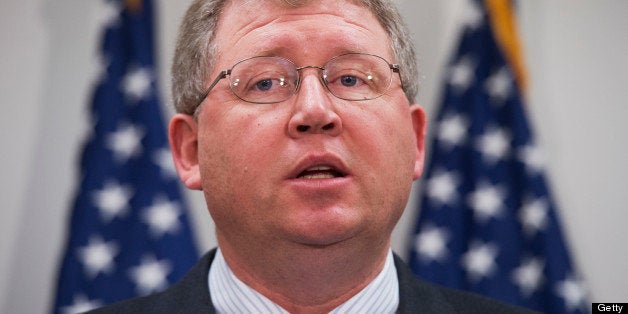 WASHINGTON -- Republicans in the House of Representatives removed food stamps from broader farm legislation in hopes that doing so would make it easier to pass a separate bill cutting nutrition assistance. But now there's a chance the House won't vote on a food stamp bill at all.
"Right now that equation is not there, and discussions are still going on," Lucas said. "My friends on the left don't want to have any reforms and my friends on the right want dramatically more reforms than probably are achievable in this environment."
For decades, rural and urban lawmakers have joined forces to pass farm bills that include both agribusiness subsidies and nutrition assistance for poor people. That arrangement has broken down with the rise of tea party Republicans who are hostile to the food stamp status quo, as the Great Recession pushed the program's enrollment to 47 million people. Last month, a traditional farm bill collapsed on the House floor largely because Democrats willing to accept modest cuts withdrew their support in the wake of a Republican amendment seeking to make the cuts harsher.
This month, House Republicans passed a "farm only" farm bill without any Democratic support. Lucas started preliminary negotiations with Senate Agriculture Chairwoman Debbie Stabenow (D-Mich.) about how the fractured House bill might be combined with the traditional farm legislation that passed the Senate earlier this year.
Lucas said he doesn't want to wait for the House to pass SNAP legislation to begin the formal conference committee process with members of the Senate.
"My personal goal is by some point next week, if it's quite clear that consensus cannot be achieved, if it's just not achievable, then I think we need to recognize that fact and move on conferencing the bill that the Senate's passed and the House has passed and see what evolves from that," Lucas told the Farm Report. "But right now [we're] still trying to achieve consensus. That consensus is at the very least elusive. It might even be impossible. But I'm still trying."
A House Republican leadership aide suggested that House Republicans wouldn't hurry to conference with the Senate.
"We are still moving forward with member discussions to develop SNAP reforms that have consensus and get these programs back on track so they can be there for the most vulnerable," the aide told HuffPost. "Those discussions will likely continue into August and we will readdress it when we return back after recess."
If House leaders appoint conferees without approving nutrition legislation first, those lawmakers would probably have less leverage to push for food stamp cuts in the conference committee. Both chambers would have to approve the committee's eventual compromise legislation.
The Senate bill cut nutrition assistance by $4 billion, or less than 1 percent of the program's $800 billion cost over 10 years. Before it was amended, the House bill would have cut SNAP by $20 billion. Without new legislation, the food stamp program would likely continue with no cuts at all -- an outcome Lucas has tried to warn his colleagues about.
Calling all HuffPost superfans!
Sign up for membership to become a founding member and help shape HuffPost's next chapter
BEFORE YOU GO
PHOTO GALLERY
Out-Of-Touch Politicians