WASHINGTON -- The House of Representatives on Thursday approved sweeping reforms to the nation's food stamp program that would cut some $40 billion in nutrition aid over 10 years and deny benefits to millions starting in 2014.
By 217 to 210, the House said yes to the measure, with its Republican backers arguing it would help more people find jobs.
"This bill is designed to give people a hand when they need it most. Most people don't choose to be on food stamps. Most people want a job," said House Majority Leader Eric Cantor (R-Va.) "Most people want to go out and be productive so that they can earn a living, so that they can support a family, so that they can have hope for a more prosperous future. They want what we want."
While most proponents of the bill similarly argued that they were just promoting work, there was also an undercurrent of accusation that many Americans are abusing the Supplemental Nutrition Assistance Program to sponge off taxpayers.
"If you're a healthy adult and don't have someone relying on you to care for them, you ought to earn the benefits you receive," said Rep. Tim Huelskamp (R-Kan.). "Look for work. Start job training to improve your skills or do community service. But you can no longer sit on your couch or ride a surfboard like Jason in California and expect the federal taxpayer to feed you."
That would be Jason Greenslate, the California food stamp recipient who likes to surf and play rock music but not look for work. Fox News profiled him last month in a segment that said America has been on an epic "food stamp binge." The network made sure everyone in Congress saw the segment.
The House vote sets up a showdown with the Democratic-controlled Senate, which previously approved a much more modest reduction in food stamp spending as part of a broader bill that included agricultural subsidies. A traditional "farm bill" likewise combining the two issues failed in the House during the summer, at which point House Republicans set nutrition aside and passed a bill with just the agribusiness subsidies.
House Agriculture Committee Chairman Frank Lucas (R-Okla.) almost seemed desperate to get the measure passed, noting that it was only part of the process of passing the normally noncontroversial farm bill.
"I admit to you, this has been an unusual process. But it remains my goal to get a five-year farm bill enacted. I'm doing everything possible to make sure that happens this year," Lucas said, emphasizing the "everything."
Before the earlier attempt to pass a farm bill failed, Lucas had worked hard to accommodate conservatives by allowing an amendment that made the food stamp provisions harsher. Nearly all of them voted against the bill anyway, and the amendment cost Democratic supporters.
"We have a responsibility to get this done, and quite simply, and I repeat, quite simply, it shouldn't be this hard to pass a bill that ensures all of us in this economy has enough to eat," Lucas said. "And that's what a farm bill does."
Members from each chamber will have to reconcile the differences between their separate pieces of legislation in a conference committee this fall. The White House has repeatedly said it would veto the House GOP's food stamp demands.
The Congressional Budget Office has estimated that the House legislation would deny benefits to 3.8 million Americans next year and save $39 billion over 10 years, or roughly 5 percent of the SNAP program's cost in that time. Enrollment doubled to 47 million in the wake of the Great Recession as incomes plummeted and more Americans qualified for benefits, which average $133 per month. Most beneficiaries are children, elderly or disabled.
The bill is packed with changes to SNAP: It would require more beneficiaries to pass income and asset tests to prove their poverty. It would allow states to require drug tests. It would allow states to deny benefits to able-bodied adults who don't work or enroll in training for at least 20 hours per week.
"Work is not a penalty," Rep. Steve Southerland (R-Fla.) said, citing the Book of Genesis. "Work is a blessing."
Regardless of what President Obama ultimately signs into law, benefits will drop for all SNAP beneficiaries in November after the expiration of a 13 percent benefits increase that had been granted by the 2009 stimulus bill.
Democrats called the House measure a useless assault on the poor.
"Today's exercise is nothing more than a waste of our time and an insult to every American in need," said Rep. Marcia Fudge (D-Ohio). "The fact that we are considering this legislation makes me question whether the Republican leadership even wants a farm bill."
She added that the bill "guts nutrition for those most in need and says to the poor, to hungry children, to the disabled, seniors and our veterans, 'You don't matter, you are not worthy of our help.' They deserve better."
Rep. Mike Rogers (R-Mich.) asked Lucas if he would try to spare veterans from the cuts in the probable conference committee, saying they deserve special support "in these economic times." Lucas argued that veterans were already protected.
However, a recent Huffington Post review of military records found military families rely on more than $100 million in food stamps a year. The liberal Center on Budget and Policy Priorities has estimated that 170,000 veterans would feel the pinch from the bill.
Before You Go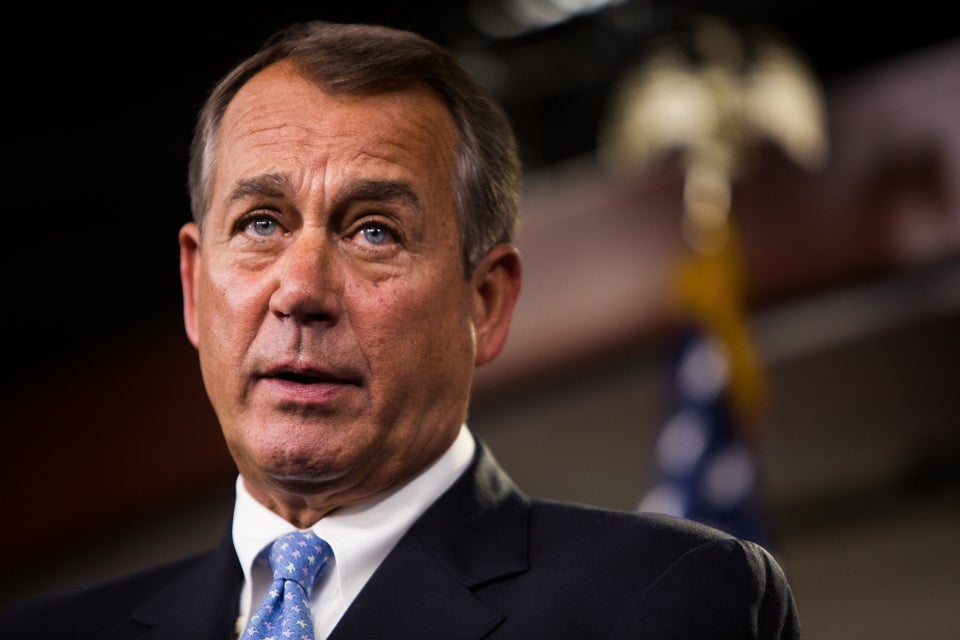 Speakers Of The House (1920-Present)
Popular in the Community