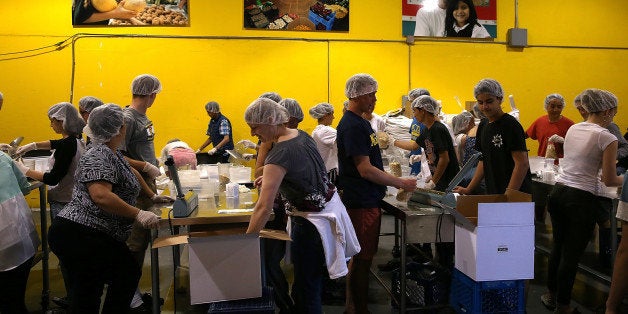 WASHINGTON -- Roughly 60,000 veterans will be cut from food stamps next year absent policy changes at the federal level, a liberal think tank warned Tuesday.
The vets represent a small share of the million Americans the Center on Budget and Policy Priorities expects to be kicked off the Supplemental Nutrition Assistance Program next year. The caseload cutback will occur as states re-impose a three-month time limit for recipients who are able-bodied, working-age adults without dependents.
Next week, congressional budget bosses will unveil spending blueprints that could call for further reductions in food stamp spending. The Center on Budget's Ed Bolen says lawmakers should instead think of the vets, and increase nutrition spending rather than cut it.
"The House and Senate Budget Committees can help protect these veterans -- and the rest of the estimated 1 million people facing the loss of food assistance -- by providing the resources in the budget resolutions planned for release next week," Bolen said in a blog post.
"At the very least, they shouldn't make matters worse by assuming deep cuts to SNAP," Bolen wrote.
A spokesman for the House Budget Committee declined to comment other than to say the committee is working on its proposal, which will be unveiled Tuesday.
The three-month time limit, part of the 1996 welfare reform law, had been waived in most states thanks to persistently high unemployment resulting from the great recession. With unemployment falling steadily, the waivers are going away as political opposition to the benefits stiffens.
The Congressional Budget Office expects average monthly SNAP caseloads to drop from 46 million to 44.3 million next year. The decline is a mix of the tougher eligibility requirements and an improving economy that should help more people earn enough money to become disqualified for benefits.
Popular in the Community