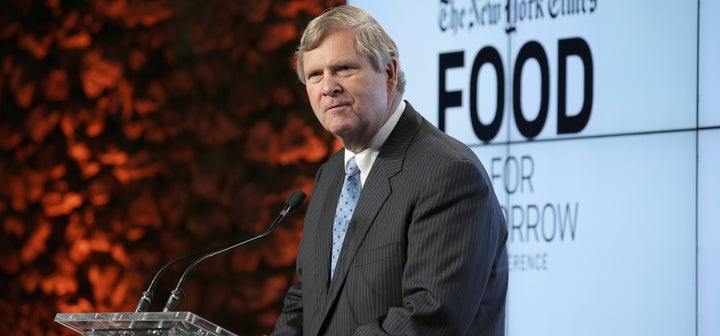 WASHINGTON -- A plan to make convenience stores that accept food stamps stock healthier items could end up forcing thousands of stores out of the program, according to a broad coalition of lawmakers and advocates opposed to the regulation. 
The Obama administration's proposal is part of a long-simmering debate over the eating habits of people who receive food stamps, which can be used to purchase any food item in a typical supermarket except alcohol and hot meals. Instead of restricting what poor people can buy with their benefits, however, the new proposal wants to give them healthier options. 
In a letter to U.S. Agriculture Secretary Tom Vilsack this week, more than 160 Republicans and Democrats -- from both urban and rural areas -- said the new proposal would overly burden smaller stores that accept Supplemental Nutrition Assistance Program benefits. 
"This proposal contains several provisions that restrict the ability of small format retailers to participate in SNAP and in turn jeopardize access to food for the more than 45 million low income beneficiaries, including more than 20 million children," the letter said. 
The lawmakers, led by Agriculture Committee Chairman Mike Conaway (R-Texas), essentially echoed the anti-hunger advocates and retail associations that have come out against the Agriculture Department's proposal. Members of the Congressional Black Caucus also criticized the plan in a letter to Vilsack earlier this month.
"Bodegas, convenience stores, drug stores and locally-owned corner stores are often the most accessible food providers for our constituents," the letter said. 
A USDA spokeswoman said the agency will consider the feedback before making a final decision about the rule this year. 
"It is disappointing to see some take a position against increasing healthier food options for our low-income Americans," the spokeswoman said Tuesday in an email. "This is an opportunity to help our most vulnerable."
Retail stores are already required to carry a certain number of staple foods in order to be eligible to accept SNAP benefits as payment -- at least three varieties of items in each of four categories: dairy, grains, meat and fresh produce. In February, the USDA announced that it wanted to require stores to carry at least seven varieties of items in each category.
Lawmakers passed legislation in 2014 directing the USDA to expand stores' staple food options, but they are upset with another part of the February announcement dealing with store eligibility. 
Since SNAP benefits are supposed to buy food for home preparation and consumption rather than hot meals, the USDA also wanted to crack down on stores that sell SNAP recipients cold pizza, for instance, and then heat it up on-site for immediate consumption -- something the agency considers a loophole. The USDA said in its federal register notice that new rule, which has not yet received final approval, "would require that at least 85 percent of an entity's total food sales must be for items that are not cooked or heated on-site before or after purchase."
Lawmakers and interest groups for retailers and poor people take exception with the hot food proposal. Douglas Beech, an attorney with a Midwestern chain of convenience stores called Casey's General Stores, complained that the 85 percent requirement applied to all sales, not just SNAP sales.
"This exclusion applies even to separate companies doing business under the same roof, such as a Subway or other fast food franchise that has a point of sale in the same building as a convenience store," Beech said in his prepared testimony at an Agriculture Committee hearing last week. 
The USDA estimates the proposed regulation would affect 200,000 stores nationwide, and that each would have to spend about $140 to expand its inventory. But Beech said it would simply push all 1,931 Casey stores out of SNAP. 
Ellen Vollinger, a SNAP expert with the Washington advocacy group Food Research and Action Center, said she believed retailers' complaints about the proposal had merit. And so does Rep. Jim McGovern (D-Mass.), one of the most outspoken Democratic supporters of federal nutrition programs.
"For many poor Americans, convenience stores are frequently the only source of groceries in their community, and in some cases, the only stores in their area that accept SNAP benefits," McGovern said last week. "We would all love to have large supermarkets in every community, but that's just not the reality."
Calling all HuffPost superfans!
Sign up for membership to become a founding member and help shape HuffPost's next chapter