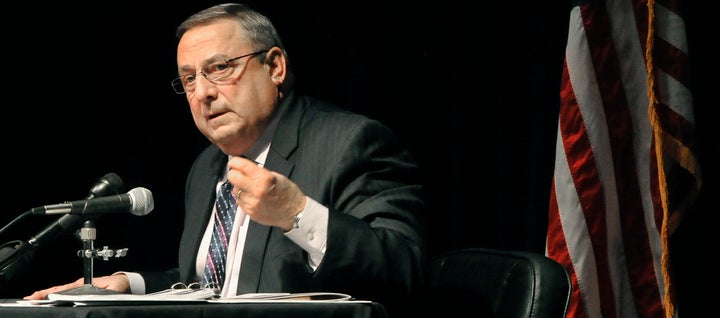 Maine Gov. Paul LePage (R) is tired of able-bodied food stamp recipients zipping around on snowmobiles instead of looking for jobs.
The state announced this week that it will disallow Supplemental Nutrition Assistance Program benefits for childless households with certain assets worth more than $5,000. Home equity and a person's primary vehicle won't count against the limit, but the state has issued a list of things that could: "bank accounts, snowmobiles, boats, motorcycles, jet skis, all-terrain vehicles, recreational vehicles, campers," and other valuables.
"Hard-working Mainers should not come home to see snowmobiles, four wheelers or jet skis in the yards of those who are getting welfare," LePage said in a statement.
The Huffington Post asked Maine Department of Health and Human Services spokesman David Sorensen if the change had been inspired by any specific instances of welfare recipients with Jet Skis in their yards.
"We hear examples and concerns from clients and constituents quite frequently," Sorensen said in an email.
More importantly, Sorensen said, "Maine applied the asset test for years prior to August 2010, as did most states before the recession, so the question really is, why did we do away with it and why shouldn't we bring it back?"
Federal law imposes resource limits for SNAP eligibility, but states generally waive the limit for applicants if they already qualify for even modest assistance from another means-tested safety net program. It's a policy called broad-based categorical eligibility, and most states offer it.
In the aftermath of the Great Recession, almost all states also waived time limits on food stamp benefits for able-bodied adults without dependents, and those limits are coming back now that the unemployment rates are falling. LePage's administration imposed the time limit -- billed as a "work requirement" -- ahead of schedule, ending benefits for 9,000 Mainers this year.
While Maine's list of recreational vehicles may seem a bit fanciful, federal law does tell states to look out for vehicles when counting a household's assets.
Still, antipoverty advocates and Democrats dislike the policy change.
"What's next? Grandma can't buy groceries until she sells her engagement ring?" said Rep. Drew Gattine, a Democrat who co-chairs the state legislature's Health and Human Services Committee, according to the Portland Press Herald. (Personal items such as jewelry will not count toward the asset limit.)
Maine's HHS said the rule change should affect roughly 8,600 people, though it's unclear how many would be disqualified. The Congressional Budget Office has previously estimated that most people who qualify for SNAP under broad-based categorical eligibility could still pass the asset test.
The department said the asset limit will return in October following a public hearing.
Popular in the Community