WASHINGTON -- While the House of Representatives considers cutting more than $20 billion from the food stamps program this week, it may want to consider a startling statistic: military families are on a pace this year to redeem more than $100 million in food aid on military bases.
Nearly $53 million in food stamps had been cashed in by people eligible to shop in base commissaries, including disabled veterans and others with military ID that entitles entrance to the facilities, through the first half of this fiscal year -- from October through March, according to data provided to The Huffington Post by the Defense Commissary Agency.
The use of food stamps in commissaries increased 9 percent from 2012, when for the full year $99 million worth of food stamps were redeemed on bases. In addition, the commissaries sold some $31.2 million in goods under the Women, Infants and Children program in 2012 and about $15 million so far this year. The U.S. Department of Agriculture adminsters both WIC and the Supplemental Nutrition Assistance Program, which provides food stamps.
The data do not reveal which military populations use federal assistance to feed themselves and their families. A spokeswoman for the Department of Defense pointed to USDA data from 2011 that found 5,000 food stamp recipients listed their employment status as "active duty military." That represents a five-fold jump from the previous year, when the USDA found 1,000 active-duty service members getting food stamps.
The defense spokeswoman, Cmdr. Leslie Hull-Ryde, noted that 5,000 is a tiny percentage of the the 44 million Americans getting SNAP benefits.
"Research indicates that military members who receive SNAP tend to be made up of members in junior pay grades with larger than average household sizes," Hull-Ryde said. "Military members normally 'promote out' of the need for additional subsistence benefits, due to the corresponding raises in basic pay and other allowances as one moves to a higher pay grade."
People who are not on active duty, especially disabled veterans, do not "promote out," however, and may be hit hard by the SNAP funding cuts proposed in the House farm bill, which are spread over 10 years.
How the $20.5 billion reduction in the House version of the farm bill would translate to specific individuals depends on their circumstances. Nearly 2 million people would lose benefits altogether because of changes in eligibility standards. Others would lose about $90 a month. On top of that, unrelated to the farm bill, expiring provisions of the stimulus law mean that all SNAP households are about to lose $25 a month.
Cuts of such magnitude would be devastating, said Butch Griggs, a disabled vet and father of five who relies on food stamps.
"At 25 percent, it's just huge," said Griggs, of Mt. Vernon, Wash., a former Marine who served in the 1980s and said he suffers from bipolar disorder and ruined disc in his back. "That's a lot compared to what I have to work with. What it means is basically no food security whatsoever. It means you're having to ask and scrounge and beg for extra food."
Griggs became a single parent after his ex-wife, who suffered severely from diabetes and other problems, died of cardiac arrest a year ago. In spite of both parents' problems, they got their oldest daughter through college last year, and Griggs got his 18-year-old son enrolled in college this week.
He has three more children, ages 16, 10 and 9, to support. He takes a bus to the grocery store because he can't afford a car. And even with the pain in his back, he said he hauls the supplies home in a backpack. He described how he has to carefully parse out the $710 a month he gets in Social Security disability payments, the $550 he gets from Temporary Assistance for Needy Families and the $550 from SNAP to feed his family for a month.
Often it means balancing what clothes to buy, which school supplies or events to pay for. Sometimes the cheaper choice winds up being more expensive, he said, explaining two of his kids wound up with foot problems from wearing cheap shoes.
"You think you're saving money, you're going to make the budget, but the cost comes out the other end," Griggs said.
So when he thinks about cuts to food stamps, he thinks first about children, and gets angry at the arguments that food stamps have somehow made people like him "dependent."
"When 40 percent of these people who should be independent are children?" Griggs said. "You can't say mom and dad suck, and the children are just collateral damage because mom and dad suck. So we have no obligation whatsoever to protect our children, right? You have to completely ignore the children when you're doing stuff like this."
He said that he couldn't really understand the mentality of lawmakers who want to cut people in need.
"We're not cutting funding from a wealthy person. We're cutting funding from the poorest of the poor, meaning when you cut it, their bottom comes up a lot quicker," Griggs said. "There does come a point where you basically might as well just shoot 'em, because there's no way to make it from point A to point B. Why should it always be a struggle? Why should you always be hungry."
The Senate passed its version of the farm bill last month, with a $4 billion cut in SNAP. Whatever reduction passes the House this week, if it does, will have to be reconciled with the Senate bill.
Michael McAuliff covers Congress and politics for The Huffington Post. Talk to him on Facebook.
Before You Go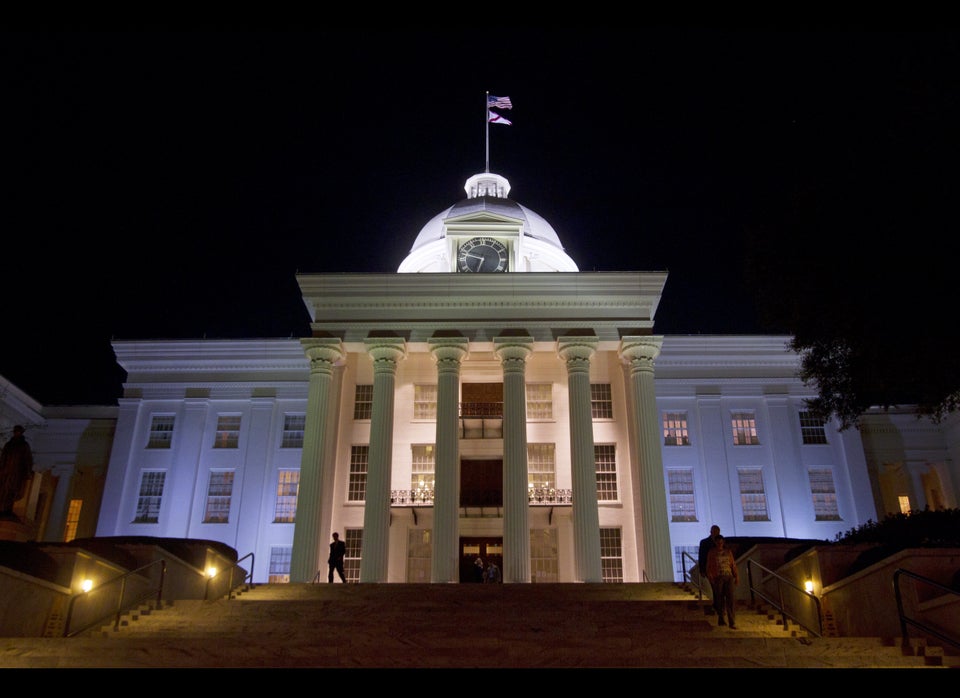 U.S. State Capitol Buildings
Popular in the Community