Canned elk anyone?
The summer's harvest is long over. Hours spent near a hot stove canning those tomatoes, peaches, or pickling beets are but a memory. As many of of us approach the depths of winter, perhaps we might look at our homemade goods with a yearning for something different, something new to taste or to experience from someone else's pantry! Have you thought about a food swap?
Mutual friends, Bethany Rydmark and Emily Pastor, have put considerable thought into the idea, and through Sustainable Food for Thought, a blog geared toward sharing information on ways of living a sustainable lifestyle in the Pacific Northwest, used it as a platform to excite interest, and organize their first food swap event.
Rydmark and Pastor had heard about food swaps by way of the internet and wanted to put together one for their community in Portland. They found a location at a new neighborhood retail business (Branch & Birdie), set a date, and put out the word.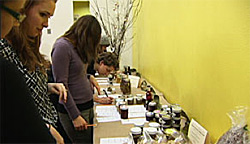 The result was an evening of fun, and new discoveries as about 30 people brought 32 types of handcrafted goods, ranging from canned peaches, raw honey, cherry liqueur, to canned wild elk (you thought I was kidding?). As this was the first local event of its kind in Portland, a couple other cities have held past local food swaps, many people arrived not sure what they might find. As the video clearly shows, there was tremendous enthusiasm by those involved, and most of the goods on display were successfully exchanged.
For those who might wish to carry on the torch, Rydmark and Pastor offer the following resource links to help set up a food swap in your community.
Hip girl's guide to homemaking
Sustainable Food for Thought
and on Facebook:
BK Swappers (Brooklyn)
ATX Swappers (Austin)
PDX Swappers (Portland)
MPLS Swappers (Minneapolis)
LAX Swappers (Los Angeles)
BAH Swappers (Houston)
Originally posted on Cooking Up a Story.
REAL LIFE. REAL NEWS. REAL VOICES.
Help us tell more of the stories that matter from voices that too often remain unheard.