I consider myself part of a community of food-obsessed maniacs. Pretty much everything I do is in some way directly related to the act of creating food or consuming it. It's no surprise then, that the one major social event I participate in is based entirely around comestibles. Last March, friend and fellow penny-pincher Kate Payne and I got together to trade some of her homemade triple citrus marmalade for some of my Brooklyn honey. We gabbed, exchanges were made and we discussed how great it would be to invite a bunch of our friends (many of whom can, make pickles, home brew and bake) to come over for a potluck-style get together and make a fun, free event out of the whole thing. That was how BK Swappers was conceived.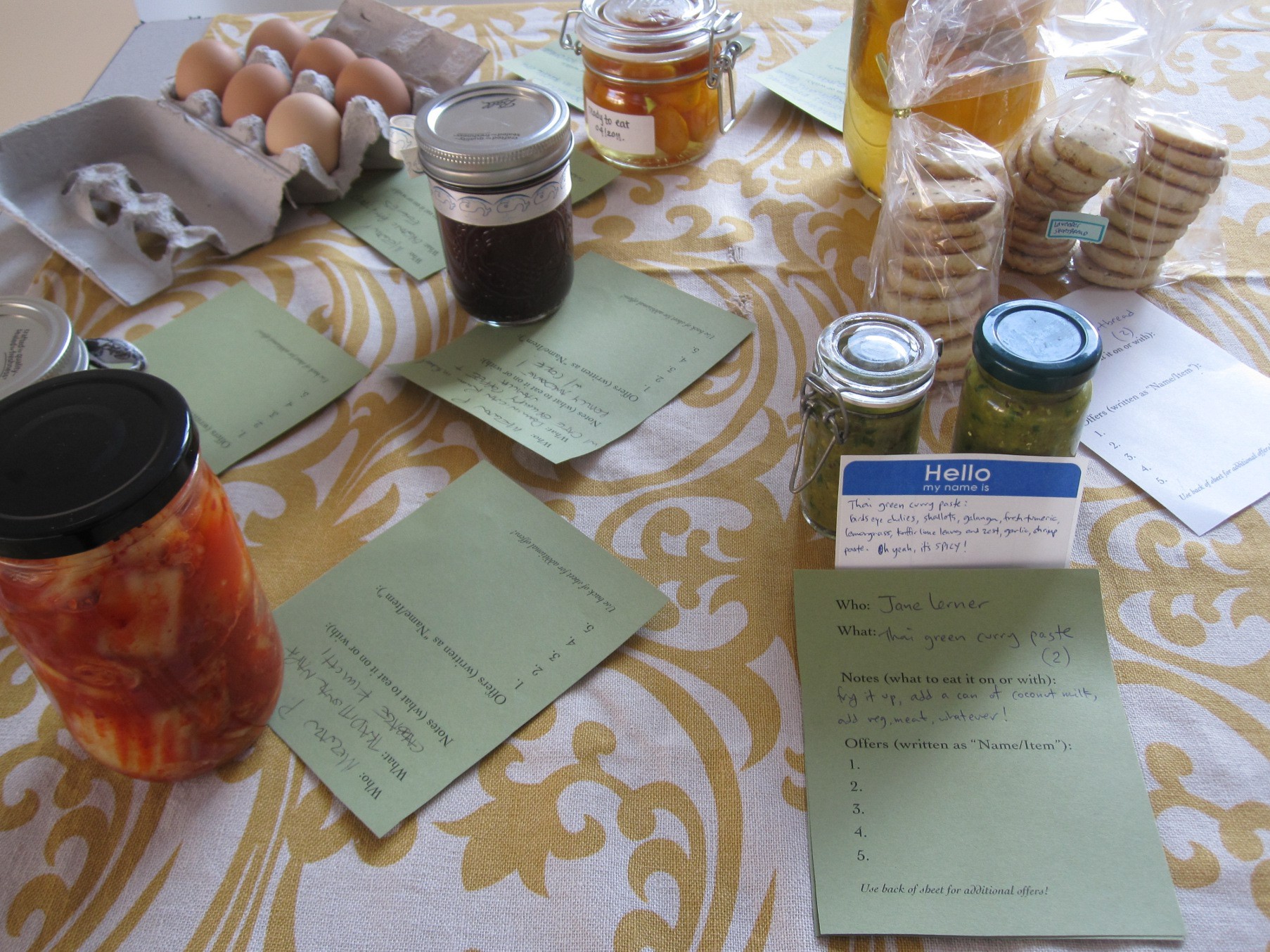 (Photo courtesy of April Somboun)
From the start, we used social media to organize the event. The swap took place at Kate's apartment in the Bedford Stuyvesant neighborhood of Brooklyn. Twenty Twitter friends and a few strangers came bearing jars of sauerkraut, jams, pickles, granola and infusions for swapping and delightful pot-luck offerings like buttermilk biscuits, spicy garlicky shrimp and Cajun gumbo. I brought an assortment of my favorite loose teas and ceramic tea pots which gave the get-together a cozy feel. Everyone departed, arms full of treasures, after 3 hours of eating and bargaining. Kate and I were hooked.
The next swap was held in my backyard, BBQ-style. My hens mingled amongst the attendees as they dined on grilled meats from local farms and pasta salads speckled with backyard grown veggies and herbs. People took turns looming over the swap table discussing their offerings and making deals. Eventually, we moved the swaps into larger spaces to accommodate our growing group. We've help swaps in community spaces, in wine bars and in rec rooms in Manhattan high-rises. Each time, the food gets fancier, the drinks stiffer (shots of tequila were downed at the end of the last swap, in celebration), and the swapped goods get more sophisticated. At our most recent swap, some of the stand out items were vodka infused with an organic Christmas tree needles, varieties of kombucha, Buddha's Hand limoncello, fresh homemade pastas, vegan Peanutella and turkey shepherd's pies in crockery ready to be heated up and eaten. It was our best swap to date.
In the past few months, Kate's moved off to Austin where she's started her own successful swap and I've taken a new partner in Jane Lerner, a food writer and die-hard swapper who has even hosted one of the swaps at her home. Since then, bigger spaces have started to open their doors to us, our Facebook Fan Page gets more love, the mailing list keeps growing and our collective desire to top ourselves has promptly followed suit.
Swaps are popping up all over the place! Portland, San Francisco, Houston, Minneapolis, San Diego... even London now have food swaps of their own. My hope is that one day, every city will have a food swapping community in place where the food enthused can get together, inspire each other and develop lasting friendships. I've met a lot of talented, imaginative cooks and have eaten a lot of great meals due in large part to them. I've tried my hand successfully at making foods that I thought were beyond me, producing something I'd be proud to share with a friend.
There are so many positive aspects to participating in these events. It's hard to pinpoint exactly what endears these swaps to our attendees. At first I thought that perhaps it was an opportunity for home cooks and canners to offload some of the foods they had been growing tired of. At BK Swappers, you come with something old and leave with something new; it's a winning arrangement. I think that's key, but there's also more to it. You see, a lot of folks actually make things days before with the express purpose of swapping at these events. It's become an opportunity for home cooks to flex their culinary muscles... show off a little. Attendees get inspired by the creations of their peers and so, each time we congregate again, the ante is upped. It's become an incubator for the food enthusiast to master their art. The ultimate purpose of the event is to leave with your arms full of amazing foodstuffs that you may have never thought to make on your own, but the real gold is in the sense of community and the creative momentum born from it; which as any New Yorker can tell you, is a pretty special thing.
If you are interested in participating in a local swap or starting one on your own, check out my current blog post with links and tips to get started!
REAL LIFE. REAL NEWS. REAL VOICES.
Help us tell more of the stories that matter from voices that too often remain unheard.