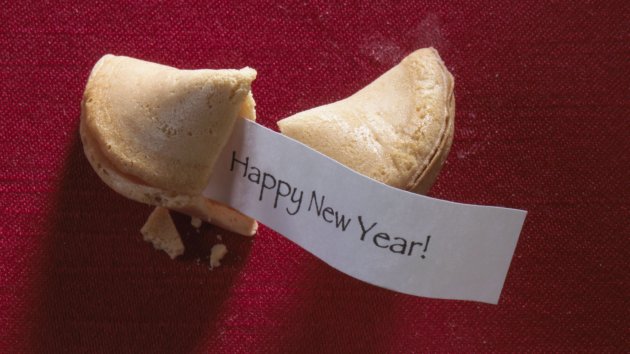 For decades I have tracked trends, and as a chef, author and consultant, have created many of them. Some have lingered longer than most marriages, yet others still hover around obscurely or are merely a reflection of personal wishes. Some were so ahead of their time as to be forgotten or "invented" by someone else. That said, as we embark upon a new year of eating, cooking, shopping, blogging, iPad-ing, app-ing, reading, listening, watching, and drinking, here is my list of predictions:
Kibbutz-style entertaining: Have a party, invite a bunch of friends, tell them to bring something. Who needs to show-off any more? Generosity begins the minute you open your door. You set the table, provide the booze and make a main course. Your friends can build the menu around it. You do the dishes. Fun, right? It's the best way I know to get together with your friends more often, take the pressure off cooking, and focus on the conversation around the table.
Eating in your zip code: Moving deeper into the locavore trend is that of eating food grown or produced in one's own zip code. It is a suggestion I made in 1993 in my first book Little Meals -- where I talk about growing herbs in my window box and planting tiny edibles in my back yard. Today, chefs are growing "dinner" on their rooftops, in school yards, and home cooks in Brooklyn are planting patches of dirt in their driveways. After all, it's hard to find cardoons in the supermarket.
The gratitude grid: Since everyone is so confused about what to eat and not to eat, how to define organic, how to know which species are endangered, how to determine what is healthy and not, I say a wonderful way to begin is with Mindfulness. Mindful of what it took to grow your food, the life that was sacrificed so that you could have your food, and respect for the time and care it took to prepare your food. I promise you that your pleasure will be doubled in everything you cook or consume. Try "cooking in silence" if you'd like to really experience what I'm talking about. Write down the most meaningful or pleasurable food experiences you've had to make them last. (I always think I'm going to remember, but don't!)
Better breakfasts and healthy lunches: I know a very big company longing to find the next big healthy thing for people to eat in the morning at Starbucks, Dunkin Donuts, etc. It's a noble start. And with programs like Edible School Yards and Wellness in the Schools, I know this year will bring about the change in school lunch programs we've all been hoping for.
Real food = healthy food: I predict that a "real food" movement will accompany the slow food movement that has captivated chefs from all over the world. More emphasis on eating whatever is real as opposed to eating whatever is healthy. Pure and simple.
Ingredients to try: Cardoons, parsnips, kale, Chinese broccoli, mussels (making a comeback), new varieties of fish (including cuttlefish and herring!), persimmons, red quinoa, unhulled barley (great in risotto), spelt flour, leatherwood honey, buttermilk, beef shin, fresh chamomile, long beans, fresh lychees, mangosteens, congee (hot rice porridge) for breakfast (or dinner), hibiscus, coconut (oil and water), Thai fish sauce (my secret ingredient).
New foods you'll soon see: Hummus made from everything other than chickpeas!, real Iberico ham from Spain, soft, spreadable chorizo, cross-cultural dumplings, pappa al pomodoro (instead of risotto or pasta), yellow marinara sauce (from yellow tomatoes and yellow peppers), Pão de Queijo (Brazilian cheese bread), cakes made with olive oil, good wine from Bulgaria, eating weeds and unknown edible plants, moss and lichens, jams and jellies made from vegetables, beans in everything (healthy and cheap), "bulgogi saucing" and "rendangs" ("dry stewing"), the dishes of Southern India, a few French classics making comebacks.

Upside-down foods: Using fruits as vegetables and vegetables as fruits; red wine from predominantly white wine regions and vice versa; sweet things in savory dishes, savory things in sweet dishes; frozen appetizers and hot desserts; legumes, grains, herbs and soups at the end of the meal; cakes made with beets, turnips, and winter squash; blueberry gazpacho; poultry marinated in fish sauce (it's amazing.)
"Pantone" produce: Every fruit and vegetable in the world will now come in a variety of colors. It's where food and fashion meet -- fashion words becoming food words and vice versa. Saw some real pretty orange eggplants and dark magenta carrots at the farmers market the other day. Nice. It's a rainbow out there.
The cupcake bubble burst: As soon as anyone prints the calorie content of a frosted cupcake, it will all come to a screeching halt. I won't be the one.
The Spice Trade: Food transformation with the world tapestry of spices. There's the spice man, Lior, in New York who is creating spice blends as though they were perfumes. There are nutritionists and herbalists who are prescribing spices instead of medication. I've long predicted that za'atar should be sprinkled on every piece of pizza. Sumac as the new salt (it's also tart), ground seaweed as a common flavor enhancer (lots of umami.) Turmeric as a health booster. Like that.
Radical simplicity: I wrote the book (Radically Simple -- just voted as one of the most important cookbooks of the last 25 years.)

A woman chef for President: A decade ago I wrote a screenplay about a woman chef who runs for President. Could 2012 be the year some fabulous, personable, smart, focused, intelligent such person arrives on the scene? The plot of my screenplay presaged the TV show Commander in Chief starring Geena Davis and foretold the arrival of a woman chef at the White House. And it predicted the food movement and healthy eating as a political platform, i.e. that of Michelle Obama. Hollywood, are you listening?
Happy New Year. May it be filled with delicious things.
Rozanne Gold, award-winning chef and author of "Eat Fresh Food: Awesome Recipes for Teen Chefs"; "Healthy 1-2-3," and "Radically Simple."