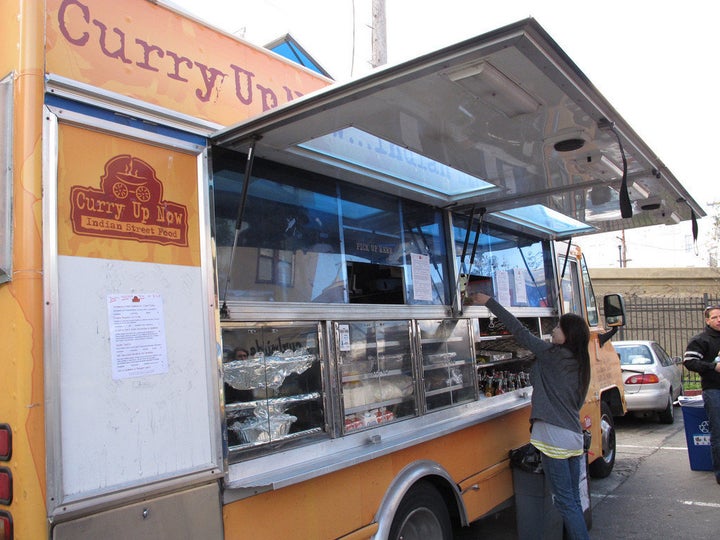 Last week, Carmel Assemblyman Bill Monning introduced a bill prohibiting food trucks from selling food within 1,500 feet of an elementary or secondary school between the hours of 6am and 6pm.
Monning's bill is intended to be part of the state's effort to create a healthier eating environment for its school children. Some educators feel that a whole slew of newly implemented programs--such as LAUSD's new, district-wide healthy lunch menu or Santa Barbara's revolutionary s'Cool Food initiative--are being undermined by the presence of nearby food trucks slinging significantly less healthy options.
"We serve fruits and vegetables every single day; we're mandated to," California School Nutrition Association Spokesperson Rene Yamashiro told KABC Los Angeles. "We have limits on how much fat our meals can have, how much sodium, how much sugar. When there's a food truck right outside the school, they do not have to follow any of these national standards."
"Mobile food vending poses a threat to student safety as well as student nutrition," wrote Monning in a statement to the Sacramento Bee. "Mobile vending near school campuses incentivizes students to leave school grounds, which increases students' exposure to off-campus hazards such as heavily trafficked streets."
In his daily The Nooner email newsletter for Sacramento politics blog Around the Capital, author Scott Lay wryly noted:
The bill is only modestly more lenient than California's Proposition 83 "Jessica's Law," which prohibits sex offenders from living within 2,000 feet of a school or park. Judges have ruled portions of the law unconstitutional, because of the inability of offenders to find any reasonable place to live.
A similar problem could end up affecting food trucks in tightly-packed urban areas where the dense population of schools could end up leaving relatively few spaces for food trucks to squeeze into and legally sell delicious Korean tacos.
How the law would apply in San Francisco, a city that's quickly become ground zero for the food truck revolution, is a little more unclear. "We don't know how it would affect us here," Off The Grid founder Matt Cohen told The Huffington Post, "and that's scary."
San Francisco already has an ordinance prohibiting food trucks from selling food within 1,500 feet of middle or high schools. Interestingly, food trucks are required to give the city's schools a significantly wider berth than medical marijuana dispensaries.
Cohen, whose organization brings pods of artisan food trucks to areas around the city, noted the local ordinance doesn't include elementary schools because elementary school students aren't allowed to go off campus anyway--rendering a ban on surrounding food trucks during school hours effectively moot.
The present restrictions only apply to streets and sidewalks. Under the language of the Assemblyman Monning's broadly written bill, the ban would extend to private property and other types of public space such as city parks, which is the only likely effect the law would have on San Francisco.
But critics are quick to renounce the measure. "I think it's selectively targeting one class of small businesses at the expense of others," said Cohen. "For example, it doesn't regulate liquor stores or fast food proximity."

The kids themselves also appear largely opposed to the ban. ABC-7 San Francisco spoke with a few:
"Going to the extent of banning food trucks would be extensive; if you want junk food, you can be able to get it," Kamron Sarhadi, a senior at Mountain View High School, said.

"Most kids have cars; if not, your friend has a car, you can just go and get junk food if you want to," Erica Fischer-Colbrie, another senior at Mountain View High School, said.
The ban would could also put an end to the increasing number of fundraisers California schools are organizing around food trucks.
Since last year, Los Angeles' Whitney High School has instituted a weekly fundraiser where over half a dozen trucks crowd into the parking lot give a portion of their proceeds to the school, which is using the money to build a new multi-media center.
A 2010 study conducted by the UCLA Center for Health Policy Research and the California Center for Public Health found 38 percent of California's fifth, seventh and ninth graders to be overweight or obese--a slight decrease from a similar study conducted in 2005.
Check out this video look at San Francisco's burgeoning food truck scene with Off The Grid:
Popular in the Community